Is The Pixel 5 Worth It? A Complete Guide (For Potential Users)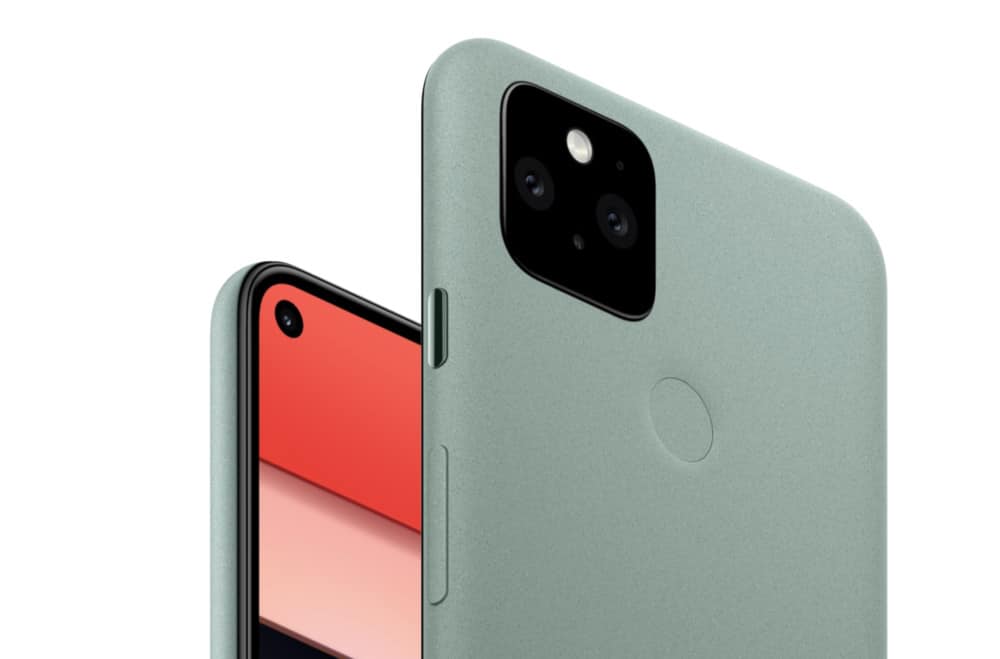 The Pixel 5 is here and it has a price that will secure it plenty of interest – but is it worth it? Or are you better off elsewhere? Here's everything you need to know…
---
When Did The Pixel 5 Come Out?
The Pixel 5 launched on October 1, 2020, via a Google live stream (thanks COVID). The handset launched alongside a 5G version of the Pixel 4a called the Pixel 4a 5G and completes Google's 2020 Pixel phone release roadmap.
Crazily, it won't be too long until the Pixel 6 range gets its official launch.
Unlike previous Pixel releases, the Pixel 5 is positioned slightly differently. Instead of charging top-dollar for the phone, Google is bucking the trend and going after value for money instead – the Pixel 5 retails for £599 / $699. And, because it's a Pixel phone, you don't need to worry about bloatware or when you're next Android update will land.
The Best Phone For ZERO Bloatware & Updates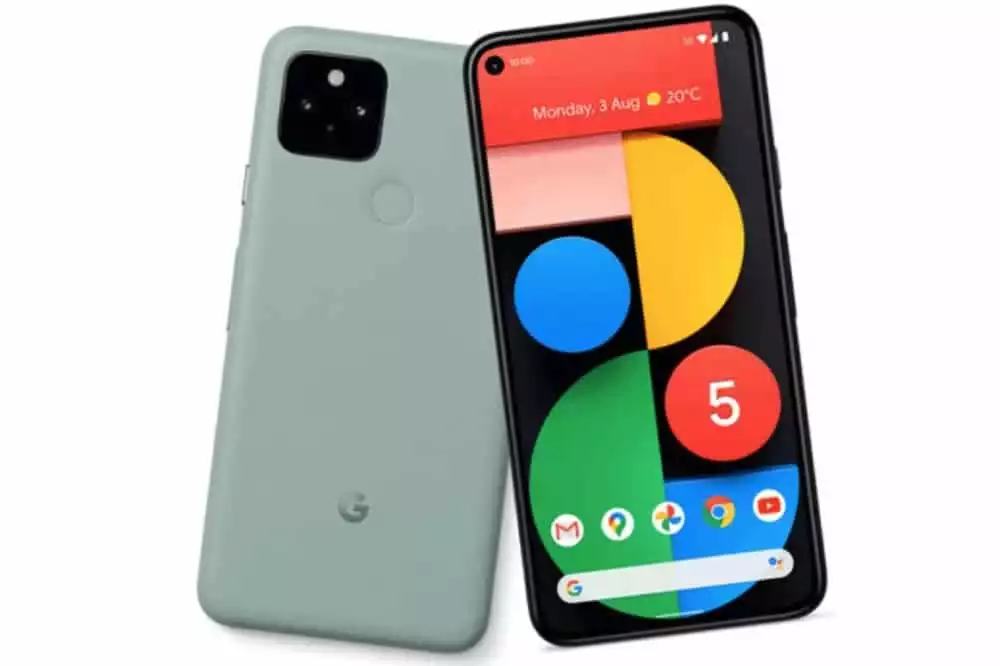 Google Pixel 5
Google's Pixel 5 is cheaper than the iPhone 12, has better battery life, and a superior camera. The phone runs Android 11 and will get updates until 2023. I love the design and the size of the phone; it's big enough for media-viewing, but it isn't so big that it becomes unwieldy. Add in gorgeous software and you're looking at a truly brilliant Android phone.
VIEW DEALS
That makes the Pixel 5 cheaper than the vast majority of its peers, including the iPhone 11 (and, most likely, the iPhone 12 once that phone gets official later on this year).
Inspired by the success of its Pixel 3a range, Google confirmed that it no longer believes the vast majority of people want or need $1000 Android phones. Google has a point too; I happen to agree with them on this too.
No one is selling a lot of £1000 phones. Apple's best selling phones are its cheaper models. Ditto Samsung. And brands like Xiaomi, OPPO, and RealMe are killing it with cheaper Android phones with great specs. Google has wised up and now wants a slice of that pie.
And I do not blame them!
Utility and usability is the word of the day here. If you want a phone with a great camera, solid performance, great battery life, and a best in class camera, you no longer have to pay north of £1000. You can get it for 40% less from Google.
Pixel 5 Specs List – A Complete Breakdown
Here's a full breakdown of the Pixel 5's official specs, following the handset's launch:
Dimensions: 144.7 x 70.4 x 8mm, 151g
OS: Android 11
Display: 6-inch OLED (2340×1080; 90Hz)
CPU: Snapdragon 765G
RAM: 8GB
Storage: 128GB
Rear camera: 12.2MP wide (ƒ/1.7), 16MP ultrawide
Front camera: 8MP (ƒ/2.0)
Battery: 4,080mAh
Headphone Jack: NOPE!
Fast-Charging: 18W
You'll notice a few things missing here. The first is a 120Hz display and the second is Qualcomm's Snapdragon 865 CPU, AKA the CPU of choice for 2020's biggest and best flagship Android phones.
Again, Google has changed tack with the Pixel 5. Rather than competing in the specs arms race, it is now competing on price and value for money, while leveraging its command (read: control) of the software experience and its lead in the camera department.
Do millions of consumers base their choice of phone on whether it has a 120Hz display? No. Do most consumers know or care about the CPU, whether its a 765G or 865, inside their phones? Again, no. Google knows this and has used it to its advantage by omitting superfluous specs to drive the price down.
By making these cuts, Google is still able to deliver a "flagship" Pixel experience, just without the hefty price tag. The Pixel 5 is cheaper than the Pixel 4, the Pixel 3, the Pixel 2, and the original Pixel phone.
Value for money is the key USP here, and I think it will earn Google a lot of new customers in 2020…
Pixel 5 vs Pixel 4a vs Pixel 4a 5G vs Pixel 4 – How They Compare 
| | Google Pixel 5 | Google Pixel 4A 5G | Google Pixel 4A | Google Pixel 4 |
| --- | --- | --- | --- | --- |
| Display size, resolution | 6-inch OLED; 2,340×1,080 pixels | 5.8-inch OLED; 2,340×1,080 pixels | 5.81-inch OLED; 2,340×1,080 pixels | 5.7-inch OLED; 2,280×1,080 pixels |
| Pixel density | 432 ppi | 413 ppi | 443 ppi | 444 ppi |
| Dimensions (Inches) | 5.7 x 2.8 x 0.3 in | 6.1 x 2.9 x 0.3 in | 5.7 x 2.7 x 0.3 in | 2.7 x 5.7 x 0.3 in |
| Dimensions (Millimeters) | 144.7 x 70.4 x 8.0 mm | 153.9 x 74 x 8.2 mm (Sub-6 only) 153.9 x 74 x 8.5 mm (mmWave + Sub-6) | 144 x 69.4 x 8.2 mm | 68.8 x 147.1 x 8.2 mm |
| Weight (Ounces, Grams) | 5.33 oz; 151g | 5.93 oz; 168g (Sub-6 only) 6.03 oz; 171g (mmWave + Sub-6) | 5.04 oz; 143g | 5.7 oz; 162g |
| Mobile software | Android 11 | Android 11 | Android 10 | Android 10 |
| Camera | 12.2-megapixel (standard), 16-megapixel (ultrawide) | 12.2-megapixel (standard), 16-megapixel (ultrawide) | 12.2-megapixel | 12.2-megapixel (standard), 16-megapixel (telephoto) |
The "New" Pixel 5 Camera Detailed – Same Sensor, New Tricks
The Pixel 5 uses the same 12.2MP Sony IMX363 primary sensor as the Pixel 4 – and the Pixel before that. It's not new, basically. But this doesn't matter, according to Marc Levoy, Google's (now ex) in-house camera guru (he's moved to Adobe).
According to Levoy, a sensor is only as good (or bad) as the algorithms that power it. Speaking to The Verge, Levoy said: "Because of the diminishing returns due to the laws of physics, I don't know that the basic sensors are that much of a draw."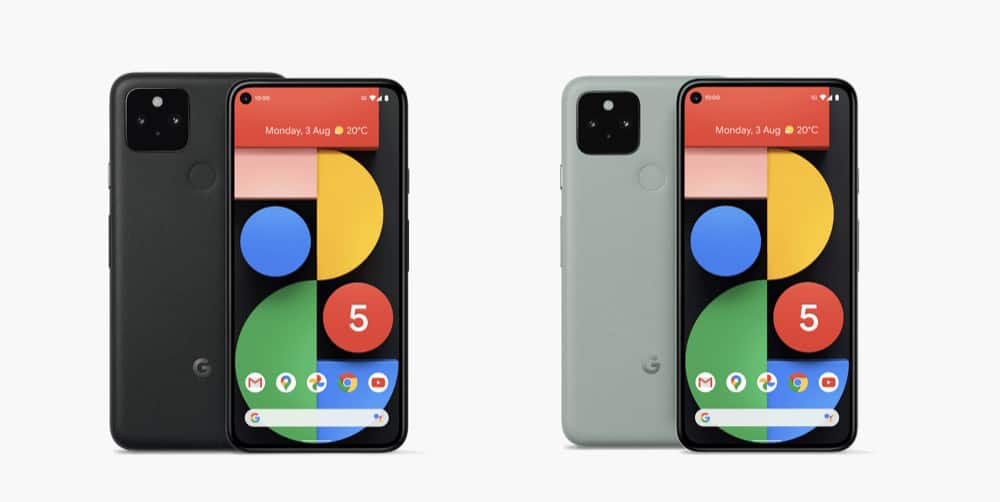 Pin
By using the same sensor, Google's engineers know what they're dealing with. They become familiar with how things work. And this means, when testing new AI/Machine Learning algorithms, they can extract more consistent, manageable results.
With familiarity, engineers know the sensor inside and out. They know what it can do and what it cannot do. Refinements can be made, tweaks added. But these types of polish are only possible once familiarity has been established.
If you switch the sensor with each new generation of phone, the development process has to start all over again. Perhaps this is why Google's phone cameras, despite using less impressive hardware, have consistently bested the competition? Another benefit? Google can deploy (and manage) the same camera tech on all of its phones – both the cheap and premium ones.
The Pixel 5 Now Has An Ultra-Wide Lens
The core camera hardware aboard the Pixel 5 might be the same. But there are changes. The most notable of which is the addition of an Ultra-Wide Lens, which replaces the Pixel 4's telephoto lens.
Google gives, and Google takes away. The addition of an ultra-wide lens is great; it is far more practical than a telephoto lens. But now the Pixel 5 doesn't have a dedicated telephoto lens, whereas plenty of other phones have both a telephoto and ultra-wide lens (even cheaper units like the Galaxy A51).
Why did it remove the telephoto lens on the Pixel 5? All Pixel phones, since the Pixel 3, have had Super Res Zoom, which improves the resolution of digitally zoomed-in shots. For this reason, you can get away with not having a telephoto lens on the Pixel 5 (and also the Pixel 4, which is why it was so odd that Google used a telephoto instead of an ultra-wide last year).
Google says the benefit of having an ultra-wide lens is that it allows for the creation of completely new cinematic experiences. That is what everybody said last year when the Pixel 4 shipped without one, so while it is good that Google has listened to what everybody already knew, it is odd that it didn't include both types of sensors on the Pixel 5.
The Pixel 5's "Under-Display" Speaker DETAILED
The Google Pixel 5 and Pixel 4a share fairly uniform design language. Side by side, it's difficult to tell them apart. However, there are some key differences, besides the price, that set the Pixel 5 apart.
And one of the main ones is the Pixel 5's under-display speaker, which is located at the top of the handset.
Spotted inside Google's official Pixel Phone Hardware Diagram, the speaker – as you can see below – is located inside the actual display itself.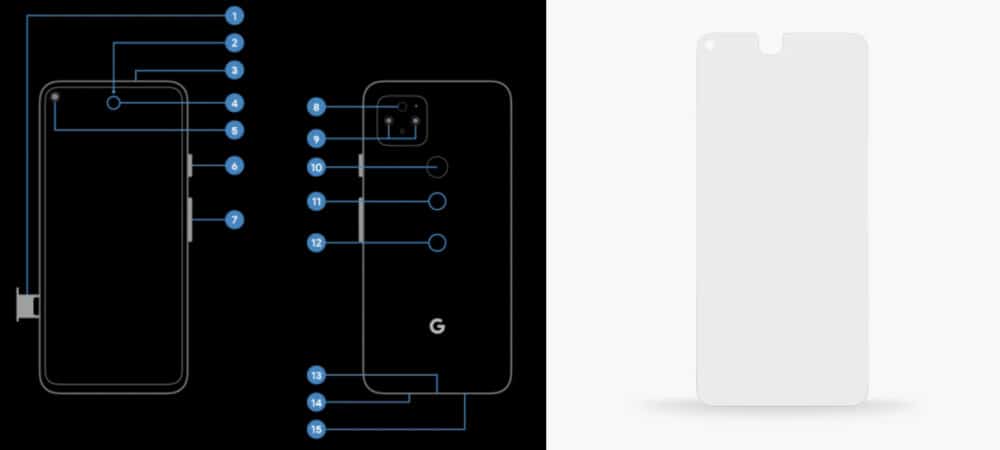 Pin
Similarly, Google's official Pixel 5 screen protector has a hole cut out of it in an off-center position.
As you can see in the image above, the cut-out, which is clearly for the speaker, is not located in the center of the cover; it's off to the left, clearly so as to allow the speaker to operate correctly.
Part of the benefits of this type of feature, besides clearer sounding audio, is crisper call quality. Google didn't invest the under-display speaker; the LG G8 had one and so too does the Huawei P30 Pro and P40 Pro.
Does The Pixel 5 Have 5G?
The Pixel 5 runs on Qualcomm's Snapdragon 765G CPU, so it can access 5G networks, although you will need to ensure you have a 5G plan or SIM only deal first.
If you're with a network like Three, you can get 5G at no extra cost – though you will need a new SIM card if you're already with them. And you will also need to make sure that 5G is supported in your area. You can check the UK's 5G current 5G coverage here.
How Much Does The Pixel 5 Cost?
The Pixel 5 retails for £599 /$699. There is only one model you can buy – the 128GB model.
Google Pixel 5 Colors
The Google Pixel 5 is available in two color options:
However, for some bizarre reason, the Sorta Sage version WILL NOT be able in France. If you're a Pixel fan in France, you will only be able to buy the Pixel 5 in Just Black.
Why has this happened in France? According to French law, all phone makers have to include headphones with their phones. Google, looking to save a buck, opted to only launch one Pixel 5 model in the country – just as it did with the Pixel 4 which was only available in Black as well.
No Pixel 5 XL Release, No Problem?
Google DID not release a second XL model. The Pixel 5 is the only Pixel phone you can buy this generation. This is the first time Google has released a Pixel phone with an XL version.
There is no Pixel 4a XL model either.
Why? I guess Google did the data mining and found out that most people preferred its smaller Pixel phones.
From a cost perspective, the decision to nix the Pixel 5 XL will have saved Google millions.
R&D on one phone is a lot cheaper than R&D on two, distinct phones. Another benefit? It is also much cheaper to produce one phone in one set configuration.
Is The Pixel 5 Better Than The Pixel 4a 5G?
The Pixel 5 is Google's "flagship" release for 2020, and most of 2021. But the difference between it and the Pixel 4a 5G are only very slight.
For instance, both the Pixel 5 and Pixel 4a 5G run on Qualcomm's Snapdragon 765G and both feature the exact same camera tech inside them.
Pin
The Pixel 5 has more RAM than the Pixel 4a (8GB vs 6GB) and the Pixel 5 has a larger battery as well (4000mAh vs 3800mAh).
The Pixel 5 also has a 90Hz display, whereas the Pixel 4a 5G has a 60Hz panel. Both phones use OLED displays though, so, visually, they both look great.
Pixel 5 Leaks: What Happened Pre-Launch
How accurate were the Pixel 5 leaks prior to launch? Here's a complete break-down of ALL the Pixel 5 leaks leading up to the launch of the phone…
The Google Pixel 3a is Google's best-selling Pixel phone to date. And the reason? Price. The Pixel 3a retailed for $399.99 at launch (and can now be had for even less). It delivered A TON of value and this, despite what you might think, is precisely what 9/10 customers actually want instead of a gazillion cameras and laptop-amounts of RAM.
With the success of the Pixel 3a logged and accounted for, Google is now working on the successor to 2019's rather tepid Pixel 4 and Pixel 4 XL. But unlike the Pixel 4 and Pixel 4 XL, Google's next "flagship" is reported to be a slightly different beast. It will still be a flagship but, importantly, it will not be priced like the majority of flagship releases in 2020…
1. Google Pixel 5 Price – The Biggest Potential Change
According to multiple sources, Google is (potentially) looking to shave a hundred bucks off the RRP of its new Pixel 5 phones. Its plan to do this, apparently, is to NOT use Qualcomm's flagship CPU, the Snapdragon 865 CPU. Instead, it will use the Snapdragon 765G, a cheaper but still impressive SoC that includes support for 5G.
By doing this, or so the theory goes, Google will be able to retail the Pixel 5 for a lot less than its nearest and dearest competitors, Apple and Samsung. How much will the Pixel 5 cost? Will it stay the same as before and retail for $799 or will Google knock off another $100 and bring the price down to $699.99, the same as Apple's iPhone 11?
I think there are two potential scenarios here:
Google keeps the price the same at $799. This is still expensive, yes, but it isn't $1000. And in a world where $1000 flagship phones, picking up the Pixel 5 for the same price as the Pixel 4, providing there are meaningful updates to the design, imaging, and battery performance, could earn Google a lot of new fans during the remainder of 2020 and early 2021.
What I'd like to see personally is the price knocked down to $699.99 – or even $599.99 for the base model. Launching with 5G, an updated camera, and improved design at this price-point would make the Pixel 5 extremely competitive, especially when lined-up alongside devices like the iPhone 11. Could Google go this low? I'm not convinced, but it'd make for one hell of an update if it did!
2. The Pixel 5 Will Support 5G
You don't need the most expensive Qualcomm chipset to run 5G on a phone; you can use the Snapdragon 765G, a cheaper SoC and get full support for 5G connectivity. In addition, the 765G features an integrated 5G modem, whereas the more expensive 865 CPU's is separate. This could mean the 765G is more power-efficient and that, in turn, would mean better battery life.
The 865's modem, the Snapdragon X55 External 5G Modem, however, is faster (D/L speeds of 7.5Gbps versus the 3.7Gbps on the 765G). Will you notice the difference? Probably yes; the difference in D/L speeds between the two modems is pretty significant. But it's not the only difference: the 865 has more processing power under the hood too.
3. A New Design For The Pixel 5?
The Pixel 4 range wasn't the best-looking phone Google has ever created; I prefer the look and feel of both the Pixel 3a and the Pixel 3 XL. Google has taken a lot of flack for its industrial design on the Pixel range, so 2020 could well be the year we finally see Google up its game and produce a phone that actually looks like it can compete with the big boys.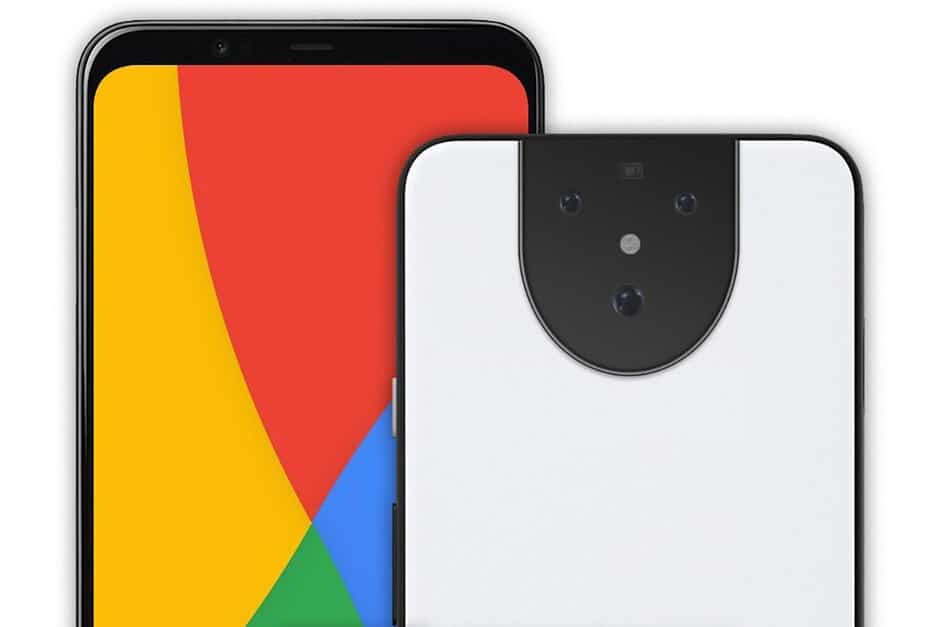 Pin
Or, we could just get a rehash of the Pixel 4; this is more likely of Google is keen on pushing the "value for money" angle with the Pixel 5. Another possibility is that Google will keep much of the design language of the Pixel 4/Pixel 3, but just reduce the bezels at the top and bottom and tighten up the exterior design language.
Bottom line? Don't hold your breath for something revolutionary. The Pixel 5's design will most likely be a very minimal update over what came before. I'd like to be wrong here, but given Google's track record these last several years, I wouldn't bet against it…
4. Google Pixel 5 Will FINALLY Get A Wide-Angle Lens
The Google Pixel 5 XL will be the first Pixel phone to run a three-lens camera module on its rear. That third lens is also reported to be a wide-angle lens. Google took a lot of guff for not including a wide-angle lens on the Pixel 4 range, so it's inclusion on the Pixel 5 comes as no surprise.
The only caveat here is that the triple-lens camera could well be exclusive to the Pixel 5 XL – the more expensive handset. This isn't a done deal just yet, but it would make sense, especially if Google is looking to dramatically knock down the price of the entry-level Pixel 5 phone.
This approach, the one favored by Apple, OnePlus, and Samsung, would enable Google to deliver both a true flagship phone and a cheaper, entry-level model for those that do not want to spend big bucks on the phone.
5. What About The Pixel 4a?
The Google Pixel 4a is expected to land in May 2020, around five months before the launch and release of Google's Pixel 5 range. The big question here is whether you should go for the Pixel 4a or wait for the Pixel 5? As we know very little about the Pixel 5, this is a tricky one to call – although we'll learn a lot more about the Pixel 5 in the coming months.
I'm a huge fan of the Pixel 3a, I use one as my daily driver. The phone is cheap to buy (less than $350), works great, and has decent battery life. The camera is very good too. The Pixel 4a will likely pick up where the 3a left off, adding in, potentially, a new design, more storage, more RAM, and improvements to the camera unit on the rear.
It will also, allegedly, be keeping the same price – $399.99. For this reason, I'd be inclined to suggest that anyone looking for true value for money on their next phone would do well to wait and see what happens with the Pixel 4a. If it is anything like the Pixel 3a, the 4a could outsell the Pixel 5 by a Texas mile during the remainder of 2020 and 2021. But the 4a might not have 5G, whereas the Pixel 5 will.
Wrapping Up…
I wasn't the biggest fan of the Pixel 4 and Pixel 4 XL. I didn't like the design, the camera unit, while very impressive, sorely missed a wide-angle lens, and the battery life on both handsets wasn't exactly great when compared to handsets like the Galaxy S10, OnePlus 7T, and even the iPhone 11.
Prior to the Pixel 4, I'd bought every single Pixel release to date. And before that, I was using Nexus phones. Now, though, I'm using the Pixel 3a XL instead of the Pixel 4 – I just prefer it. For this reason, in order for Google to rekindle my love for its "flagship" Pixel range, it'll need to do something very special with the Pixel 5.
Sadly, I don't see this happening. All I see happening is the inclusion of 5G, a third camera lens (on the XL model), and perhaps some improvements to battery life. If Google is looking to keep the price down, don't expect much in the way of design changes or 120Hz display options. Oh, and with respect to performance, the lesser Snapdragon CPU will make it run slower than the OnePlus 8.
My advice? If you want a cheaper-than-average flagship Android phone in 2020, your best bet is probably going to be the OnePlus 8 – just as it was in 2019 with the OnePlus 7 and OnePlus 7T. It'll run the latest Snapdragon 865 CPU, pack in a ton of RAM, look great, and feature a killer camera on the rear.
VIEW LATEST DEALS FOR GOOGLE'S PIXEL PHONES