OnePlus 6T Review – Our Verdict, Six Months On
---
---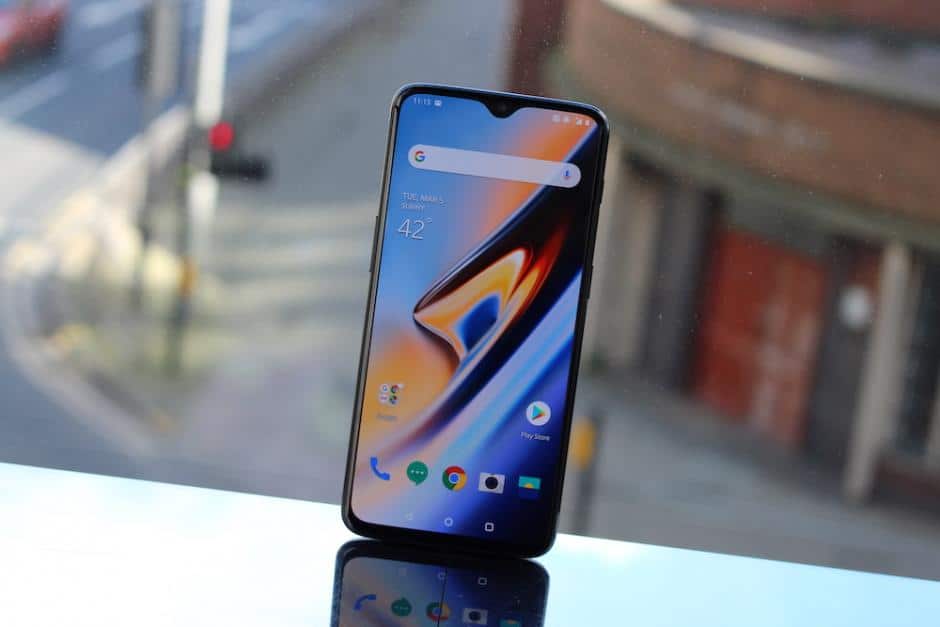 Still worth a look?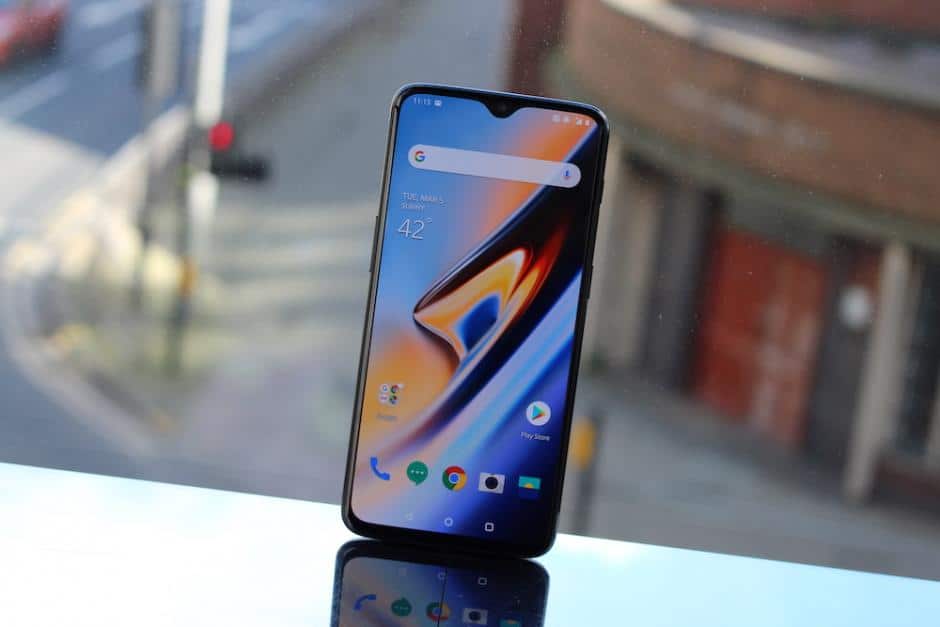 Pin
OnePlus began its life as an upstart; a company which aimed to change the status quo and ruffle a few feathers. A few years on, and the company has become firmly established as one of the smartphone sector's leading lights, with its twice-yearly flagship updates proving to be two of the year's most notable releases – with good reason, as they pack in the latest tech yet are priced very reasonably when compared to the rest of the industry. Last year, OnePlus launched the OnePlus 6, its first phone with a 'notched' screen, and then at the end of the year released the OnePlus 6T. Now, almost six months on, the company is hard at work on this year's flagship, so is the 6T still worth a look? We're about to find out.
OnePlus 6T Review: Design & Display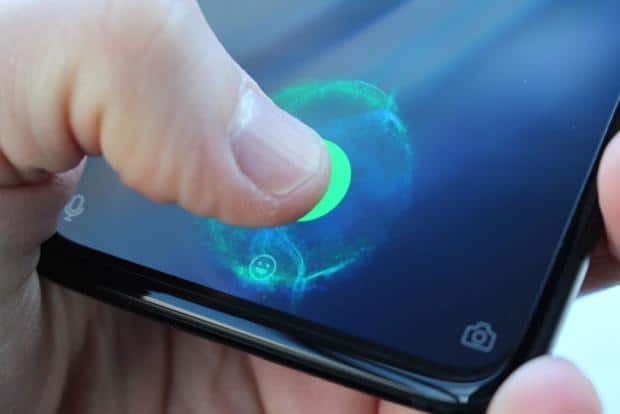 Pin
The OnePlus 6 was rather divisive thanks to that iPhone-style notch, but it did at least offer a massive screen. The company has dealt with this criticism by equipping the 6T with a 'teardrop' notch, which is not only smaller but looks a lot more stylish. Despite shipping with a smaller notch, the phone still crams in a 16-megapixel snapper, which is used for selfies and for the phone's speedy 'Face Unlock' feature, which we'll come to in a bit.
The phone comes in two designs: Mirror Black and Midnight Black. We're reviewing the latter, which we'd say is the better of the two; while it's not as glossy and eye-catching, it doesn't pick up fingerprints and smudges as readily. Despite feeling like metal, it actually has a glass back. OnePlus says it's waterproof, but hasn't obtained an IP rating – the company clearly doesn't think it's worth getting one.
On the right-hand side you'll find the power button and alert slider, the latter of which is a OnePlus signature feature which apes the switch seen on the iPhone. However, unlike Apple's design, this actually has three stages (silent, vibrate and ring) and is something we'd dearly love to see on more Android handsets. On the left-hand side of the phone you'll find the volume rocker.
The top of the device is bare, save for the noise-cancelling microphone. The bottom edge has the single speaker (no stereo coverage here, sadly), the in-call mic and the USB-C port. There's no 3.5mm headphone jack, which is a shame as OnePlus included one on its previous model.
The OnePlus 6T has a massive screen – at 6.41-inches, it's comfortably the biggest the company has ever produced. It uses AMOLED tech so you're assured bright colours and convincing blacks, but we did notice that it's sometimes hard to see in bright environments. While that teardrop notch does a superb job of presenting an immersive, all-screen device, there is a very small bezel at the bottom of the screen, which ruins the symmetry a little. Even so, this is a handsome phone at first sight, and much of that is down to the display.
The screen is notable for another reason – it houses the phone's fingerprint scanner. OnePlus has opted for an optical reader here, which sits behind the screen and scans your print. This is a different system to the one Samsung uses in the Galaxy S10, which is based on ultrasonic technology. OnePlus' option feels futuristic enough – you simply place your finger on the symbol and an animation plays as the phone reads your digit – but it's certainly not as fast as a traditional fingerprint scanner. During our review, it sometimes took a while to successfully read the print, and on more than one occasion, it was unable to detect anything. It's a little annoying, but we much prefer have the scanner on the front of the phone, as it means you can unlock it when it's resting face-up on a table. There's also 'Face Unlock' in case you'd rather not use your finger.
OnePlus 6T Review: Software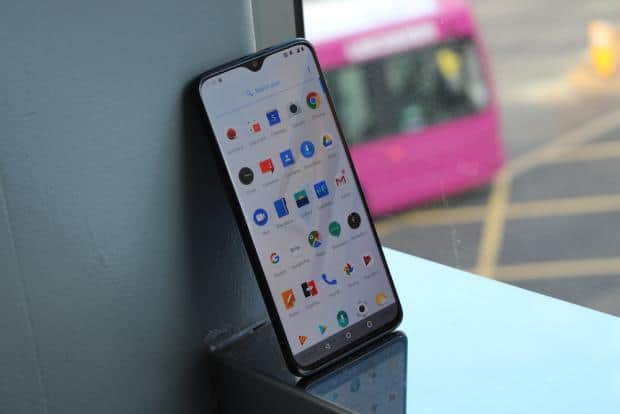 OnePlus knows that Android purists like 'stock' software, and as a result, its OxygenOS is relatively subdued when compared to other manufacturer skins on the market. The OnePlus 6T runs Android 9.0 Pie with relatively few changes to the overall look and feel of the UI.
This extends to apps, too; unlike many other phone makers, OnePlus doesn't clog up its devices with applications that needlessly replicate the function of Google's own options. The 6T ships with all of the usual suspects – Gmail, YouTube, G-Pay, Google Music and so on – but thankfully doesn't offer pointless alternatives just for the sake of it. This has endeared the company – and its products – to hardcore Android fans who are sick of firms like Samsung and Huawei constantly pushing them towards their own bespoke apps and digital marketplaces.
OnePlus 6T Review: Performance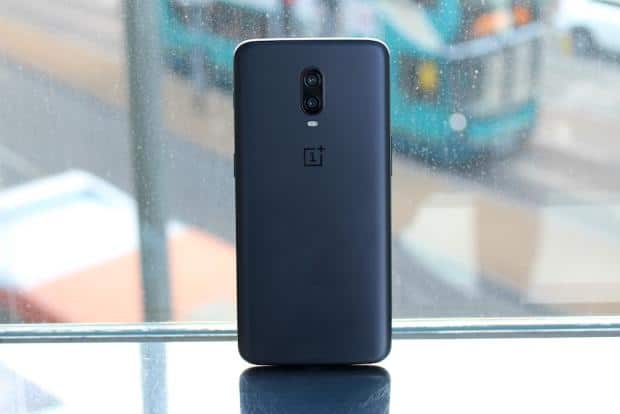 While the Qualcomm Snapdragon 855 might be the processor of choice in 2019, the Snapdragon 845 that beats at the heart of the OnePlus 6T is anything but a slouch. This capable chipset was found in almost every Android phone of note released during 2018, and will be more than suitable for most people during the next two or so years.
While Apple's latest chipsets are arguably more capable, the 6T is on equal footing with handsets like the Pixel 3, Galaxy S9 and Huawei P20 Pro – which is probably unsurprising to most people, as they're all running Snapdragon 845 processors.
Even during stress testing, we couldn't make the OnePlus 6T stutter or struggle. The phone was silky-smooth during basic usage, and even with several apps running in tandem, it barely broke into a sweat. With plenty of RAM to help things tick over, this is a real powerhouse of a phone – even if it is running 2018's best chipset as opposed to 2019's.
Gaming is a great way of pushing a phone to its limits, and the 6T effortlessly handled everything we threw at it. OnePlus has included a special gaming-focused mode this time around which allows you to allocate system resources to ensure you get optimal performance; you can even select settings which allow you to prevent calls from interrupting your session.
OnePlus 6T Review: Camera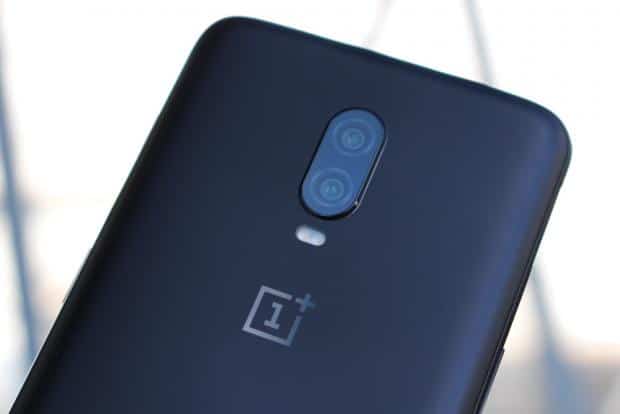 The camera setup is one thing that OnePlus hasn't changed all that much from its previous handset. We've got a dual 16/20-megapixel snapper with phase detection autofocus and optical image stabilisation. The front-facing 16-megapixel uses electronic image stabilisation.
The hard work has gone into the software side of things, with OnePlus introducing a fancy new low-light mode which is similar to those seen on Google and Huawei phones. Auto Nightscape Detection kicks in when the phone detects that the light is low, and while it's not quite a match for the Pixel 3's mode, it produces pleasing shots.
HDR is also much improved, and we found that the OnePlus 6T serves as an excellent 'point and shoot' snapper, with little need to tinker with settings. While you can get your hands dirty with the phone's photographic modes, mobile imaging is more about capturing that 'instant' shot, and the 6T excels in this regard. There were a few shots where we were sure the final image would be ruined by excessive sunlight or objects being in shadow, but the phone surprised us by pulling out some amazing HDR-powered snaps.
Check out these photo samples. On a good day with decent light, the OnePlus 6T is capable of capturing some amazing colour and detail: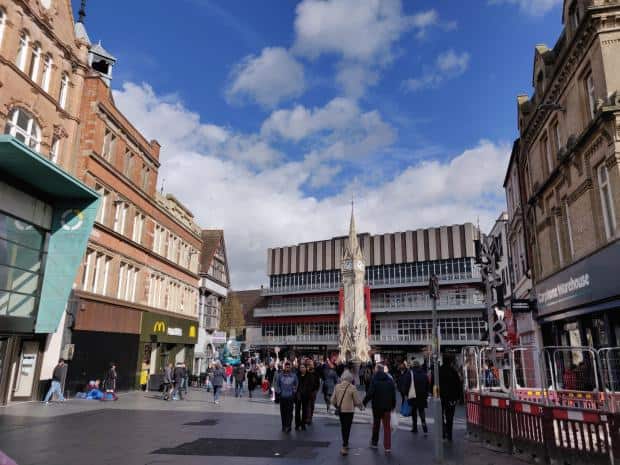 Pin
Indoors, the phone is perhaps a little less assured, but still manages to produce decent results: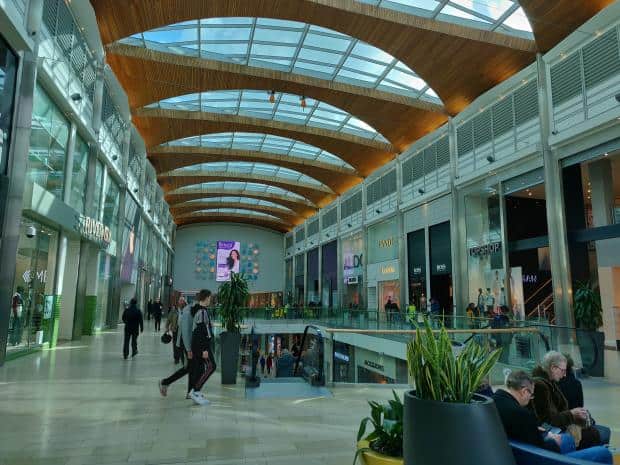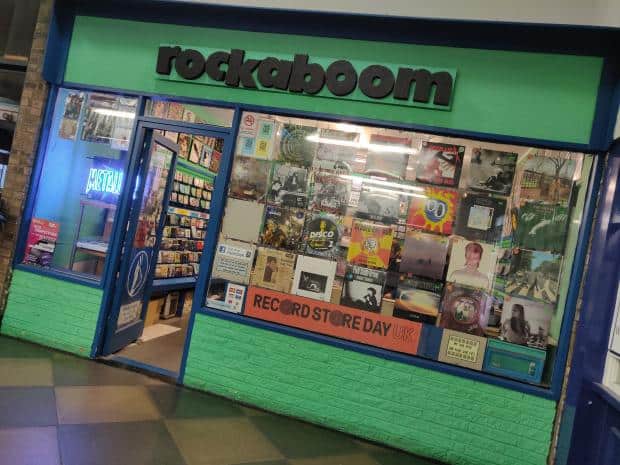 In this shot, we assumed the image would come out either over-exposed or too dark, as the sun was shining so brightly in our eyes (and the lens of the phone) that we could barely make anything out on the screen. The end result was surprisingly good: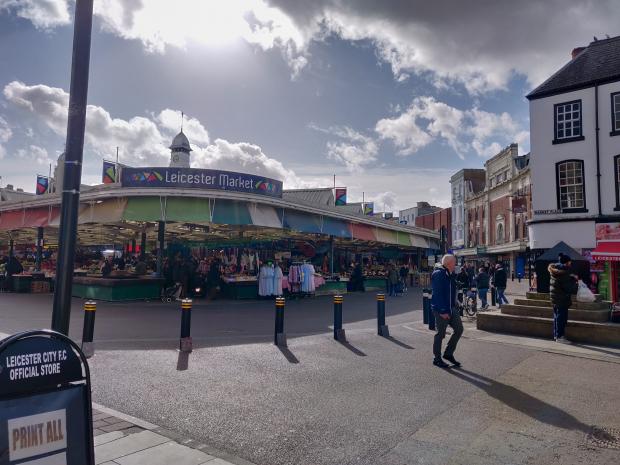 The OnePlus 6T also has an excellent 'bokeh' mode, which is used in these two shots. Unlike Apple's approach, which requires a person's face to be in shot for the 'bokeh' depth effect to be deployed, the 6T will use the feature on any subject: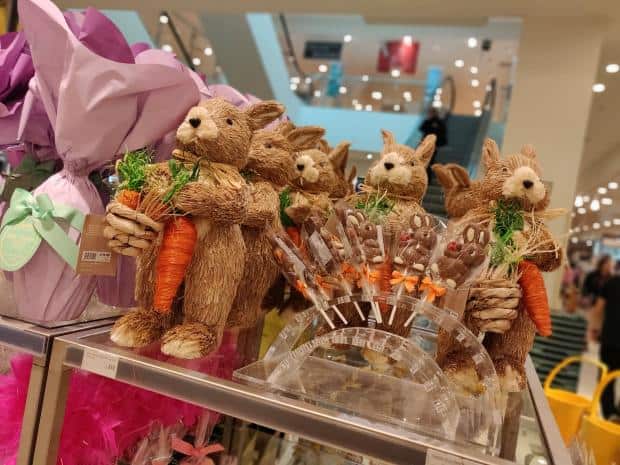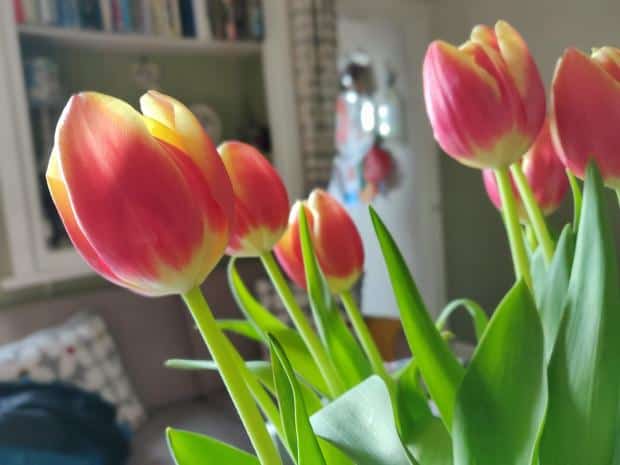 Video tops out at 4K resolution and can be filmed in smooth 60fps – but you're limited to five minutes. Slow-mo recording – a feature that seems to be present on all phones these days – can be shot at 480fps, but is limited to 720p resolution. As was the case on the Galaxy S9, these clips are fine for sharing on social media, but look poor when viewed on a large screen.
OnePlus 6T Review: Battery Life & Storage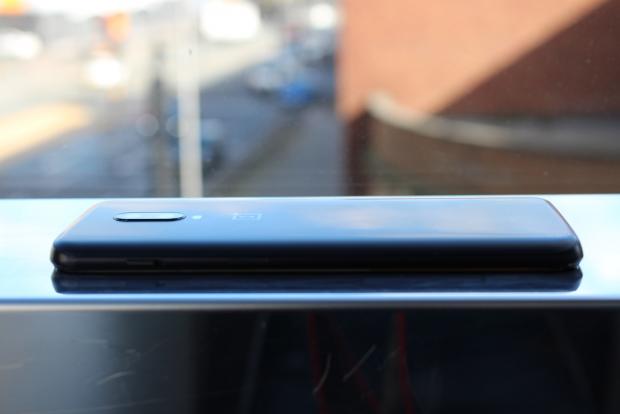 Pin
The OnePlus 6T comes with a 3700mAh battery, which is perhaps a little behind the curve when you look at what some other phones are packing. That battery is having to power a screen that is larger than any we've seen on a OnePlus device so far, so surely it's going to suck when it comes to stamina?
Thankfully, this isn't the case. The OnePlus 6T was more than up to the challenge of getting us through a full day of fairly demanding use, such as surfing the web, posting to social media, listening to Spotify and playing some games. There wasn't a single instance of us getting home at the end of the day with a dead phone, and on some days, there was as much as 30 percent juice left in the tank at bedtime.
OnePlus has been shipping its phones with quick-charging tech for years, but has dropped the 'Dash Charge' moniker for plain old 'Fast Charge'. The company says that 30 minutes on the 20W charger will give you 'a day's power', and while this might sound like a bold claim, it holds water – it's long enough to boost the battery by around 50 percent, which should at least get you through most of your working day if you wake up one morning and find your phone close to zero.
While this quick charging system makes topping up the OnePlus 6T a breeze, the phone is sadly lacking wireless charging, despite that glass back. OnePlus has stated that wireless charging is simply too slow at this moment in time, and given that it wants to push the device's wired charging speed, that's a reasonable point to make. However, it does feel more like skipping a common feature to cut costs if you ask us – and that's a pretty valid reason too, especially when you take into account how much cheaper the 6T is when compared to its rivals.
The OnePlus 6T comes in a 256GB, 8 GB RAM variant as well as a 128GB version which has either 6 or 8GB of RAM. There's no MicroSD card slot, so make sure you get the capacity you need at the point of purchase.
OnePlus 6T Review: Verdict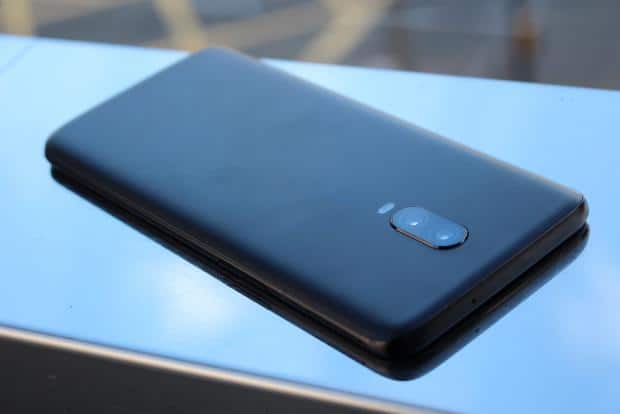 Pin
The playing field has changed since OnePlus launched the 6T late last year; we're already seeing the first phones with Qualcomm's Snapdragon 855 chipset, and the 'teardrop' screen notch is likely to be left in the dust by pop-up selfie cams and hole-punch displays. Even the phone's in-screen fingerprint scanner feels likely undercooked when compared to the ultrasonic version seen on the Galaxy S10. The lack of wireless charging also grates.
Even when you take all of these points into account – and the impending arrival of the OnePlus 7 this year – the 6T remains a totally solid investment. It's powerful enough for even the most demanding user, despite using 2018 silicon, and has a fantastic AMOLED screen, decent camera and eye-catching design. OnePlus's OxygenOS is also one of the best manufacturer UI skins on the market, and the phone feels amazingly fast and responsive, even when compared to handsets which are running essentially the same hardware and Android version.
The cherry on top of the cake is the price – which is a common theme with OnePlus phones. The 6T costs £500, making it cheaper than the 'cheap' iPhone XR and significantly less than any 2019 flagship Android phone you could mention. When you're looking at that kind of value, it becomes a little easier to forget about the (relatively minor) shortcomings and instead focus on what the 6T does offer – which is a top-of-the-line smartphone experience for half the price of an iPhone XS.
Damien McFerran
Damien McFerran has been covering phones and mobile technology for well over a decade. An Android specialist, as well as an expert reviewer of phones, Damien is one of the best technology journalists working today. He is also editorial director over at the excellent Nintendo Life.