Garmin Watch: The Essential Beginner's Guide [2023 Edition]
---
---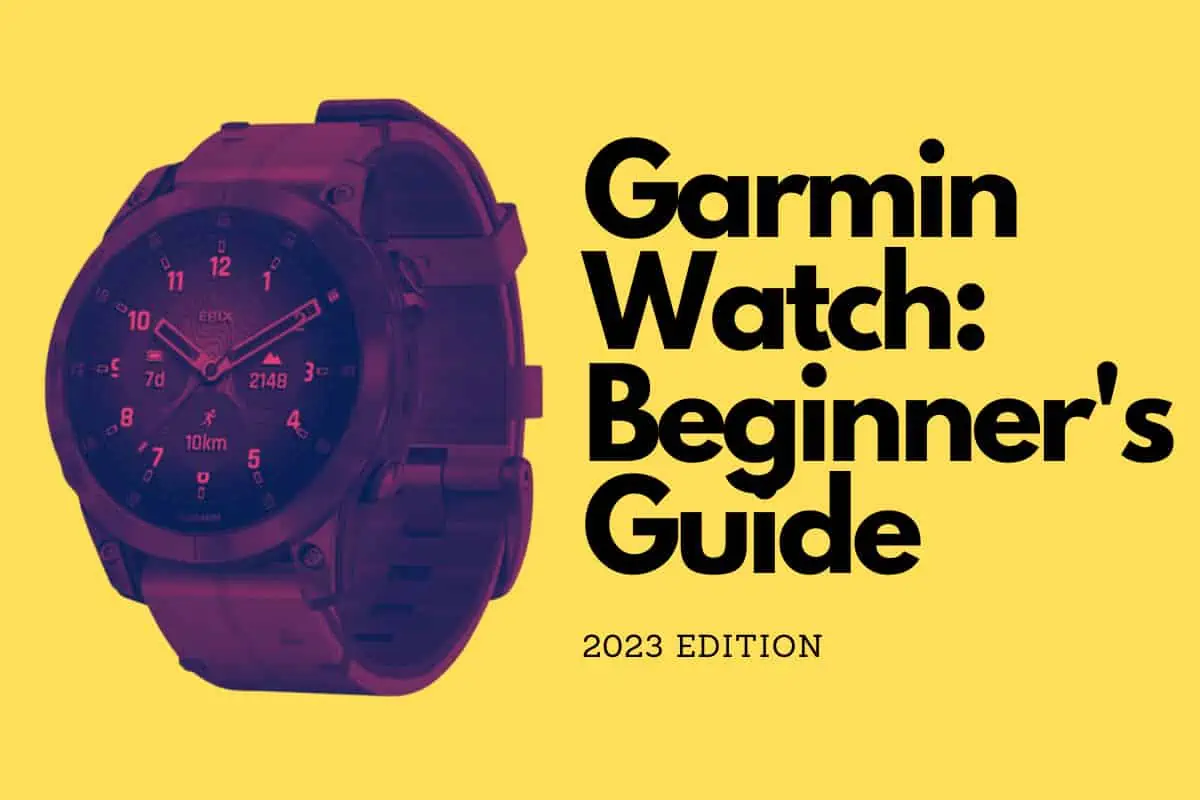 Here's – quite literally – everything you need to know about getting started with your Garmin watch in 2023 and beyond, including how to use it, its features, and advanced tracking modes…
---
---
So, you're thinking about diving into the world of Garmin watches, or perhaps you've just bought your first one and you're eager to understand its full potential. Either way, you're in the right place. In this guide, we'll cover literally everything you need to know about getting started with Garmin watches.
Why Garmin? PROS & Benefits…
Garmin watches are far more than just a way to tell time. Known for their rugged durability and rich array of features, Garmin watches provide unparalleled insights into your health, fitness, and personal performance.
But what truly sets Garmin watches apart is their focus on delivering professional-grade technology suitable for athletes of all levels.
Whether you're an amateur runner preparing for your first 5K or a seasoned triathlete, Garmin watches offer a comprehensive suite of tools to track your progress, analyze your performance, and help you reach your fitness goals.
Additional Resources:
If you're looking to buy a Garmin watch but are unsure which is the right option to go for, we've put together a complete guide to the best Garmin watches right now based on where you're at in your running journey – check it out below!
Garmin Watches Are Incredible For Fitness Tracking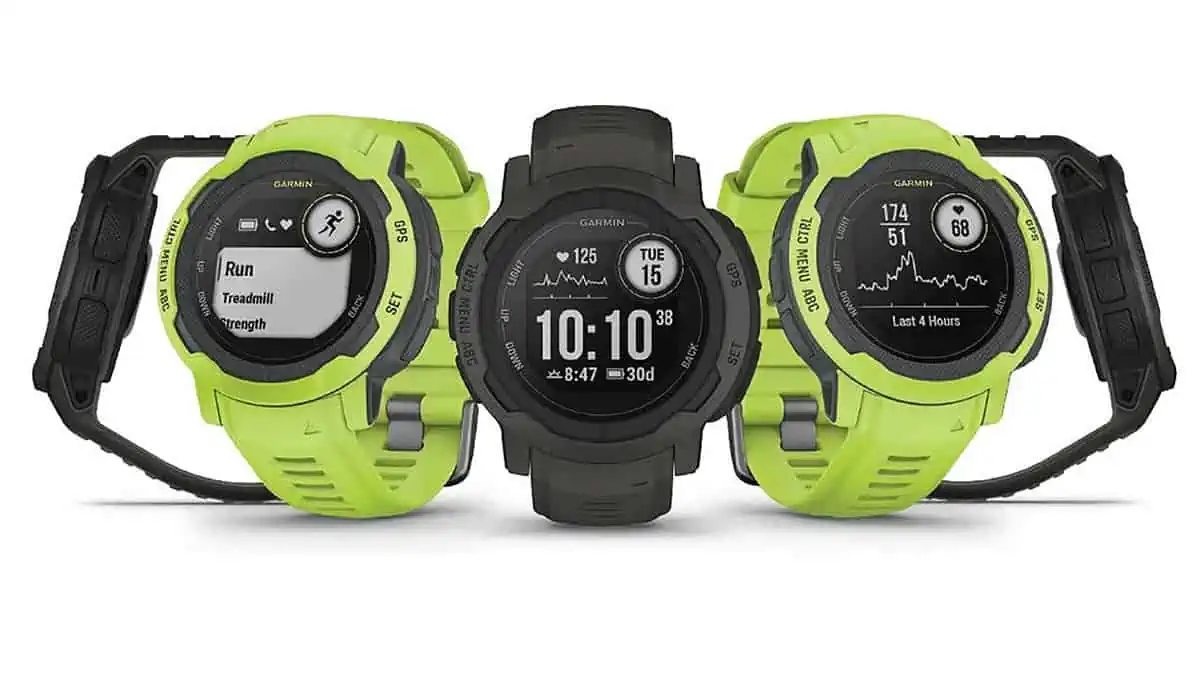 One of the key features of any Garmin watch is the ability to track various fitness activities. Whether you're running, cycling, swimming, or even participating in more niche activities like paddle boarding or snowboarding, there's a good chance your Garmin watch has a tracking profile that suits your needs.
Beyond the standard metrics like distance, speed, and time, Garmin watches also provide more advanced data, including your VO2 max, heart rate zones, and training status.
This level of detail is a game-changer for those looking to optimize their training and performance. For a more detailed look at how Garmin evaluates your fitness data, check out this detailed guide about Garmin's training status feature.
Understanding Garmin Features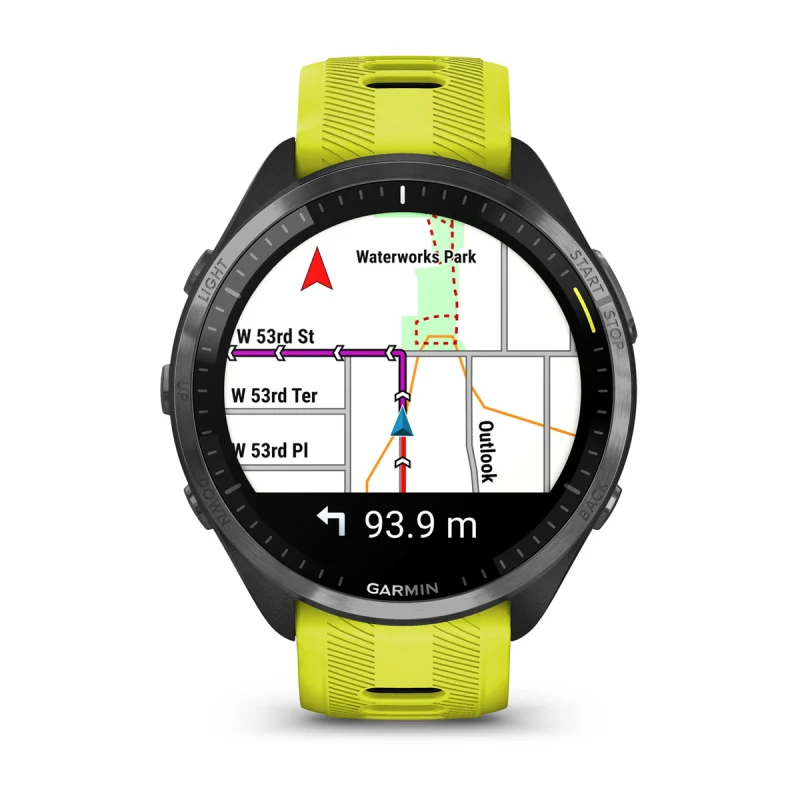 Garmin watches come packed with a host of unique features, designed to enhance your fitness journey.
Sleep Score
For instance, the Garmin sleep score provides detailed insights into your sleep quality, which is a vital aspect of recovery and overall health. You can also personalize your heart rate zones to match your fitness level and goals, enabling you to train more efficiently. .
Training Status
Garmin's Training Status assesses your past exercise activities and performance indicators to provide feedback on whether you're training effectively, peaking, or overreaching. Understanding this data can help you adapt your workout routine to prevent burnout or under-training.
For instance, if you're brand new to running and you do four or five 30-minute runs back to back, your body will feel it – big time. With training status, you'll know exactly whether or not your body is recovered enough for a workout which means no more over-training and no more burnouts.
Body Battery
But the features don't stop there – you also have a feature called Body Battery. Some Garmin watches also measure your stress levels based on your heart rate variability data. This can help you better manage your overall well-being by identifying when you need to rest or relax.
Here's a guide on how Garmin watches measure stress – and how to interpret the results for optimal performance.
Garmin Pay
Garmin's answer to the mobile payment trend is Garmin Pay, a feature included in several of its watches. It allows you to make contactless payments right from your watch, simplifying your shopping experience.
And if you're worried about security, rest easy knowing that Garmin Pay uses watch-specific card numbers and transaction codes for each purchase to keep your information safe.
Garmin Pro
Garmin Pro is a subscription-based service offered by Garmin that enhances the feature set of your Garmin watch. This premium service provides more detailed insights, advanced features, and training guidance to help you meet your fitness goals more effectively.
What Garmin Pro Includes
Advanced Analytics: Garmin Pro offers deeper insights and more comprehensive analytics. This includes more advanced sleep tracking, detailed stress tracking, and fitness age calculations.
Training Plans & Workouts: Garmin Pro offers access to personalized training plans and workouts. These plans are created by certified coaches and tailored to your specific fitness level and goals.
Garmin Coach Adaptive Training: This feature provides an adaptive training plan that adjusts based on your progress and performance.
Nutrition & Hydration Tracking: Garmin Pro provides tools to track your nutrition and hydration, helping you to manage your diet more effectively.
Live Event Sharing: With Garmin Pro, you can share your live event data with friends, family, or coaches. They can follow your progress during races or long training sessions in real-time.
Incident Detection and Assistance: This safety feature sends your location to emergency contacts if an incident is detected during an outdoor activity.
Fitness Reports: Garmin Pro provides detailed fitness reports, including trends over time, and detailed insights into your fitness metrics.
Remember, these are additional features on top of what you already get with Garmin Connect. It's designed for those who want to take their training to the next level. You can learn more about Garmin Pro inside the guide and find out whether it is for you.
Garmin Watch Models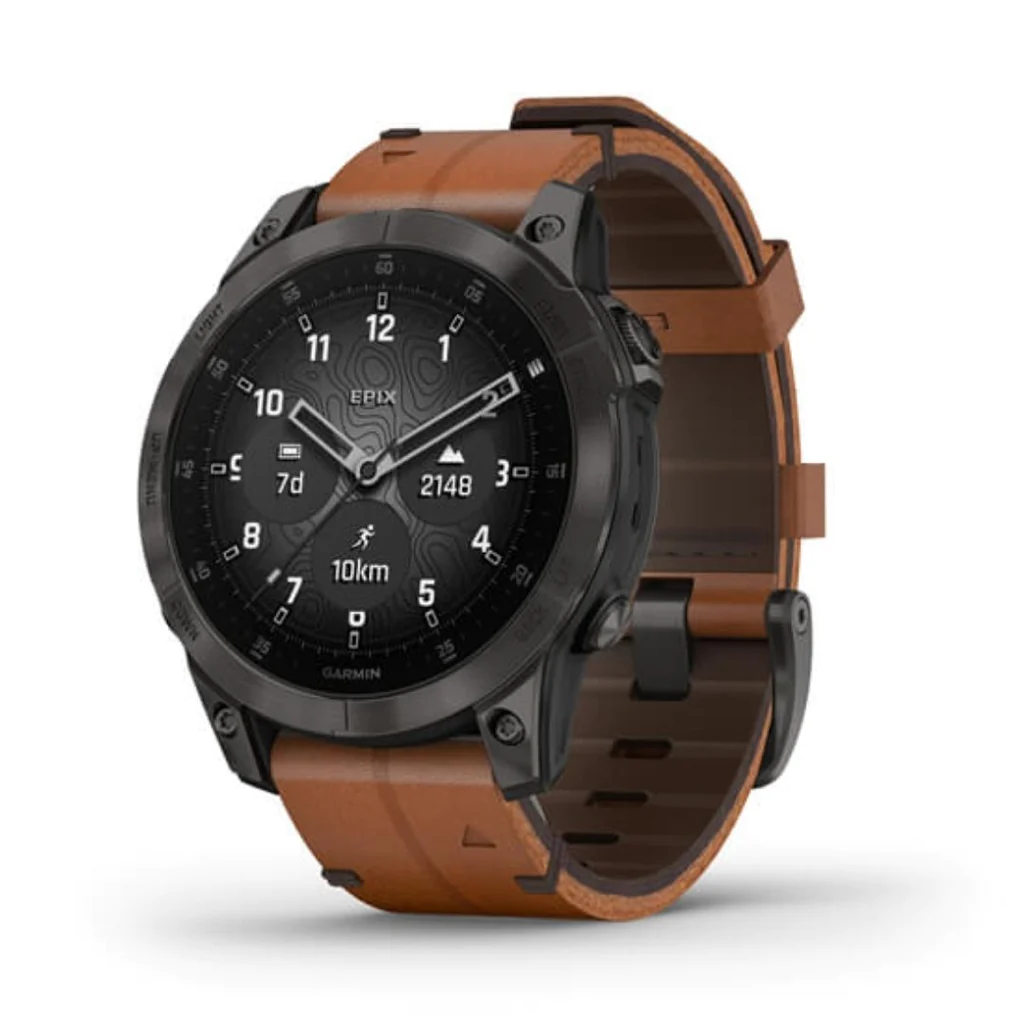 With an array of models, choosing a Garmin watch can feel overwhelming. However, it comes down to personal preference and your specific needs. Although these ones are the most popular right now.
If you're a serious athlete or outdoor enthusiast, you might be interested in the Garmin Fenix 7. It offers a rugged design and advanced fitness tracking features. And here's how the Fenix 7 compares to the Fenix 6, its predecessor.
Meanwhile, the slightly less expensive Garmin Forerunner 955 could be an excellent choice for runners that are just getting started or are more intermediate. It provides detailed performance metrics, comprehensive mapping features, and robust battery life.
Whichever model you end up going with, know this: Garmin watches are built to last; some users have gotten over ten years' worth of usage from certain models. Me? My first ever Garmin watch, bought in 2015, is still going strong today.
Most Expensive Garmin Watch & The Cheapest Garmin Watch
Below is a guide that breaks down the features of each Garmin watch model, listed from the most expensive to the least expensive, to help you understand why certain models cost more than others. If you're just starting out with your fitness journey, you really don't need to spend $1000+ on a watch.
One of Garmin's cheaper watches will do everything you need and then, once you've got a few thousand miles under your belt, maybe you treat yourself to one of its more expensive models?
This is what I did, back in 2015, when I first started my foray into running. I told myself: if I can do this for 12 months, and get significantly better, I'll treat myself with an expensive one at Christmas.
Garmin Epix Pro Sapphire Solar Edition
Features:

Solar Charging: Extends battery life with solar power.
Sapphire Glass: Highly durable and scratch-resistant.
Multi-GNSS Support: Supports multiple global navigation satellite systems.
Advanced Fitness Metrics: VO2 max, recovery time, and more.

Why It Costs More:

Premium materials like sapphire glass.
Advanced navigation and fitness features.
Solar charging capability for extended battery life.
Garmin Fenix 7X: Solar Edition
Features:

Solar Charging: Enhances battery life.
Rugged Design: Built for outdoor adventures.
Multi-Sport Modes: Supports various sports and activities.
Pulse Ox Sensor: Measures blood oxygen levels.

Why It Costs More:

Solar charging technology.
Robust build quality for outdoor use.
Advanced health and fitness tracking.
Garmin Venu 2 Plus – $400
Features:

AMOLED Display: Vibrant and clear screen.
Music Storage: Store up to 650 songs.
Health Snapshot: Quick overview of key health metrics.
Voice Assistant: Built-in voice control.

Why It Costs More:

High-quality AMOLED display.
Voice assistant and music storage capabilities.
Garmin Forerunner 745 – $413
Features:

Designed for Runners: Specialized running metrics.
Training Load Focus: Monitors how your training impacts your body.
Swim Tracking: Detailed swim metrics.
Long Battery Life: Up to 7 days in smartwatch mode.

Why It Costs More:

Specialized for runners with advanced metrics.
Extended battery life.
Garmin Instinct 2: Solar Edition – $350
Features:

Solar Charging: Extends battery life.
Rugged Design: Built to military standards.
Basic Fitness Tracking: Steps, calories, and basic health metrics.
GPS: Basic navigation features.

Why It Costs More:

Solar charging and rugged design.
Basic but essential fitness and navigation features.
Garmin Vívomove Trend – $270
Features:

Hybrid Display: Analog watch with a digital display.
Basic Fitness Tracking: Steps, sleep, and basic health metrics.
Stylish Design: Fashion-forward look.

Why It Costs More:

Hybrid design combining traditional and smart features.
Focus on style and aesthetics.
Garmin Vívoactive 4 – $189
Features:

Multi-Sport Modes: Supports various activities.
Health Tracking: Basic health metrics like heart rate and sleep.
GPS: Basic navigation features.

Why It Costs More:

Versatile multi-sport modes.
Basic health and navigation features.
Garmin Forerunner 55 – $149
Features:

Designed for Runners: Basic running metrics.
GPS: Basic navigation features.
Battery Life: Up to 2 weeks in smartwatch mode.

Why It Costs More:

Specialized for basic running and fitness tracking.
Long battery life for its price point.
Durability and Compatibility
A key consideration for any smartwatch is its durability and compatibility. You'll be happy to know that Garmin watches are designed with a durable build and are generally waterproof. This makes them ideal companions for outdoor activities and water sports.
In terms of longevity, Garmin watches are built to last, with some users reporting that their devices have served them well for several years. Moreover, Garmin watches' battery life is another strong selling point, with many models offering multiple days or even weeks on a single charge, depending on usage.
And yes, Garmin watches are indeed compatible with iPhones and Android phones too, so there's no compatibility issues (as you get with Apple Watch).
Garmin Connect
Garmin Connect is a comprehensive online fitness platform that pairs with your Garmin watch. It serves as your personal fitness diary, bringing together all your activity data and metrics in one place to give you a holistic view of your health and wellness.
It can at first be a little daunting, there's just so much data to sift through. If you're a complete beginner with Garmin watches, check out this guide on how to use Garmin Connect like a pro – it covers all the basics and loads more besides.
Here are the main features of Garmin Connect:
Garmin Connect Features
Dashboard: A fully customizable dashboard where you can view your stats, such as steps, sleep, calories, distance covered, and many more, at a glance.
Workout Planning and Analysis: You can create and schedule custom workouts, then analyze the data collected during your exercises. You can see detailed metrics like pace, heart rate, elevation, and more.
Activity Tracking: Garmin Connect keeps a log of all your activities, from running and cycling to swimming and even sleep. Each activity provides a wealth of data for you to analyze and monitor your progress over time.
Courses: You can create or follow courses for outdoor activities, which you can then send to your Garmin watch. This is great for exploring new routes or preparing for a race.
Challenges and Badges: Garmin Connect offers various challenges for you to participate in, which can be a fun way to stay motivated. You can earn badges for reaching certain milestones and completing specific tasks.
Calendar: This feature allows you to view your planned workouts, completed activities, and other health data in a calendar format, helping you stay organized and maintain a consistent routine.
Sleep Tracking: Garmin Connect presents detailed information about your sleep stages (deep, light, REM), movement during sleep, and overall sleep quality.
Health Stats: This section includes advanced metrics like stress score, Body Battery, and VO2 max. It also provides heart rate data, including resting heart rate and heart rate variability.
Social Features: You can connect with other Garmin users, join groups, participate in challenges, and share your activities and achievements.
Garmin Coach: This feature provides personalized training plans for running and cycling events, with guidance from professional coaches.
Connect IQ Store: You can access the Connect IQ Store to download custom watch faces, data fields, widgets, and apps to personalize your Garmin device.
Insights: Garmin Connect provides insights based on your data to help you understand patterns and make healthier decisions.
Device Management: You can manage your Garmin device settings, software updates, and more directly from the Garmin Connect platform.
Garmin vs. Competitors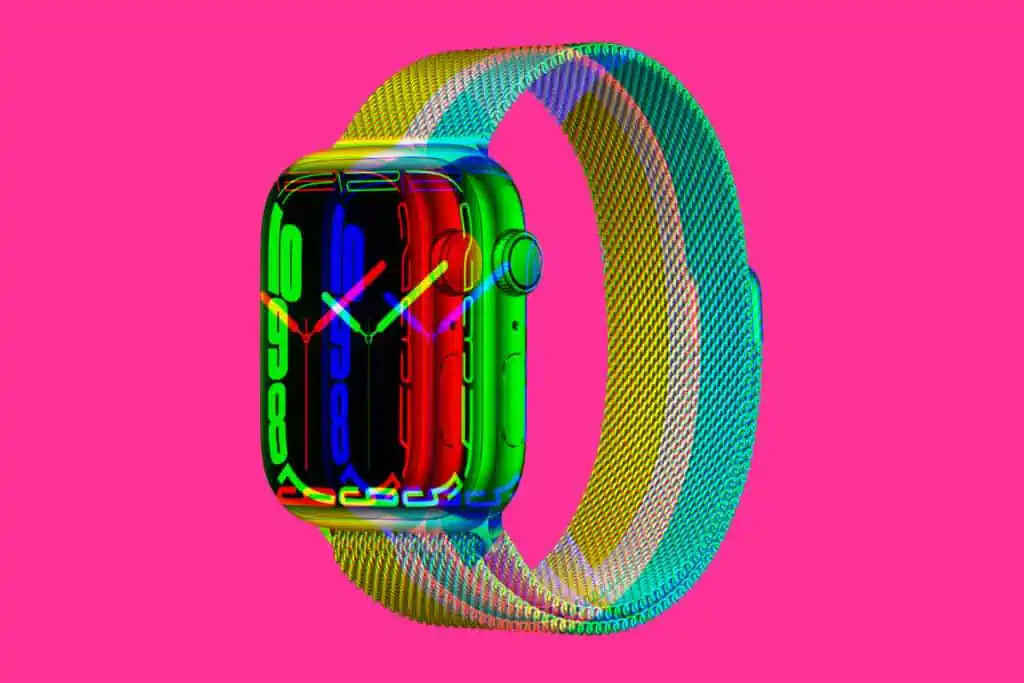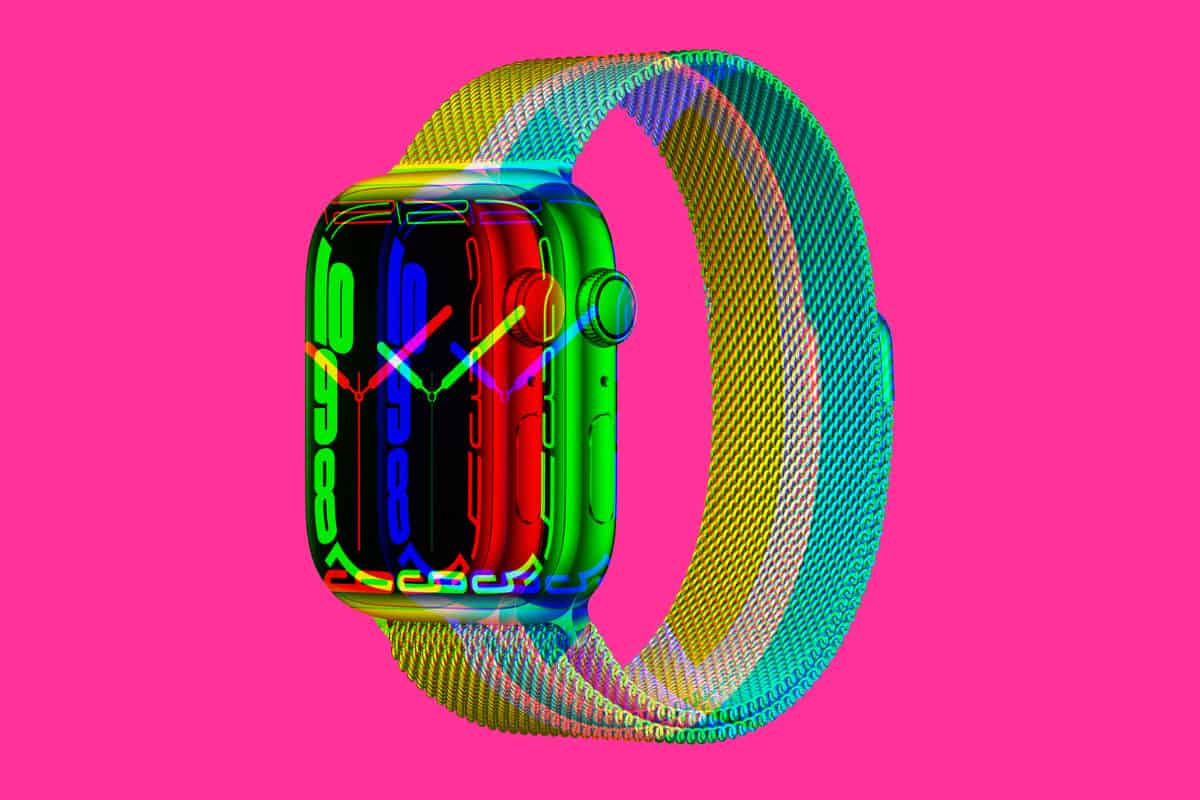 A common question that people often ask is, "Is Fitbit or Garmin better?" Truth be told, both brands offer excellent fitness trackers, but they cater to slightly different audiences.
Fitbit is often considered more user-friendly and aesthetically versatile. However, Garmin watches often win in terms of detailed fitness tracking, especially in relation to running and outdoor activities.
The competition gets even more intense when we bring the Apple Watch into the mix. While the Apple Watch is a strong competitor with its sleek design and extensive app ecosystem, the Garmin watch pulls ahead for dedicated runners.
Its superior GPS tracking, longer battery life, and specialized running features provide more in-depth data and overall utility for runners.
To explore more about why Garmin watches are considered better for runners, check out this comparison here.
Fitbit or Garmin?
Fitbit is a well-known name in the fitness tracking industry. While both Fitbit and Garmin offer excellent fitness tracking capabilities, Garmin generally comes out on top in terms of the breadth and depth of data.
Not to mention, Garmin watches are often more robust and are more suited for outdoor activities and serious training. As for user-friendliness, both brands are quite intuitive, but Garmin's extensive features may require a slight learning curve for complete beginners.
In the end, Garmin watches come out on top. I've used both and I found Garmin's more granular approach to data much more useful. Give yourself a few weeks with Garmin Connect, log plenty of activity, and pretty soon you'll feel right at home.
Garmin vs. Apple Watch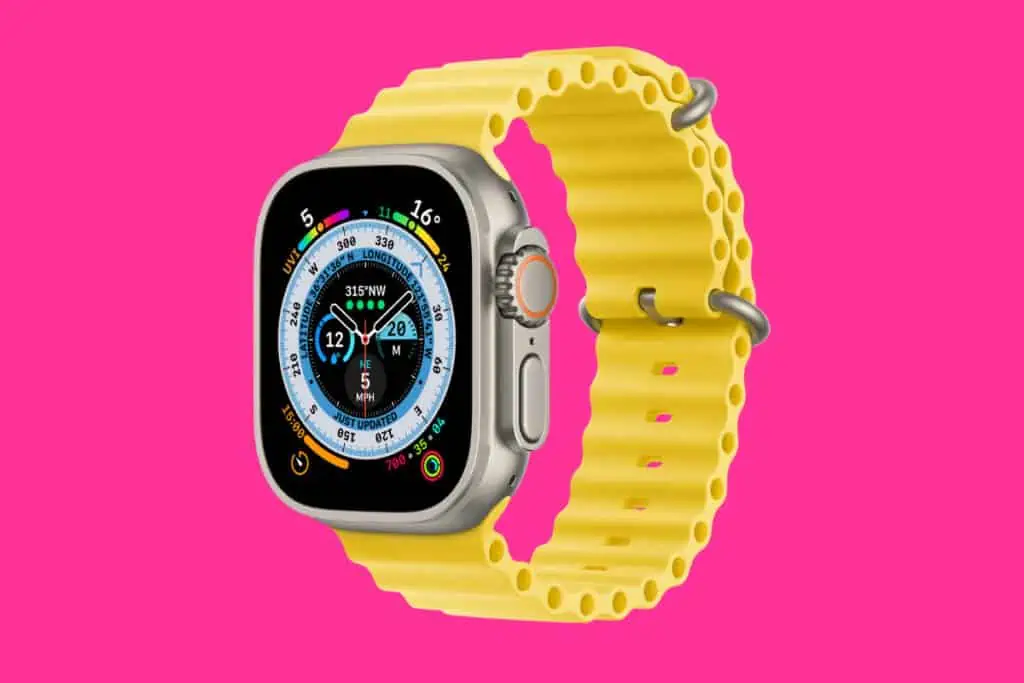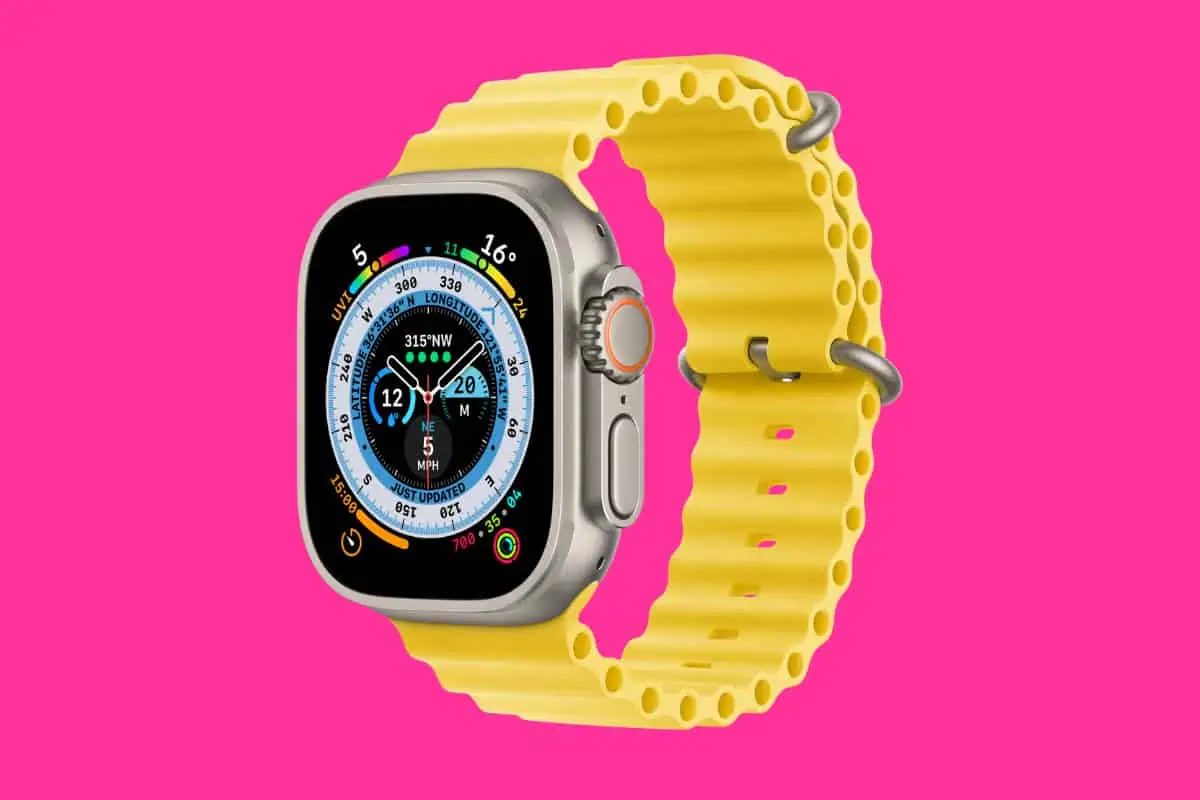 The Apple Watch is renowned for its smart features, sleek design, and seamless integration with other Apple products. But when it comes to specialized fitness tracking, particularly for runners, Garmin is generally a better choice.
Garmin watches offer advanced metrics, such as running dynamics and training load, which are invaluable to serious athletes.
Moreover, Garmin watches tend to have superior battery life compared to the Apple Watch, although Apple's Apple Watch Ultra has made some pretty impressive strides in this department.
Most Popular Garmin Watch Models Compared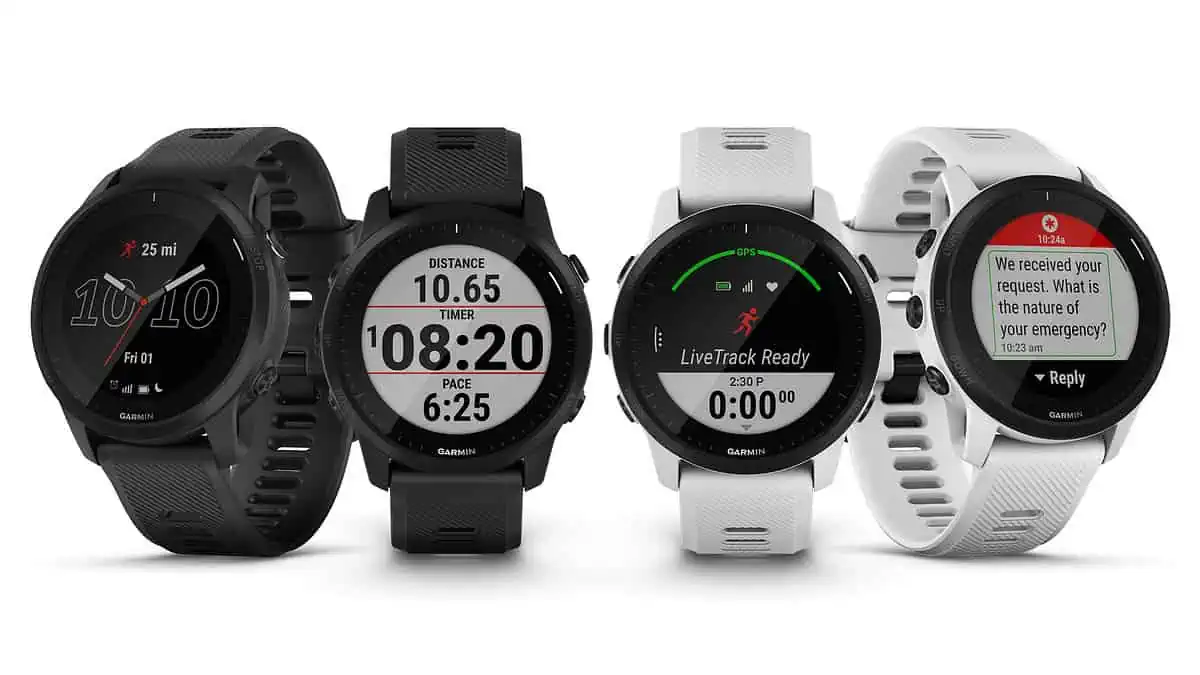 What's the best Garmin watch to buy? That kind of depends on what you want to do with it and where you are on your fitness journey. If you're already running marathons and triathlons, you'll probably want something with all the best features and tracking abilities – the Fenix 7 or Forerunner 955.
But if you're just getting started and a 5K still sounds daunting, you'll be fine going with one of Garmin's cheaper models. Here's a quick overview of Garmin's current most popular watches (in terms of overall sales):
Most Popular Garmin Watches
| Garmin Model | Key Features |
| --- | --- |
| Garmin Venu 2 | – Advanced Health Monitoring Features |
| | – Hi-Res AMOLED Display |
| | – Sports Apps, Music, and GPS |
| Garmin Forerunner 955 | – Solar Charging Lens |
| | – Advanced Running and Multisport Features |
| | – Detailed Training Data and Recovery Time |
| Garmin Fenix 7 | – Rugged, Endurance-Oriented Design |
| | – Multi-GNSS Support, ABC Sensors |
| | – Detailed Performance Metrics and Mapping Features |
| Garmin Instinct 2 | – Rugged Outdoor Watch |
| | – GPS, GLONASS, and Galileo Support |
| | – Heart Rate, Activity and Stress Tracking |
| Garmin Enduro 2 | – Ultra-Performance GPS Watch |
| | – Solar Charging for Incredible Battery Life |
| | – Advanced Training Features |
| Garmin Vivosmart 5 | – Smart Fitness Tracker |
| | – Pulse Ox Sensor |
| | – All-day Stress Tracking and Sleep Monitoring |
| Garmin Forerunner 255 | – GPS Running Watch |
| | – VO2 Max Estimate, Physio TrueUp |
| | – Connect IQ for Customizable Features |
| Garmin Forerunner 265 | – Advanced Running Watch |
| | – Performance Metrics and Training Load Focus |
| | – PacePro Technology for Grade-Adjusted Guidance |
| Garmin Forerunner 55 | – Simple GPS Running Watch |
| | – Pace Strategy Features |
| | – Wrist-Based Heart Rate and GPS |
| Garmin Venu 2S | – Compact Design with Health Monitoring Features |
| | – Sports Apps, Music, and GPS |
| | – AMOLED Display and Long Battery Life |
Garmin Watch Price Comparison
Richard Goodwin
Richard Goodwin has been working as a tech journalist for over 10 years. He has written for Den of Geek, Fortean Times, IT PRO, PC Pro, ALPHR, and many other technology sites. He is the editor and owner of KnowYourMobile.