RealMe GT Review: The Best Phone You've Never Met?
---
---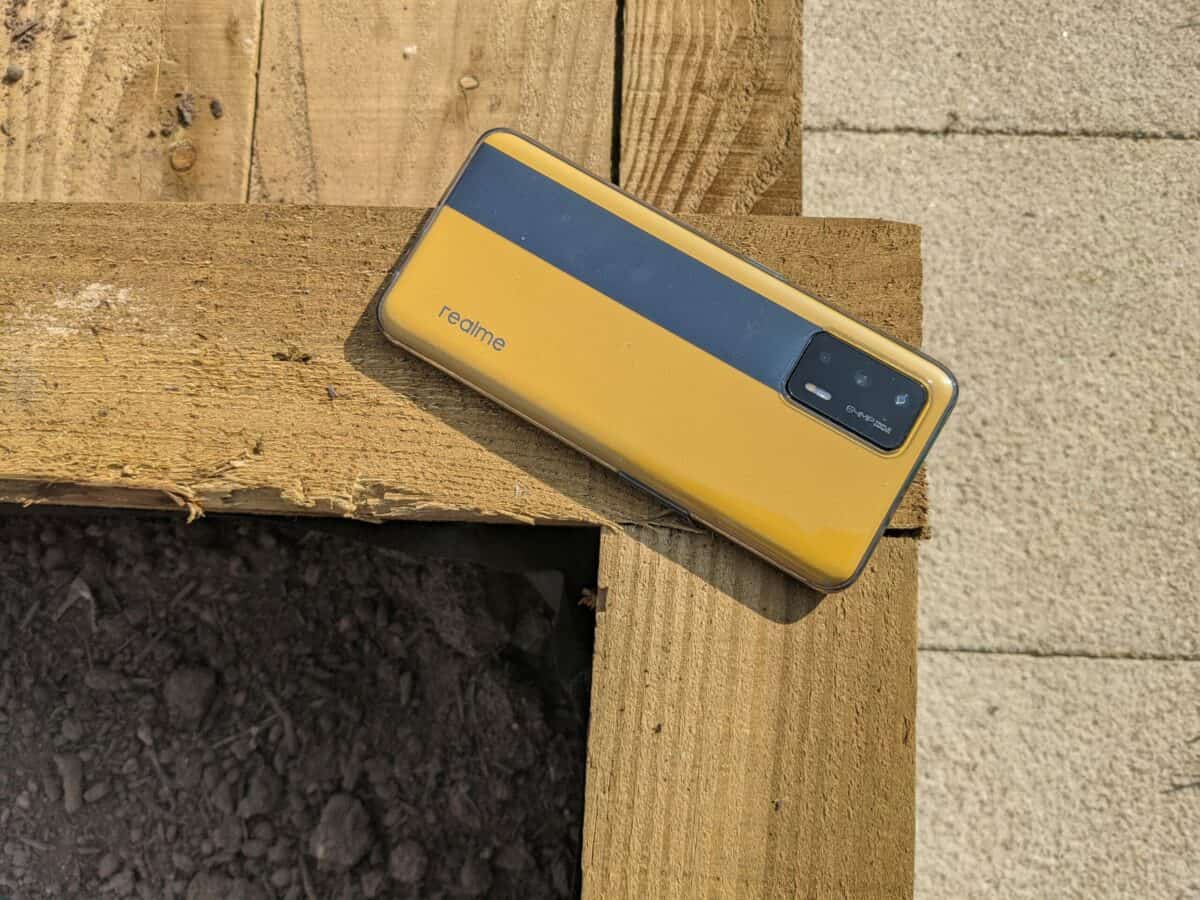 RealMe is one of the fastest-growing phone brands on the planet, and the company's RealMe GT phone is bloody amazing – here's why…
---
[letsreview]
---
You might not have heard of RealMe but I promise you that will change. RealMe – next to VIVO – is now one of the fastest-growing phone brands on the planet, and this is all down to how it markets and prices its phones.
OnePlus kind of started the whole "budget flagship" thing but this turned out to be something the company was not committed to for the long haul; OnePlus phones are now kind of expensive. They're amazing, though, so that's cool – the company has transited to another level now.
People Love Affordable Flagship Phones
If there's one thing I've learned in the last decade of writing about tech it is this: people love affordable technology that packs in a ton of value for money. This is why the fastest and most popular phone brands on the planet are no longer Apple and Samsung; instead, it is Xiaomi and brands like RealMe and VIVO.
And this is the case because these Chinese phone companies make Android phones that look like flagship phones that carry flagship-grade specs, but retail for around half the price of a traditional flagship phone from the likes of Samsung.
RealMe GT: A New Kind of Flagship Killer
And the RealMe GT is perhaps one of the best examples of this to date. What makes the RealMe GT so special? First, the specs: it runs on Qualcomm's latest and greatest Snapdragon 888 CPU, packs in either 8GB or 12GB of RAM, and it comes with a brilliant triple-lens camera module that is fronted by a 64MP wide lens sensor. The phone launched before the RealMe GT Master Edition and is its superior in every way – from its design to its CPU and overall performance.
---
And the phone retails for £399.99 in the UK. It also doesn't look or feel cheap, either. The RealMe GT is a stunningly designed phone with a faux-leather back panel, a 6.4in Super AMOLED screen with a 120Hz refresh rate, and an 89% screen-to-body ratio. It looks and feels as good as any Android flagship on the market right now, basically. But it costs about 60% less.
The key to RealMe's success – it makes and sells a lot of phones – is that it knows who it is marketing to. It isn't going after iPhone users or Samsung users for that matter. RealMe knows teenagers need phones, want access to the latest technology, but it also knows that teenagers have ZERO buying power.
By retailing its phones at a far more palatable price than Samsung and Apple's phones, RealMe has positioned itself a the #1 choice for teenagers and/or students – or anyone on a tighter budget for that matter.
Imagine asking your parents for an iPhone 12 Pro Max. They'll probably ask you how much it costs, right? You'll tell them, and their jaw will hit the ground. But if you said, what about the RealMe GT? It costs £399.99, they'd probably be way more willing, right? Of course, they would – it's like 60% less.
It is this price accessibility combined with a focus on cutting-edge design and actual flagship specs and hardware that have made RealMe one of the fastest-growing phone brands during the past couple of years. I've been using the RealMe GT for a month now and it is brilliant; it is more powerful than my Pixel 5 and it has a better-looking screen.
The camera is great too; it's not quite "up there" with what you get on an £800 to £1000 phone from Apple or Samsung but it is close enough given the price difference that is in play. The Pixel 5's camera is great but since using the RealMe GT, I haven't missed it at all – the GT's is just as good for uploads to Instagram and the like.
And RealMe has even included a 16MP front-facing camera on the RealMe GT. A 16MP sensor with a wide-angle lens. Why? Because teenagers take a lot of selfies and love going live on things like TikTok and Instagram. Having a high-quality front-facing camera with a wide-angle lens makes this type of content look better.
The RealMe GT Charges INSANELY Fast
One of the most annoying things about Apple's iPhones is that they charge up so slowly. Even Apple's most expensive iPhone takes an AGE to charge up. But with the RealMe GT, you have support for 65W Fast Charging.
And it even includes a charging cable in the box. With 65W Fast Charge, you can charge the phone from dead to 100% within 30 minutes. The RealMe GT runs a 4500mAh battery, so if you need to top it up mid-way through the day, if you know you're going out after work, a quick 10-minute blast will give you all the charge you need to see you through to the next morning.
It's Got A Headphone Jack Too
Unlike nearly all flagship phones on the market right now, the RealMe GT ships with a headphone jack. And it does this because RealMe knows that not everybody wants or can afford expensive, wireless headphones.
Next time you're out and about, take a look around you – most students and teenagers use wired headphones. RealMe knows this which is why nearly all of its phones come with a headphone jack. I also like my phones with headphone jacks too because I have a few pairs of expensive wired headphones that I like to use from time to time.
What's RealMe's Software Like?
As with a lot of things, there are usually some caveats when it comes to cheaper Android phones and the software they run. And this is sort of true with the RealMe GT, but not totally.
The RealMe GT runs Android 11 and the RealMe UI 2.0. The downside with RealMe UI 2.0 is that it does come with quite a lot of bloatware (apps you don't want or need). But that's about it for problems. The UI itself is very close to stock Android like you get on the Pixel and it looks and functions great.
I much prefer RealMe UI to Xiaomi's MIUI; it is far more reliable and way less buggy. There is also far less bloatware and useless features. Like stock Android, once the phone is set up, it kind of just gets out of your way and lets you get on with your day-to-day. RealMe also includes popular apps like Facebook and Instagram pre-installed. You can delete these if you wish but I imagine most of the RealMe GT's intended users will most likely appreciate their inclusion.
RealMe UI 2.0 is also great for customization too. You can change practically every element of the UI – from the wallpaper to the app icons and even the lockscreen, adding elements and icons you want to display on it when the phone's screen isn't active. You can also change the UI's font, how the apps are arranged, and download additional themes from RealMe's theme store. I just kept mine in stock configuration.
With bloatware, there's a ton of apps installed on the phone, from RealMe's own apps to really random ones like Booking.com and LinkedIn. I can only imagine that RealMe gets paid for including these apps inside its phone – that or it thinks it is being helpful. Either way, there is quite a bit of cleaning up to do when you first load up the phone.
I like to run a pretty spartan phone; I only use about 15 apps in total and I like to keep them organized in folders. This is easy enough to do inside RealMe UI 2.0 but it does take about 20 minutes. You have to delete all the apps you don't want, install the ones you want, create folders, and then re-organize everything.
Camera Performance
As noted earlier, the RealMe GT runs a triple-lens camera module. Here are the exact specs for the main camera:
64 MP, f/1.8, 26mm (wide)
8 MP, f/2.3, 16mm, 119˚ (ultrawide)
2 MP, f/2.4, (macro)
With respect to performance, the RealMe GT punches well outside its weight class in the camera department. Pictures look bright and detailed, and it is pretty decent in low-light conditions too. RealMe has copied Apple's Camera App too, so the camera is super simple to use.
I came from the Pixel 5 to this phone and I found the RealMe GT's images to be a lot brighter and more stylized than what you got with the Pixel 5.
RealMe, like a lot of Chinese phone companies, is very heavy on post-image processing. It likes to beautify things, smooth things, make things thinner – it's a bit odd to be fair. Especially on the front-facing camera. You can basically completely alter your face. Great for all the trout-pouters out there. But not so much for a 37-year-old man.
The camera performance is faulty solid, though, both on the front and the back. I do prefer the more natural-looking shots you get on the iPhone 12 and Pixel 5. But the RealMe GT's camera performance is still very impressive, especially at this price point. It is as good as the VIVO X60 Pro, and that phone costs quite a bit more and it has a gimbal too.
Wrapping Up: Is The RealMe GT Worth It?
This phone has really impressed me. Is it perfect? No. But nothing is, and at this price point, I think the RealMe GT is now one of the best value Android phones on the market. It looks brilliant, it has a gorgeous 120Hz AMOLED display, and it has more than enough power under the hood.
For the asking price, just £399.99, you're getting A LOT of phone. The specs and hardware on show here are close to what you get on Samsung's Galaxy S21 Ultra, a phone that costs almost 3X as much as the RealMe GT. If you're in the market for a cheaper-but-equally-powerful phone, the RealMe GT is very easy to love.
I like the design of the phone, I like the software (once I'd pruned it down), and I really quite like its camera too. The performance, thanks to the SD888 and 12GB of RAM, is as good as any flagship Android phone I've used this year. And it costs less than £400 offline. Tie that all together and you have all the ingredients for a brilliant phone.
RealMe, I doff my cap to you. The RealMe GT is a great phone at a great price that deserves to be massively popular.
Richard Goodwin
Richard Goodwin has been working as a tech journalist for over 10 years. He has written for Den of Geek, Fortean Times, IT PRO, PC Pro, ALPHR, and many other technology sites. He is the editor and owner of KnowYourMobile.