Doogee S40 Review – Rugged And Cheap, But Not Much Else
---
---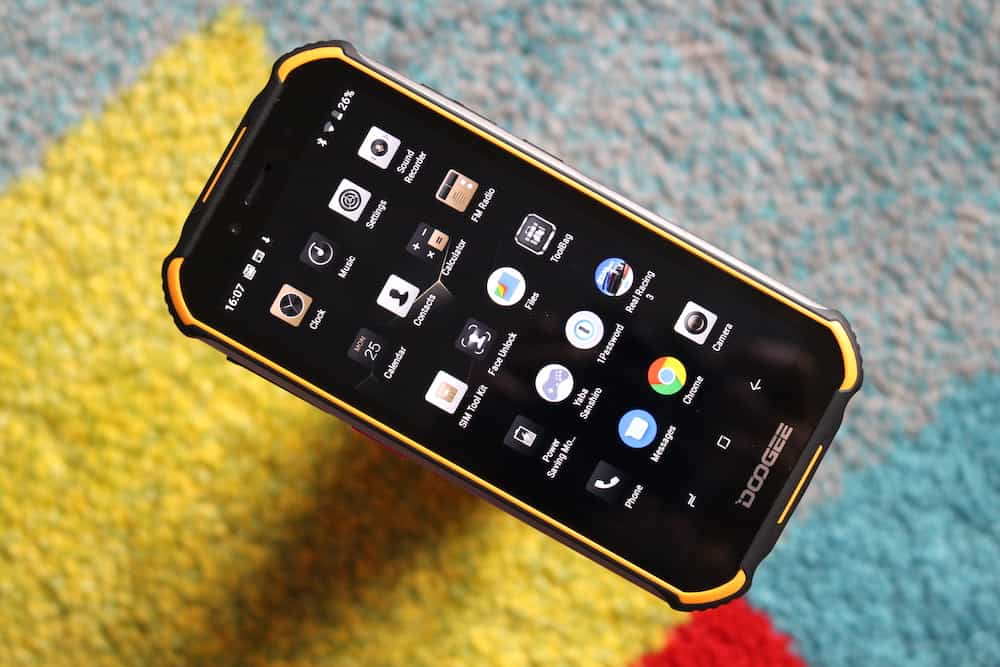 Rugged phones were, for a time, seen as a fad that would fizzle out as fast as it started, but a few years on and we're still seeing a high number hit the market, which suggests there are a great many people out there who value a phone that can withstand a few drops and bumps.
Doogee is no stranger to this sector of the market and has already released the workmanlike S90, which comes with a range of modular attachments that make it stand out from the crowd. Perhaps sensing that people shopping on a budget may also want to benefit from a tough smartphone, the Chinese firm has released the S40, a scaled-down rugged phone that costs around £100. Can Doogee really give us a robust blower for that kind of spare change? Let's find out.
Doogee S40 Review: Design & Display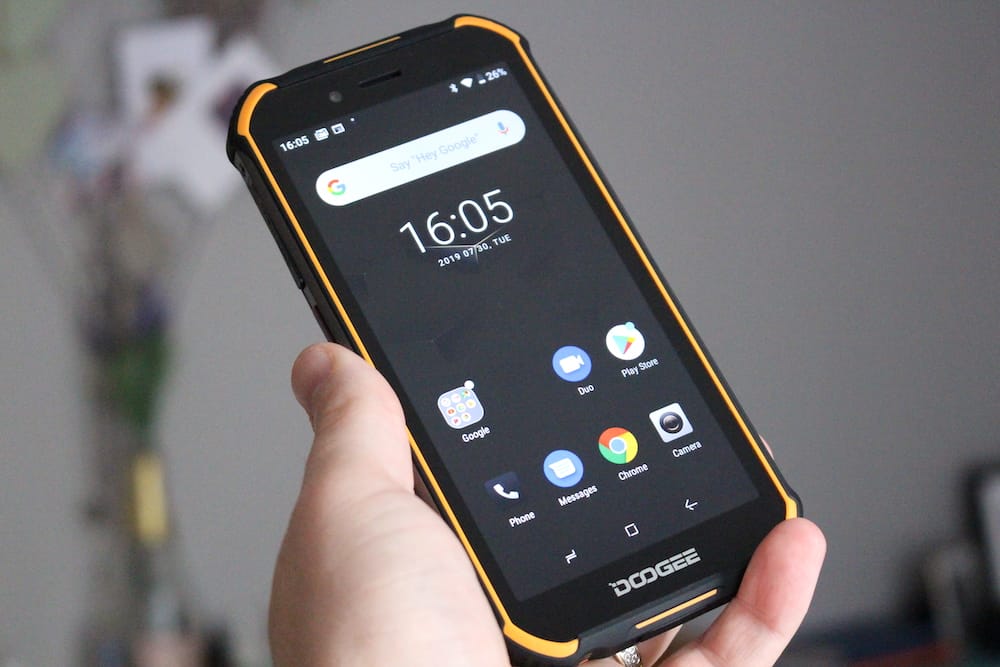 Pin
When you buy a rugged smartphone, you know you're going to have to make some sacrifices when it comes to looks, and the Doogee S40 is no exception. That's not to say it's an ugly phone by any means, but it's certainly different to the sleek, rounded devices we're used to seeing from the likes of Apple and Samsung. It sports a chunky, industrial look which with bright orange accents; it's actually quite a nice combination of colours, but the boxy edges will put a lot of people off.
It's also almost entirely made from plastic and rubber, with the back panel being entirely the latter – this not only prevents the S40 from damage but also makes it incredibly grippy in your hand, which means you're less likely to drop it in the first place. The back of the phone is also home to the dual-camera array and (slightly picky) fingerprint scanner, both of which we'll get to in a moment.
There are quite a few buttons and ports located around the edges of the S40. The volume rocker and power button are located on the right-hand side, while the opposite side has a custom 'SOS' button which, when long-pressed, brings up a list of customizable emergency numbers – presumably aimed at people who spend a lot of time in hostile environments. Next to this is the SIM card tray, which is protected by a rubber cover. This tray also has room for a Micro SD card, should you wish to expand the phone's 16GB of storage. On the bottom edge there's another rubber cover which protects the Micro USB port (no USB-C here, sadly) and on the top a similar cover prevents dust and water getting into the 3.5mm headphone jack.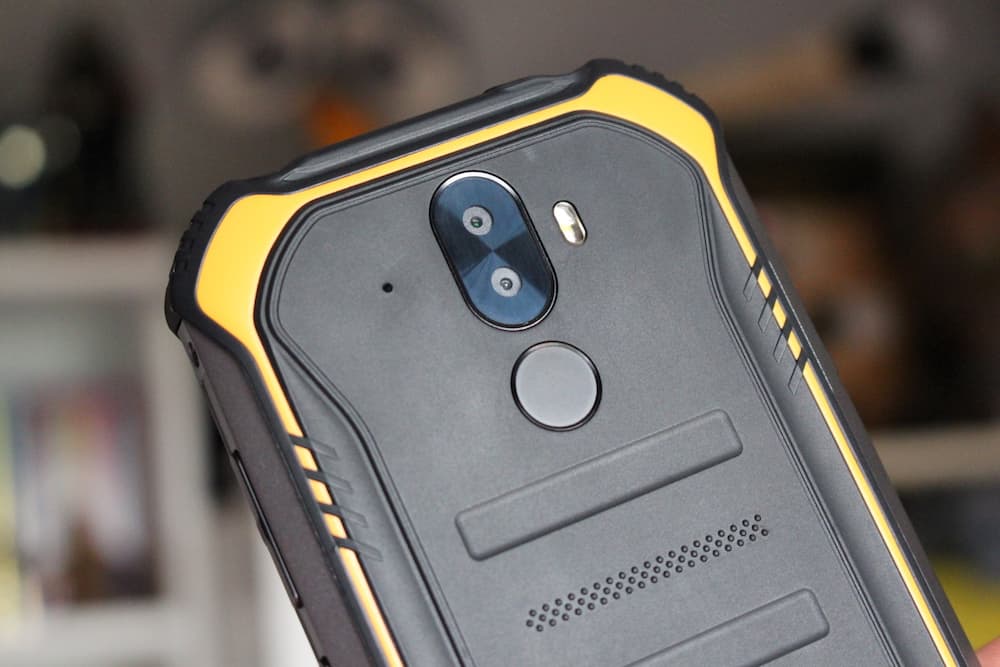 Pin
Each corner of the S40 is protected by chunky, rubberised impact zones, which contribute to that impressive military-grade MIL-STD-810G certification. To achieve this certification, Doogee has ensured that the S40 can withstand being dropped from a height of 1.21m for a grand total of 26 times – try doing that with your shiny new iPhone XS and you'll probably find that it's smashed to pieces after a single fall. MIL-STD-810G also means the phone can withstand temperatures ranging from -25°C and 55°C for several hours at a time, and the IP68 certification means its dust and water-resistant, too. Say what you will about the design, this is one seriously tough smartphone.
Things are less impressive when you turn the S40 over and inspect its 5.5-inch LED screen. With a resolution of just 480 x 960 and a pixel density of 195ppi, it's one of the weakest displays we've seen in 2019 (and would have been in 2018, for that matter). Brightness is actually quite good, but colours look washed out in places. This is perhaps one of the biggest disappointments with the S40; we're so used to budget phones with 720p panels that dropping down from that feels wrong somehow.
Doogee S40 Review: Software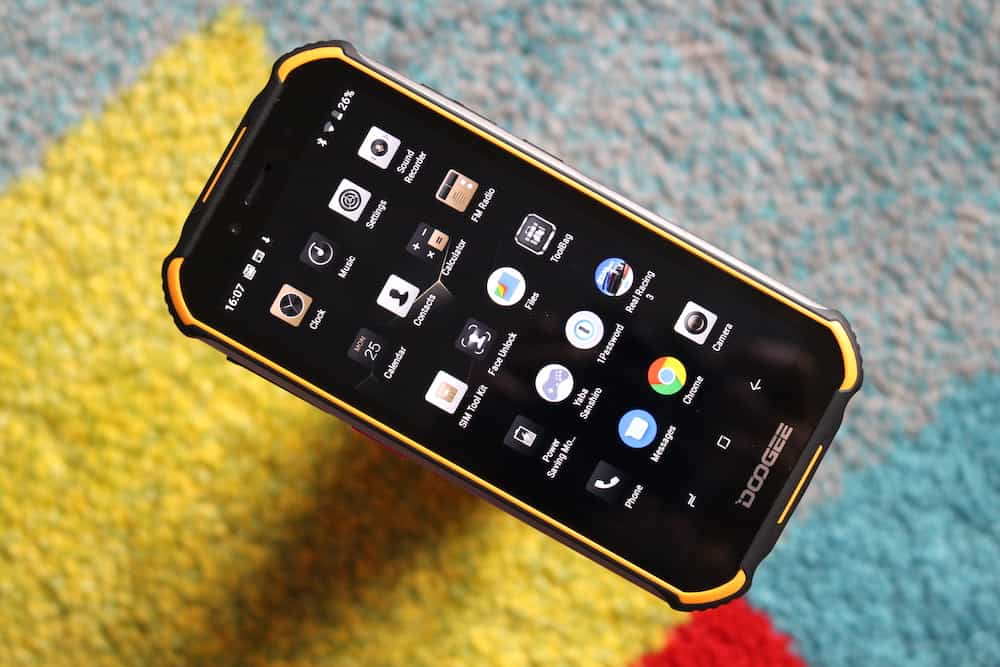 Pin
The S40 is running Android 9.0 with a pretty lightweight custom UI sitting on top. Like many Chinese phones, it lacks an app drawer, but it does come with a Google page to the left of the default home screen, which is something this often missing from Android devices, even those running a close-to-stock experience.
The full suite of Google apps are included, and Doogee has thrown in a few custom apps for good measure. Toolbox comes packed with useful features like a compass and sound level meter, while the built-in Power Saving Mode allows you to select a performance level to suit your everyday useage pattern. There's even a Face Unlock mode, which we struggled to get working as it failed to register our face in anything but a fully lit environment – and even then, it didn't like the fact that we had a fringe.
Doogee S40 Review: Performance & Battery Life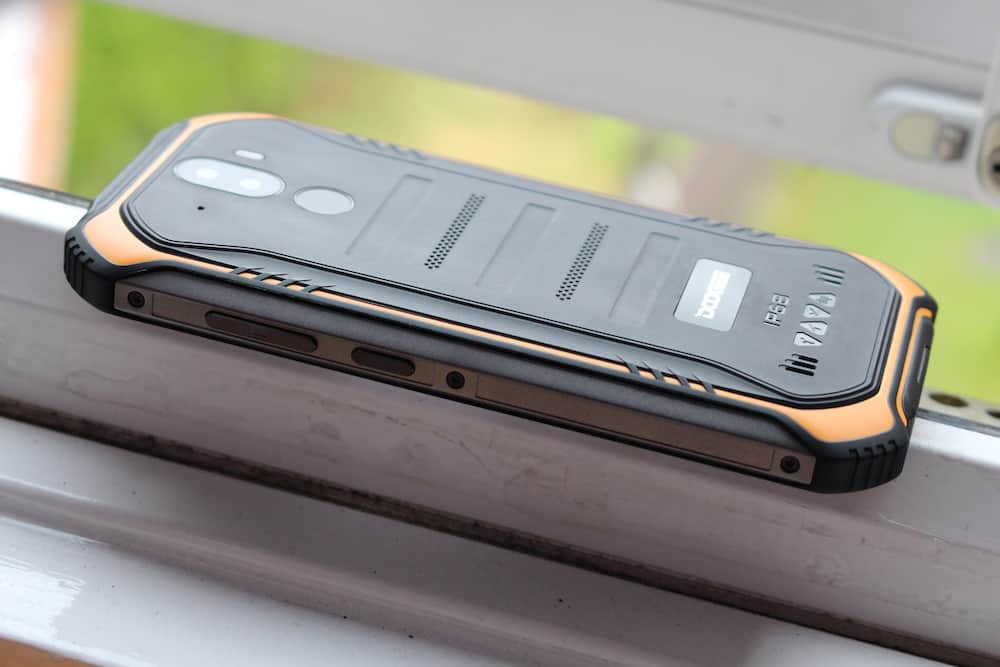 Pin
For £100, it's obvious that you're not going to get cutting-edge power with the S40, and the MediaTek MT6739 chipset is pretty sluggish. Backed by 2GB of RAM, it keeps things ticking over on a basic level but can't cope with demanding tasks. Forget playing complex 3D games on the S40; the phone simply cannot cope with that level of detail. 2D games are fine, however, and if you're only after a phone for basic tasks, then you'll probably be fine.
The phone's fingerprint scanner is rather sketchy, too; it didn't detect our fingerprint accurately enough for our liking, and is quite fussy about how you place your finger.
Battery life is more impressive, thanks to the fact that the S40 ships with a 4,650mAh power cell. That's enough power to get you through a typical day of use without any trouble whatsoever.
Doogee S40 Review: Camera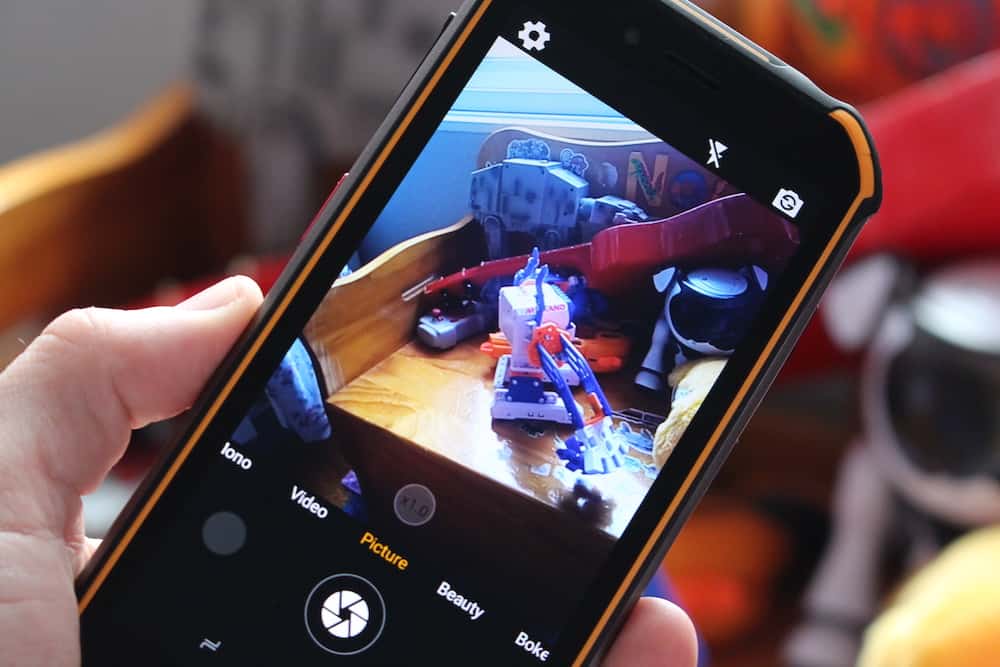 Pin
We know what you're thinking – a £100 smartphone can't have a good camera setup. However, the S40 comes with not one but two cameras on the back, which hints at something special, especially in this price range. The main camera has an 8-megapixel, f/2.8 sensor while the second sensor is used for depth data and is a 5-megapixel variant.
Despite this setup, the S40 is comfortably one of the worst smartphones we've seen this year when it comes to image capture. Low-light photography is basically a bust, with images plagued by noise and a general lack of detail. Even in decent light, things don't get massively better, and the camera app is depressingly poor when it comes to features.
There's no HDR here – which is a real surprise these days – and the phone's bokeh mode is hilariously bad at picking out what's in the background and what's in the foreground. The beauty mode is interesting and does a generally good job of cleaning up your face, but some of the results are downright spooky and it won't see much use outside of being a novelty.
Video isn't much better and tops out at 1080p. All in all, the S40 is a really dire phone when it comes to mobile photography.
Doogee S40 Review: Verdict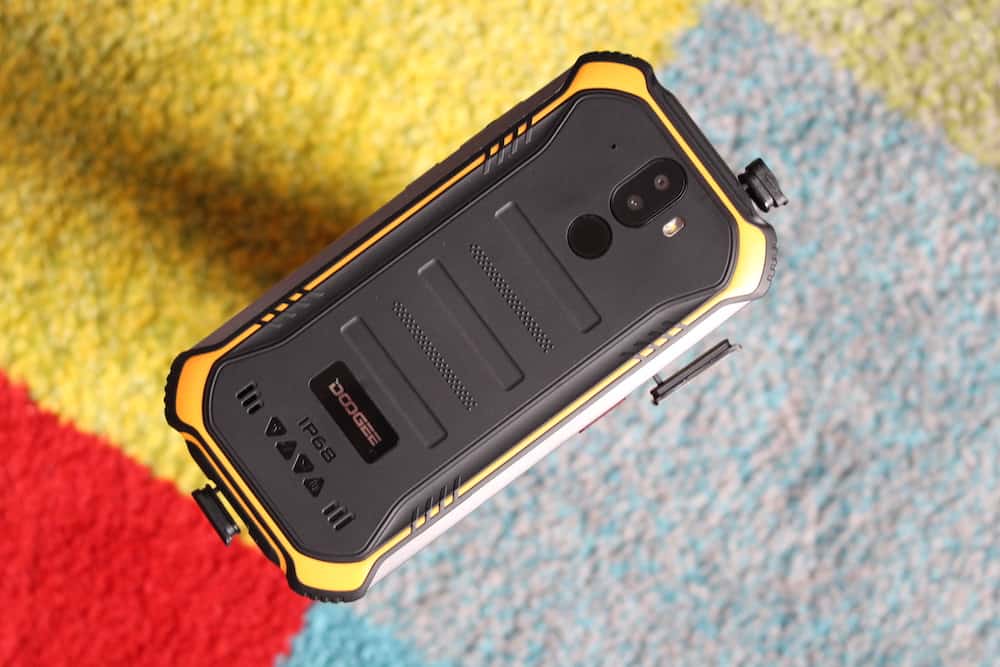 Pin
The Doogee is, in many ways, a real throwback device. It has a poor screen, weak processor and terrible camera, bringing back bad memories of the days when budget Android phones simply weren't worth bothering with. However, at £100 it does have a place in the market, because it's perhaps the most rugged Android phone you can buy in this price range right now. If you're on a tight budget and need a phone that will withstand some punishment then the S40 is worth a look, but you'd be better off investing a little more cash and getting the Doogee S90 or AGM A9.
Damien McFerran
Damien McFerran has been covering phones and mobile technology for well over a decade. An Android specialist, as well as an expert reviewer of phones, Damien is one of the best technology journalists working today. He is also editorial director over at the excellent Nintendo Life.