What is Notion? A Complete Beginner's Guide [2023 Edition]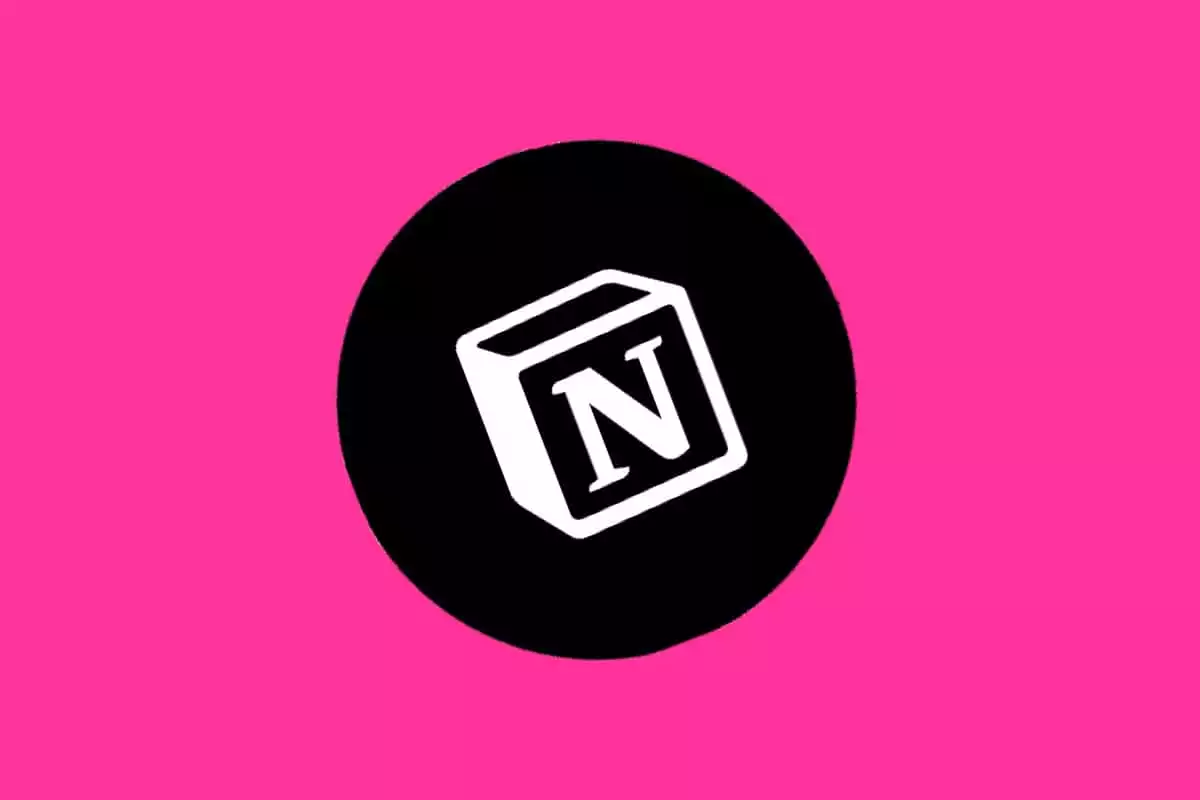 Here's a complete guide all about getting started with Notion, one of the most popular and useful productivity applications on the market right now…
---
---
Notion: Key Takeaways
All-in-One Productivity Tool: Notion is a comprehensive platform that combines various productivity tools into one. It includes features for note-taking, document creation, task management, project planning, and data organization.
Versatile Workspace: Notion offers a versatile workspace that can be customized to suit your individual or team needs. Whether you're managing a personal project or collaborating with a team, Notion provides the tools to create an efficient workflow.
Feature-Rich Platform: Notion's key features include notes & docs, knowledge base, tasks & projects, and spreadsheets & databases. Each feature is designed to enhance productivity and streamline your work process.
User-Friendly Interface: Despite its wide range of features, Notion maintains a user-friendly interface. It's designed to be accessible to beginners, with a clean, intuitive layout and a variety of pre-made templates.
Collaborative Capabilities: Notion is not just for individual use. It's also a powerful collaborative tool, with features that facilitate team communication, task delegation, and real-time collaboration.
Comparison with Other Tools: Notion stands out from other productivity tools due to its integrated approach. Instead of switching between different apps for different tasks, you can do it all within Notion.
Notion AI: Notion now has its own AI, similar to ChatGPT, that works across your entire account. It can write text, crawl the web, design tables and work with data sets. And it only costs $10 per month, making it both cheaper and more useful than ChatGPT Plus
In the bustling landscape of digital tools, one name has been steadily climbing the ranks, earning a reputation as a game-changer in the realm of productivity – Notion. This all-in-one workspace has been making waves, transforming the way individuals and teams organize their work and ideas, and with its new AI capabilities it is quickly becoming one of the hottest productivity tools on the market.
Notion isn't just another app on the block; it's a powerful platform that brings together the best of note-taking, project management, databases, and more, all under one digital roof.
But why is mastering Notion so crucial? Productivity. In today's fast-paced world, being productive isn't just about doing more; it's about achieving more with less. It's about decluttering your digital space, having instant access to your resources, and aligning your tasks and projects seamlessly.
This is where Notion comes into play. By harnessing its full potential, you can start to get seriously organised with your ideas, your plans, your projects, and even your life. As someone that isn't naturally organized by nature, forcing myself to adopt and learn Notion has been a huge boon for my productivity over the past 18 months.
I've mapped out projects, planned out budgets, developed new SOPs for my team, and specced out multiple new business ventures. And all of this information is readily available to me in a format and workflow that I designed, so it is completely bespoke to how my mind works.
So, whether you're a freelancer juggling multiple projects, a team leader aiming for seamless collaboration, or simply someone looking to bring a little more order to your life, Notion is something you should 100% be looking at using.
Here's everything you need to know about getting started with Notion…
What is Notion?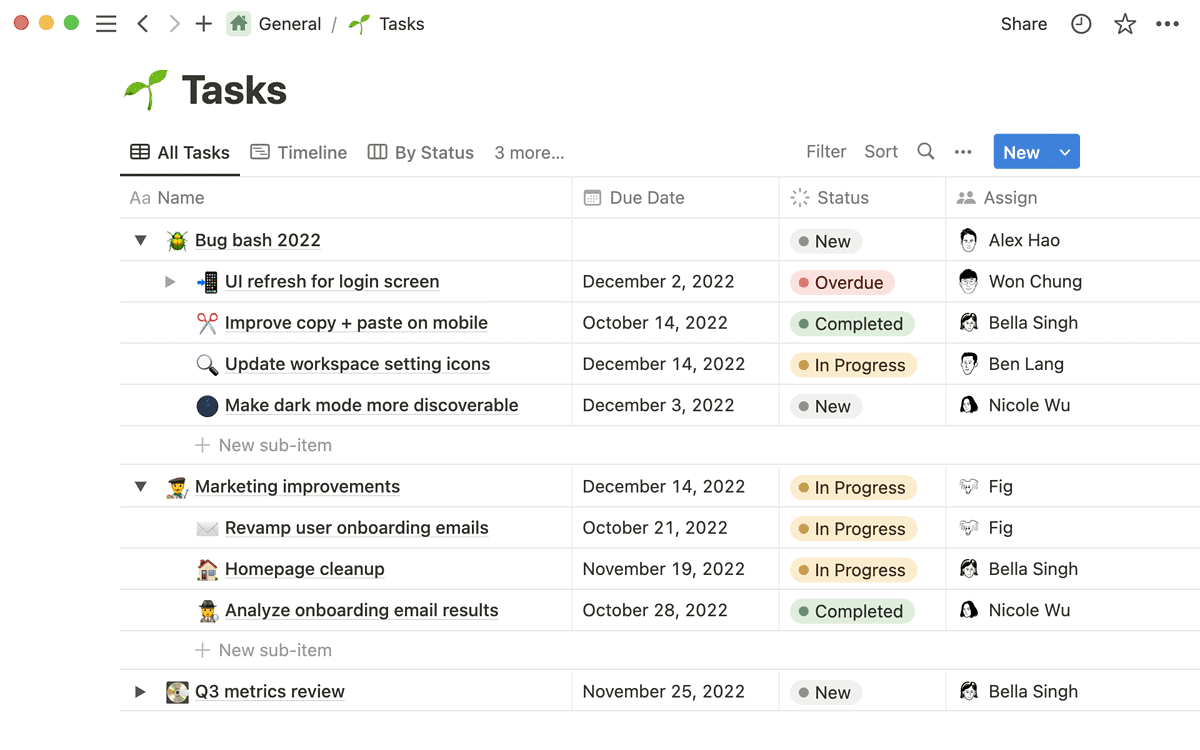 At its core, Notion is a productivity powerhouse, a comprehensive tool designed to streamline your workflow and enhance your efficiency. But what exactly does it offer, especially for beginners just starting their journey with Notion?
Notion is like a digital Swiss Army knife, packing multiple tools into one sleek interface. It's a note-taking app, a to-do list, a project management tool, a database, and so much more. Its versatility is one of its biggest strengths, allowing you to customize your workspace to suit your unique needs.
But for beginners, I'd advise that you ALSO make sure to read up on the best and most current productivity techniques – this will help you develop and hone systems that not only work but can be replicated in other areas of your life.
Notion Blocks
One of the key features that sets Notion apart is its use of blocks. Everything you create in Notion – be it a simple text note, a to-do list, or a complex database – is a block. These blocks can be moved, modified, and molded to create pages that fit your vision.
This flexibility makes Notion an excellent tool for beginners who are looking to personalize their digital workspace or for people and/or businesses that have multiple projects running at once.
Collaborative Capabilities
Another standout feature of Notion is its collaborative capabilities. Whether you're working on a team project or sharing notes with a study group, Notion makes collaboration easy. You can share pages, assign tasks, and even comment on individual blocks, making it a powerful tool for team productivity.
Everything In One Place
But perhaps the most significant benefit of Notion for beginners is its ability to consolidate your digital life. With Notion, you can bring together your notes, tasks, projects, and resources in one place. No more switching between apps or losing track of important information. Everything you need is right at your fingertips, organized in a way that makes sense to you.
In essence, Notion is more than just a productivity tool; it's a platform that empowers you to take control of your work, your ideas, and your life. As we delve deeper into this guide, we'll explore how you can harness the power of Notion, even as a beginner, to boost your productivity and achieve your goals.
Getting Started with Notion
Embarking on your journey with Notion is a straightforward process, and this beginner's guide to Notion is here to ensure you start on the right foot.
Getting Your Notion Account Set Up
Setting up a Notion account is a breeze. Just follow these steps and you'll be up and running in no time:
Navigate to the Notion website and click on the 'Sign Up' button.
You'll be prompted to enter your email address, and a magic link will be sent to your inbox.
Clicking this link will verify your account and lead you to a page where you can set your password. And voila! You're now a part of the Notion community.
Once you've set up your account, you'll be greeted by the clean, intuitive interface of Notion. The left-hand sidebar is your navigation hub.
Notion's Navigation Hub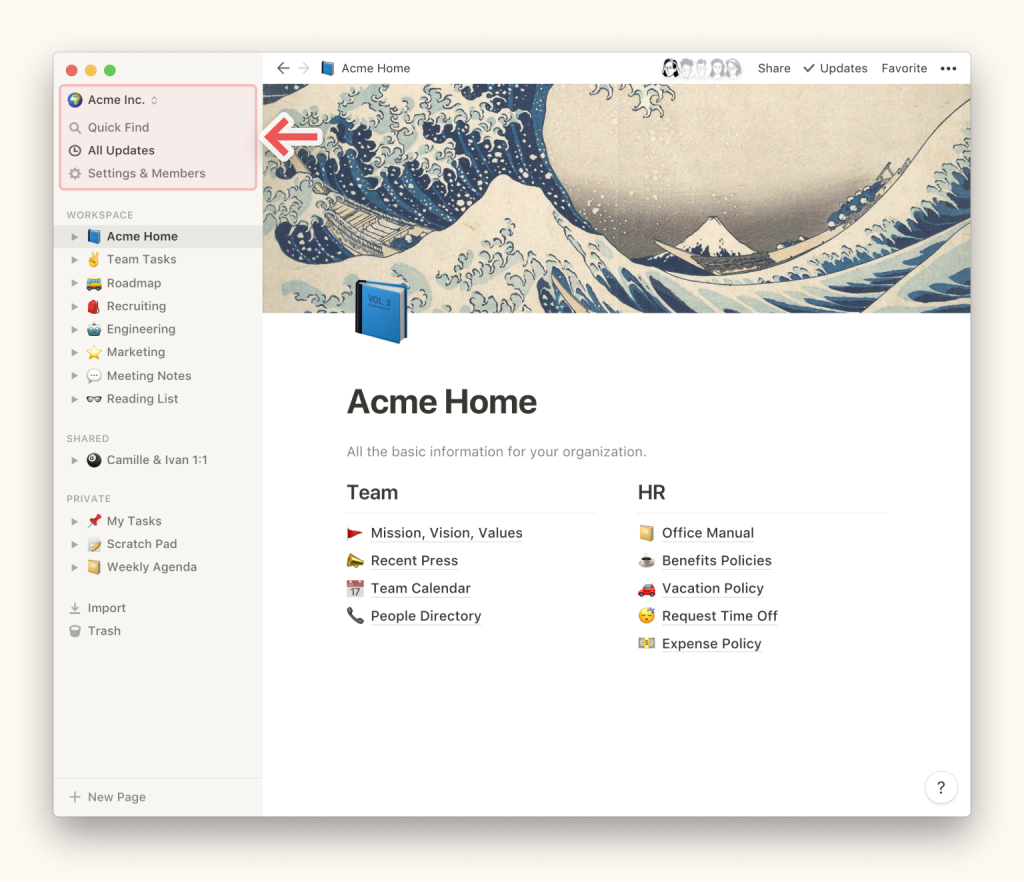 Here, you'll find 'All Updates' for notifications, 'Private' for your personal workspace, and 'Workspace' for shared spaces. You can also add and manage members, import data from other apps, and access settings from this sidebar.
The main area of the interface is your canvas, where you can create, edit, and organize your pages. At the top, you'll find the title of your current page and a breadcrumb trail that shows your navigation path. Below this, you'll see the body of the page, where you can add and manipulate blocks to create your content.
The right-hand sidebar is your contextual menu, which changes based on what you're currently doing. It's here that you'll find options to share your page, add members, and adjust settings specific to the current page.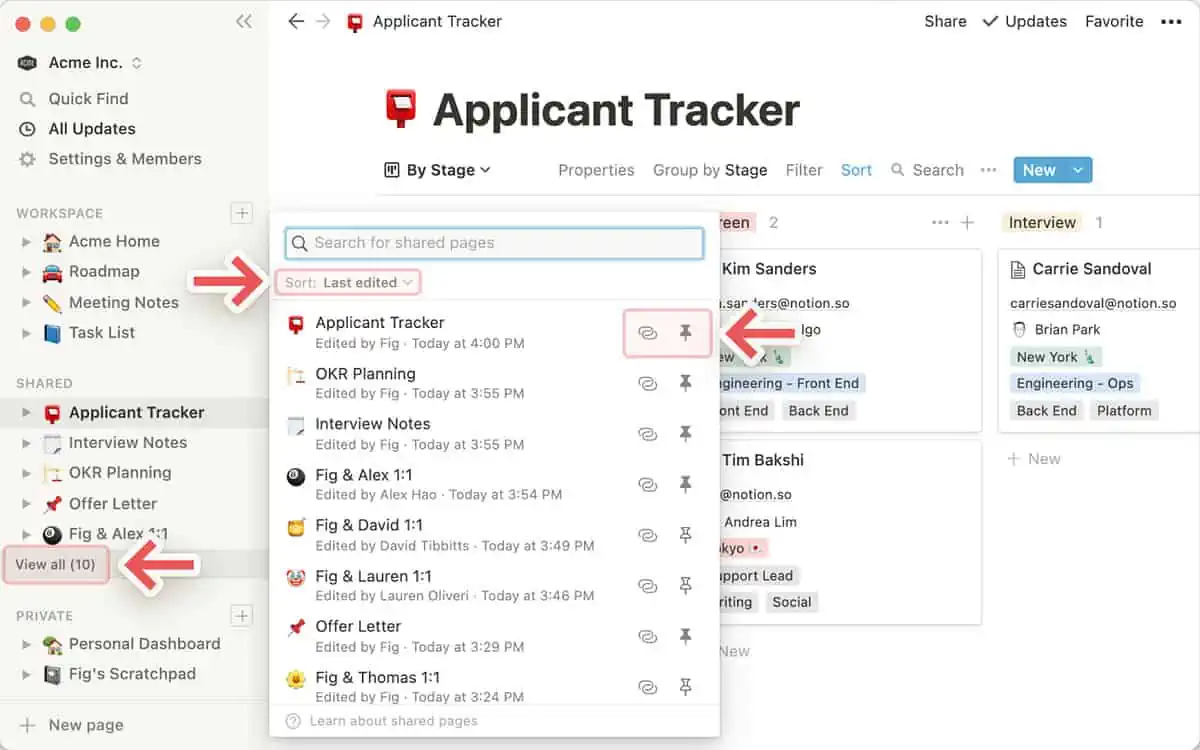 As you explore the interface, you'll notice the '+' button that follows you around. This is your gateway to creating new blocks. Clicking it will reveal a menu of block types you can add to your page, from simple text and to-do lists to more complex tables and databases.
Remember, the beauty of Notion lies in its flexibility. Don't be afraid to experiment with different block types and layouts. This beginner's guide to Notion is just the starting point. The real magic happens when you start to make Notion your own.
In the next section, we'll delve deeper into the world of blocks and explore how you can use them to build your perfect workspace.
Understanding Notion's Key Features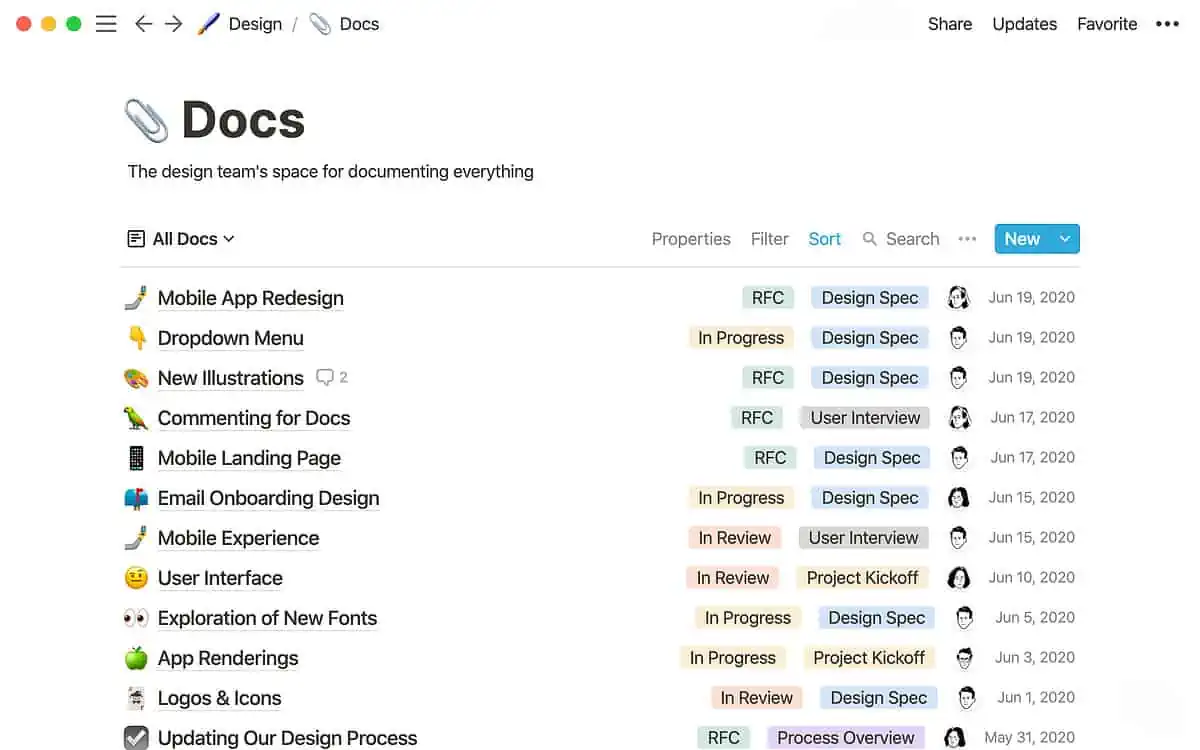 Notion's key features can be broadly categorized into four areas: notes & docs, knowledge base, tasks & projects, and spreadsheets & databases.
Notes & Docs: Notion's note-taking feature is a cut above the rest. You can create simple text notes, but the real power lies in the ability to add different types of content blocks within your notes. For instance, you can add a to-do list in the middle of your meeting notes, or embed a video link within your project brainstorming note. The possibilities are endless.
Knowledge Base: Notion serves as a fantastic knowledge repository. You can create a hierarchical structure of pages and sub-pages, making it easy to organize and retrieve information. For example, you could create a main page for a project, with sub-pages for project plans, meeting notes, and reference materials.
Tasks & Projects: Notion shines when it comes to task management. You can create a simple to-do list or a complex project board with tasks, subtasks, assignees, and due dates. The Kanban board view is particularly useful for visualizing project progress.
Spreadsheets & Databases: Notion's ability to handle databases sets it apart from many other productivity tools. You can create tables to manage data, and even link different tables together. For instance, you could create a table for your team members and another for your projects, then link the two to see who is working on what.
Tips and Tricks for Using Notion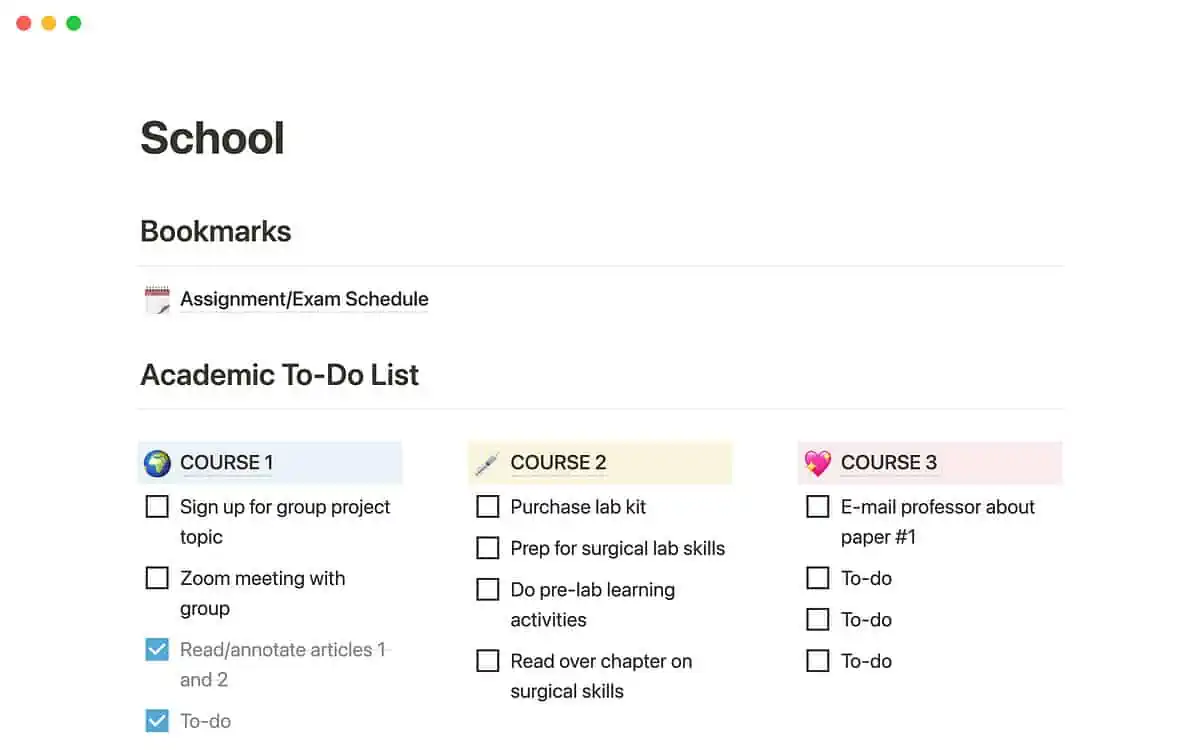 Now that you're familiar with Notion's key features, let's explore some Notion tips for beginners to help you get the most out of this powerful tool.
Templates: Notion comes with a variety of pre-made templates that can save you a lot of time. Whether you're creating a meeting agenda, project plan, or personal journal, there's likely a template that can give you a head start.
Keyboard Shortcuts: Notion supports a wide range of keyboard shortcuts. For example, typing "/date" will insert today's date, and "/remind" will set a reminder. Learning these shortcuts can significantly speed up your workflow.
Page Icons and Covers: You can customize the icon and cover image of each page in Notion. This not only makes your pages more visually appealing but also makes it easier to identify them at a glance.
Notion vs Other Productivity Tools
Finally, let's see how Notion stacks up against other popular productivity tools in this Notion beginner's comparison.
Compared to Evernote, Notion offers much more flexibility in how you can structure and organize your notes. While Evernote is primarily a note-taking app, Notion is a full-fledged workspace that can handle notes, tasks, projects, and databases.
Trello is a fantastic tool for task and project management, but it falls short when it comes to note-taking and knowledge management. Notion, on the other hand, excels in all these areas, making it a more comprehensive solution.
Wrapping Up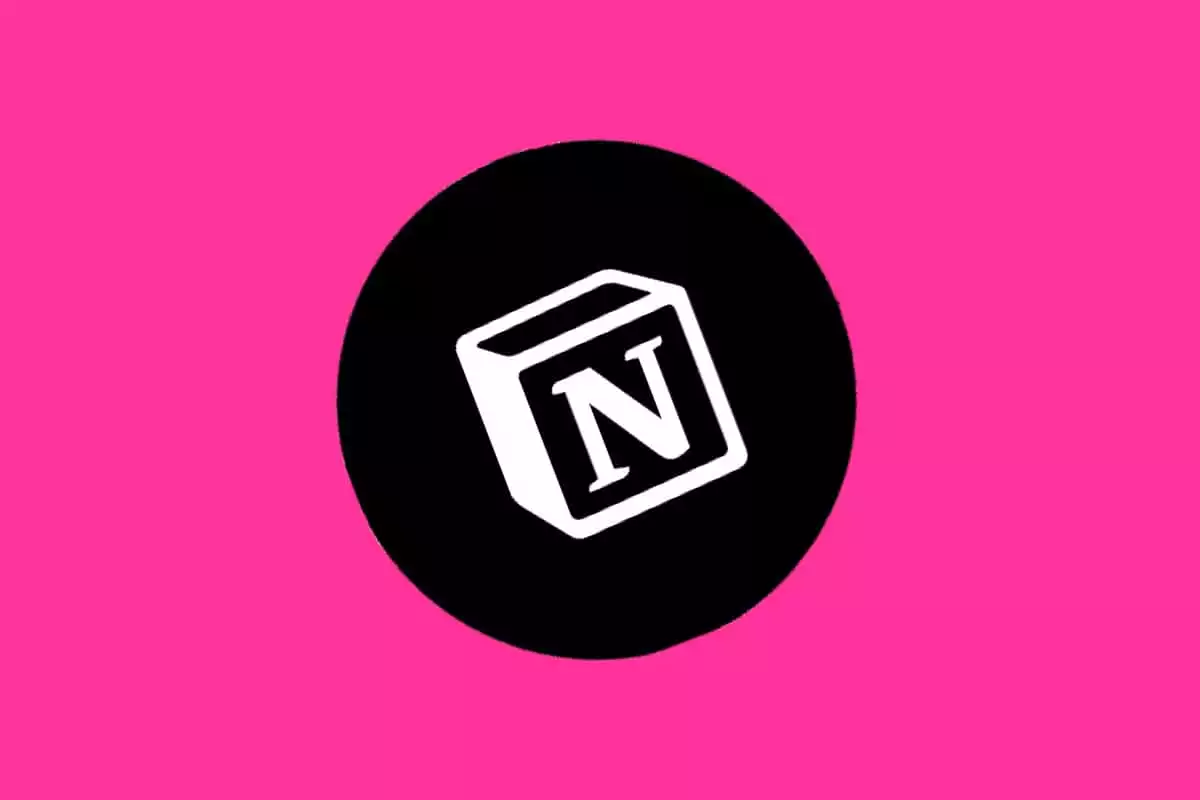 In the ever-evolving digital landscape, the quest for the perfect productivity tool can seem endless. However, as we've explored in this guide, Notion emerges as a strong contender that is worth your consideration.
Notion is more than just a productivity tool; it's a comprehensive workspace that adapts to your needs. Whether you're jotting down quick notes, organizing a complex project, or managing a database, Notion has you covered.
Its versatility is one of its strongest selling points, eliminating the need for multiple apps and thereby streamlining your digital life.
One of the standout features of Notion is its customizability. It's not a one-size-fits-all tool, but a flexible platform that you can mold to fit your unique workflow. From personal to-do lists to team collaboration spaces, you can design your Notion workspace exactly how you want it.
Notion's collaborative features make it an excellent choice for teams. Real-time collaboration, task assignment, and specific block comments facilitate seamless teamwork, even when you're miles apart.
For beginners, Notion's wide range of pre-made templates is a godsend. These templates provide a quick start to using the platform and can be further customized as you become more comfortable with the tool.
Finally, the accessibility of Notion across multiple platforms ensures that your workspace is always within reach, whether you're at your desk or on the go.
In conclusion, Notion is a powerful, flexible, and user-friendly tool that can significantly enhance your productivity so in this respect Notion is well worth learning and leveraging in your life. Yes, there is a learning curve but once you know what you're doing you'll wonder how you ever lived without this brilliant productivity tool.
Notion
Notion's versatility and flexibility make it a standout choice among productivity tools. Whether you're a student, a professional, or a team leader, Notion will help you 10X your workflow and idea creation/generation. It is an essential tool for anyone working in creative.
Pros:
Versatility: Notion combines note-taking, task management, project management, and database handling into one comprehensive tool, eliminating the need for multiple apps.

Customizability: With its flexible structure and variety of content blocks, Notion allows users to customize their workspace to fit their specific needs.

Collaboration: Notion supports real-time collaboration, making it an excellent tool for teams. You can share pages, assign tasks, and even comment on specific blocks.

Templates: Notion offers a wide range of pre-made templates for various use cases, from meeting agendas to personal journals, helping users get started quickly.

Accessibility: Notion is available on multiple platforms, including web, desktop, and mobile, allowing users to access their workspace from anywhere, anytime.
VIEW LATEST PLANS
We earn a commission if you click this link and make a purchase at no additional cost to you.
---