macOS Version History: A Complete List [2001 to 2023]
---
---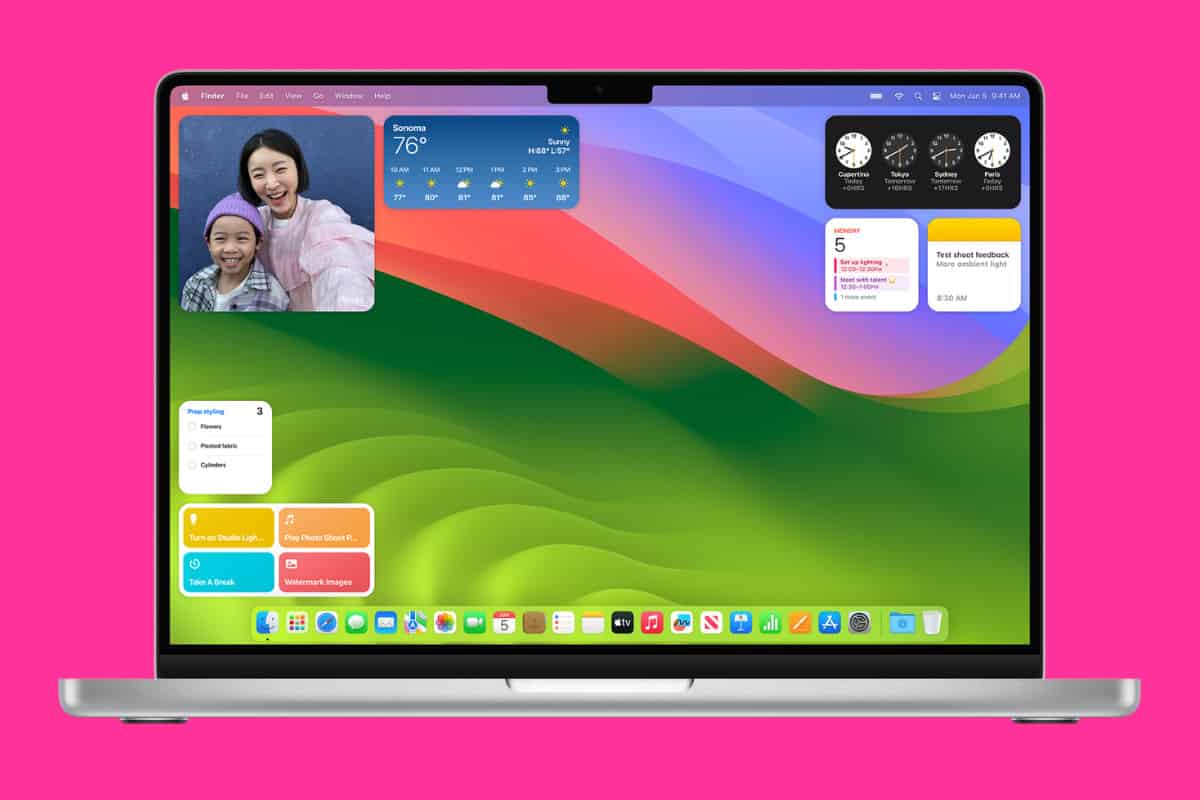 Here's the complete macOS version history in list format, starting from Mac OS X 10.0 (Cheetah) right up to 2023's latest build, macOS 14 (Sonoma)
---
macOS Version History
| Version | Release Date | Key Features |
| --- | --- | --- |
| Mac OS X 10.0 (Cheetah) | March 24, 2001 | Aqua interface with 2D and 3D graphics support |
| Mac OS X 10.1 (Puma) | September 25, 2001 | Improved performance, simplified CD/DVD burning |
| Mac OS X 10.2 (Jaguar) | August 23, 2002 | Finder search, MPEG-4 support, Accessibility API |
| Mac OS X 10.3 (Panther) | October 24, 2003 | Safari as default browser, 150+ new features |
| Mac OS X 10.4 (Tiger) | April 29, 2005 | Spotlight, Automator, VoiceOver, switch to Intel processors |
| Mac OS X 10.5 (Leopard) | October 26, 2007 | New desktop design, Time Machine, Spotlight enhancements |
| Mac OS X 10.6 (Snow Leopard) | August 28, 2009 | Expanded 64-bit architecture, introduction of App Store |
| Mac OS X 10.7 (Lion) | July 20, 2011 | iOS-like enhancements, Launchpad, multi-touch gestures |
| OS X 10.8 (Mountain Lion) | July 25, 2012 | iOS apps integration, Notification Center |
| OS X 10.9 (Mavericks) | October 22, 2013 | Privacy features, iCloud Keychain, Maps, iBooks, Tags |
| OS X 10.10 (Yosemite) | October 16, 2014 | Major redesign, Handoff, Continuity |
| OS X 10.11 (El Capitan) | September 30, 2015 | Performance boost, Split View's dual-pane |
| macOS 10.12 (Sierra) | September 20, 2016 | Shift to "macOS" naming, Apple Watch unlock |
| macOS 10.13 (High Sierra) | September 25, 2017 | HEIC video standard, Apple File System, Safari enhancements |
| macOS 10.14 (Mojave) | September 24, 2018 | Dark Mode, iOS apps like Stocks, News, Home |
| macOS 10.15 (Catalina) | October 7, 2019 | iTunes split, Sidecar, ability to run iOS apps natively |
| macOS 11 (Big Sur) | November 19, 2020 | Redesign, support for M1 Macs, Universal apps |
| macOS 12 (Monterey) | October 25, 2021 | Shortcuts, Universal Control, redesigned Safari, FaceTime enhancements |
| macOS 13 (Ventura) | October 25, 2022 | Stage Manager, Continuity Camera, Undo Send in Mail |
| macOS 14 (Sonoma) | Fall 2023 | Widgets on desktop, standalone website apps, redesigned presenter view |
What's The Latest Version of macOS?
MacOS Ventura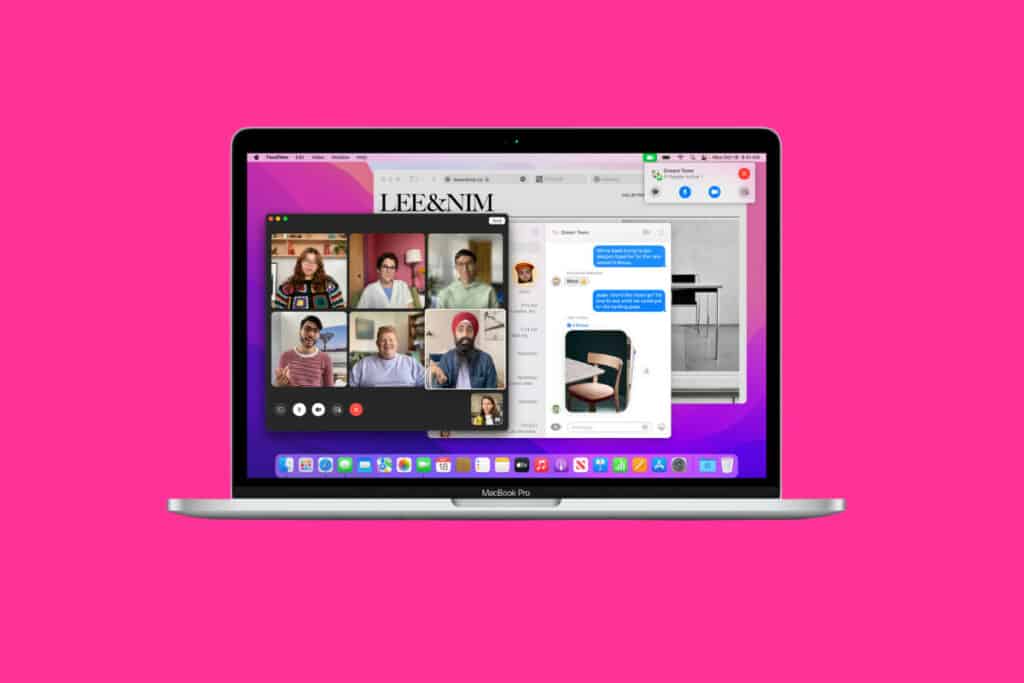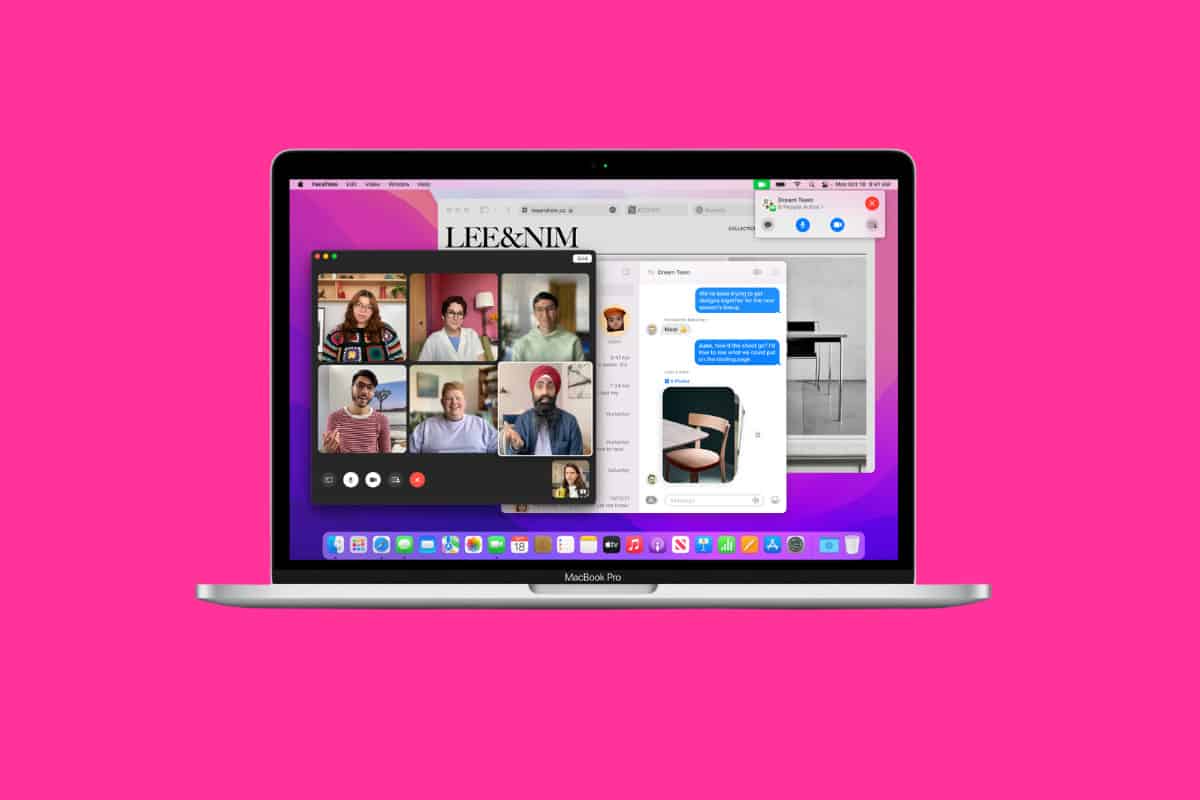 Apple's macOS Ventura goes beyond mere aesthetic and cosmetic updates, featuring significant improvements that directly impact how you interact with your Mac.
Essential applications, namely Mail, Spotlight, Safari, and Messages, have all received noticeable upgrades in macOS Ventura. Mail now sorts intelligently, Spotlight finds files with increased accuracy, Safari optimizes web browsing speed, and Messages improve communication efficiency. These updates drive better productivity and usability.
One noteworthy upgrade in macOS Ventura is the enhanced Continuity Camera. This feature tightly integrates your Mac and iOS devices. It allows you to take a photo or scan a document on your iPhone or iPad and instantly access it on your Mac, boosting efficiency in document sharing and storage.
For the gaming community, macOS Ventura introduces a revamped Game Center. This improved platform promotes increased gaming engagement, competitiveness, and achievement tracking, leading to a more immersive gaming experience.
Here's a complete breakdown of all of macOS Ventura's new features, updates and capabilities.
macOS Ventura New Features & Updates
Mail
Smart Search Corrections: Enjoy improved search results with automatic typo corrections and the use of synonyms for your search terms. This ensures you find the information you need, even if you mistype your search query.
Smart Search Suggestions: Gain a richer view of shared content as you search for email messages, providing valuable context and insights right from the moment you start your search.
Missing Recipients and Attachments Notification: Avoid embarrassing moments by receiving notifications if you forget to include an essential part of your message, such as an attachment or recipient.
Undo Send: Regain control over your emails with the ability to unsend a message shortly after it's been sent, preventing unintended recipients from seeing it.
Scheduled Send: Schedule emails to be sent at the perfect time, ensuring that your messages reach recipients at the most opportune moments.
Follow-up: Keep track of your sent email messages by moving them to the top of your inbox, making it easier to follow up on important conversations.
Remind Me: Never forget about an email you opened but didn't have time to respond to. Set a date and time for the message to resurface in your inbox as a reminder.
Rich Link: Enhance your email messages with rich links, providing recipients with additional context and details at a glance.
BIMI Support: Easily identify authenticated email messages with BIMI (Brand Indicators for Message Identification) verified brand iconography, ensuring greater security and trust in your communications.
Spotlight
Preview Files with Quick Look: Press the Space bar on a search result to view files in Quick Look, offering a quick and convenient way to preview your content.
Quick Actions: Use Spotlight to perform various tasks quickly, such as starting a timer, turning on a Focus mode, finding a song with Shazam, running shortcuts, and more.
Rich Results: Discover all the information you need in a single, comprehensive result for contacts, actors, musicians, movies, TV shows, businesses, and sports.
Image Search: Leverage the power of Spotlight to search for locations, scenes, and even objects like text, animals, or cars within images in Photos, Messages, Notes, and the Finder.
Web Images Search: Explore web images directly from Spotlight, allowing you to find pictures of people, animals, monuments, and more with ease.
Safari
Shared Tab Groups: Collaborate effortlessly with friends by sharing a set of tabs. Everyone can add their own tabs, and the Tab Group updates instantly as you work together.
Tab Group Start Pages: Customize the start pages for your Tab Groups with background images and favorite links, making them easily accessible and tailored to your preferences.
Pinned Tabs in Tab Groups: Personalize your Tab Groups further by pinning specific tabs for each group, keeping essential websites readily available.
New Web Extension APIs: Developers can now create more diverse Safari web extensions, expanding the capabilities of the browser and enhancing your browsing experience.
Web Push Notifications: Receive opt-in notifications from Safari pages on macOS, keeping you updated on important events and information.
Extensions Syncing: Sync your installed Safari extensions across your devices through iCloud Keychain, streamlining your browsing experience.
Website Settings Sync: Your specific website settings, such as page zoom and automatic Reader view, will now sync across all your Apple devices, providing a consistent browsing experience.
New Languages Support: Safari web page translation now includes Arabic, Korean, Turkish, Thai, Vietnamese, Polish, Indonesian, and Dutch, allowing you to access content in your preferred language.
Web Page Image Translation: With Live Text, Safari now supports the translation of text within images, making international content more accessible and comprehensible.
Continuity Camera
Use Your iPhone as Your Webcam and Microphone: Leverage the powerful camera system of your iPhone as your Mac's webcam and microphone, providing a significant upgrade to your video conferencing experience.
Portrait Mode and Center Stage: Take advantage of Continuity Camera to access Portrait Mode and Center Stage on any Mac, adding professional-looking backgrounds and framing to your video calls.
Studio Light: Enjoy enhanced video quality with Studio Light, an effect that artfully dims the background and illuminates your face, eliminating the need for external lighting.
Desk View: Showcase your desk during video conferences using Desk View, a feature that mimics an overhead camera for easy setup and sharing of your workspace.
Game Center
Activity and Achievements Dashboard: Stay updated on your friends' play activity and achievements with the redesigned Game Center dashboard and profile.
SharePlay Support: Seamlessly join multiplayer games through Game Center with SharePlay integration, enabling you to play with friends while on a FaceTime call.
Freeform
Flexible Canvas for Creativity: Freeform's canvas allows for unlimited diagramming, brainstorming, and project aggregation, offering a powerful tool for creative minds.
Fully Collaborative: Work in real-time collaboration mode to view others' contributions and edits, creating a shared whiteboard experience for seamless team collaboration.
System Settings
Refreshed Design: Navigate the improved System Settings with ease, thanks to a refreshed design that organizes settings by category, making it simpler to configure your device.
Simpler Navigation: Utilize the new sidebar to move between different settings panes conveniently, enhancing user experience and accessibility.
Privacy and Security
Lock Hidden and Recently Deleted Albums: Protect your private photos by locking the Hidden and Recently Deleted albums with your login password or Touch ID, ensuring unauthorized access is prevented.
Rapid Security Response: Receive crucial security improvements faster with rapid security response, an automatic security enhancement process.
Lockdown Mode: For extreme digital security threats, Lockdown Mode provides the highest level of device defense, significantly reducing the attack surface for potential exploits.
Accessibility
Background Sounds for Mac: Stay focused and minimize distractions with background sounds that mask unwanted environmental noise.
Buddy Controller: Combine inputs from multiple game controllers to provide support and assistance to players who may need it.
macOS 14 (Sonoma) New Features, Release Date & Supported Macs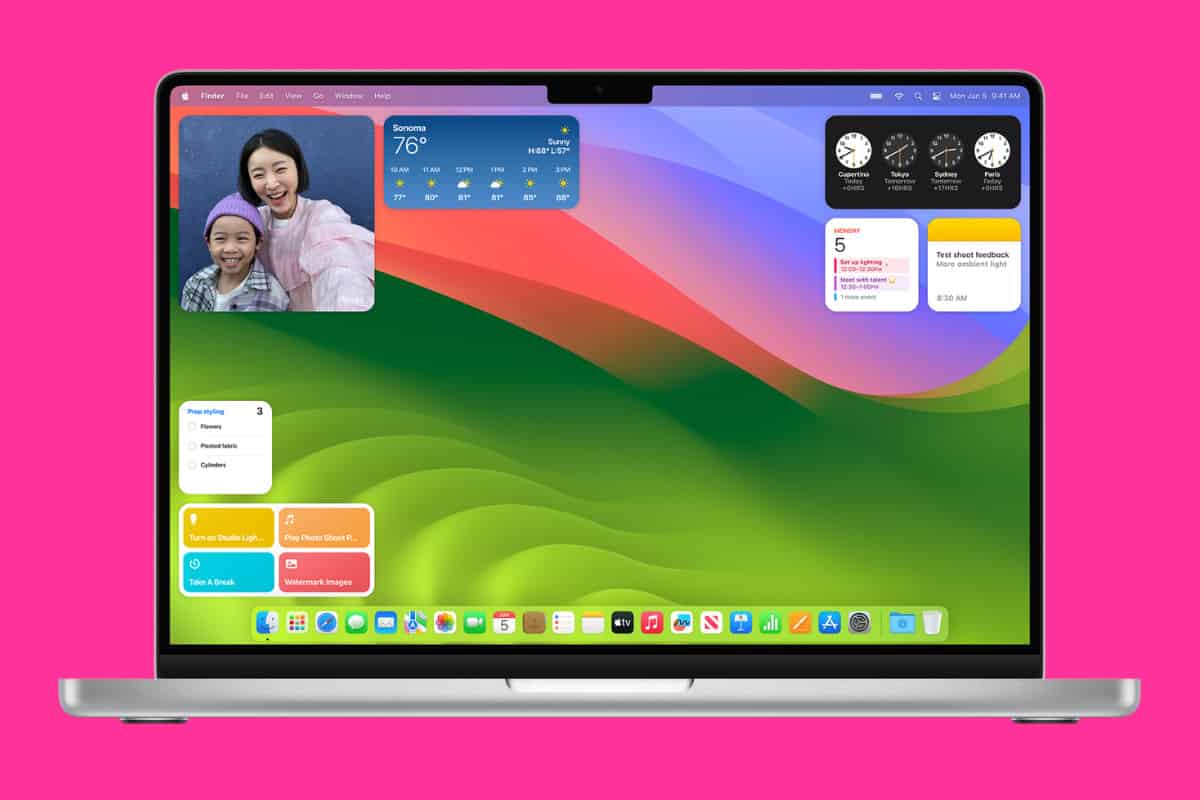 Apple's macOS Sonoma doesn't bring a radical change but presents a more refined user experience. This cautious approach allowed developers to focus on resolving bugs and improving stability.
The most visually appealing feature of macOS Sonoma is the new screen savers, reminiscent of those on Apple TV. The screensaver transitions seamlessly into a static desktop wallpaper when you wake your Mac.
Desktop widgets make their debut on macOS Sonoma, offering interactive, customizable elements that can also become transparent to avoid visual clutter during application use.
An intriguing feature allows macOS Sonoma to convert a website into a web app, which can be added to the Dock. Its utility, however, remains to be seen.
Gaming gets a significant boost with a dedicated mode that prioritizes CPU and GPU resources for the game you're playing. This indicates Apple's increasing focus on gaming, though the feature is exclusive to Apple Silicon Macs.
Also, a series of popular games will be available on Mac, including Fort Solis, Stray, and World of Warcraft: Dragonflight, among others.
macOS Sonoma will only support certain devices, including iMac 2019 and later, MacBook Air 2018 and later, and Mac Pro 2019 and later. You can check the full list of compatible Macs here. Some Intel Macs are omitted due to their older chipsets.
The first developer beta of macOS Sonoma is out, and a public beta is expected in July. The full release is anticipated in October 2023, available for all users with compatible devices.
And here's a quick guide to the cheapest MacBook you can buy right now.
Kurt Langston
AI expert with a passion for making complex concepts accessible to all. With over eight years of experience in the field, he has honed his expertise in machine learning and AI, becoming a trusted voice in the industry. Kurt currently serves as the Head of AI News Coverage and Content at KnowYourMobile, a leading online platform for mobile technology news and reviews. In this role, he oversees the production of insightful articles, tutorials, and guides, helping readers navigate the rapidly evolving landscape of AI tools and technologies