How To Use Your iPhone's Notes App Like A BOSS…
---
---
Top Tips For Getting The Most From Your iPhone's Notes App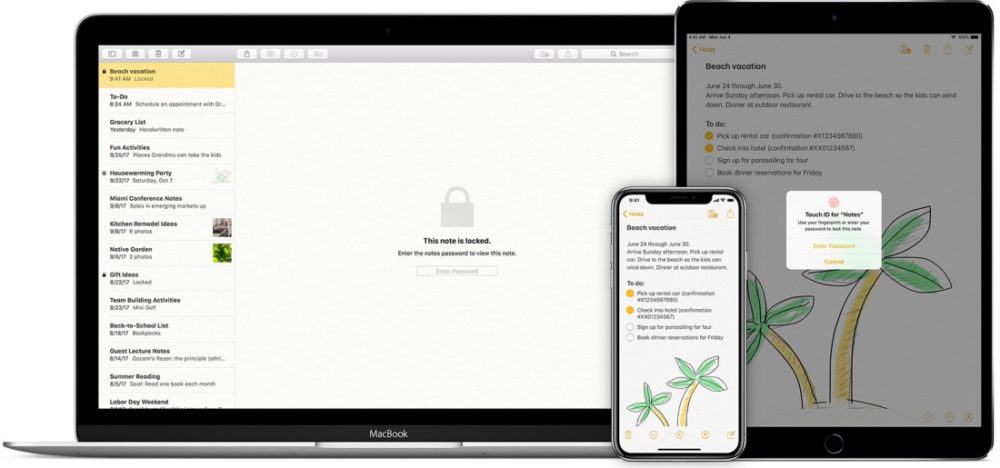 #1) Keep Your Notes Secure By Locking Them Down
Without a doubt, hands down, the very best feature in the new Notes app is the ability to lock notes. When a note is locked you will not be able to see the contents of the note unless you enter the password you have set for your locked notes. This feature is immensely useful for those who store personal information in their Notes app, such as financial account numbers or passwords. Even if someone gains access to your computer they won't be able to read any locked notes without your password.
To lock a note, select the note and then click the Lock button in the toolbar. You'll be asked to set a password specific to that note. Once you've entered it, the note will be locked. To unlock the note, select the note and enter the password in the field that appears.
One cool thing is locked notes are able to be unlocked on iOS devices by using the Touch ID. Since the next MacBook Pro is rumored to support Touch ID, it's likely fingerprint-protected notes will be coming to the Mac too.
#2) Organize Your Notes Into Folders For Easier Management
Another great feature is the ability to organize your notes into folders. The new Notes app features a sidebar that houses all the folders. To access this sidebar, click the Show Folders button in the toolbar. By default, the sidebar includes the All iCloud folder. This contains all the notes you have saved and synced with iCloud.
To create new additional folders, click the + button at the bottom of the sidebar. I like creating a folder for "personal" and "work" as well as more niche folders, such as "dinner menu ideas".
#3) Easily Create Checklists 
Apple discovered than many people were using their old Notes app to create todo lists, so the company built in a new checklist feature into Notes. Now when you create a to-do list in notes, after you've finished typing up the list highlight every item in the list and then click the Mac a Checklist button in the toolbar. Empty checklist circles will appear next to each item on the list. Click an empty cycle when you complete an item and a yellow checkmark will appear next to it.
#4) How To Add Formatting To Your Notes Inside Apple Notes App 
Apple has also added the ability to create rich text in Notes. Notes supports Title, Heading, and Body formatting (available via the Format menu in the menu bar) as well as support for multiple fonts, sizes, and colors.
Bring up the font picker by pressing Command–T while in the Notes app.
#5) You Can Store/Save Images Inside The Notes App
A lot of times people like to save images in Notes. Apple has made this drag-and-drop easy. Simply drag any image or images from your Mac or a web page onto a note and it will be embedded inline with any text already in the note. Add as many images as you want.
Bonus: right-click on the images and select "View as Small Images" to display the images as thumbnails in a note.
#6) Apple's Notes App Will Save All Your Links Too…
Another great new feature is the ability to save rich web links and directions in Notes. Unfortunately, you can't do this by drag or drop or simply typing a URL or address in a Notes. You must add web links to Notes right from Safari by clicking the Share menu in Safari and then choosing the Notes option. A window will pop up with a preview of the link. You can then add a textual note to the link. Choose to save the rich web link to a new note or an existing on and click Save.
The same goes for rich addresses. You need to use OS X's Maps app to find an address. Once you click the Share menu in Maps and then choosing the Notes option. A window will pop up with a preview of the address. You can then add a textual note to the address. Choose to save the rich address link to a new note or an existing on and click Save.
#7) Master the Attachment Browser in Notes
Besides adding photos, rich web links, and rich addresses to Notes, you can also drag and drop audio, video, and documents into a note. But instead of having to find the exact note that contains all of these individually, you can simply browse all your Notes attachments in the Attachment Browser. Click the  Browse Attachments button in the toolbar to view attachments by category. Right-click on any attachment to be taken to the note that attachment appears in.
Taking Your Notetaking To The Next Level… 
If you want to get SUPER serious about your note-taking, you might want to check out the Livescribe 3 Smartpen Pro Edition for Android & iOS, which converts your scribbled notes into digital copies in real-time as you write.
This means you can scribble on paper or in a notebook and the pen will automatically send your notes to an application like Notes or Evernote.
If you take a lot of notes, a pen-like this is great as it keeps everything stored in the cloud, so you'll never lose an idea ever again.
This is kind of just the tip of the iceberg though when it comes to what this smartpen can do, read on below for its full features set:
Connects to your iOS and Android devices via Bluetooth Smart (Low Energy) to sync everything you write or draw to the free Livescribe+ app
The quickest, simplest way to bring valuable information from paper onto your tablet and smartphone, where it becomes more useful
Uses your smartphone or tablet's microphone to record audio that's synchronized to everything you write on paper
Once your notes are in the Livescribe+ mobile app, you can organize, tag, playback audio and send/share notes to any of the devices you use
Search your handwritten notes and convert what you write into digital text with amazing accuracy.
Built-in memory on the smartpen captures and stores your notes, allowing you to sync to up to 4 iOS and Android devices
Comes with Leather Smartpen Portfolio and hardbound journal
Includes One-Year Subscription to Evernote Premium ($45 value)
Michael Grothaus
Apple expert and novelist,
Michael Grothaus
has been covering tech on KnowYourMobile for the best part of 10 years. Prior to this, he worked at Apple. And before that, he was a film journalist. Michael is a published author; his book Epiphany Jones was voted as one of the best novels about Hollywood by
Entertainment Weekly
. Michael is also a writer at other publications including 
VICE
and 
Fast Company.