Samsung A70 Review – 2020's Mid-Range Pixel 3a Killer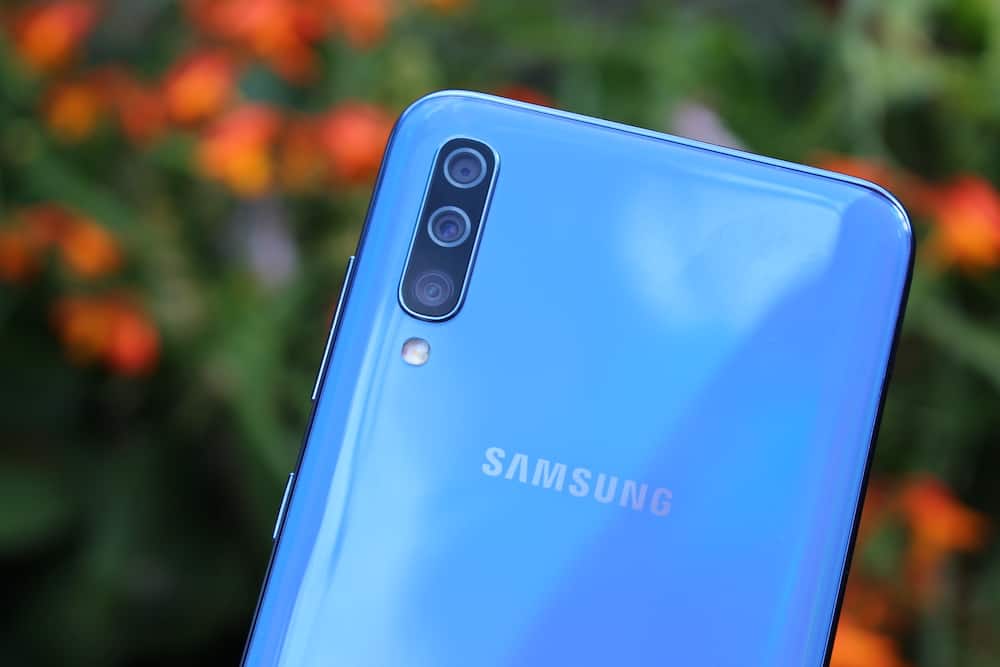 As smartphone makers find it harder and harder to convince consumers to splash out $1000 each year on a top-of-the-line flagship device, we're seeing a boom in the mid-range sector as firms bolster their portfolio of handsets to soak up casual buyers who have shallow pockets when compared to the seasoned tech-heads. As a result, we're seeing a lot of very competitive mid-range phones, such as the Pixel 3a, which offer cutting-edge features at a fraction of the cost of their AAA rivals. Samsung is no stranger to this sector of the market as it has created budget and mid-tier handsets for years, but the Galaxy A70 perhaps the South Korean company's most aggressive move in this field in quite some time. Can it really topple the Pixel 3a and asset itself as one of the best Android phones of 2019? Let's find out.
Samsung A70 Review: Design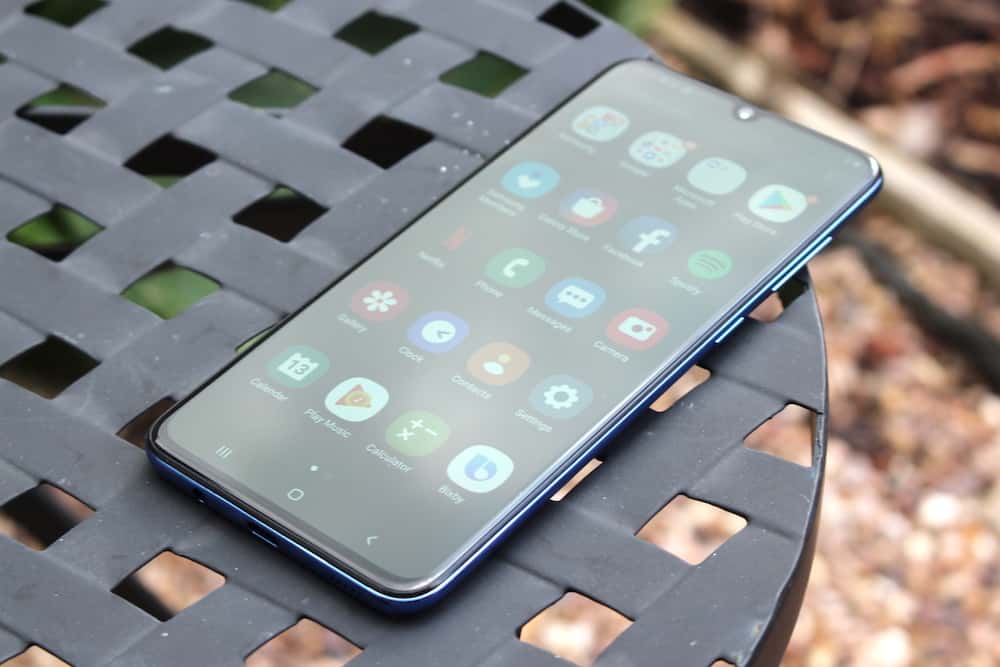 Pin
While it's perhaps not as appealing as the Galaxy S10, the Galaxy A70 is still something of a looker. The blue model – which we were sent for review – has a rather pleasing colour on the back panel, and the metallic frame gives it a premium appearance. Samsung's signature curved edges mean it's comfortable to hold, and that massive 6.7in Super AMOLED screen takes up pretty much all of the front of the device.
The downside is that the Galaxy A70 is constructed almost entirely from plastic, and feels a little cheap when you hold it – at least when compared to Samsung's flagship phones. This is, of course, to be expected when you consider that this is a mid-range phone and not a $1000 slab of technology.
On the right-hand side of the Galaxy S70 you'll find the power and volume keys, while the left-hand side is relatively bare, apart from the SIM card tray – which, it should be noted, can hold two Nano-SIM cards and a Micro SD card (allowing you to add 256GB to the phone's 128GB of onboard storage) at the same time. The top edge is also bare, while the bottom has the USB-C port, speaker and 3.5mm headphone jack. Samsung clearly sees value in retaining this legacy connection in its mid-range handsets, and we think that's a sensible stance – especially as consumers shopping in this price band are less likely to own expensive wireless headphones yet.
The rear of the device is plastic – as we've already noted – and comes emblazoned with the Samsung logo. There's also a triple-lens camera array, which we'll come to shortly. The phone doesn't come with any kind of water or dust resistance rating.
Samsung A70 Review: Display

The screen is something of a revelation, considering the price point. It uses Samsung's own 'Infinity-U' design, which features a teardrop notch for the front-facing camera. This means you get more screen for your money, although it's worth noting that it's not quite as clean as the Infinity-O design seen on the Galaxy S10, and there's a very small bezel at the bottom of the display.
With an FHD+ resolution (that's 2,400 x 1,080 pixels, in case you were wondering), the Galaxy A70's display is pin-sharp and the use of an AMOLED panel means you get deep, convincing blacks and brilliant colour and contrast. The 'always on' feature means the screen can display information even when it's resting on a table, and we also noted that it's very easy to read in bright sunlight.
Another surprising addition, given the price, is the inclusion of an in-screen fingerprint scanner. This uses Samsung's ultrasonic tech and is pretty accurate. We did notice a few instances where we had to apply our finger a second time to unlock the phone, but on the whole, it's fast and responsive, and certainly a step up from the rear-mounted scanners we're used to on other phones in this price range.
Samsung A70 Review: Software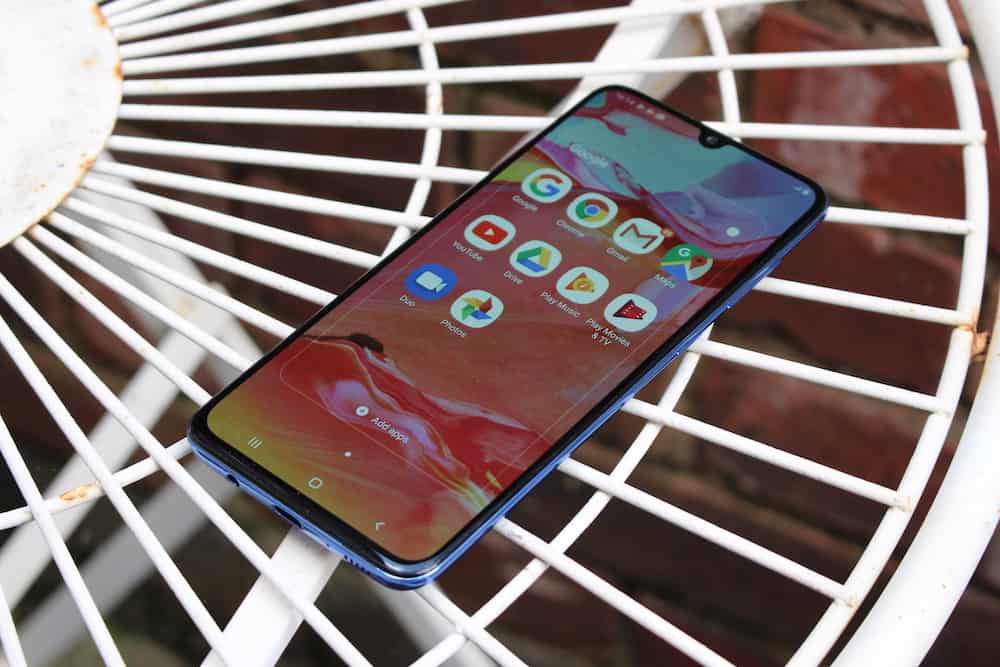 Pin
The Galaxy A70 is running Android Pie, with Samsung's own UI laid on top. Over the years Samsung has toned down the design of its user interface, and now it's all flat colours and basic icons. While this is very much a question of personal taste, we find it a little bland and unexciting. Sure, it's easy to parse when you're in a rush and the uniform nature of the icons is pleasing to the eye, but we can't help but feel that Samsung has diluted the look of its UI too much – perhaps in response to criticism it has had in the past, when its software was branded too cartoon-like and childish.
The other grumble we have is that Samsung is one of those hardware makers that insist on duplicating functionality on its devices. As well as the usual suite of Google apps – such as Google Play and Google Photos – Samsung has its own selection of applications and even its own app store. When you boot up the phone for the first time you have to sign in to your Google account and a Samsung account if you want full access to all of the phone's features. This kind of duplication is what makes so many people leave Android for iOS, which is a lot more elegant and streamlined.
Outside of this, there's little else to moan about here. The software is fast and responsive – despite the mid-range status of the device – and we rarely had any issues getting around the menu system.
Samsung A70 Review: Performance & Battery Life

The Galaxy A70 is rocking Qualcomm's mid-range Snapdragon 675 chipset, which is clocked at 2GHz. To back this up, there's a whopping 6GB of RAM.
This might not seem like a particularly exciting setup, but the Galaxy A70 was fast and responsive during our test, even when playing intense 3D games or running several applications in tandem. It's not quite as fast as the more powerful Snapdragon chipsets seen inside flagship phones, but anyone shopping in the mid-range sector of the market will be more than happy with the performance.
There's one rather odd thing to note, however; the Galaxy A70's cheaper stablemate, the Galaxy A50, comes equipped with Samsung's own Exynos 9610 processor, which is not only clocked higher but also gives that device an edge when it comes to performance. However, the Galaxy A50 isn't quite as feature-rich as its bigger brother.
Battery life on the Galaxy A70 is nothing short of phenomenal, thanks to the inclusion of a massive 4,500mAh capacity battery. On a single charge, we managed to get through an entire day and part-way through the next, and we were being pretty aggressive when it came to how we used the device. 25W Super Fast Charging technology also makes the cut, but there's no wireless charging.
Samsung A70 Review: Camera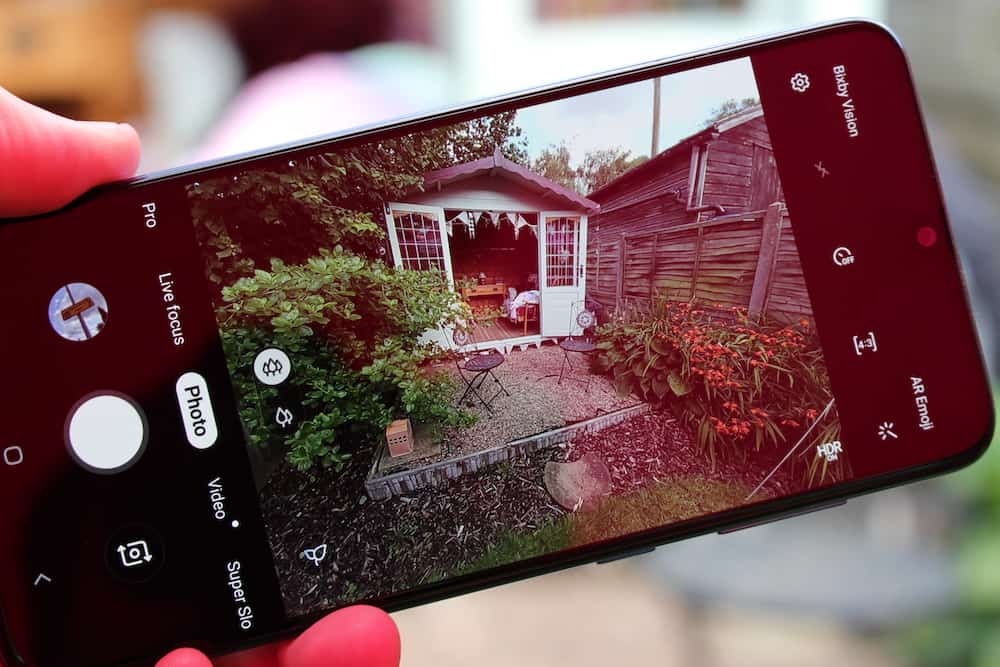 Pin
With mid-range phones, the one area that always seems to suffer is photography – but that simply isn't the case with the Galaxy A70. In fact, we'd even go as far as to say that this is the closest we're going to see to a Pixel 3a rival in this price bracket.
The main 32-megapixel (f/1.7) camera is flanked by an 8-megapixel (f/2.2) ultra-wide 123-degree sensor and a 5-megapixel (f/2.2) depth-sensing sensor, which comes into play when you're taking fancy bokeh shots.
Let's cover the basics first. In perfect conditions, the Galaxy A70 takes truly exceptional shots, boasting amazing colour replication and detail. In fact, we were genuinely shocked at how good the images were, given that this isn't a flagship device. Even in scenes where there was a notable degree of contrast between light and dark areas, the Galaxy A70 managed to pick out every detail without overexposing parts of the image.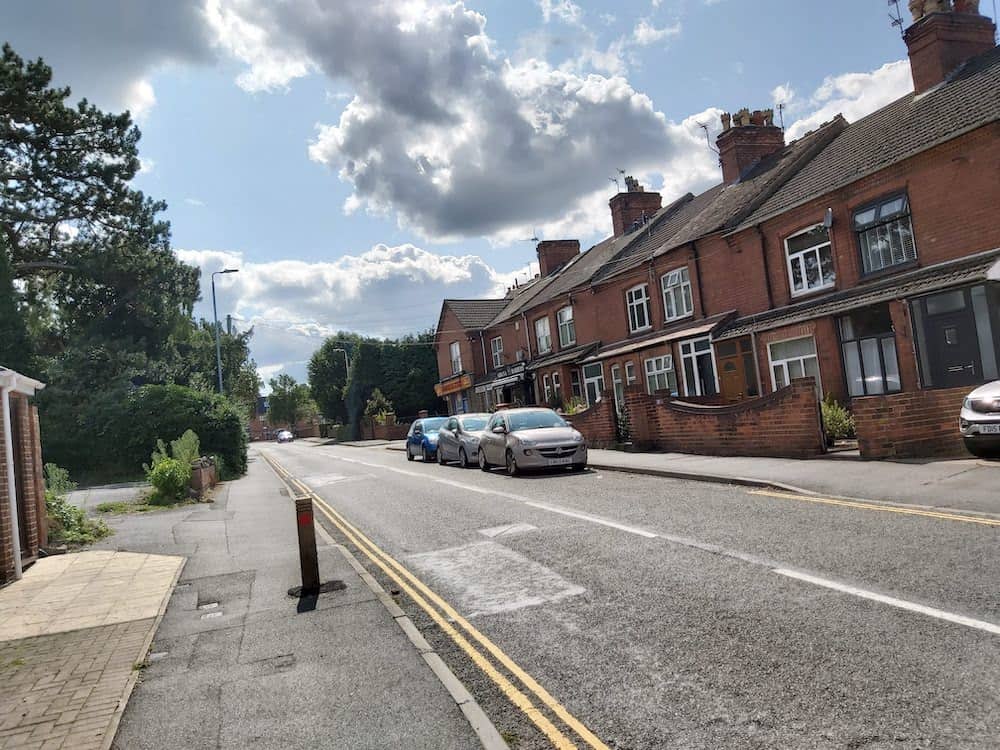 Pin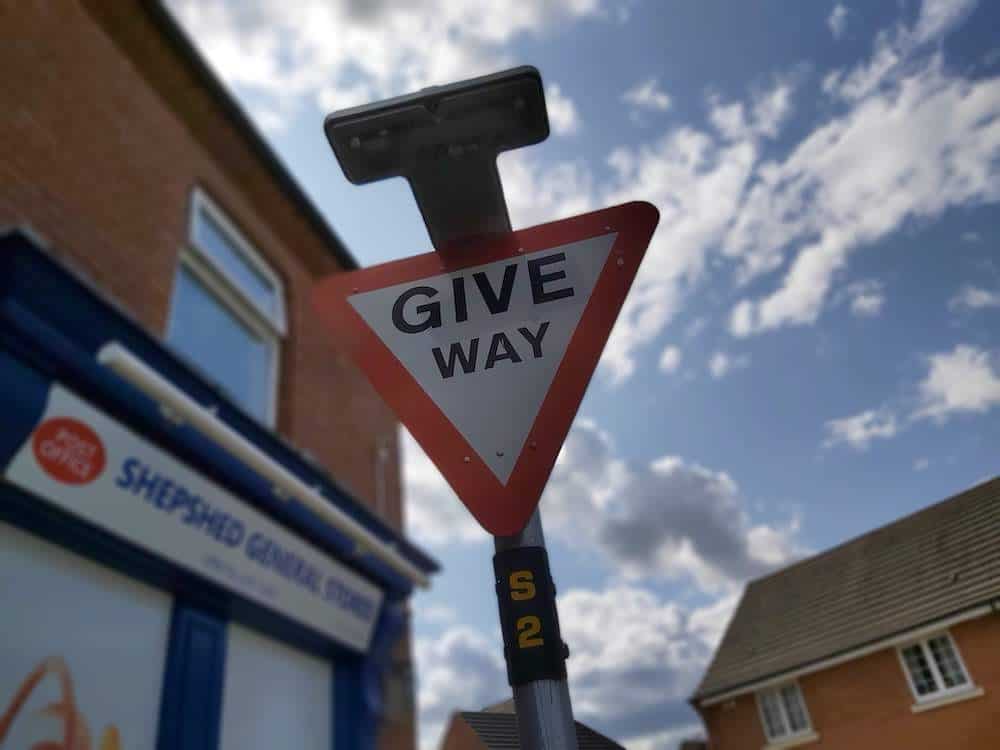 Pin
The phone was slightly less adept when it comes to low-light photography, and it's certainly not in the same league as the Pixel 3a in this respect. However, the dedicated Night Mode is a lot better than other devices in this class, and when you have the right conditions you can snap some pretty impressive images.
The real star of the show for us is the 8-megapixel ultra-wide camera, which allows you to cram more into each snap. LG has used this approach on its leading phones in the past and we're not quite sure why more companies don't follow suit, as a wide-angle camera is a lot more useful than a lens which purely senses depth and other data. There's sadly no optical zoom sensor, though.
These two shots were taken from the same place. The first is the 32-megapixel sensor and the second is the 8-megapixel wide-angle sensor.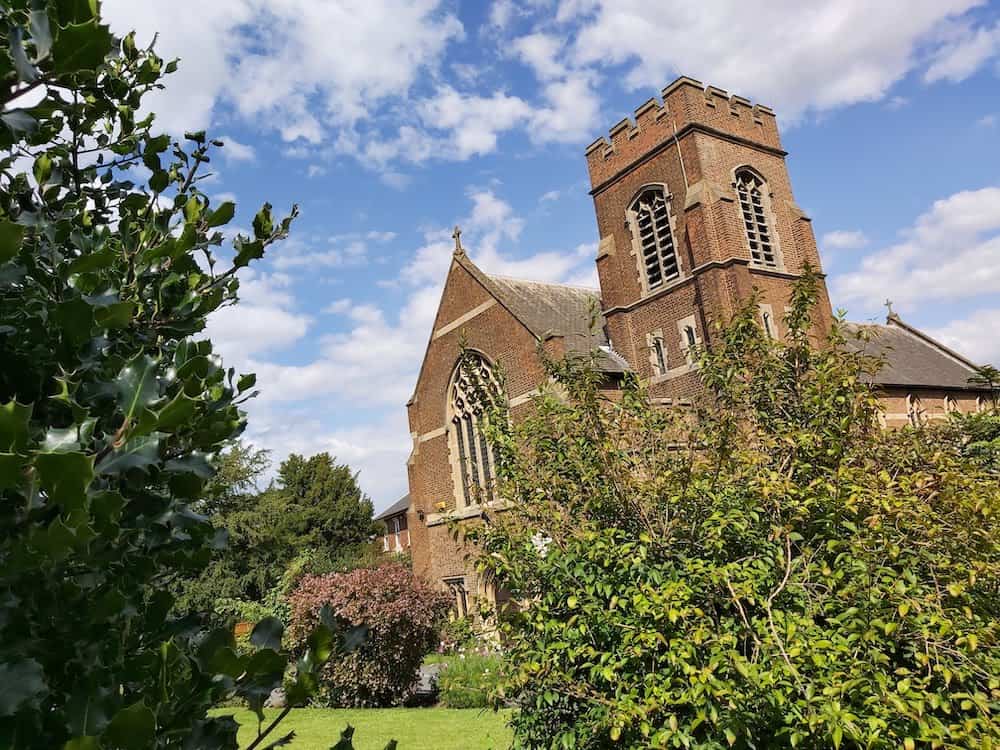 Pin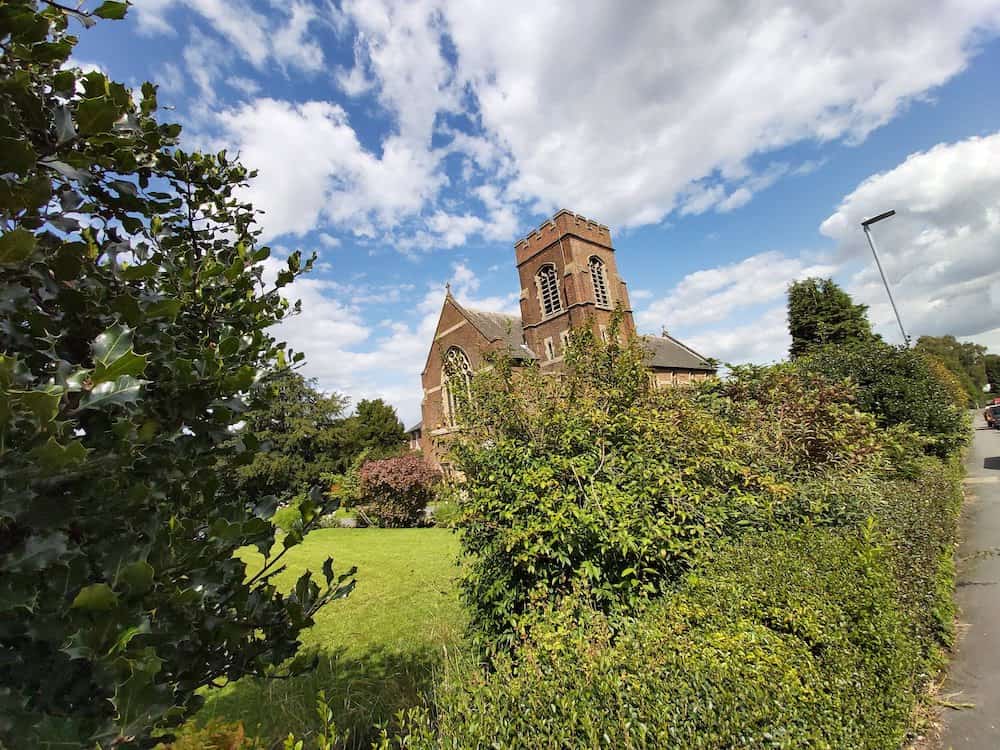 Pin
When it comes to video, the Galaxy A70 can handle 4K resolution at 30fps, while Full HD goes all the way up to 60fps. You can even record video using the ultra-wide lens, but it's limited to Full HD at 30fps.
Samsung A70 Review: Verdict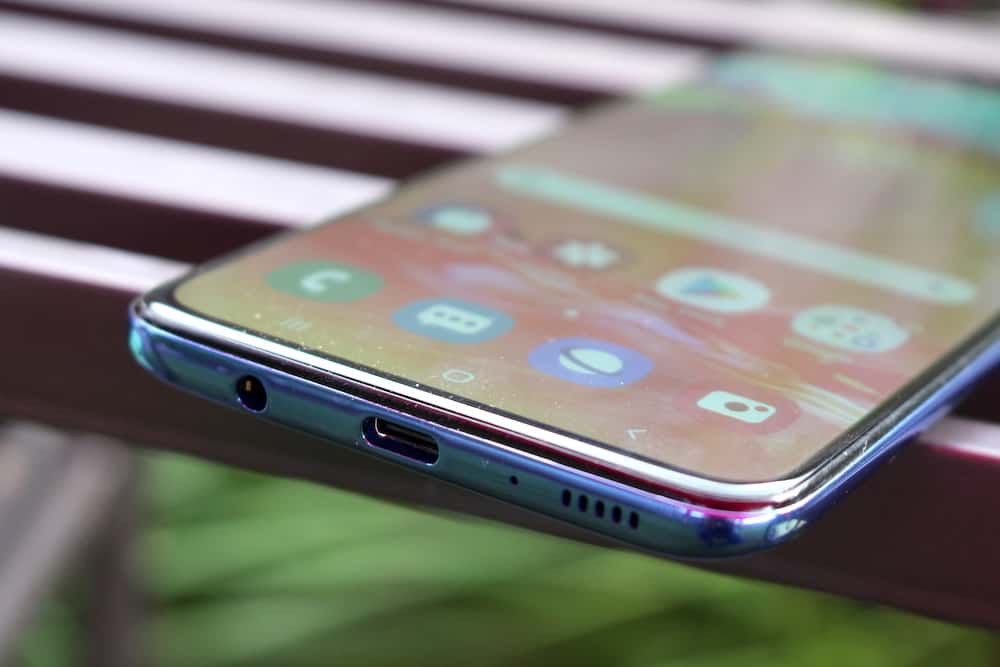 Pin
For $370, the Galaxy A70 represents amazing value for money, even if this sector of the market is becoming increasingly overcrowded. It has a fantastic screen, brilliant camera setup and massive battery, as well as fast charging and the ability to use two SIM cards and a Micro SD card. The in-screen fingerprint scanner is also a nice touch given the low price. While the Pixel 3a out-guns the Galaxy A70 when it comes to photography prowess, we're honestly not sure we'd recommend Google's device over this one. Sure, low-light shooting is better on the Pixel 3a, but we've had so much fun with the wide-angle camera on the Galaxy A70 that we're now wishing that every phone had this feature. While Samsung may be feeling the pinch at the upper end of the smartphone spectrum, if it keeps producing mass-market mid-range devices of this standard, it shouldn't have much to worry about.
Thanks to Mobilefun.co.uk for supplying the Samsung Galaxy A70 used in this review.