The 8 Best AirPlay Apps For Android (My #1 Picks)
---
---
Running Android, but what to use Apple's AirPlay protocol? No problem! Check out these awesome AirPlay apps for Android…
---
When it comes to streaming stuff on your Android phone, it doesn't matter whether you're using the best Android phone on the market or a cheap, mid-range blower – they're all designed to do the same thing at their core. And with apps, you'll be able to tap into Apple's AirPlay from your Android phone and tablet.
The #1 Best AirPlay Apps For Android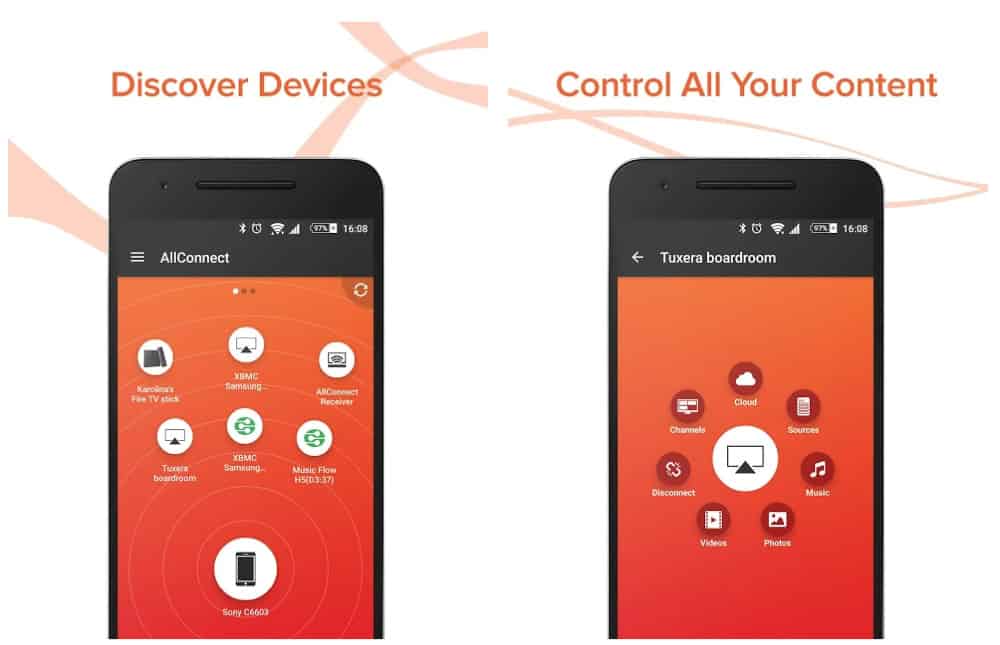 Pin
App description: "Instantly stream your favorite music, photos and movies to your Smart TV, Chromecast, Apple TV (2nd and 3rd generation), Roku, Xbox (360 & One), AirPlay speakers and many more. The most user-friendly and intuitive streaming solution for your Android device. Simple and intuitive design makes it very easy to stream all your media to any screen or speakers."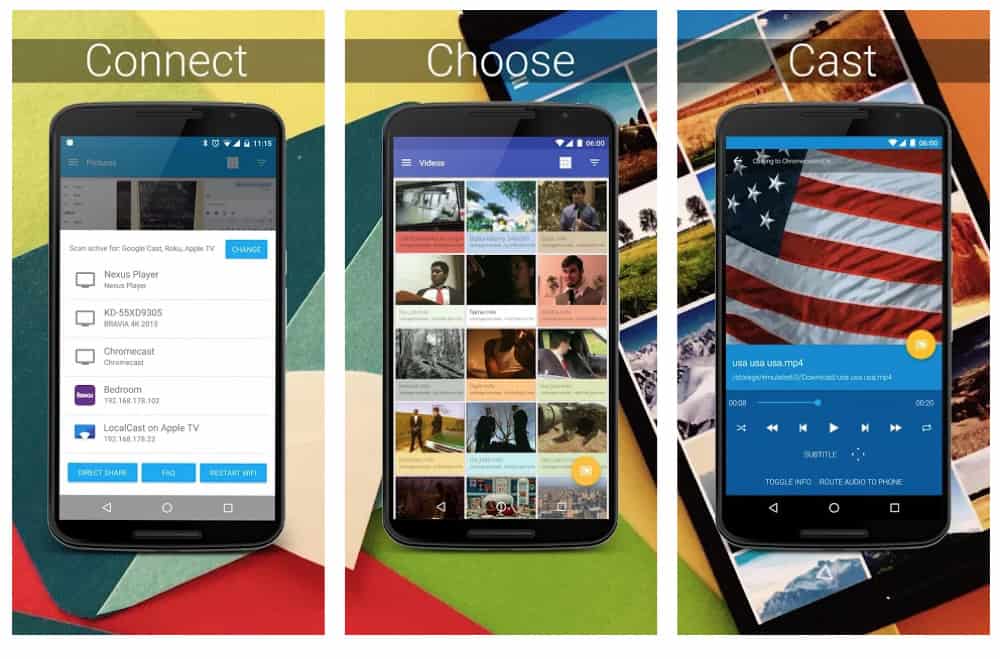 Pin
App description: "LocalCast is the number one casting solution on Android with over 10,000,000 users! Send videos, music or pictures FROM your phone or tablet, other apps, NAS (DLNA/UPnP or Samba), Google Drive, Google+, Dropbox or a webpage TO a Chromecast, SmartTVs, Roku, Nexus Player, Apple TV, Amazon Fire TV or Stick, Sony Bravia, Samsung, LG, Panasonic and other SmartTVs, Sonos, Xbox 360, Xbox One or other DLNA Devices."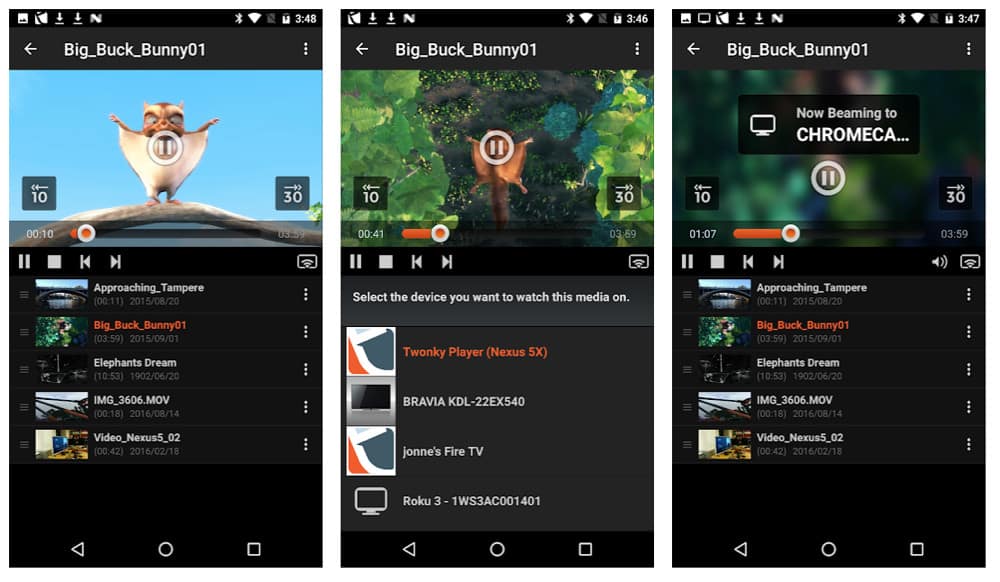 Pin
App description: "Twonky Player allows you to play media files stored on your mobile device or home media server – videos, music and photos – and enjoy them on your TV or other home media players. You can also download your favorite TV show to your mobile device and watch it on the go."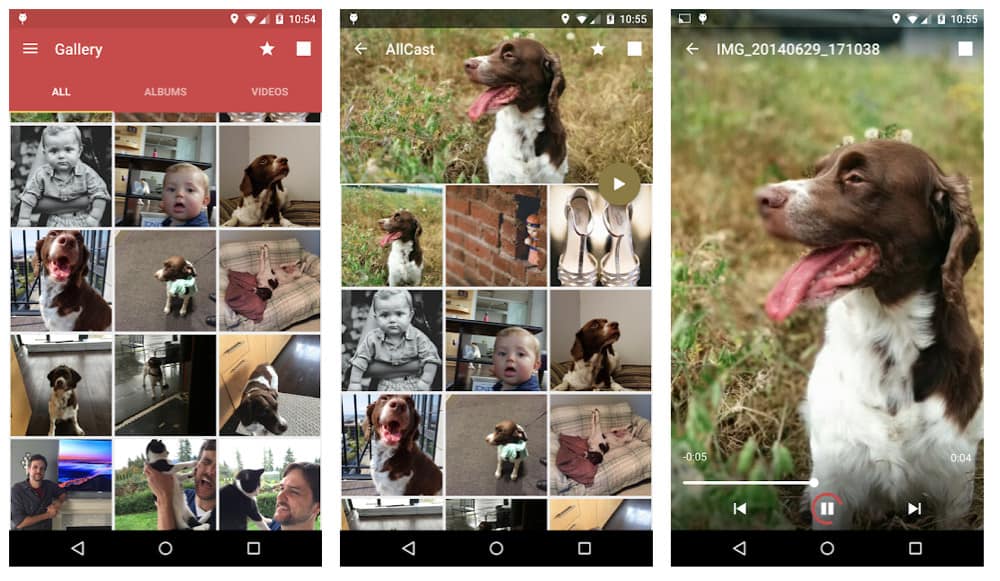 Pin
App description: "AllCast lets you send photos, music, and videos on your Android to your TV! AllCast lets you cast to: Chromecast, Amazon FireTV, Apple TV, Xbox 360, Xbox One, Roku, WDTV, Samsung, Sony and Panasonic Smart TVs, Other DLNA Renderers."
AirSync: iTunes Sync & AirPlay for Android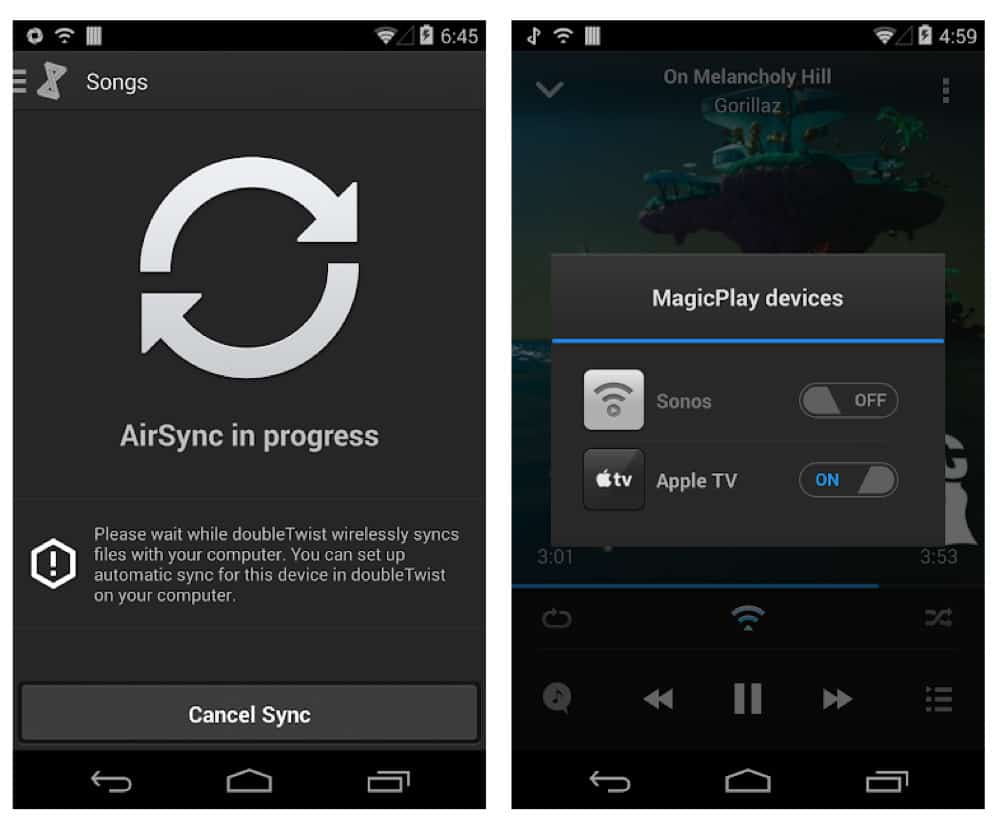 Pin
App description: "AirSync iTunes music to Android and sync playlists, albums and artists from your iTunes library on your PC to your phone or tablet. Sync iTunes over WiFi and AirPlay your music to Apple TV and AirPlay-compatible speakers. Described as the "iTunes for Android", AirSync has been recommended by New York Times, Wall Street Journal and BBC. The most user friendly way to sync iTunes and AirPlay on Android, trusted by millions."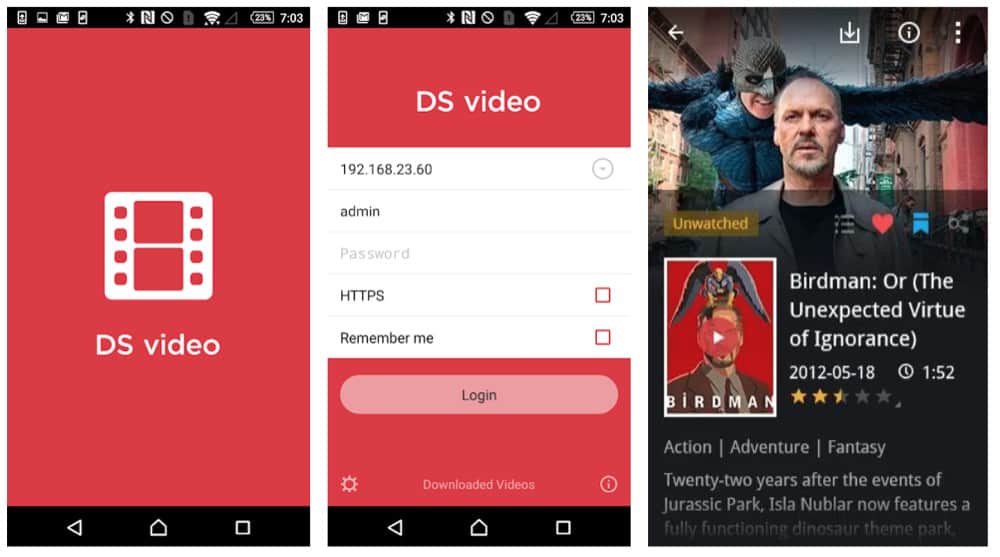 Pin
App description: "Use DS video to stream your video collection on your DiskStation to your Android device. Browsing is made easy as your videos are sorted in different libraries, and each movies has its information retrieved online automatically. And if you have plugged in a DTV dongle to your DiskStation, you will also be able to record TV programs, as well as view the TV program to manage the recording schedule even when on the move."
doubleTwist Music & Podcast Player with Sync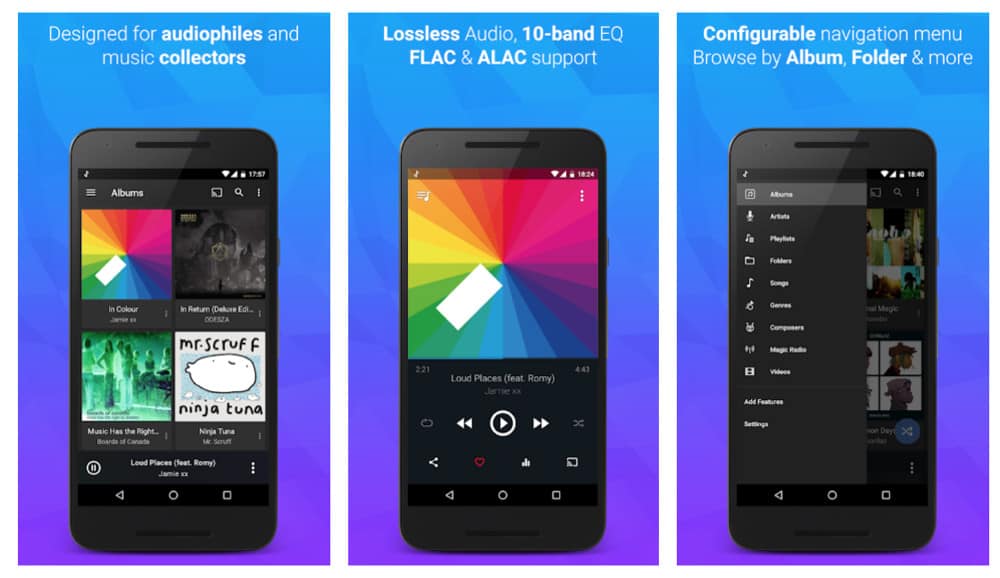 Pin
App description: "doubleTwist is a powerful music player and podcast manager with music sync functionality. doubleTwist Player has over 100,000 five star ratings and a fast, easy-to-use interface that eliminates the need to jump between different apps to play music, manage podcasts, or sync iTunes playlists. Plus, you can cast or AirPlay music from your Android with the optional AirSync purchase!"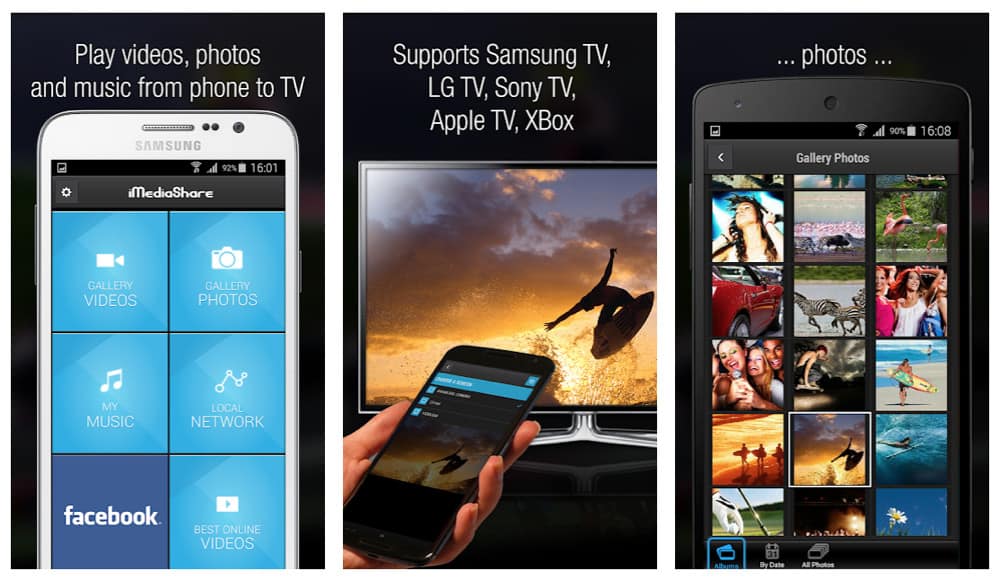 Pin
App description: "Access your digital content from anywhere. iMediaShare automatically discovers any connected devices around you. All you have to do is choose the one you'd like to play on, and your videos stream instantly on the big screen. iMediaShare also serves as the ultimate remote, so you can adjust volume, playback, or switch videos with intuitive touchscreen gestures."
Things To Keep In Mind When Using AirPlay on Android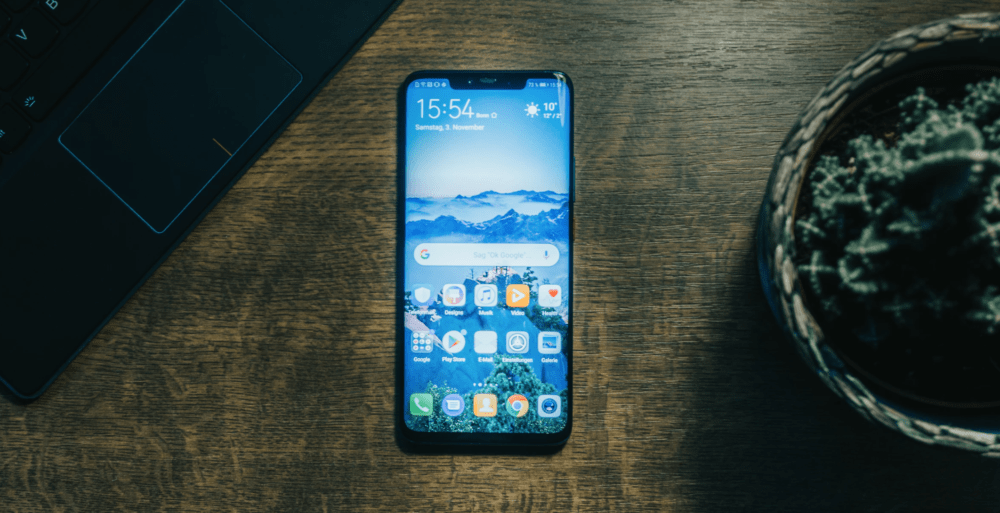 Pin
First and foremost, AirPlay and Android are not designed to work together, so, for this reason, things have a habit of NOT running smoothly. All of the apps listed above work, but there are always issues – things not working for no apparent reason and/or wonky connections. It's a pain, to be honest. But when they do work – which happens 90% of the time – it's great. I just want you to be aware that these apps aren't always all that reliable.
Now, this isn't Google's fault. Nor is it anything to do with Android. It's because Apple, in its infinite wisdom, has not added in support for Android, despite the fact that casting via Chromecast on iPhone is fairly straight-forward. In order to use AirPlay to its full potential, you need to use one of Apple's range of iPhones.
Do You Need A VPN?
Pin
If you want to access content outside of your region, like US Netflix if you're in the UK, or BBC iPlayer, if you're in the US, then, yes, you 100% need a VPN. VPNs also ensure all your browsing is protected, anonymizing your IP, so that the internet becomes completely unrestricted, granting you access to torrenting sites and P2P sites that most ISPs block.
Right now, these are our #1 most recommended VPNs:
[ninja_tables id="90351″]
My current pick, if you want the best overall speeds and security, would have to be NordVPN; I've been using it for a few years now and it is utterly fantastic. The speeds you get with it are incredible and it grants you full access to different regional versions of Netflix, as well as torrenting sites and P2P stuff as well.
Alternatives To AirPlay? Simple: A Fire Stick or Chromecast…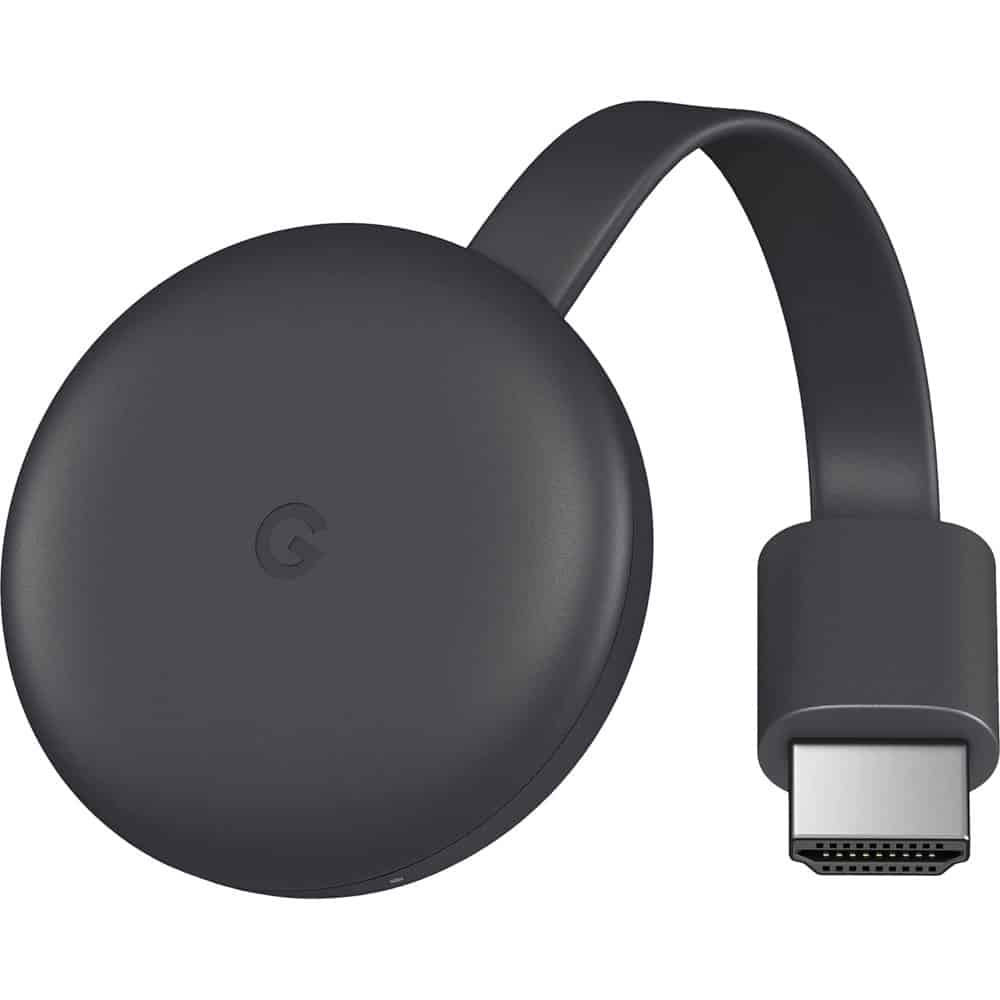 Pin
If this all proves too much for you, which it very well might, you do have other options. Right now, if you're an Android user, I would 100% recommend Amazon's Fire Stick, or Chromecast. They're cheap, work brilliantly, and you can use it to bypass AirPlay on most things, save for you Apple TV.
However, Apple TV is kind of a dud product now. When it came out Smart TVs were rare. Nowadays everybody has one – even my mum! So, yeah… Apple TV is slowly becoming obsolete. You even have hacked AirPlay alternatives that you can download and run like Rogue Amoeba's Airfoil, which has components that work with AirPlay.
Bottomline? You can get AirPlay to work with Android, but it's a pain in the ass, and it's flakey at the best of times. My advice? Get a Fire Stick or a smart speaker like the Google Home Max and forget all about your Apple TV and streaming media using AirPlay…
Richard Goodwin
Richard Goodwin has been working as a tech journalist for over 10 years. He has written for Den of Geek, Fortean Times, IT PRO, PC Pro, ALPHR, and many other technology sites. He is the editor and owner of KnowYourMobile.