New Bing: Microsoft Starts The AI Search Engine War! Microsoft has just reignited the search engine wars by announcing "New Bing" – here's everything you need to know!
---
Google announced its intention to put its AI chatbot directly to search results last day. Now Microsoft has announced New Bing with ChatGPT-like features and more.
Google merely announced the features, but Microsoft has made a suite of AI tools and features official for its search engine and now calls it "New Bing". The competition in Search Engines is heating up once again after decades of stagnation. And we're 100% ready for it!
Let us discuss exactly what the "New Bing" is and what Microsoft plans to do.
NOTE: Also read our previous post: Google Bard – Everything you need to know.
Microsoft's New Bing "It's a new day for search", said Satya Nadella, Chairman and CEO of Microsoft today, as the company announced "New Bing". Microsoft has tried everything to get you to use its search engine Bing; it even pays you to use it with Microsoft Rewards. But with this new addition to Bing, you might switch to Bing.
Microsoft is adding a ChatGPT-like chatbot to Bing. Microsoft's association with ChatGPT's creator OpenAI is well known; it recently pumped an additional $10 Billion into the company. This would be the result of that.
"AI will fundamentally change every software category, starting with the largest category of all – search," said Satya Nadella. "Today, we're launching Bing and Edge powered by AI copilot and chat to help people get more from search and the web," he added.
Like Google, Bing will also answer your questions with AI-generated responses on the search results. It puts AI-generated responses alongside the search results.
What's interesting here is that Microsoft isn't using ChatGPT or GPT3 AI models for its AI tools. Microsoft is using a different AI model called Prometheus. Microsoft mentions it was made in collaboration with OpenAI, which is much more powerful than GPT 3, which forms the basis of the ChatGPT AI chatbot. It is more powerful because Prometheus is updated with the latest information from the internet. ChatGPT can only draw information before 2021; Bing can show the latest news on the generated responses.
Microsoft said, "We have developed a proprietary way of working with the OpenAI model that allows us to best leverage its power. We call this collection of capabilities and techniques the Prometheus model. This combination gives you more relevant, timely and targeted results, with improved safety."
New Bing is available for select users (primarily journalists) and will be available for the public soon. You can get access to New Bing by joining the waitlist on the New Bing landing page.
New Bing & Bing Chat: How Does It Work?
When opening the New Bing, all you have to do is search for anything. But instead of typing for keywords, you can now ask in a conversational manner. Even though Microsoft is yet to open the service to the public, it has put out a few examples as a preview of the service. Let's take a look.
If we ask Bing this example question, "What cars should I consider buying that are AWD, go 0-60 in less than 6 seconds, seat 6 or more and have decent reviews?" It will give us an answer like this: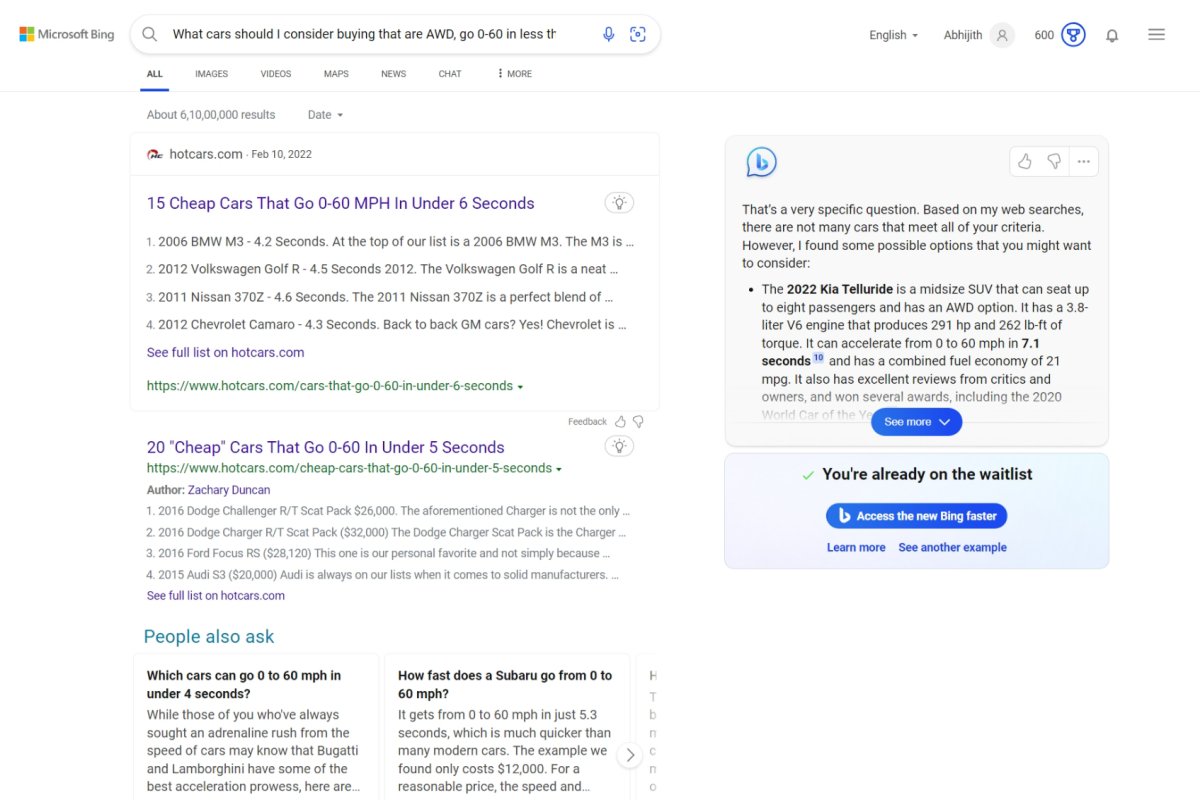 Another example Bing gives is this: "Write a story for children about a dog who lives on the moon". Take a look at the answer: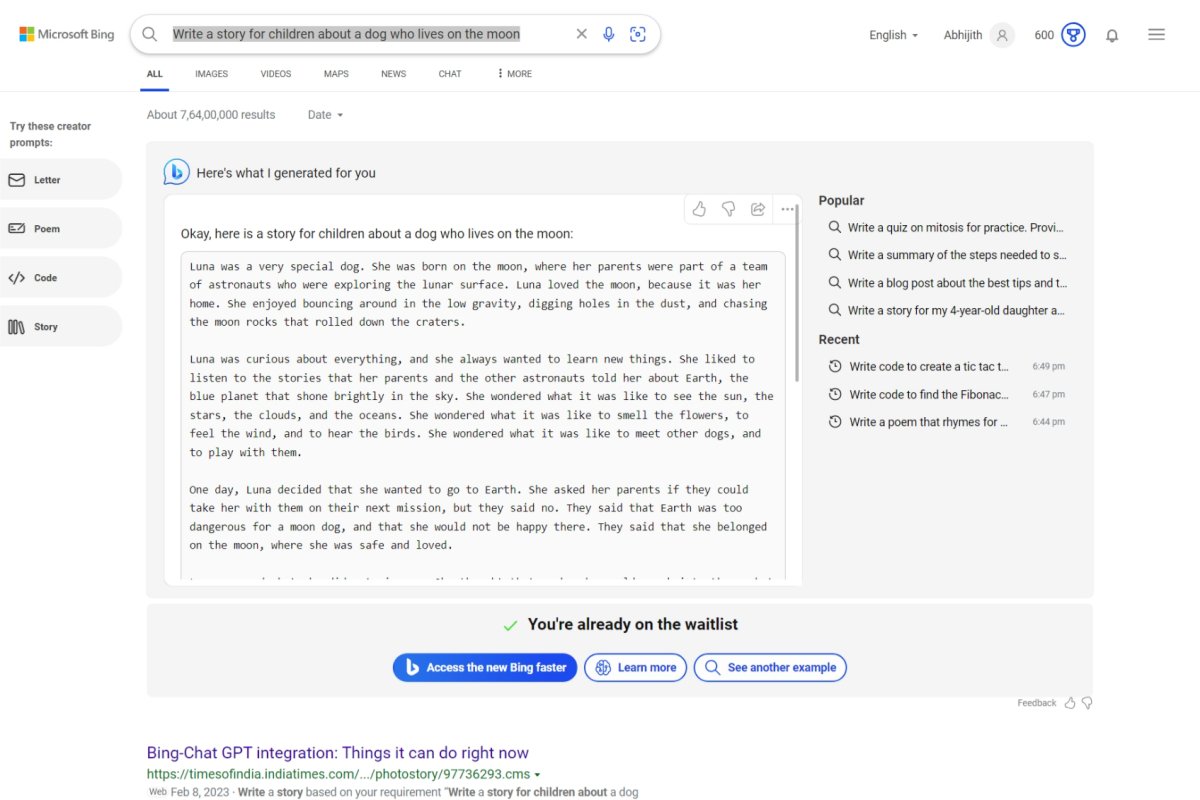 These examples show that some answers would take up the entire page and push down the normal search results, while others would just get the AI-generated answers on the sidebar.
Bing will also have a separate chat section, which would be familiar to those who have used ChatGPT, as seen from the screenshot below.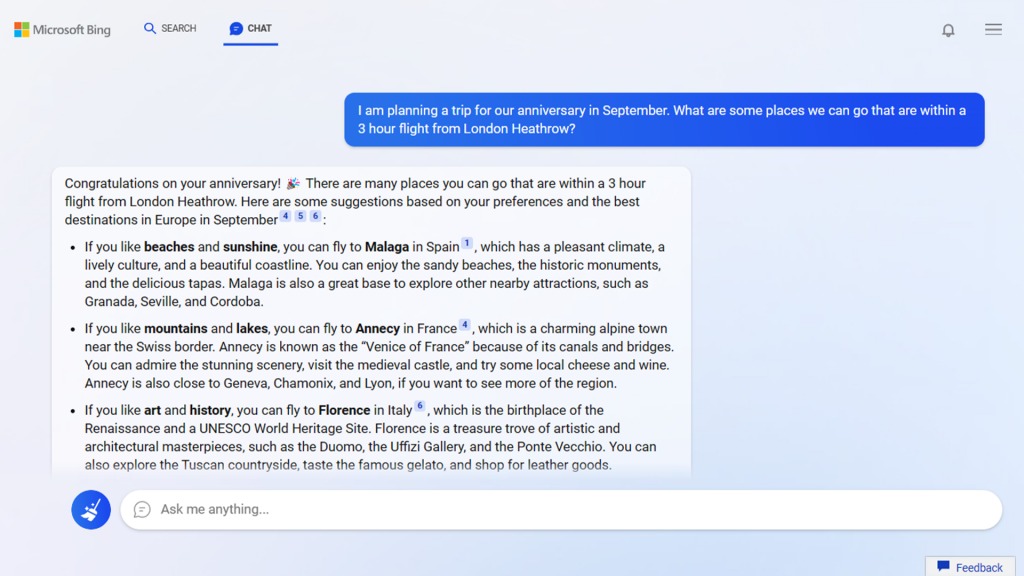 The Verge has posted a video on New Bing, as it has got early access to the AI-powered Bing Search. Take a look:
New Edge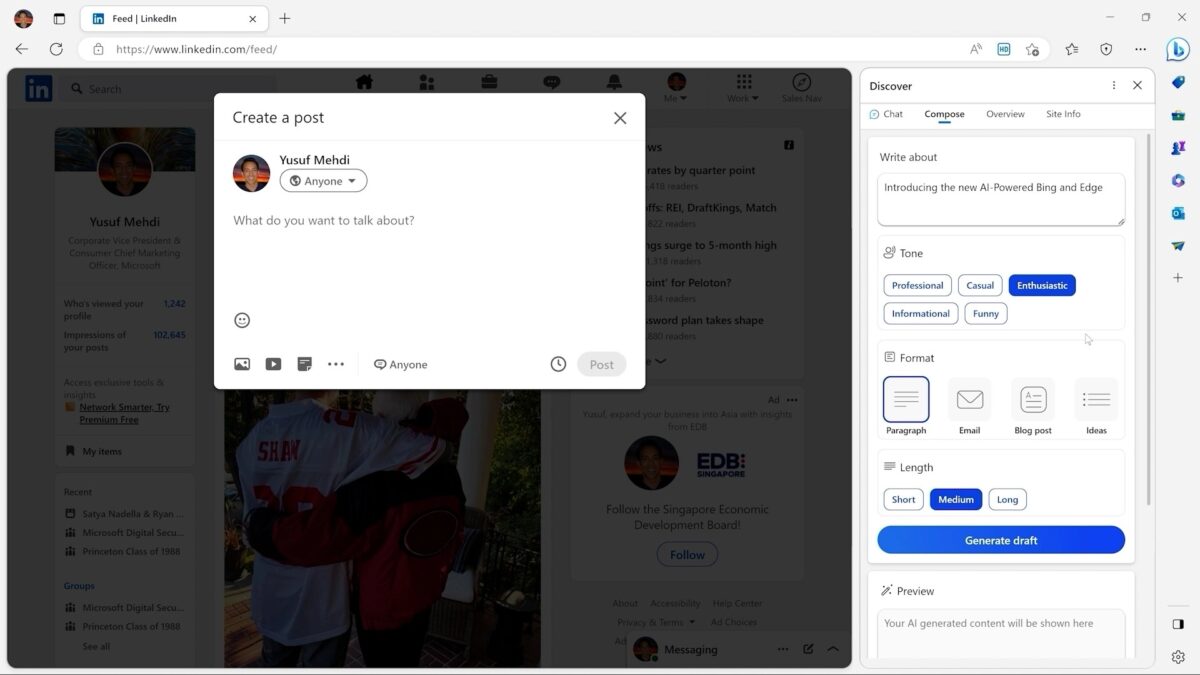 Microsoft has also announced that it is working on New Edge, which will come with New Bing features built in. The new Edge browser will have a new design in tune with Windows 11 design language.
But design isn't the main change. It is the AI capabilities it is going to integrate with it. With the new update, you can make Bing's AI use the info on the current page and do AI stuff with the data. You will also be able to make it write emails for you, make Linked In posts, and more. It is ChatGPT on steroids.
Key Changes To Bing And Edge
Microsoft announced these four new changes to New Bing and New Edge:
Search: The search bar in Bing is different; the search bar now says "Ask Me Anything". Microsoft wants you to ask more conversational questions to Bing now, and there are significant underlying changes to the search engine using the new AI-powered model for providing results.
Answers: A new column to the right is present on the search results. In addition to search results, it shows more answers about the results.
Chat: This is where Bing looks more or less like ChatGPT.
Create: Edge will have a new B logo; clicking on it will bring up a Discover window, with which you can use the info on the page to work its AI wonders. It can write emails for you, write a LinkedIn post for you and more.