Honor 8X Review: Utterly Insane Value For Money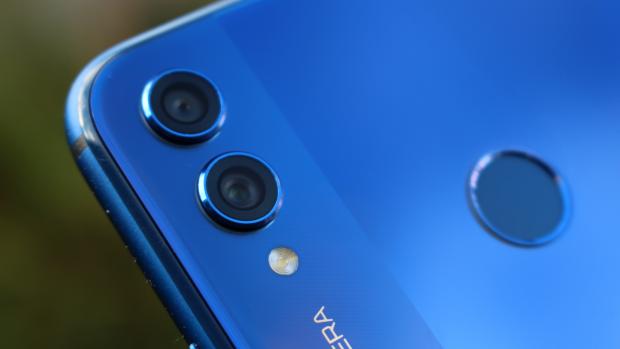 [ss_click_to_tweet tweet="Is the Honor 8X one of the best value Android phones on the planet right now? Pretty much… This phone is mightily impressive for its insanely low price tag" content="Is the Honor 8X one of the best value Android phones on the planet right now? Pretty much… This phone is mightily impressive for its insanely low price tag" style="default"]
Honor 8X Verdict (In A Nutshell)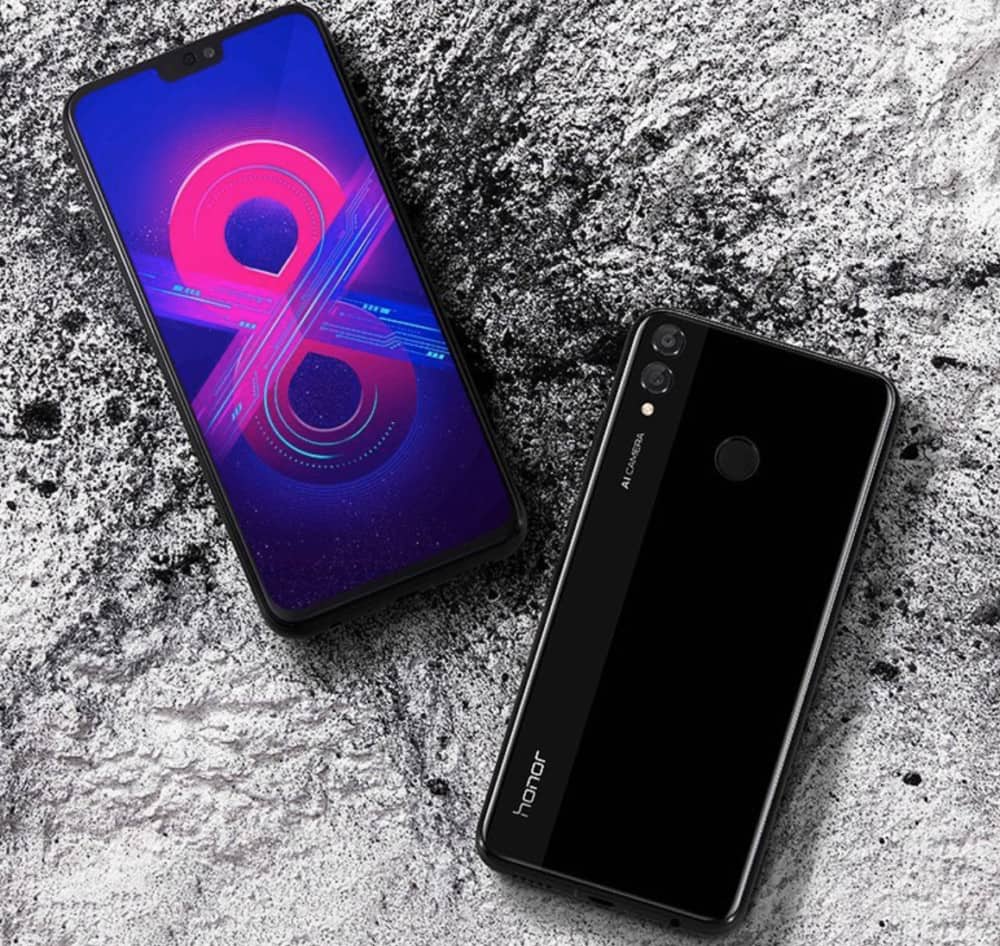 PinPin
Design: ⭐⭐⭐⭐⭐
Specs & Features: ⭐⭐⭐⭐
Performance: ⭐⭐⭐⭐
Battery Life:  ⭐⭐⭐⭐
Camera: ⭐⭐⭐⭐
Value For Money: ⭐⭐⭐⭐⭐
Best Deal? Amazon – $177.99 
Quick Verdict (TL;DR Version)
Huawei's cheap-and-cheerful budget brand Honor has gained a considerable amount of fame by offering high-quality devices for cut-down prices and has released a series of handsets which look, sound and feel like top-tier propositions – despite costing a fraction of the price of flagship phones from the likes of Apple, Samsung, and Google.
The Honor 8X continues this proud tradition; not only does it look utterly fantastic at first glance, but it also packs in a great screen, capable processor, NFC support, fast charging, dual AI-based camera setup and much more besides. There are some compromises – perfectly understandable when you consider that the device sells for just $177 SIM-free – but it's amazing to see how many phones you get for such a small amount of money. I honestly think the Honor 8X is one of the best phones you can buy right now (with respect to value for money).
Full Honor 8X Review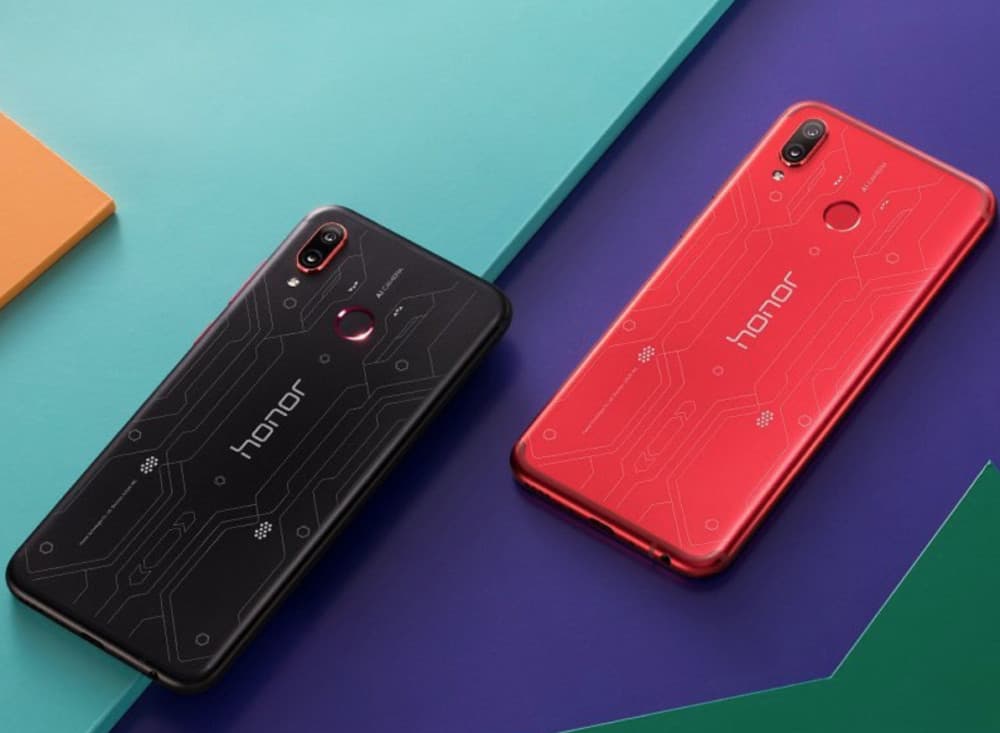 Pin
Design
The Honor 8X is a big phone – it measures around the same size as the Galaxy S9 Plus, if you need a reference point. However, it's incredibly thin and lightweight, which makes it comfortable to hold, even for people with Hobbit-sized hands. The phone comprises of a solid metal frame with a glass front and back. The rear has a nice gradient effect which looks great when it catches the light (at least it does on the blue version; the black model is less striking) alongside a plain band that houses the Honor logo and dual camera setup. The back is also where you'll find the fast and accurate fingerprint scanner.
The rounded edges mean this is a comfortable phone to hold, and on the right-hand edge you'll find the power button and volume rocker. The opposite side of the phone is where the SIM tray is located; you can insert two Nano SIMs and a MicroSD card into this tray, which is a bonus.
On the bottom edge, there's the 3.5mm headphone jack and powerful single speaker. The disappointment here is that Honor has opted for an old-school Micro USB port rather than the newer USB Type-C connection. Pretty much every Android handset maker has transitioned to the new standard now, so it's a shame to see Honor stuck in the past, but we'd imagine you've still got plenty of Micro USB cables laying around the house, so it's by no means a deal-breaker.
One of the ways in which Honor has cut corners to hit that magical price point is the lack of waterproofing or dust resistance; don't go dropping this phone in the bath. It's also worth noting that despite the glass back, the Honor 8X does not support wireless charging.
Honor 8X Display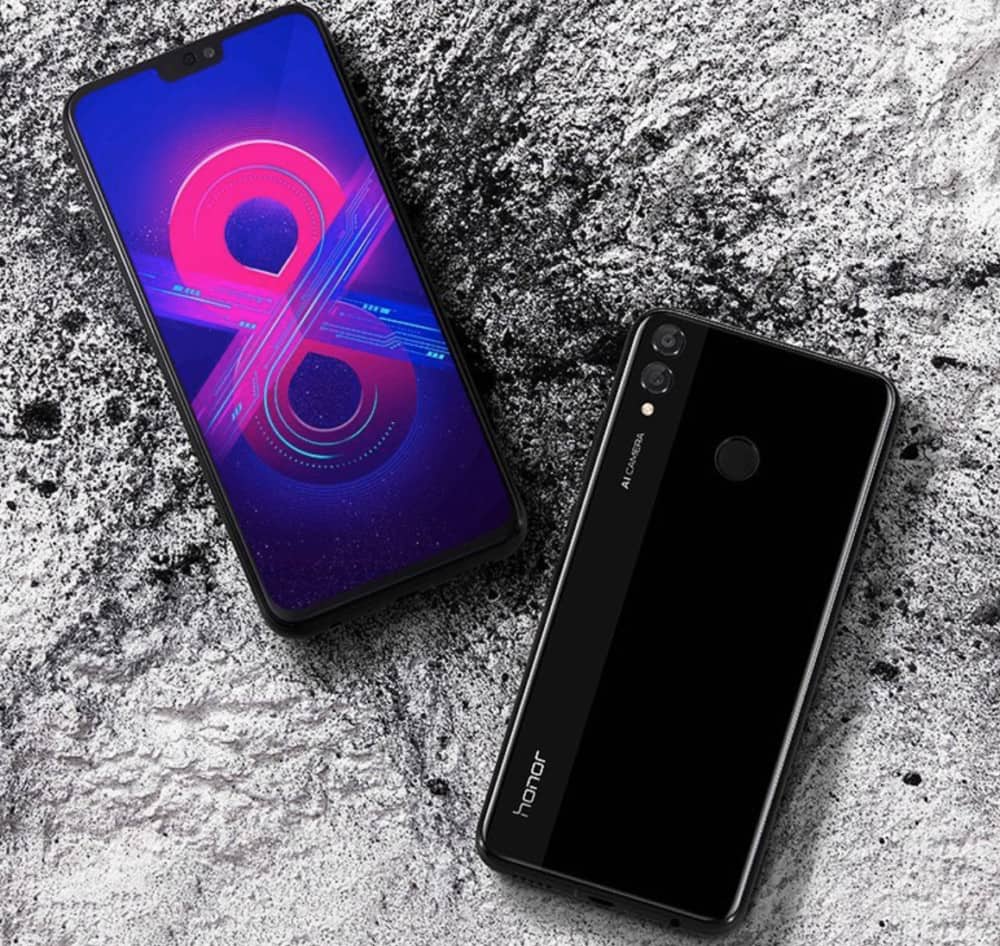 PinPin
The Honor 8X's screen is one of the most impressive bits of the whole package; in an age where Apple is shipping the iPhone XR with a sub-1080p LCD display and is still charging a premium price, the fact that Honor is able to equip a 6.5-inch 19.5:9 LCD screen with a resolution of 1080 x 2340 pixels for a third of the cost is staggering.
Make no bones about it, the screen on the Honor 8X is fantastic. It's pin-sharp, has excellent color reproduction and decent contrast. It's also one of the most impressive edge-to-edge examples we've seen on a budget Android phone; sure, there's a notch and a small chin at the bottom, but otherwise, this offers a fantastic screen-to-body ratio of around 85 percent.
Unless you've used a phone with a massive screen before, it's hard to explain what a difference it makes to general usability. The bezels you'd normally find are all but gone, offering up more of the phone's front to displaying information and images. Combine this with the pin-sharp resolution and impeccable quality of the LCD panel Honor has used, and you've got a handset that truly dazzles. Set alongside the iPhone XR, the Honor 8X embarrasses Apple's vastly more expensive handset, at least in terms of screen quality.
Our review unit came with a screen protector pre-fitted, which is a nice touch.
Honor 8X Software & Performance
Because it's a Huawei sub-brand, Honor's phones use Huawei's EMUI Android skin, which sits on top of Android 8.1. The lack of a proper app drawer is immediately noticeable – lots of Chinese phones do this, presumably to mimic Apple's approach – but thankfully you can reinstate this core Android feature if you so wish. Outside of that, EMUI is smooth, responsive and looks great; even if you're a fan of 'stock' Android, we can't imagine you'll be too displeased here.
The Honor 8X ships with a handful of custom apps and Honor again falls back on its Huawei parentage when it comes to some core features. For example, a Huawei Account is required to sign in to certain applications, which feels needless when you consider that Android is built on the foundations of Google's own ecosystem. There's also quite a bit of unwanted duplication, too; the Health app isn't any better than Google's Fit service, so unless you're a hardcore Huawei / Honor fan, then there's little reason to use it. The same can be said of the pre-installed Music, Photo and Video apps; given that the Honor 8X comes with the full suite of Google applications installed as well, why would anyone opt for these inferior versions?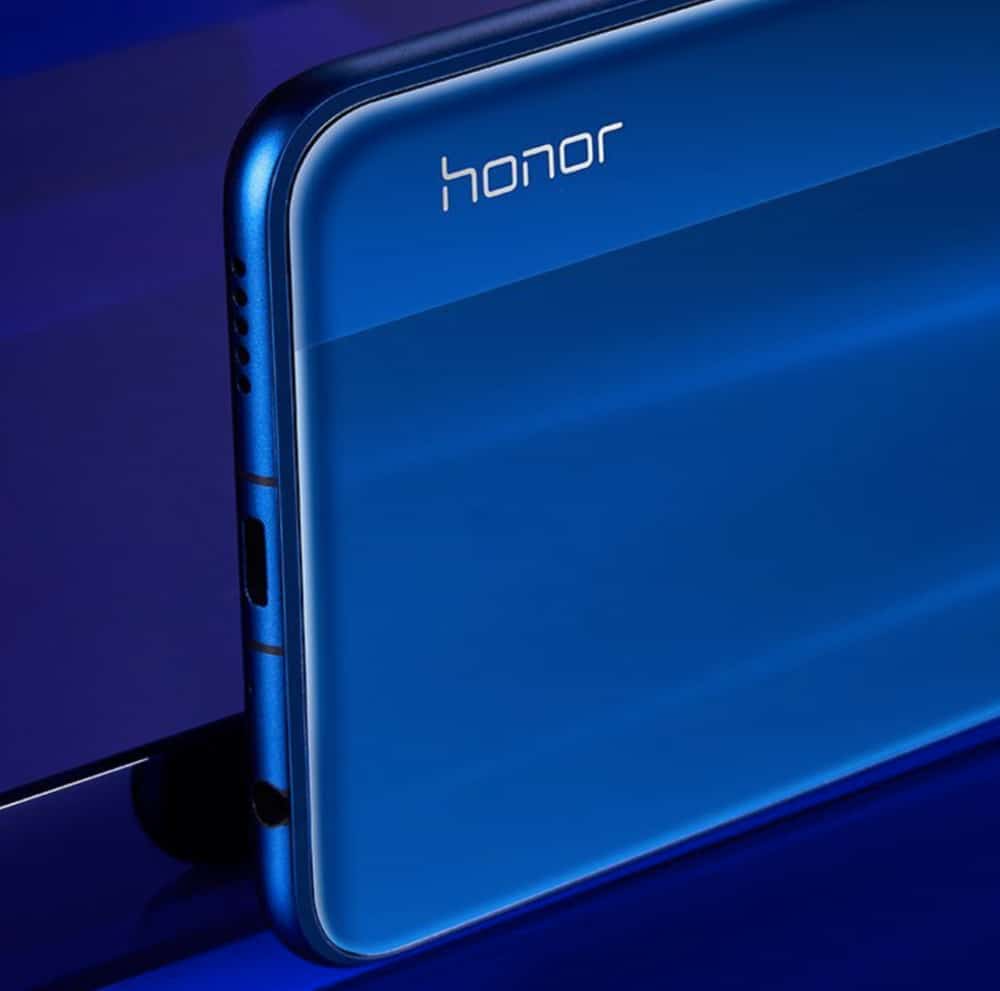 Pin
Elsewhere, Honor has included some unusual features, such as the superfluous 'Party Mode'. This allows you to connect with other phones via WiFi and share the same piece of music across multiple devices; handy if you're one of those annoying teenagers who sits on public transport blaring Skepta's latest 'classic' from your phone's weedy speaker, but we can't imagine anyone else will make use of it.
The Honor 8X uses Huawei's Kirin 710 chipset, which is aided by 4GB of RAM. The GPU is a quad-core Mali-G51. Now, compare these specs to the Honor Play – which costs around $50 more – and there's quite a gulf. The Play has a more powerful Kirin 970 CPU with a Mali-G72 GPU, which means you get better performance overall. It's worth considering if your budget can stretch that little bit more.
Having said that, it's not like the Honor 8X is weak for a phone which costs $177 – quite the opposite, in fact. Compared to other devices in this price range it's pretty powerful; sure, there are moments where it stutters slightly (usually when there's a lot going on in the background, or when you're playing a 3D game) but on the whole, the experience is smooth and responsive.
In Geekbench 4, the Honor 8X scored 1612 on the single-core test and 5624 on the multi-core test. In Antutu Benchmark, it returned an overall score of 137740.
Honor 8X Battery & Memory
We live in a world where the Honor 8X's 3,750mAh might be considered entry-level, but we found that the phone was perfectly capable of making it through an entire day of typical usage.
As is the case with many phones these days, the Honor 8X has a comprehensive suite of battery options which not only allow you to get as much out of a single charge as possible, but also allow you to customize your experience to ensure that pesky apps don't go auto-starting and soaking up power when they're not needed.
There are also two power-saving modes; the first simply limits background app activity and turns off syncing, as well as turning off sounds and animations. The second – Ultra power saving – goes one step further and restricts access to certain power-hungry applications. If you're away from home for a day or so and don't know when you'll be able to charge the phone next, these are handy options to have, even if they do seriously limit the phone's power. The Honor 8X also has a feature that automatically adjusts the resolution of the screen to make your battery lasts as long as possible.
The unit we reviewed comes with 64GB of storage, but you can add to this using the MicroSD slot in the SIM card tray.
Honor 8X Camera
Despite the low price, the Honor 8X appears to offer the same photography smarts as its more expensive Huawei siblings. There's a dual-camera setup – 20 megapixel and 2 megapixel – which uses AI to produce superior shots (at least in theory) as well as a 'moving picture' mode which creates small videos, like Apple's Live Photo system. There's also a night shooting mode which is handy for taking shots in dimly-lit environments (just keep the phone steady), and the camera app itself is packed with options and controls.
The catch here is that while the Honor 8X is full of features on paper, in practice it's obvious where the corners have been cut. Shutter speed isn't the fastest; when there's plenty of light it's relatively quick to focus and shoot, but in any other situation it can take a little while to capture the image.
The much-hyped AI mode is also something of a mixed bag; in certain situations, it's hard to see what impact it has, if any, and in others, it produces shots with wildly exaggerated colors and contrast that simply don't look real. AI-based photography is definitely powerful – just look at the Google Pixel 3 – but in the case of the Honor 8X, it doesn't feel like it's quite there yet.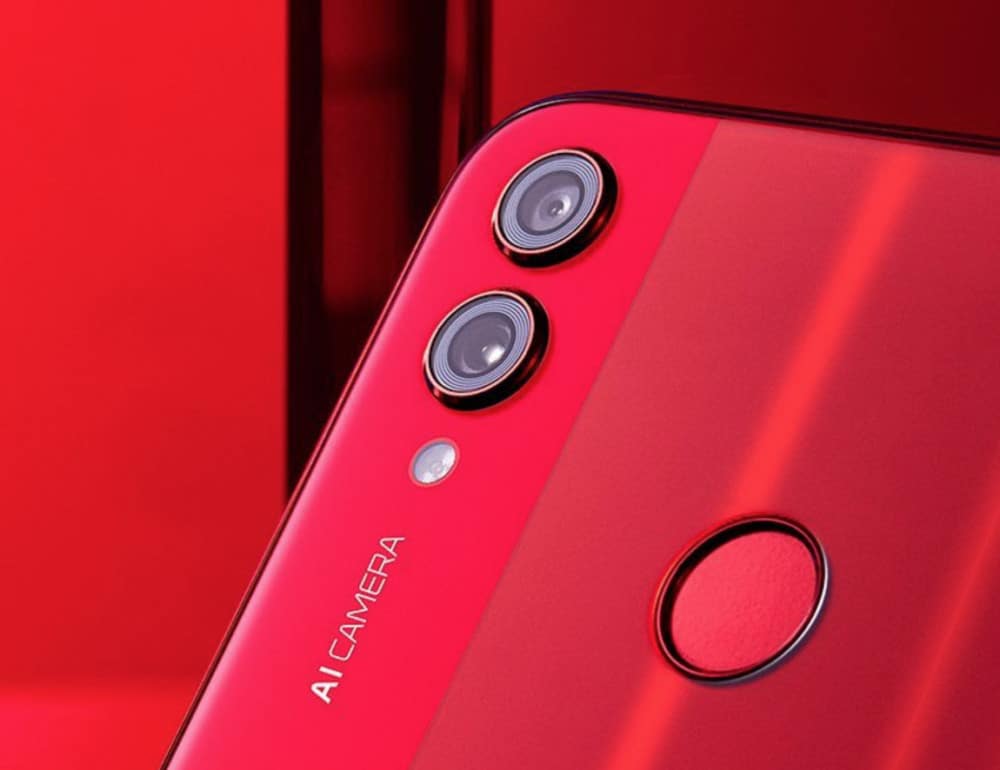 Pin
'Portrait' modes on smartphones are nothing new these days, and even cheap handsets have two cameras to enable this fancy 'depth of field' effect where the background behind your subject is blurred nicely, as it would be if you were using an expensive DLSR. The Honor 8X's Portrait mode and Aperture Mode both attempt to simulate this process using the secondary 2-megapixel camera, which is used to work out where objects are in 3D space and apply the 'bokeh' effect accordingly.
Because it's such a low-res sensor, the system doesn't get it right all of the time. It's not the worst application of this technique we've seen in a phone, but it's leagues behind what the Pixel 3 can do – and that only has one sensor.
Video capture tops out at 1080p, which is a shame – but 4K isn't common on most budget phones yet. The presence of super slow-mo video recording mitigates this a little, while the 16-megapixel selfie camera produces good shots and footage, too.
That front-facing camera is also used to enable Face Unlock, which – unlike Apple's 3D-scanning tech – simply uses a 2D image. It's not as accurate as a result but we were surprised at how quickly the phone recognized us 90 percent of the time. We still prefer using the ever-reliable fingerprint scanner, but having the option to use your face is nice.
Honor 8X Review – Conclusion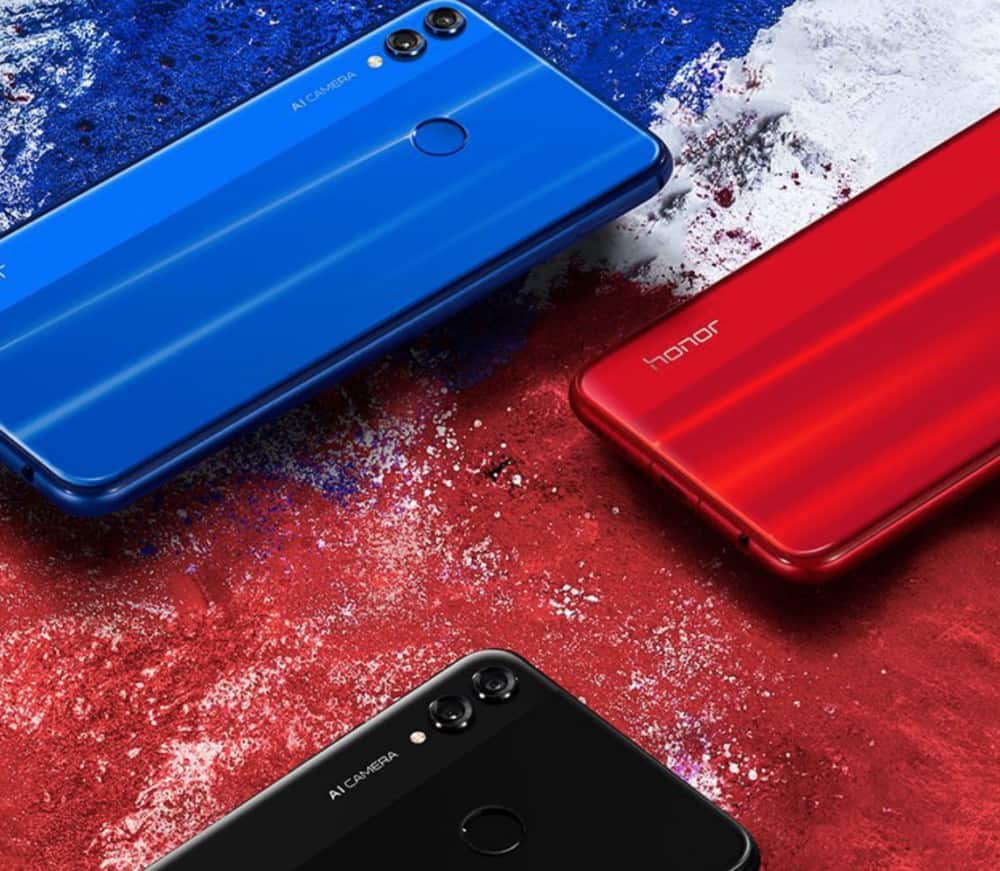 Pin
The Honor 8X makes an incredible first impression, and if you knew nothing about the phone you'd assume it was a flagship device with a massive price tag – certainly much higher than the $177 being asked by Honor.
However, the longer you spend with it, the more obvious its shortcomings become; the camera setup isn't perfect and the use of Micro USB for charging rather than the newer USB Type-C standard hints at its budget origins. The processor is also mid-range rather than top-level, which can lead to some occasional performance bottlenecks.
These complaints might irk you if you were spending $500 or more on this device, but the fact of the matter is that for $177 this is an absolute bargain.
Review Recap: 
Design: ⭐⭐⭐⭐⭐
Specs & Features: ⭐⭐⭐⭐
Performance: ⭐⭐⭐⭐
Battery Life:  ⭐⭐⭐⭐
Camera: ⭐⭐⭐⭐
Value For Money: ⭐⭐⭐⭐⭐
Best Deal? Amazon – $177.99 
The Honor 8X looks incredible, has a fantastic screen and offers the kind of user experience that you'd normally expect from a phone cost twice or maybe even three times as much. If you have a little more cash to spend then perhaps the Honor Play or even the OnePlus 6 would be better options, but for those shopping on a tight budget who want a phone that looks, feels and (most of the time) performs like a flagship device, this comes highly recommended.
In fact, it's perhaps the best budget Android phone money can buy right now.