Apple Vision Pro Features: Here's What It Can Do…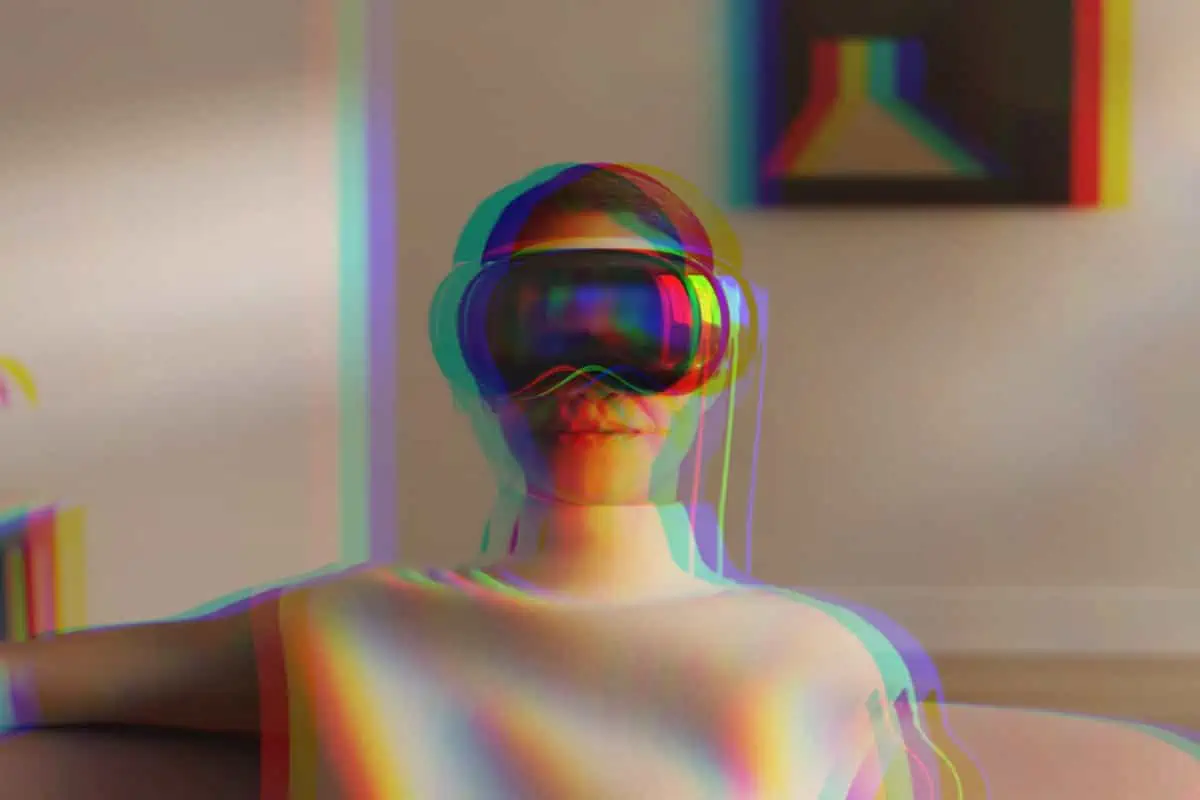 Apple Vision Pro features? Here's a breakdown of everything you need to know. Is it the next big thing? Let's dig in and find out…
---
Apple Pro Vision: Key Takeaways:
Release Date: The Apple Vision Pro is set to be released in the US in Q1 of 2024, with a global rollout later in the year.
Price: The Apple Vision Pro is priced at $3499, offering a multitude of groundbreaking features and experiences at this price point.
Apple Vision Pro: A new frontier in the realm of spatial computing, offering an unparalleled digital experience in your own space.
VisionOS: Apple's first-ever spatial operating system, providing a groundbreaking yet intuitive user interface.
Social Interaction: Ensures users remain connected with the physical world while engaging in a spatial digital experience.
Revolutionizing Media: Provides an innovative approach to photos, videos, and even introduces Apple's first-ever 3D camera.
Mindfulness and Entertainment: Offers immersive mindfulness experiences and brings cinematic grandeur to personal spaces.
Workspace Design: Transforms any space into an ideal workspace, with easy-to-read text and life-sized Safari tabs.
FaceTime Advancement: Enhances FaceTime interactions, making conversations more natural and collaboration easier.
Transformative Abilities: Allows users to extend beyond their physical room dimensions and control their level of digital immersion.
Innovative Design: Packs numerous technologies into an elegant, compact design that can be customized for a perfect fit.
---
I must say, I'm genuinely amazed. Anticipating the debut of Apple's AR/VR headset during the WWDC 2023 keynote, and already being broadly versed in their preliminary blueprint for the product, the launch of the Apple Vision Pro still managed to leave me somewhat breathless – it was genuinely exhilarating.
These moments of awe are rarely experienced these days, especially within the tech realm. By injecting a "wow factor" back into its keynote, Apple's next significant product launch could possibly be one of its most coveted. However, as per usual, there are a few catches – three, to be precise. The first is that the product will only be available in the US, and unfortunately, this does not extend to Canada. The second catch is related to its price: at $3499, it carries a hefty price tag.
Apple attributes this high cost to the promise of delivering an experience equivalent to using a top-tier laptop combined with a colossal 4K TV and a professional-grade speaker system. The company claims that achieving the same quality with separate hardware components might cost an equivalent amount, if not more. Although I'm uncertain about this rationale, it's clear that the R&D expenditure for the Apple Vision Pro must have been enormous, and someone – implying us, the consumers – needs to absorb this cost.
So, what can the Apple Vision Pro do? What are the primary features and use cases of this device? Is it worth buying when it's released? Let's dive into everything Apple revealed during its launch event to find out what makes the Apple Vision Pro tick (and why it commands a price just shy of $3500)…
Apple Pro Vision Features
Unveiling VisionOS: Apple's Foray into Spatial OS
The Apple Vision Pro operates on VisionOS, Apple's new spatial operating system. It presents a straightforward user interface that allows users to navigate easily. Interaction with the device involves actions like tapping, flicking, and voice dictation. The OS brings a new level of immersion to apps, making them appear three-dimensional.
Apple Vision Pro is Both AR and VR
Even though Vision Pro provides a unique digital experience, it doesn't isolate you from the real world. You can still interact with those around you, balancing your digital and physical environments.
Vision Pro changes how we engage with photos and videos. With no traditional screen boundaries, apps are integrated into your space, making photos life-size. It's like transforming your living room into a gallery or experiencing your panoramic photos in a wrap-around view.
Apple Vision Pro Camera
Apple Vision Pro includes Apple's first 3D camera, which captures photos and videos with impressive depth, creating a new way to relive moments.
Apps & Entertainment – Its Main USP
The device also comes with a Mindfulness app for users to find tranquility in their surroundings, transcending the boundaries of their physical space.
The entertainment industry is set to be revolutionized by the Vision Pro. It turns your personal space into a home cinema with surround sound and a large screen experience. It immerses you in a movie-like scenario.
Apple Vision Pro Productivity Capabilities
For productivity, Vision Pro can turn any location into a workspace. Its crisp text, life-sized Safari tabs, and seamless integration of favorite apps from Apple and the App Store create a smooth workflow.
FaceTime on Apple Vision Pro
FaceTime on the Vision Pro brings conversations to life, making them more natural and collaboration easier. You can make a standard 13-inch screen appear larger just by looking at it.
The Vision Pro also allows you to control how much you want to immerse in your digital world, whether you're on a plane or at home. Here's what Apple said at launch:
With Apple Vision Pro, FaceTime calls take advantage of the room around the user, with everyone on the call reflected in life-size tiles, as well as Spatial Audio, so it sounds as if participants are speaking right from where they are positioned. Users wearing Vision Pro during a FaceTime call are reflected as a Persona — a digital representation of themselves created using Apple's most advanced machine learning techniques — which reflects face and hand movements in real time. Users can do things together like watch a movie, browse photos, or collaborate on a presentation.
Design & Specs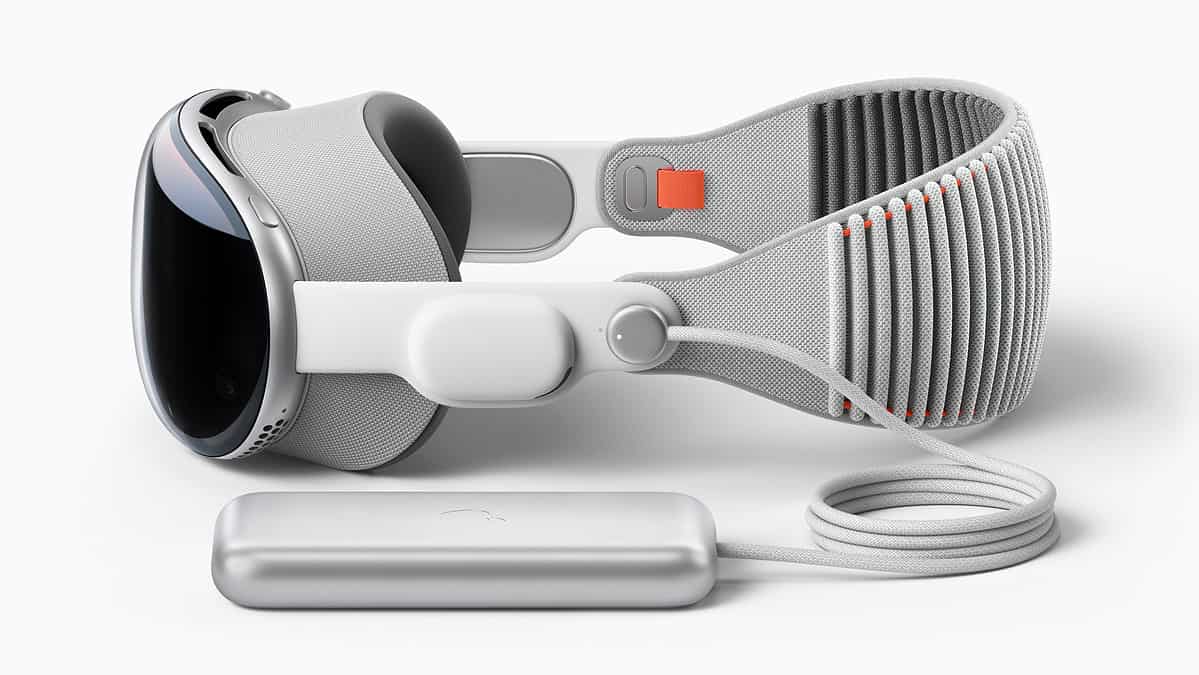 The device's design combines technological innovations into an elegant package, including a 3D laminated glass lens, lightweight aluminum alloy frame, high-performance battery, modular system, and a 3D knitted headband for a perfect fit.
However, there have already been plenty of concerns raised about the Apple Vision Pro's battery life.
"Creating our first spatial computer required invention across nearly every facet of the system," said Mike Rockwell, Apple's vice president of the Technology Development Group. "Through a tight integration of hardware and software, we designed a standalone spatial computer in a compact wearable form factor that is the most advanced personal electronics device ever."
Vision Pro uses several breakthrough technologies, including a micro-OLED display system providing a 4K TV resolution for each eye. The advanced Spatial Audio, 3D mapping, and dual-chip design ensure real-time, lag-free experiences.
Apple's New R1 Chip For Apple Vision Pro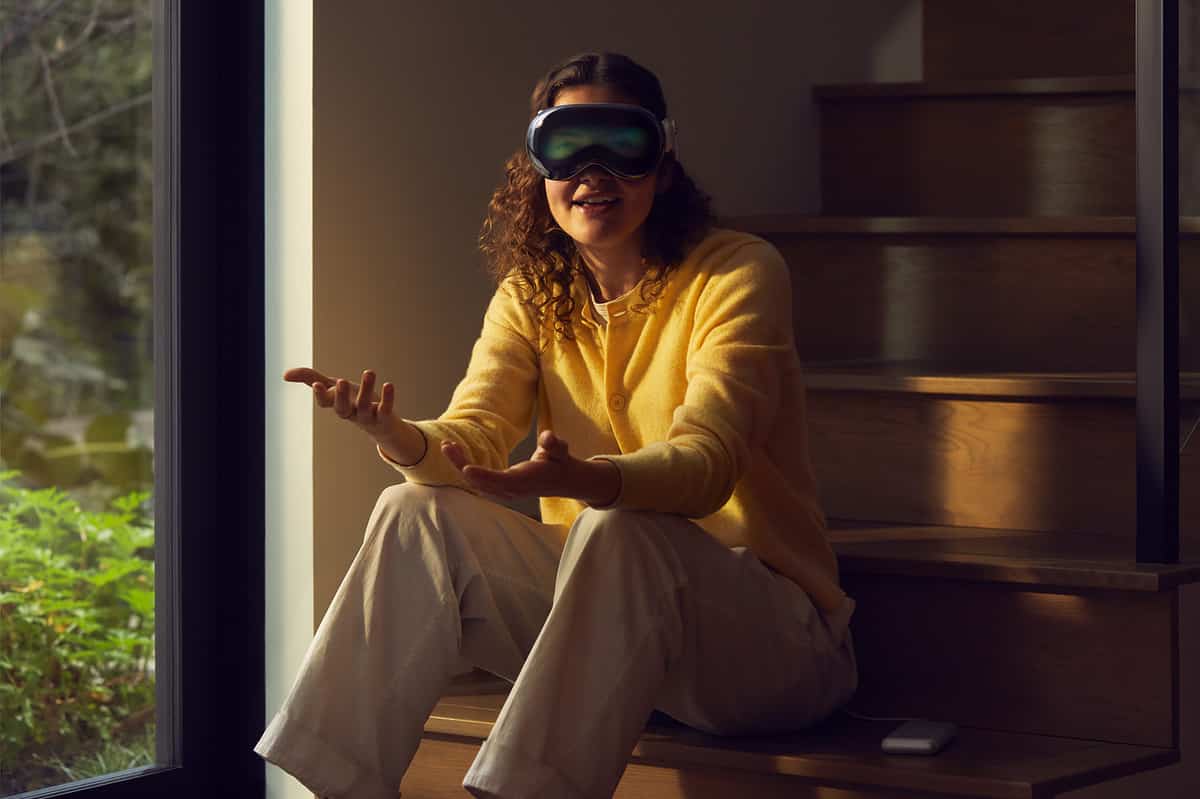 The Apple Vision Pro runs on Apple's desktop-grade M2 chipset, so it has plenty of power under the hood. But in true Apple fashion, the M2 isn't the only chipset you'll find inside the Vision Pro; there's also a new chip called the R1 that is designed specifically for the Apple Vision Pro.
So what does Apple's R1 chip do? Working in tandem with the powerhouse M2 chip – yup, the same chip that's humming along in your MacBook Air – the R1 handles an entirely different set of tasks. It's focused on sifting through the mountain of data streaming in from the headset's multitude of sensors. And let's be clear, there's a LOT of sensors: a dozen cameras, five additional sensors, and six microphones.
Now here's the killer part: the R1 processes all that data in a lightning-fast 12 milliseconds. That's said to be eight times quicker than your eye can blink! This kind of speed isn't just showing off, it's critical for user comfort. If there's even a slight delay between your movement and what you see, you could end up feeling sick or disoriented. Apple's R1 chip nips that problem in the bud with its super-fast sensor data processing.
But, as with most things, there's a trade-off. Packing two processors into the headset is a bit like running your laptop and smartphone at the same time. It can drain the battery faster. Apple reckons you'll get about two hours of usage on a single charge. That might raise a few eyebrows considering how much Apple is charging for the Pro Vision, but that's the way it is…
Apple Pro Vision FAQs