How to Wirelessly Migrate Your Data To A New iPhone
---
---
With iOS 12.4 Apple added an incredibly cool tool to the iPhone. Now users can wirelessly all the data from their old iPhone to a new one by simply creating an ad hoc wireless network between them. Previously in order to migrate your old iPhone data to your new iPhone, you'd need to perm a backup of the old iPhone to iCloud or a PC.
As we wrote earlier, both options had their drawbacks: The downloading option can be cumbersome because and iPhone backup file could be tens of gigabytes in size–meaning you could be waiting for hours depending on how fast or slow your internet connection is. And in order to use the computer backup, you need to have your computer with you.
But now, provided both phones are running iOS 12.4 or later, you can just wirelessly stream all your data from one iPhone to another. This way of transferring data will be MUCH faster than downloading an iCloud backup and negates the need for having your PC with you.
How to Wirelessly Migrate Your Data To A New iPhone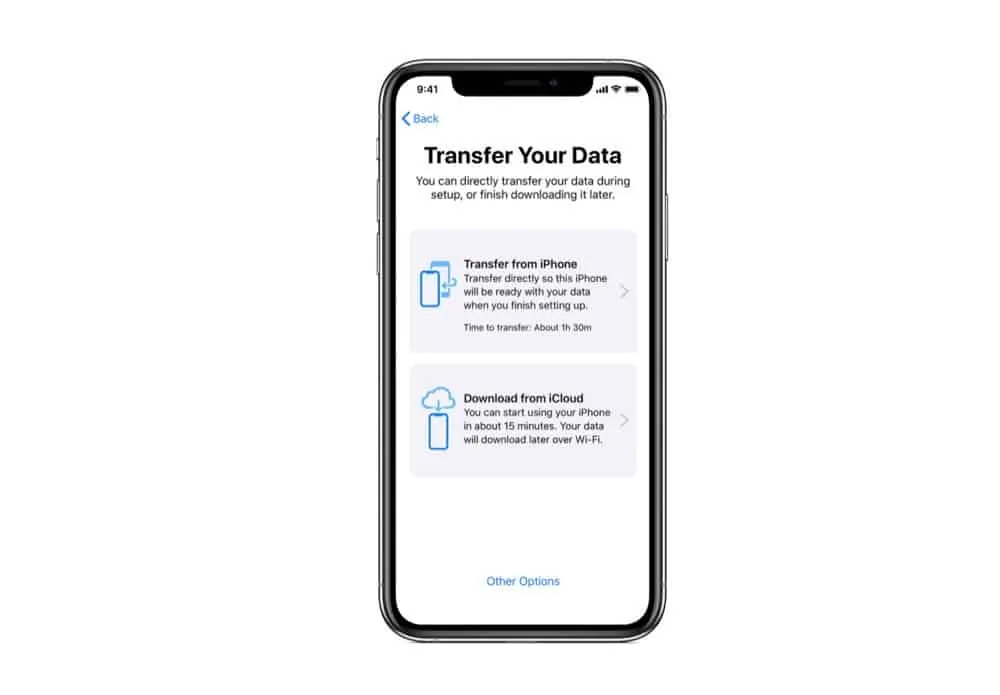 Pin
Apple officially calls this new option "iPhone Migration." Here's how to use it.
Turn on your new iPhone and place it near your current iPhone that's running iOS 12.4 or later. The Quick Start screen will appear on your current device (the old iPhone) and give you the option of using your Apple ID to set up your new iPhone. Make sure that it's the Apple ID that you want to use, then tap Continue.
Next, wait for an animation to appear on your new iPhone. Hold your old iPhone over the new iPhone, and then center the animation in the viewfinder. Wait for a message that says "Finish" on your new iPhone.
When prompted, enter your old iPhone's passcode on your new iPhone.
Now follow the instructions to set up Face ID or Touch ID on your new iPhone.
Once Face ID or Touch ID is set up, tap the "Transfer from iPhone" button to begin transferring your data from your old iPhone to your new iPhone. You can also choose whether to transfer various settings, such as Apple Pay and Siri, from your old iPhone to your new iPhone.
(Optional) If you have an Apple Watch and you're setting up a new iPhone, you'll be asked if you'd like to transfer your Apple Watch data and settings.
Be sure to keep your two iPhones near each other and plugged into power until the iPhone data migration process is complete. How long it takes is dependent on how much data you have to transfer from your old iPhone.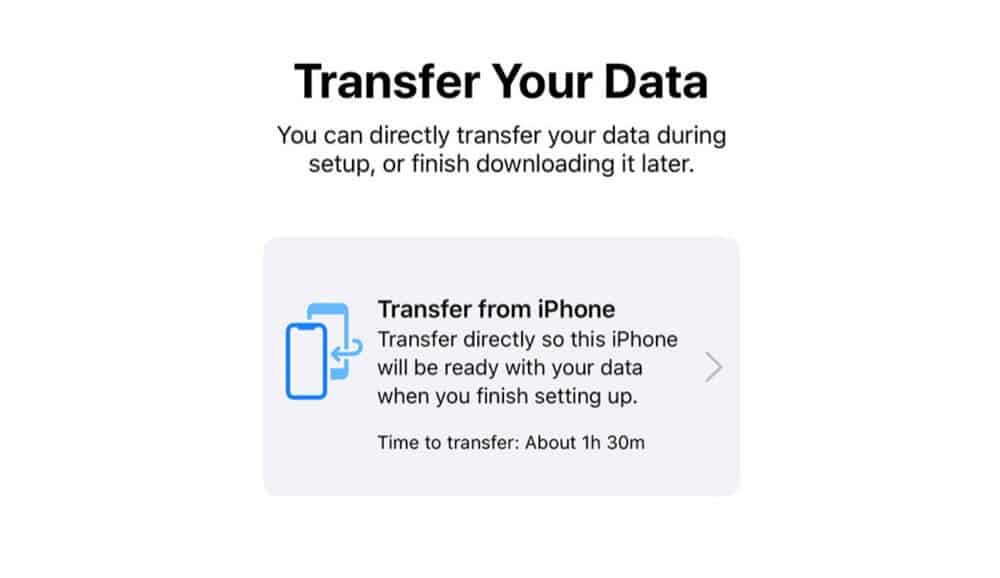 Pin
Believe it or not, the place you may see the most benefit from Apple's new iPhone Migration tool is at the Apple Store itself. Customers commonly wait around the Apple Store after buying a new iPhone to use the Wi-Fi to download their iCloud backup to their new device.
This causes large crowds to form, resulting in longer wait times for other customers. Now with iPhone Migration, the customer doesn't need to site around the Apple store to use the internet to download their iCloud backup to the new iPhone–they can simply do it anywhere they want without the need for an internet connection.
Michael Grothaus
Apple expert and novelist,
Michael Grothaus
has been covering tech on KnowYourMobile for the best part of 10 years. Prior to this, he worked at Apple. And before that, he was a film journalist. Michael is a published author; his book Epiphany Jones was voted as one of the best novels about Hollywood by
Entertainment Weekly
. Michael is also a writer at other publications including 
VICE
and 
Fast Company.