Asus Zenfone 10: Everything You Need To Know [UPDATED]
---
---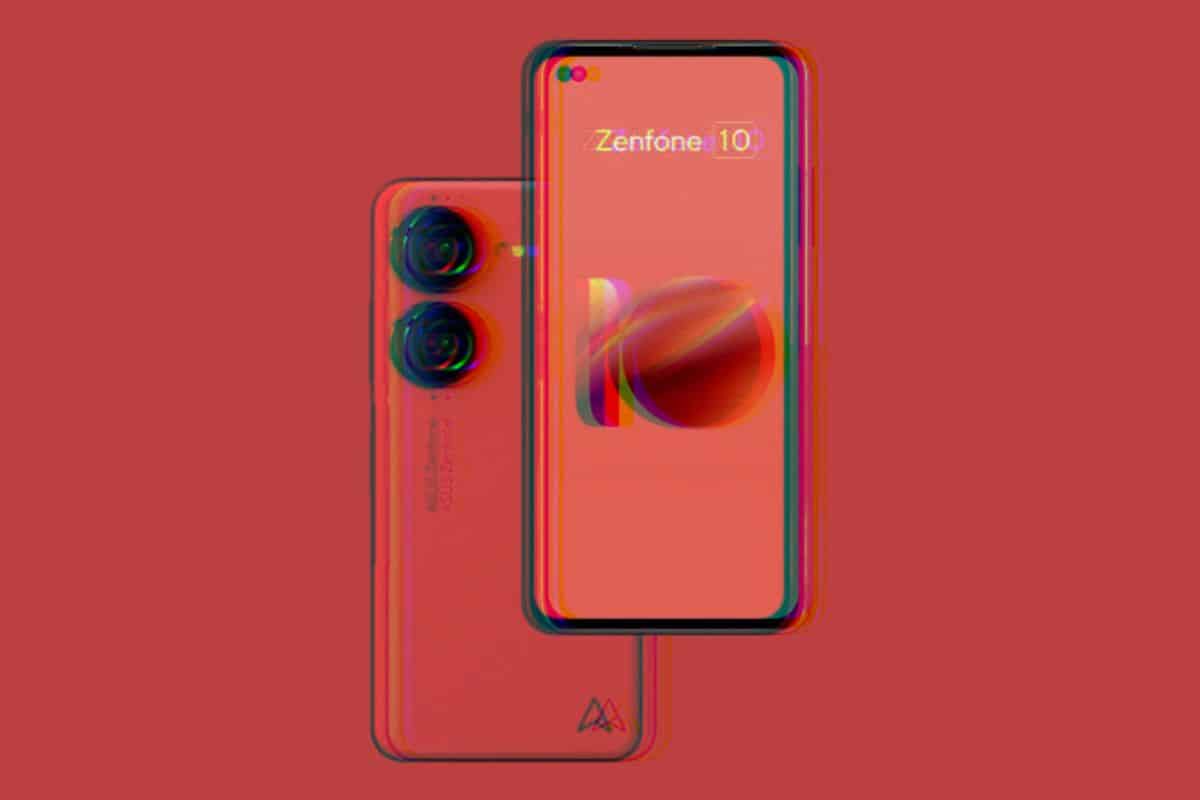 Asus is back with another compact flagship, the Asus Zenfone 10. Here's everything we know about the phone now!
Mighty on hand – the tagine for Asus Zenfone 10 perfectly summarises the phone. It is the only compact phone after Apple stopped making its Mini iPhones. 
But don't let the size fool you; it doesn't compromise on anything. It is mighty in terms of performance, camera, and even battery. Zenfone 10 comes with the most powerful chipset on the Android side; it has a 200MP primary camera and even a 5,000mAh battery (huge for its size).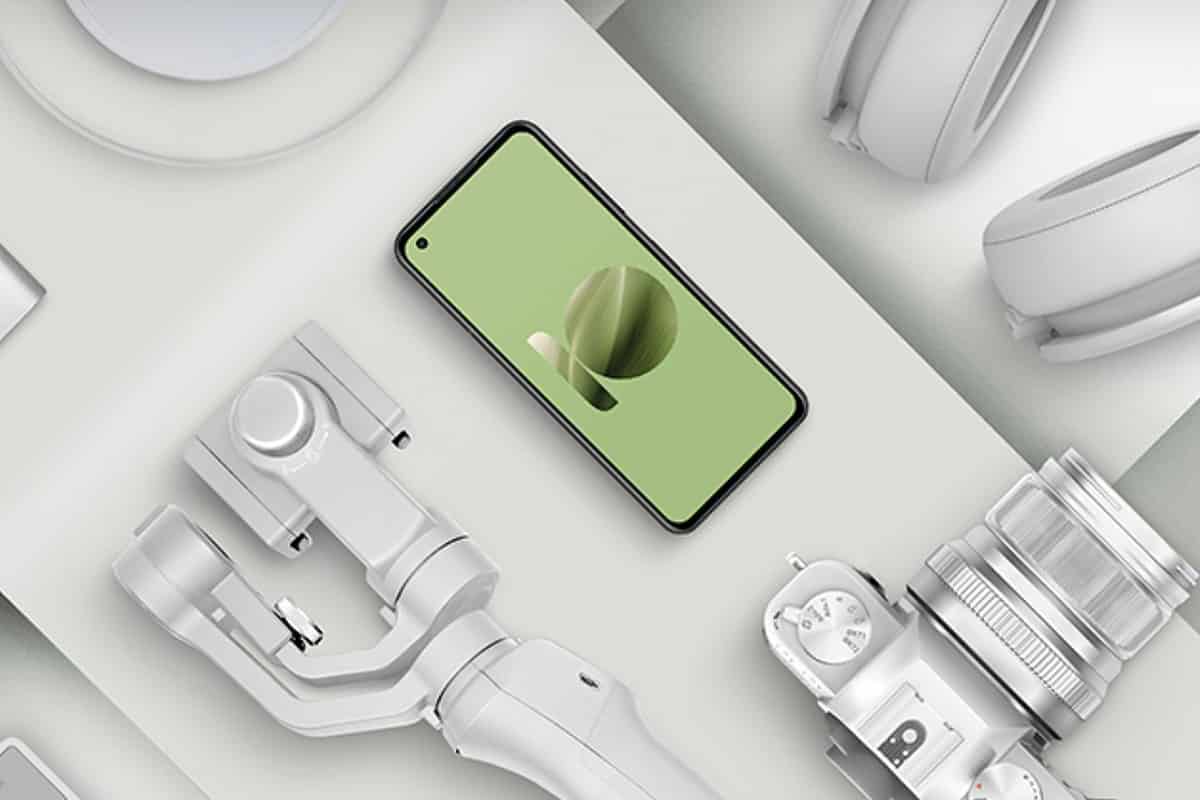 The next Zenfone is launching soon, but we already know most of the upcoming smartphone features from Asus. In this article, we look at Asus Zenfone 10, detailing how the phone looks, the complete specifications, key features, and more. Read on! 
Asus Zenfone 10 Specs In A Nutshell [What We Know So Far]
Display: 5.9-inch AMOLED display with Full HD+ resolution and 120Hz refresh rate
Chipset: Snapdragon 8 Gen 2 SoC
Primary camera: 200MP Samsung ISOCELL HM3 primary camera
Secondary camera: 8MP ultrawide camera
Seflie camera: 32MP selfie camera
Battery: 5000mAh Battery
Misc: Side-mounted fingerprint scanner, 3.5 mm headphone jack, IP68 rated, stereo speakers
Asus Zenfone 10 Release Date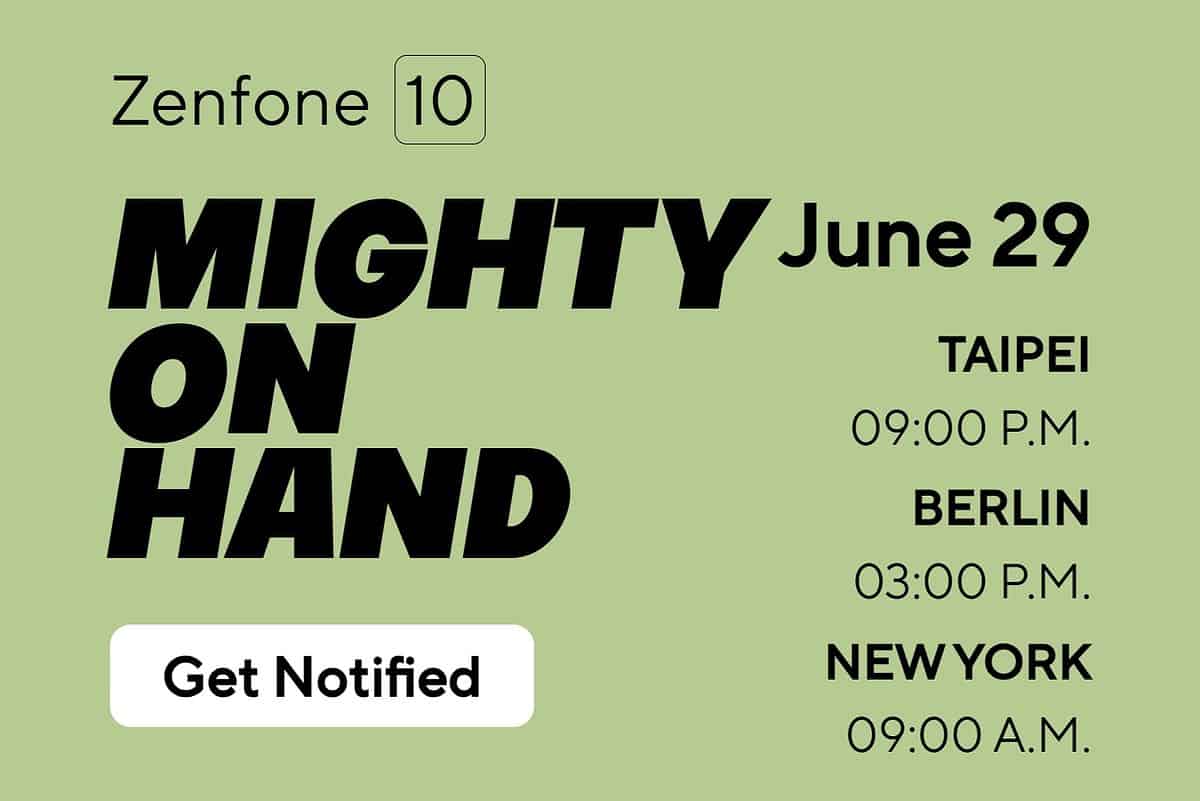 The launch event for Asus Zenfone 10 is set for June 29, 2023, with the live streaming starting from 9 AM in New York and 3 PM in Berlin.
Asus Zenfone 10 Price
According to reports, Asus Zenfone 10 will start at $749 in the US; the UK and Europe market prices are currently unknown. Asus Zenfone 9 was launched for £699/€799; considering the leaked US pricing, we can expect Zenfone 10 to be priced similarly.
Asus Zenfone 10 Design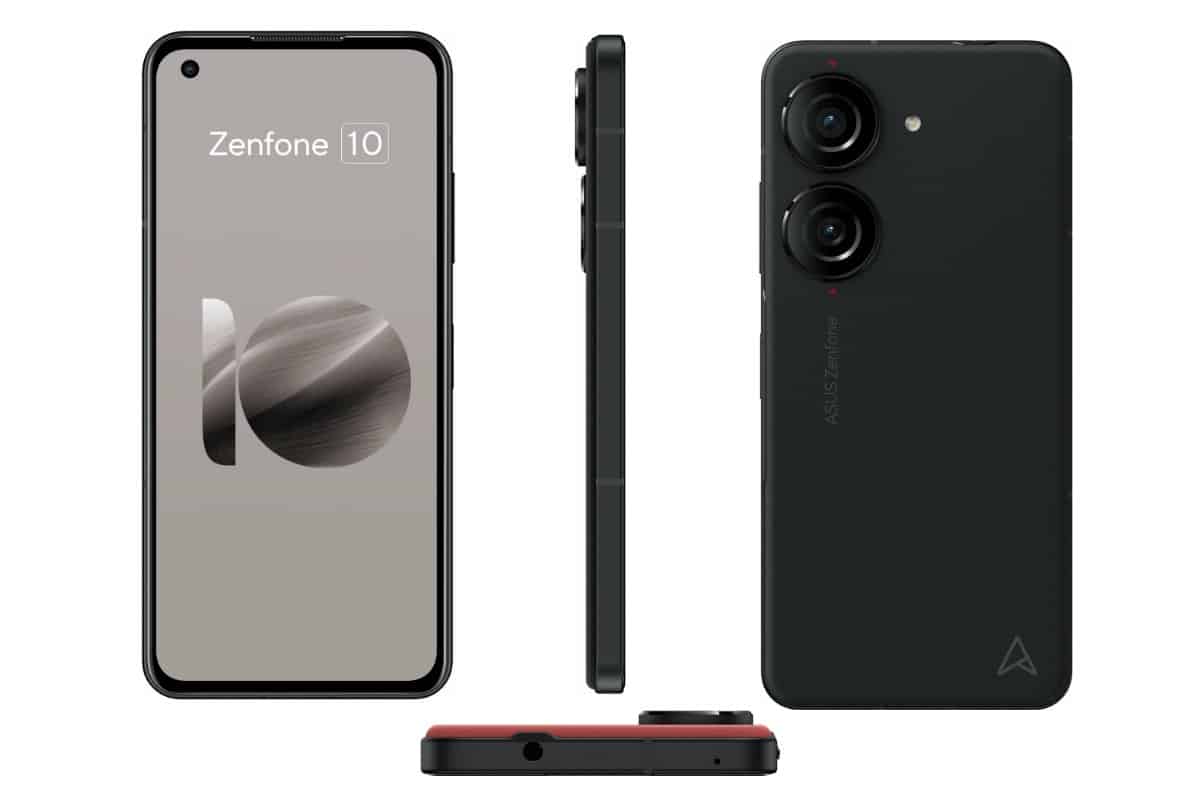 Here are the renders of Asus Zenfone 10. It comes from a leak from winfuture.de, in which the official promo renders have been leaked, alongwith the specifications of the device.
Asus Zenfone 10 looks more or less similar to its predecessor Zenfone 9. Zenfone 9 introduced this bold design, which is quite petite. Take a look at the leaked renders of Zenfone 10 compared with Zenfone 9:
Asus Zenfone 10 is much smaller than most phones in the market. The only real comparison in size comes with the iPhone Minis, which has now been shelved. So Zenfone 10 is unique and caters to small phone enthusiasts who want a premium flagship experience. It also makes it a niche phone catering to a small market, which reduces its appeal among the masses, which might be why Asus Zenfones aren't that popular nowadays. However, Asus seems to believe in the small phones and the market it has, as it has been consistently producing some of the best small phones generations over generations.
Besides being small, Asus Zenfone 10 (and Zenfone 9) stands out with the distinctive dual-raised camera array, instantly making it stand out from the rest of the pack. Even though both Zenfone 10 and Zenfone 9 are designed almost identically, the notable difference is in the print that goes to the back of the phone. Zenfone 10 doesn't have the text below the camera array like Zenfone; instead, it has the Asus Zenfone branding below it.
Asus has also teased new colors for Zenfone 10, but the phone has already been leaked in 5 colors: Black, Gray, Green, Red, and White/Silver. Take a look: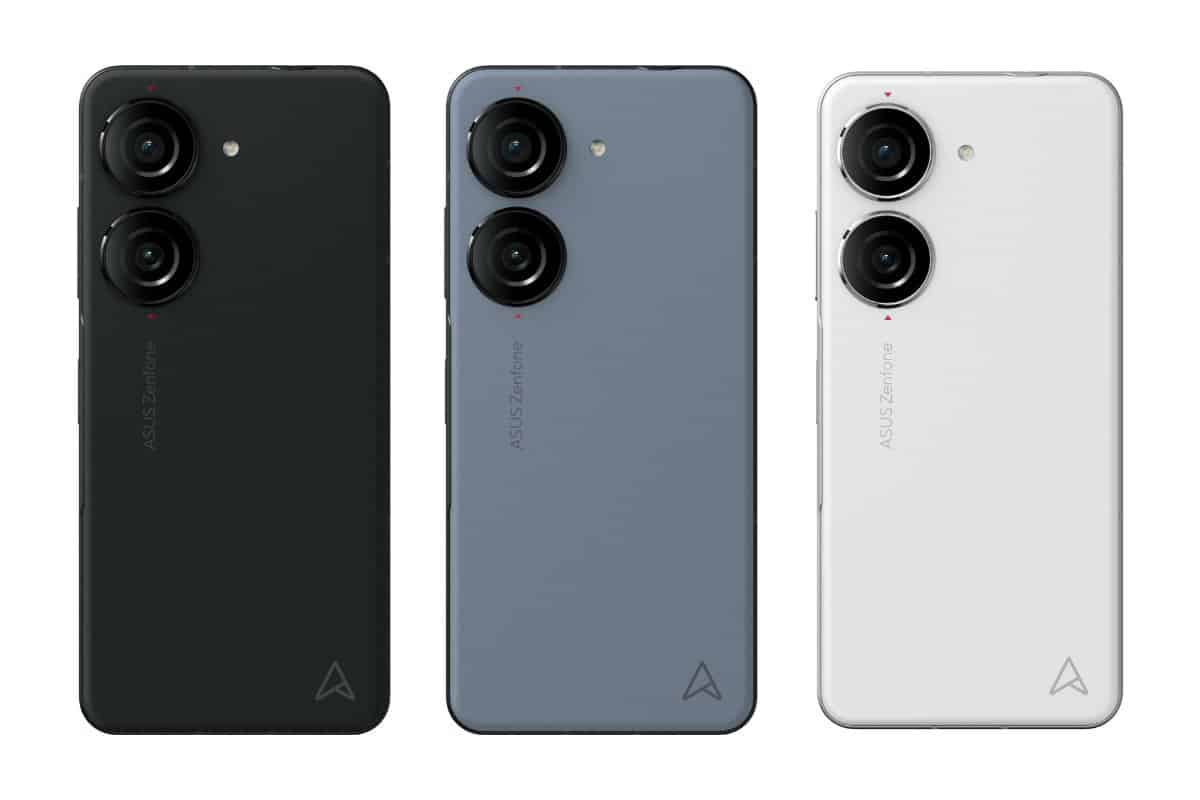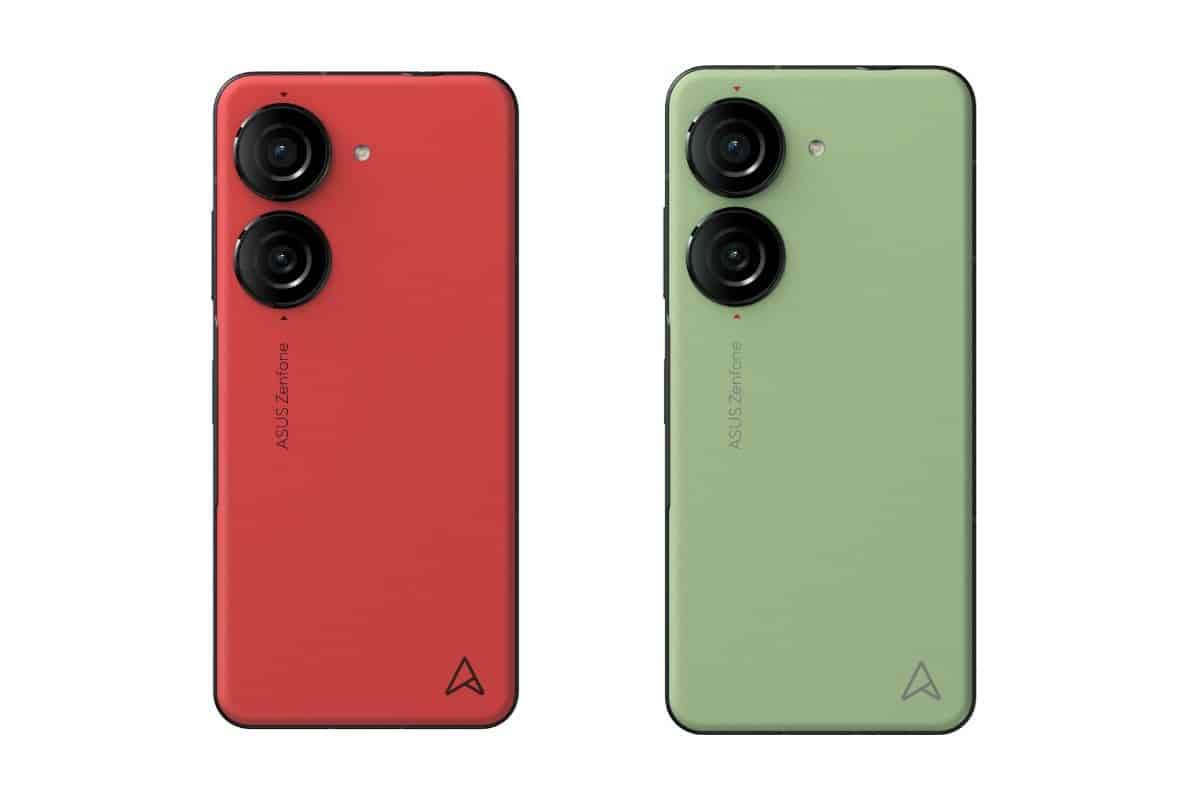 Asus Zenfone 10 also seems to adopt a flat frame, and we can expect the frame to be made of aluminum while the back panel to be of plastic, just like Zenfone 9. Also, the fingerprint scanner is side mounted on the power button. Asus calls this power key Smart Key, and it should come with extra functions such as the ability to swipe down and up, which can be set to different functions.
Asus Zenfone 10 Display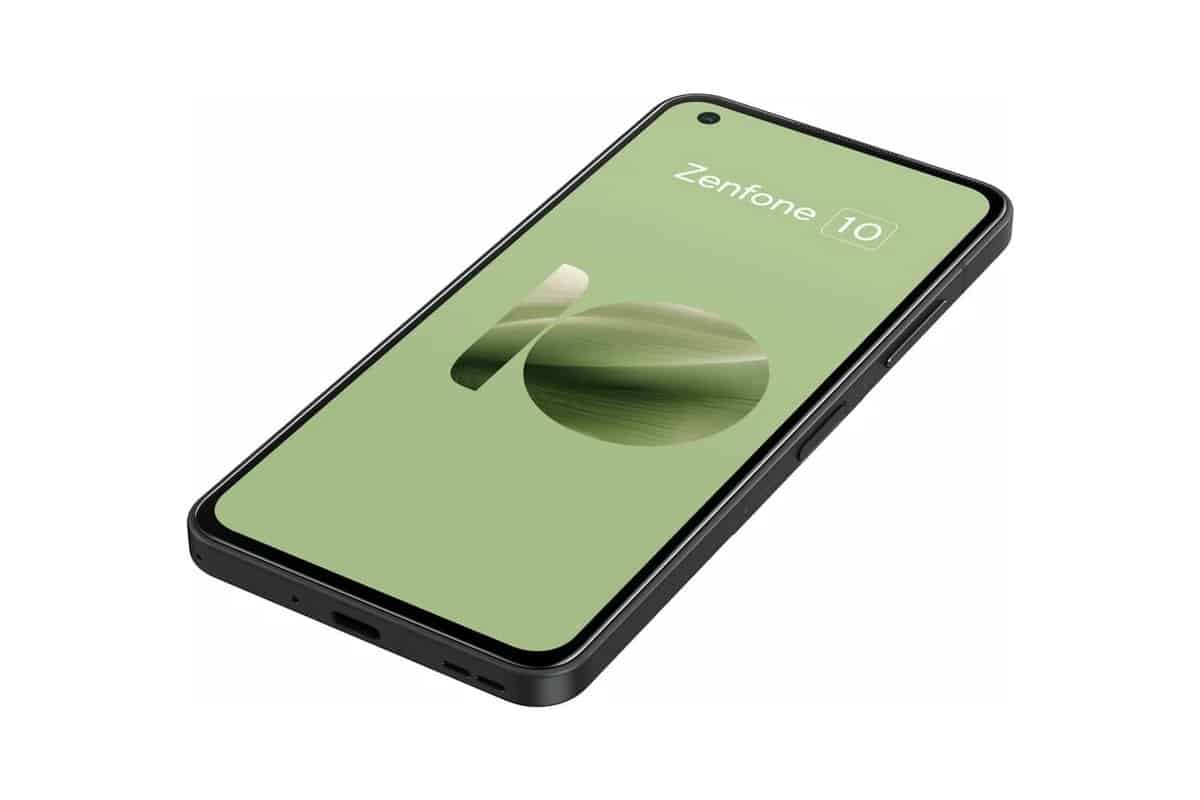 Asus Zenfone 10 sports a 5.9 inch AMOLED display with a refresh rate of 120Hz and a resolution of Full HD+. The brand has already confirmed that Zenfone 10 will have a 5.9-inch display. Zenfone 9 came with a peak brightness of 1100 nits; we can expect Zenfone 10 to exceed or at least match it. Unfortunately, Zenfone 10 seems to be carrying forward the thick bezels on all four sides of the display, which makes it seem like a mid-ranger from the front rather than a premium flagship. The top bezels are still a bit thicker than the side bezels, making it awkward. Zenfone 9 came with Corning Gorilla Glass Victus protection; we can expect the same protection or the latest Gorilla Glass Victus 2 with Zenfone 10.
Asus Zenfone 10 Camera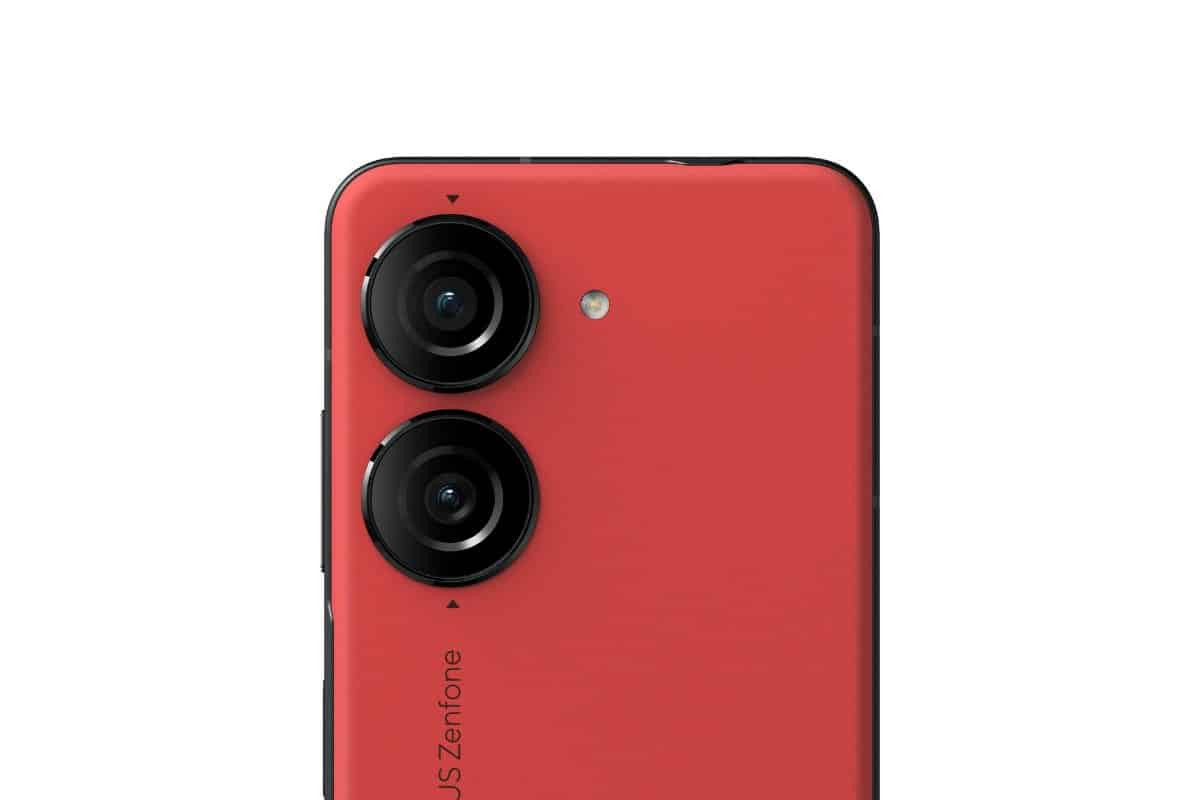 Coming to the cameras, the phone will feature a 200MP camera, which uses the Samsung ISOCELL HP3 sensor. It will come with six-axis hybrid gimbal stabilization as well. It only has a single secondary camera, an 8MP ultra-wide camera. The primary camera is said to support 8K video recording. To the front, the phone has a 32MP selfie shooter.
Asus Zenfone 10 Specifications & Key Features
Asus Zenfone 10 will be powered by Snapdragon 8 Gen 2 SoC; Zenfone 9 came with Snapdragon 8+ Gen 1, the Snapdragon flagship chip at that time. It seems like Snapdragon 8 Gen 2 won't be getting a Plus version like last year, as Snapdragon is reportedly prepping up for Snapdragon 8 Gen 3 next. The phone will come in two configurations: 8/256GB and 16/512GB.
Like its predecessor, Zenfone 10 will also support a 3.5mm headphone jack and stereo speakers. It will also come with an IP68 rating for water and dust resistance.
The phone is charged by a 5,000mAh battery, a huge upgrade from the 4,300mAh battery of Zenfone 9. The charging speed isn't currently known, but considering Zenfone 9 had a 30W charger bundled, we can expect Zenfone 10 to come with a charger rated at least 30W. Asus has confirmed that Zenfone 10 will come with wireless charging support.
Abhijith S
Abhijith has been writing about Tech since 2013 on his own blogs. He handles Tech news in KnowYourMobile. He also used to host a YouTube channel about phones. Other than Tech, he is into Formula 1, Wrestling, various TV shows and buying Kindle books he barely reads.