Is Adobe Firefly FREE Or Is It Part Of Creative Cloud? 
---
---
Adobe's Firefly AI Tool is making waves. But is it free or part of Adobe CC?
Adobe Firefly is the latest generative image AI Tool bringing the fight to Midjourney and Dall-E 2. Google has also announced its collaboration with Google to make Firefly's image generation capabilities available in Google Bard. 
When Adobe introduced its Generative AI Tool, Adobe Firefly, the main concern was whether it was a paid tool bundled with an Adobe Creative Cloud subscription or a free tool.
There are still a lot of people confused about whether the Adobe Firefly tool is free or if it is part of the Creative Cloud subscription. In this article, we will be clearing all your doubts. 
Is Adobe Firefly Free?
Adobe Firefly is currently free. Firefly is currently in the beta version, completely free for all users. 
However, if Firefly will remain free after it is out of beta isn't currently known. Adobe hasn't mentioned the possibility of the tool remaining free yet. But there is also a possibility that Adobe will release a free version and a Pro version of Firefly, with the Pro version remaining behind the Creative Cloud paywall.
Is Adobe Firefly Part Of Creative Cloud?
Adobe Firefly is part of Creative Cloud, but currently, you don't need a Creative Cloud subscription to use Adobe Firefly.
Adobe Firefly is intended to be integrated into the whole suite of Adobe apps. You can access Adobe Firefly for free from the Firefly website.
Adobe Firefly Features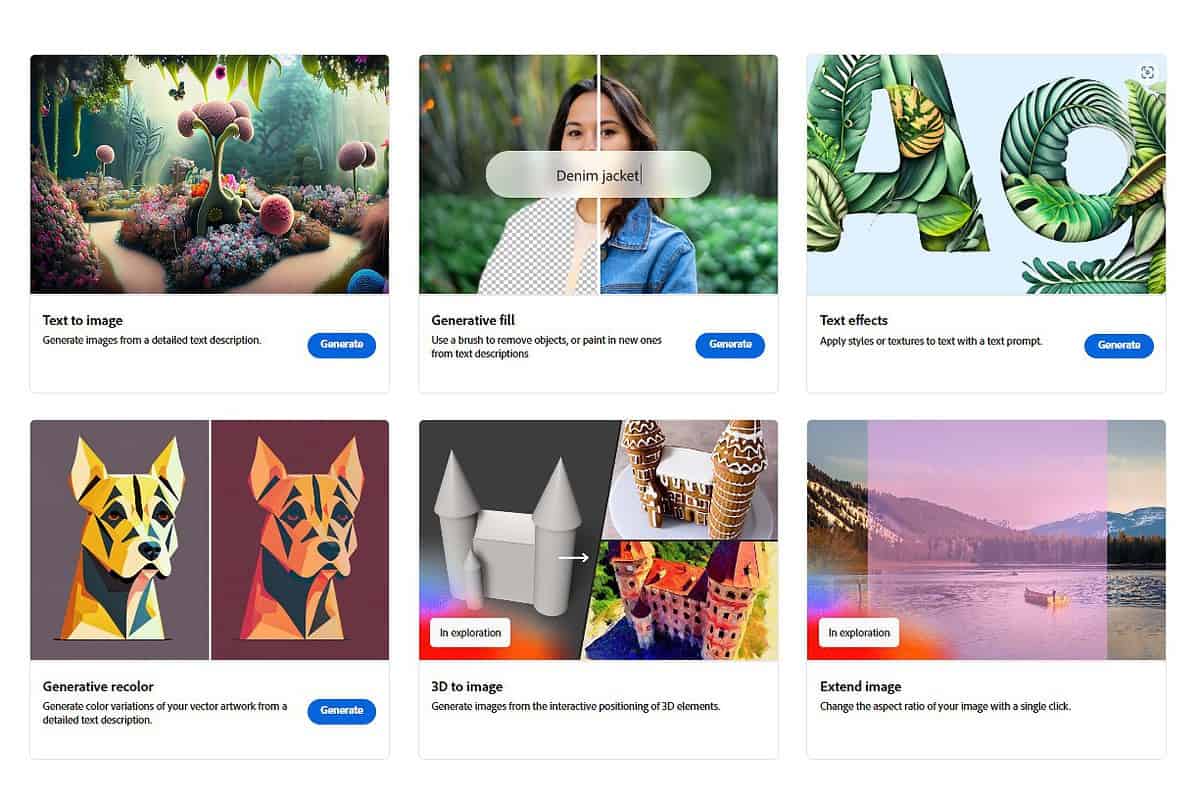 Adobe Firefly currently offers these features for free:
Text to image: This mode is similar to other image generators that turn text into images. 
Generative fill: You can use this mode to remove objects with a brush or paint new ones from text descriptions.
Text effects: Apply generative styles or textures to text with a text prompt. 
Generative recolor: Recolor your vectors and images from a detailed text description.
3D to image: Generate 2D images from 3D elements.
Extend image: You can change the aspect ratio of your image and extend it with a single click.
The 3D to image and Extend image features are under construction and aren't currently available in Adobe Firefly. 
Frequently Asked Questions
How do I get Adobe Firefly?
You can get access to Adobe Firefly using the official Firefly website. You can also access Firefly within all the Adobe applications, such as Adobe Photoshop, Adobe After Effects, and more.
What is included in Adobe Creative Cloud?
The Adobe Creative Cloud All Apps plan includes 20+ apps from Adobe, including Adobe Photoshop, Adobe Premiere Pro, Adobe Illustrator, Adobe After Effects, Adobe Audition, and more. 
Can I use Adobe Firefly for commercial use?
Adobe Firefly is "safe for commercial use," and it offers IP indemnification for any legal issues arising from using Firefly-generated images. This is because Adobe trains its AI model on Adobe Stock images, which are licensed and not public images, which might infringe on the rights of others.
Adobe says
, "Adobe Firefly won't generate content based on other people's or brands' IP. "
Abhijith S
Abhijith has been writing about Tech since 2013 on his own blogs. He handles Tech news in KnowYourMobile. He also used to host a YouTube channel about phones. Other than Tech, he is into Formula 1, Wrestling, various TV shows and buying Kindle books he barely reads.