OPPO Reno10 5G: Specs, Updates & Camera Tech Detailed
---
---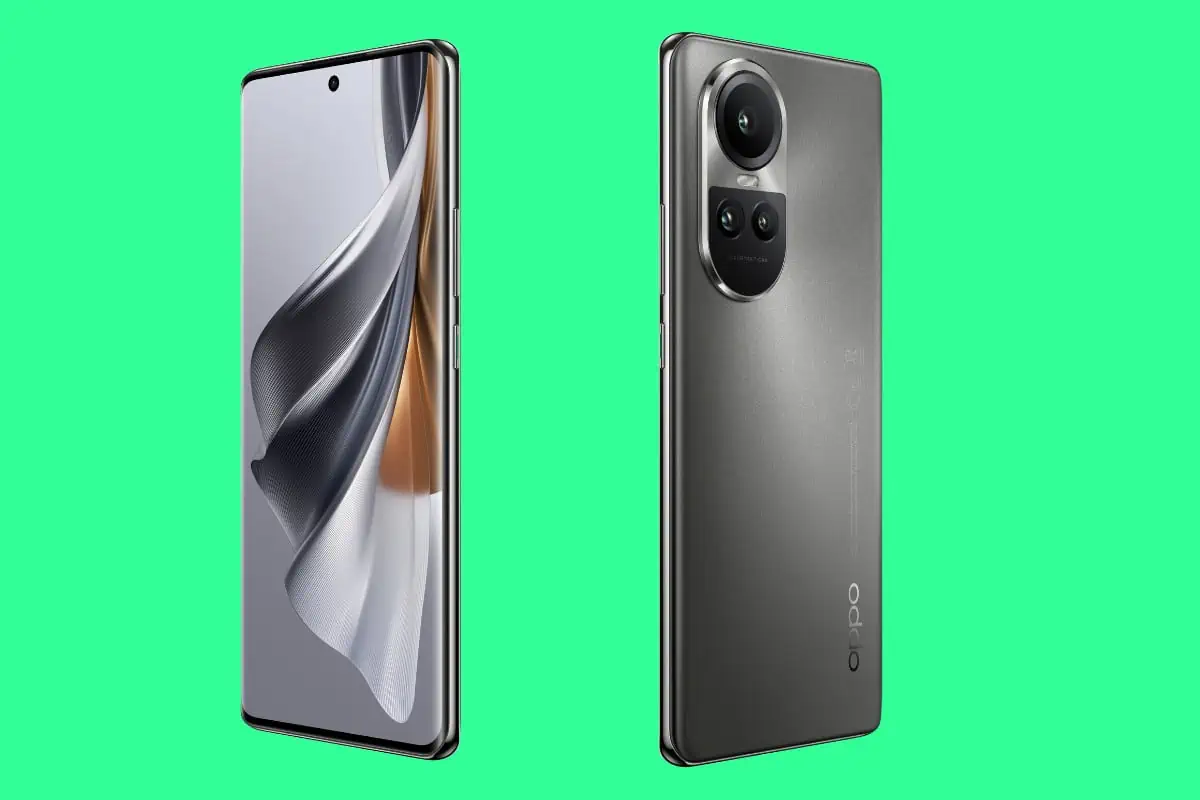 The OPPO Reno10 5G has just launched; here's everything you need to know about its camera, specs, design, price and availability…
---
---
OPPO has recently launched its newest smartphone, the Reno10 5G, for the UK market. Is it any good? Does it bring anything new to the party? Let's unpack everything OPPO just announced, so you can make a decision about whether this phone is something you should be looking at in 2023.
OPPO Reno10 5G Specs
Design and Build
Thickness: 7.89mm
Weight: 185g
Body: 3D curved design
Color: Silvery Grey
Display
Type: 120Hz 3D Curved Screen
Screen-to-Body Ratio: 93%
Size: 6.7 inches
Color Support: 1 billion colors
Camera
Main Camera: Triple camera setup
Telephoto Portrait Camera: 32MP with Sony IMX709 RGBW sensor
Optical Zoom: 2X
Portrait Mode: Upgraded
Battery and Charging
Battery Capacity: 5,000 mAh
Charging: 67W SUPERVOOC™ Flash Charge
Full Charge Time: Approximately 47 minutes
Battery Health Engine: Yes
Performance
Processor: MediaTek Dimensity 7050 5G mobile platform
Cooling System: Ultra-Conductive Cooling System
Storage
RAM Expansion: Up to 16GB additional RAM through unused ROM space
Software
Operating System: ColorOS 13.1
Multi-Screen Connect: Yes
Additional Features
Smart AOD: Control Spotify without unlocking the phone
Auto Pixelate: Privacy feature for chat screenshots
Design
The OPPO Reno10 5G is engineered with user comfort as a top priority. One of the first things you'll notice is its slim profile. At just 7.89mm in thickness, the phone is incredibly easy to slip into a pocket or purse. But don't let its slender build fool you; it's packed with features that make it a powerhouse in the smartphone market.
Weight is another factor that contributes to the phone's comfort. Weighing in at a mere 185g, the Reno10 5G is light enough to carry around all day without feeling cumbersome. Whether you're texting, browsing, or taking photos, the phone's lightweight design ensures that your hand won't tire easily, even after extended use.
But what truly sets the Reno10 5G apart in terms of user comfort is its 3D curved design. This isn't just an aesthetic choice; it serves a functional purpose as well. The curves fit naturally into the palm of your hand, providing a secure and comfortable grip. This design feature is particularly useful for one-handed operation, making it easier to reach all corners of the screen without straining your hand.
The 3D curved design also adds a touch of elegance to the phone. Its smooth, flowing lines catch the light in a way that flat surfaces simply can't, giving the device a premium look and feel. So, not only does the curved design make the phone more comfortable to hold, but it also enhances its visual appeal, making it a device you'll be proud to show off.
In summary, the Reno10 5G's slim profile, lightweight build, and 3D curved design come together to create a device that's as comfortable to hold as it is pleasing to the eye.
High-Quality Display
When it comes to the display, the Reno10 5G doesn't disappoint. It boasts a 120Hz 3D Curved Screen, providing smooth visuals. The screen-to-body ratio is an impressive 93%, and the 6.7-inch display supports up to 1 billion colors, offering vibrant and lifelike images.
Advanced Camera Capabilities
Photography enthusiasts will appreciate the Reno10 5G's camera setup. The phone comes with a triple camera system, including a 32MP Telephoto Portrait Camera equipped with a Sony IMX709 RGBW sensor. This camera offers 2X optical zoom and an enhanced Portrait Mode, allowing for high-quality photos in various settings.
The 32MP Telephoto Portrait Camera offers a unique photography experience, especially for portrait shots. It comes with 2X optical zoom and allows for high-resolution photos at a 47mm portrait focal length. This results in natural and realistic portraits without distortion.
Additionally, the lens has undergone a BG spin-coating process to include an infrared light-absorbing film, reducing glare and enhancing image quality. The IMX709 RGBW sensor captures more light, making it possible to take bright and sharp portraits even in low-light conditions.
When you're trying to photograph a friend in a crowded or complex background, the telephoto camera can isolate the subject, making them the clear focus of the image.
Using the telephoto camera's professional focal lengths, you can also create a visual effect that makes the background appear larger, drawing attention to both the subject and the scenery behind them.
The Reno10 5G also introduces a new Portrait Expert Engine that fine-tunes the portrait shooting process. It uses OPPO's AI super-resolution algorithms and other advanced techniques to improve subject recognition, skin tone accuracy, and overall image clarity.
The updated Portrait Mode gives users more control, offering a new 2X focal length option and adjustable aperture settings ranging from f1.4 to f16. This allows for customization of bokeh and bokeh flare effects, enabling users to create unique portrait styles while maintaining natural and lifelike images.
Quick and Efficient Charging
One of the standout features is the phone's charging capabilities. The Reno10 5G is equipped with a 67W SUPERVOOC™ Flash Charge, enabling users to fully charge the device's 5,000 mAh battery in approximately 47 minutes. Additionally, the phone's Battery Health Engine helps to prolong the battery's lifespan.
Robust Performance
Under the hood, the Reno10 5G is powered by the MediaTek Dimensity 7050 5G mobile platform. This ensures strong performance and a faster 5G experience. The phone also features an Ultra-Conductive Cooling System, allowing for optimal performance even during heavy usage.
Enhanced Storage Options
The Reno10 5G offers a unique RAM Expansion technology. This feature allows the phone to convert unused ROM space into up to 16GB of additional RAM, making multitasking smoother and more efficient.
User-Friendly Software
Running on the latest ColorOS build, the Reno10 5G offers several convenient features. The Multi-Screen Connect function allows users to link their phone to a PC, making it easier to transfer files and multitask.
Release Date and Pricing
OPPO Reno10 5G will be available to purchase on August 24 at EE and the OPPO eStore, priced at £399 (RRP).
Additional Features
Smart AOD: This feature allows users to control Spotify without having to unlock the phone.
Auto Pixelate: A privacy feature that automatically pixelates profile pictures and names in chat screenshots.
For more information, you can visit OPPO's Official Website.
Richard Goodwin
Richard Goodwin has been working as a tech journalist for over 10 years. He has written for Den of Geek, Fortean Times, IT PRO, PC Pro, ALPHR, and many other technology sites. He is the editor and owner of KnowYourMobile.