Microsoft 365 Copilot: A Complete Guide + What It Can Do..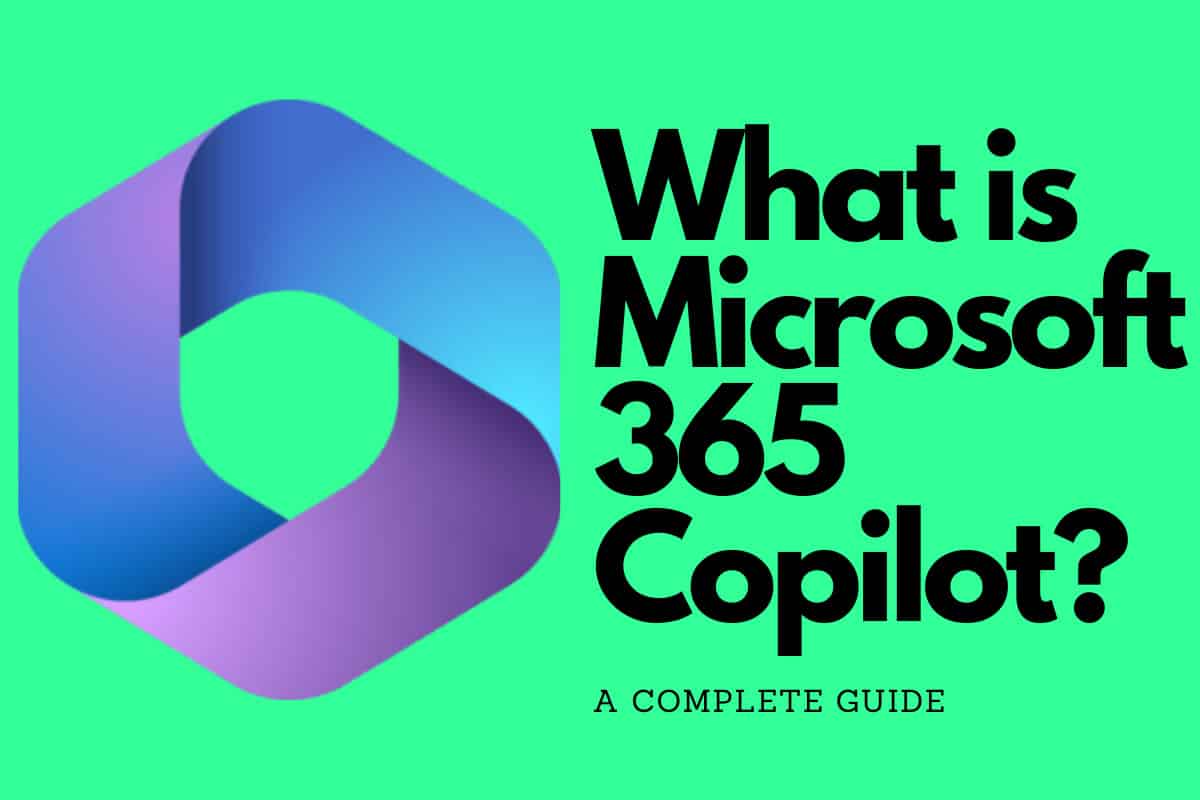 Microsoft 365 Copilot is coming and, lordy lord… does it sound impressive. Here's a detailed overview of Microsoft's AI-powered Copilot and what it can do inside Microsoft 365…
---
---
Just imagine having an AI-powered sidekick that seamlessly meshes with your Microsoft 365 suite, offering assistance at every twist and turn of your digital journey. That'd be cool, right? Well, that's EXACTLY what CoPilot will do.
What is Microsoft 365 Copilot?
Microsoft 365 Copilot is an innovative, AI-powered assistant that's on a mission to supercharge your Microsoft 365 experience. While still being fine-tuned, once it is released it'll be able handle an array of tasks across Microsoft's entire suite of Microsoft 365 applications.
The ability of Copilot to pen emails, design presentations, and proofread documents, using ChatGPT 4, is designed to massively improve productivity within teams and organizations, both large and small.
And Copilot won't just offer suggestions for phrases or sentences, it is capable of drafting whole paragraphs, proposing complete slide sets, and recommending crucial changes to grammar, spelling, and style in your documents.
Even though Copilot is a work in progress, it promises a whole new horizon in professional productivity, invigorating creativity, and guaranteeing accuracy.
Here's a sneak peek into some of its game-changing capabilities
How Microsoft 365 Copilot Works & What It Can Do…
---
Microsoft 365 Copilot Features
Seamless Integration With Microsoft 365
The most striking aspect of CoPilot is its seamless integration across the Microsoft 365 suite, from the word-processing capabilities of Word, the numerical wizardry of Excel, the presentation powerhouse PowerPoint, to the communication hub Teams and the unified communication tool Outlook.
CoPilot doesn't just exist within these apps; it thrives, readily accessible whenever you need it, subtly surfacing valuable insights and suggestions at the perfect moment.
To illustrate this, let's envision you're working on a large dataset in Excel. As you get lost in the numbers and statistics, CoPilot can effortlessly lend a helping hand, providing smart suggestions for formulae or summarizing key data trends that might have otherwise gone unnoticed.
In essence, it's as if you have a knowledgeable colleague looking over your shoulder, ready to chime in when needed.
What's more, the advent of Microsoft's Business Chat feature brings this integration to a whole new level. It works as a round-the-clock assistant that can generate content based on your prompts, delivering value in real-time across the entire Microsoft suite.
Imagine drafting a company-wide memo or a persuasive email to a potential client; with Business Chat, CoPilot provides tailored suggestions that could tip the scales in your favor.
Improved Workflow Capabilities
CoPilot, despite its advanced AI capabilities, is not an autonomous tool. Rather, it works in harmony with your thought process, offering drafts and suggestions, while you wield ultimate control over the final output.
This dynamic symbiosis allows for an enhanced creative flow, analytical thinking, expressive capabilities, and the potential for improved collaboration across all Microsoft 365 apps.
Consider working on a pivotal PowerPoint presentation; CoPilot can help you fine-tune your message and delivery, suggesting engaging graphics, recommending accessible formats, or even helping you craft compelling speaker notes.
Yet, the final narrative always rests in your hands, allowing you to balance AI support with personal ingenuity.
Copilot Brings Huge Uplift In Productivity Across Entire Teams
By tackling the brunt of mundane tasks, CoPilot enables users to focus on more meaningful, strategic work. This shift in task management can lead to significant productivity gains and improved job satisfaction.
One particularly impactful use case is in handling lengthy email threads in Outlook. Instead of manually sifting through convoluted conversations, CoPilot can quickly summarize the main points, draft succinct replies, and free up precious hours that you can dedicate to more critical tasks.
These claims aren't just theoretical; they're backed by compelling GitHub data, revealing tangible improvements in productivity with CoPilot.
Create Custom "Knowledge Flows" With Your Company's Unique Data
CoPilot isn't limited to general AI assistance; it also leverages organizational data to create a robust knowledge model.
This model streamlines the flow of knowledge within your organization, making relevant information readily accessible. Imagine you're new to a project, and you need to understand past discussions and decisions.
Instead of sifting through volumes of old emails or documents, CoPilot can utilize its knowledge model to surface critical information, helping you hit the ground running. This fosters a more collaborative environment and drives better decision-making.
Copilot Knows Microsoft 365 Apps Inside Out, You Can Ask It How To Do Anything
CoPilot serves as a tutor, guiding users in mastering new skills and enhancing existing ones within the Microsoft 365 realm.
By employing natural language prompts, this AI assistant demystifies the vast functionality of Microsoft 365, allowing anyone to do pretty much anything they can imagine inside apps like Excel and Word.
Whether you're venturing into the world of advanced Excel formulas or striving to master your PowerPoint presentation skills, CoPilot is your AI-powered oracle, ever ready to provide meaningful suggestions and guidance every step of the way.
Enterprise-Ready AI That Keeps Your Data Secure
In an era where security, compliance, and privacy take center stage, Microsoft's CoPilot stands out for adhering to the highest standards.
By harnessing the power of Language Learning Models (LLMs), including the advanced GPT-4 model, and combining it with Microsoft 365 apps and business data, CoPilot is designed to serve enterprise users with an emphasis on data security as well as compliance with current (and incoming) regulations.
Copilot is Adaptive And It Learns About Your Company As You Use It
CoPilot's versatility and learning ability make it invaluable across a plethora of tasks. For instance, when integrated with Viva Sales, CoPilot can connect to CRM systems, pulling customer data and providing valuable insights that can supercharge your sales strategies.
This adaptive learning ensures Copilot remains not just a tool but an evolving digital ally that will learn not only about your business' workflow but also your team, their specific roles, and how to extract as much possible productivity from every facet of your organization.
Copilot Is Built To Adhere To The Responsible AI Standard
Microsoft's commitment to responsible AI development is evident in CoPilot. Adhering to strict AI principles and the Responsible AI Standard, CoPilot is designed to be transparent, fair, and respectful of user data and privacy.
At Microsoft, we are guided by our AI principles and Responsible AI Standard and decades of research on AI, grounding and privacy-preserving machine learning. A multidisciplinary team of researchers, engineers and policy experts reviews our AI systems for potential harms and mitigations — refining training data, filtering to limit harmful content, query- and result-blocking sensitive topics, and applying Microsoft technologies like InterpretML and Fairlearn to help detect and correct data bias. We make it clear how the system makes decisions by noting limitations, linking to sources, and prompting users to review, fact-check and adjust content based on subject-matter expertise.

Microsoft
Microsoft 365 CoPilot Release Date – When Can You Get It?
Microsoft envisions a future where CoPilot is an integral part of all Microsoft productivity apps. It's currently being tested with a select group of customers, but plans are underway to expand its reach.
Word, Excel, PowerPoint, Outlook, Teams, Viva, Power Platform — all these and more will soon have CoPilot baked in, adding a plethora of new productivity and collaboration options.
In a nutshell, CoPilot is set to reshape the way we work and collaborate, seamlessly blending AI capabilities with the power of Microsoft 365. And I cannot wait to try it out. Perhaps Copilot will be the catalyst that finally drags me away from Google Workspace?
Copilot will start rolling out to Microsoft 365 users at some point during 2023; it is currently in beta testing with 20 or some of Microsoft's clients. Not using Microsoft 365? Check out all the deals and plans here.