ChatGPT Plugins List: Here's What They All Do [Updated 2023]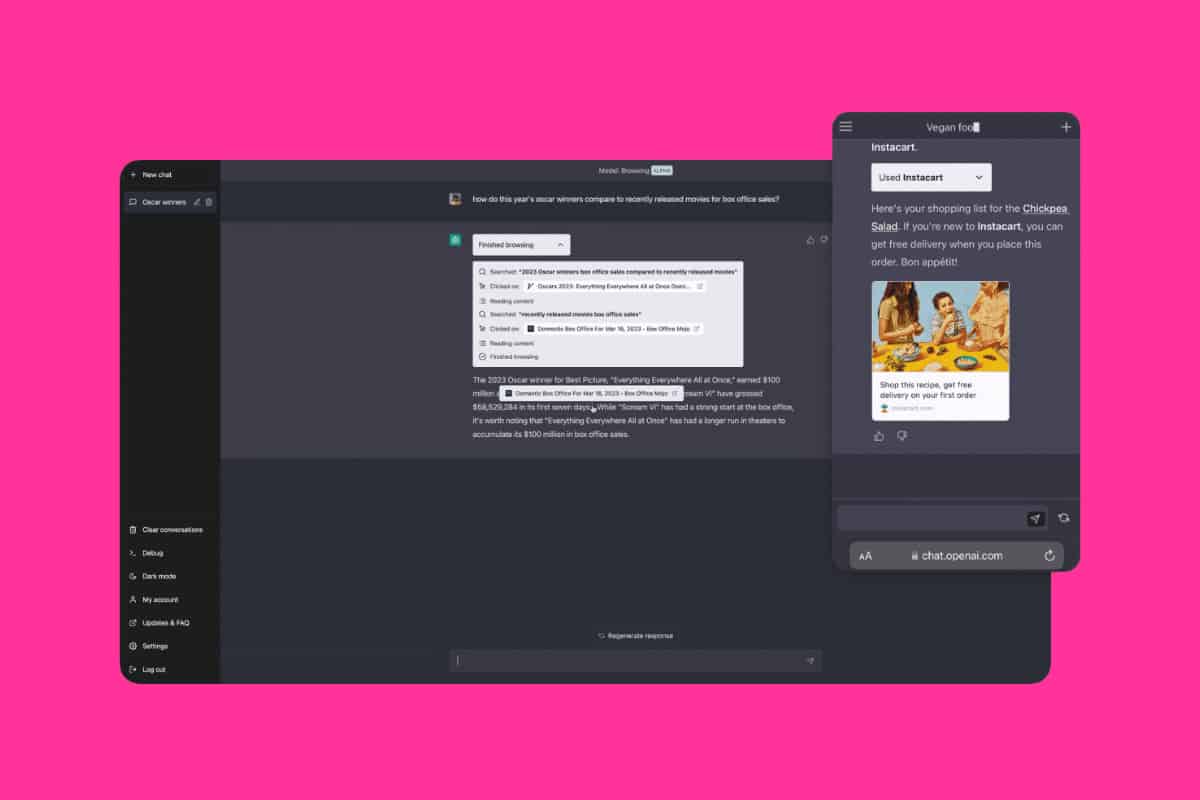 Here's a complete list of all the ChatGPT plugins currently available to ChatGPT Plus users (as well as a brief explanation of what they all do)…
---
ChatGPT has been around in one form or another for a few years now, the first builds were under way in 2015, back when Elon Musk funded OpenAI's research, but it wasn't until 2022 that we got the first stable release from the company.
Things progressed quickly. In December 2022, ChatGPT had one million users. By January 2023, it had over 100 million users. As growth figures go, that's one of the most impressive figures in tech history, beating Twitter, Facebook, and every other app and/or software you can think of.
But it wasn't until the release of ChatGPT 4, the most stable and capable version of OpenAI's platform, that things really started looking, well… both creepy and thoroughly impressive. But as good as ChatGPT was, it was still limited to 2021 knowledge.
And then ChatGPT plugins came along and changed all that overnight…
But what plugins are currently available for ChatGPT? What do ChatGPT plugins do? Here's a complete list of ChatGPT plugins, complete with a brief description of what they do so you can make an informed decision about whether they deserve a place in your workflow or not…
ChatGPT Plugins List
Slack: Allows querying Slack for specific information from past conversations.
Zapier: Enables interaction with over 5000 apps, streamlining workflows.
Expedia: Assists in planning vacations, including flights, accommodation, and activities.
Klarna Shopping: Helps search and compare prices from thousands of online shops.
Vogue: Allows searching through Vogue articles for fashion research.
TODO plugin: Helps manage a to-do list within ChatGPT.
Lowes: Assists in finding the right tools and materials for DIY projects.
Speechki: Converts text into audio for versatile studying.
FigGPT: Enables design tasks within Figma or Figjam.
Noteable: Allows creation of notebooks in Python, SQL, and Markdown.
KAYAK: Helps plan and book entire trips, including flights, hotels, and car rentals.
LangChain Docs: Provides up-to-date information for the LangChain Python library.
Weather report: Provides up-to-date weather data for any city.
Crypto Prices: Gives real-time prices for any digital currency.
NBA: Provides up-to-date NBA standings and stats.
Qdrant: Allows searching through Qdrant's documentation.
Open Table: Helps search for and book restaurants.
Zilliz Plugin: Assists in searching through and interacting with your documents.
Wolfram: Provides access to computation, math, curated knowledge, and real-time data.
Pricerunner: Gives personalized shopping suggestions.
DesignerGPT: Helps generate a professional-looking website.
Milo Family AI: Assists parents in planning engaging and educational activities for their kids.
Chess: Allows playing a game of chess within ChatGPT.
Instacart: Helps order groceries from nearby stores.
Send Email: Assists in drafting and sending professional emails.
FiscalNote: Provides access to real-time data sets related to legislation, regulation, and court cases.
DAN: Allows customization of ChatGPT's personality.
United Nations: Helps search through select UN documents.
Kraftful: Provides insights and strategies for achieving product-market fit and scaling user base.
Golden: Allows customization of ChatGPT experience.
Tutory: Provides access to tutoring services anytime, anywhere.
Shimmer: Helps track meals and suggest healthier options.
One Word Domain: Helps find a catchy, one-word domain name for businesses.
Redfin: Assists in conducting comprehensive housing market research.
Portfoliopilot: Acts as a personal investment advisor.
Zillow: Helps search listings, view home details, compare prices, and schedule viewings.
Giftwrap: Provides personalized gift recommendations, shopping, and shipping.
Tasty: Helps discover new recipes and plan meals.
Hauling Buddies: Helps find reliable and trusted animal transport services.
Tablelog: Assists in finding restaurants in Japan with real-time availability.
Yabble: Helps create surveys, collect data, and perform initial data analysis.
Algorithma: Allows simulation of life scenarios and exploration of different outcomes.
Vivian Health: Helps find healthcare jobs in desired areas.
CreatiCode: Assists in creating Scratch programs, displaying them as images, and writing 2D/3D programs.
Argil Ai: Helps generate images within ChatGPT.
SEO CORE AI: Assists in optimizing a website's SEO.
MixerBox News: Helps stay informed with the latest news.
Podcast search: Assists in discovering new podcasts based on interests.
Boolio: Helps analyze global stock values.
Tomorrow Io: Assists in planning activities according to the weather.
Open Lecture: Provides access to academic content.
ChatWithVideo: Allows interaction with YouTube videos.
GameBase: Provides gaming info, including game reviews, walkthroughs, and cheat codes.
Local by GoodCall: Helps support local businesses by providing information on local products and services.
Statis Fund Finance: Assists in analyzing financial data.
Penrose Analyst: Helps stay informed on global affairs.
Currency Converter: Assists in dealing with foreign currencies by providing real-time exchange rates.
Creature Generator: Enhances role-playing games by generating creatures.
Visla: Assists in creating videos.
ImageSearch: Provides visual inspiration and information by searching for images related to a given topic.
That's a quick overview of what's currently available inside ChatGPT. Of course, in order to get access to these plugins, you need to be using ChatGPT Plus which costs $20 per month.
🤖 Curious about AI? Stay on top of ALL the latest AI news, tools, and trends with our tri-weekly newsletter – it goes out every Monday, Wednesday, and Friday.