Apple Watch Series 9 vs Apple Watch Ultra 2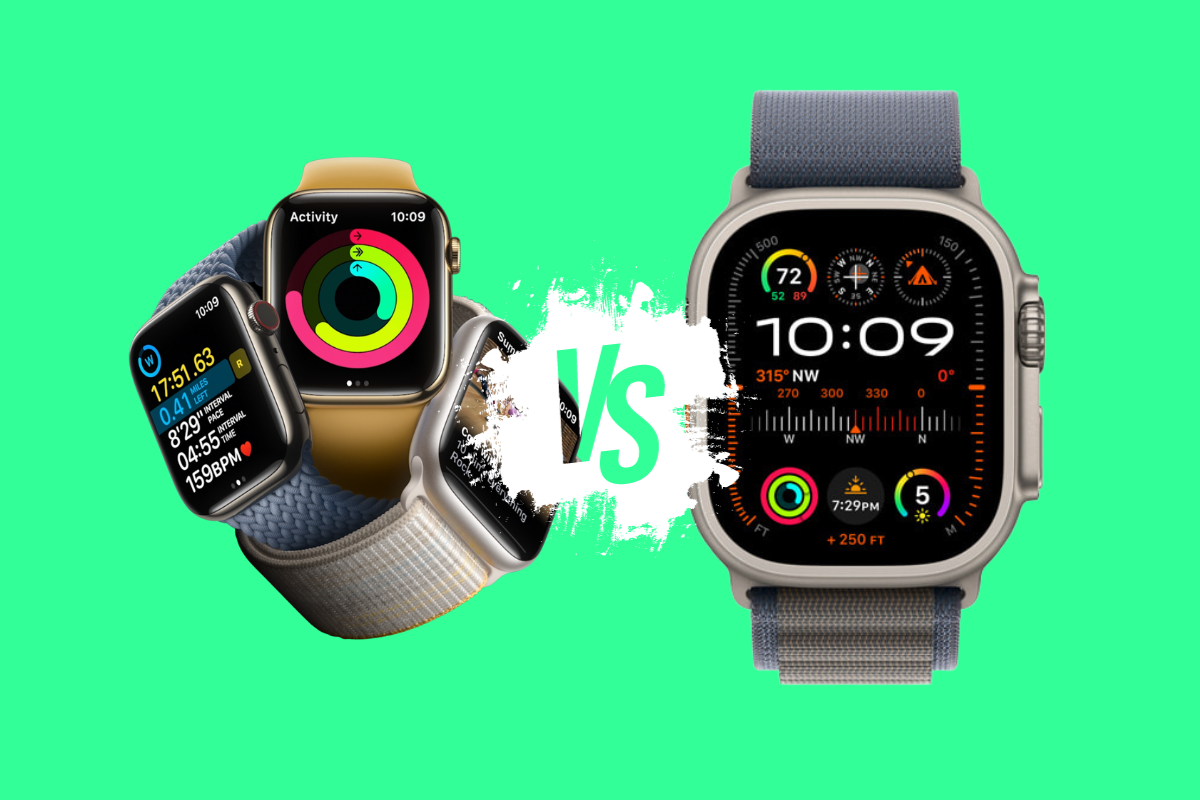 Do you go all in and get the Apple Watch Ultra 2 or save some cash, ditch a few features and go with cheaper Apple Watch Series 9? As always, we're here to help you make the right decision…
---
---
⌚ Apple Watch Ultra 2 Pros and Cons 🆚
Pros: Advantages of the Apple Watch Ultra 2 ✅
Rugged, Durable Design 🛡️: Built to withstand extreme conditions with water and dust resistance.
Bright, High-Resolution Screen 💡: Features an Always-On Retina display with 3000 nits peak brightness.
Advanced S9 Chipset 🚀: Offers faster and more efficient processing capabilities.
Enhanced Independence from iPhone 📱: Capable of functioning as a standalone device for music and more.
Precision Dual-Frequency GPS 🌐: Provides accurate location tracking for outdoor activities.
Action Button for Quick Controls ⚡: Customizable for various functions like workouts and dive starts.
Extended Battery Life 🔋: Up to 36 hours of normal use and up to 72 hours with low power settings.
Innovative Health and Fitness Features 🏃: Includes depth gauge and temperature readings for water adventures.
On-Device Siri and Machine Learning 🗣️: Enhanced voice control and smart features.
Eco-Friendly Approach 🌿: Emphasizes sustainability with carbon-neutral options.
---
Cons: Drawbacks of the Apple Watch Ultra 2 ❌
Limited Size Option 📐: Only available in a 49mm size, which may not suit all users.
Higher Price Point 💸: More expensive than other models in the Apple Watch range.
Complex Features for Average Users 🤖: Some advanced functionalities might be overkill for everyday use.
Bulkier Design 🏋️: Heavier and larger compared to other Apple Watch models.
Who Should Consider the Apple Watch Ultra 2? 🤔
Outdoor Enthusiasts and Athletes: Ideal for those who engage in rigorous outdoor activities and fitness regimes.
Tech Savvy Users: A great choice for individuals who appreciate the latest technology and advanced features.
Users Seeking a Robust Smartwatch: Perfect for those who need a durable and feature-rich device.
Overall, the Apple Watch Ultra 2 stands out with its robust build, advanced technology, and enhanced fitness tracking capabilities. While it excels in durability and functionality, its size, complexity, and price point may not appeal to all users – the Apple Watch Series 9 is plenty cheaper. It's an excellent choice for outdoor enthusiasts, athletes, and tech aficionados, but those looking for a simple, everyday smartwatch might find it to be more than they need.
---
Key Takeaways: Apple Watch Series 9 Pros and Cons 🆚
Pros: Advantages of the Apple Watch Series 9 ✅
Brighter, More Powerful Screen 💡 Enhanced visibility and performance.
New S9 Chipset 🚀 Offers faster, more efficient processing.
Innovative Double-Tap Gestures 👆 Introduces new ways to interact with the watch.
On-Device Siri Processing 🗣️ Faster and more private voice commands.
Eco-Friendly Build 🌱 Emphasizes sustainability in design.
Improved Privacy with Siri 🔒 Enhanced security for voice interactions.
Exclusive Watch Faces 🎨 Unique and customizable display options.
---
Cons: Drawbacks of the Apple Watch Series 9 ❌
Same 18-Hour Battery Life 🔋 No improvement from previous models.
Unchanged Design and Size 🔄 Lacks innovation in physical appearance.
Limited New Features 🆕 Mainly double-tap gestures and Siri updates.
High Price Point 💸 More expensive compared to other smartwatches.
Who Should Consider the Series 9? 🤔
Great for New Users or Those with Older Models: Ideal for first-time buyers or upgrades from much older models.
Less Compelling for Recent Model Owners: May not offer enough new features for those with recent Apple Watches.
Overall, the Apple Watch Series 9 shines with its enhanced screen and processing power, but it falls short in offering significant new features or design changes. Its sustainability and privacy features are notable, but the unchanged battery life and high cost could be deal-breakers for some.
It's a solid choice for new entrants into the Apple ecosystem or for those upgrading from much older models. But if all you need is basic features and fitness tracking, the Apple Watch SE is easily the better value option.
---
We've covered the key takeaways of each model, giving you a bird's eye view of how the Apple Watch Series 9 and Apple Watch Ultra 2 are different.
But what about the minutiae, the more intricate details? For that, we're going to need to break down the most important aspects of each smartwatch.
Below, we've outlined the key differences between the Apple Watch Series 9 and the Apple Watch Ultra 2.
Design and Build Quality: Style Meets Substance
Apple Watch Series 9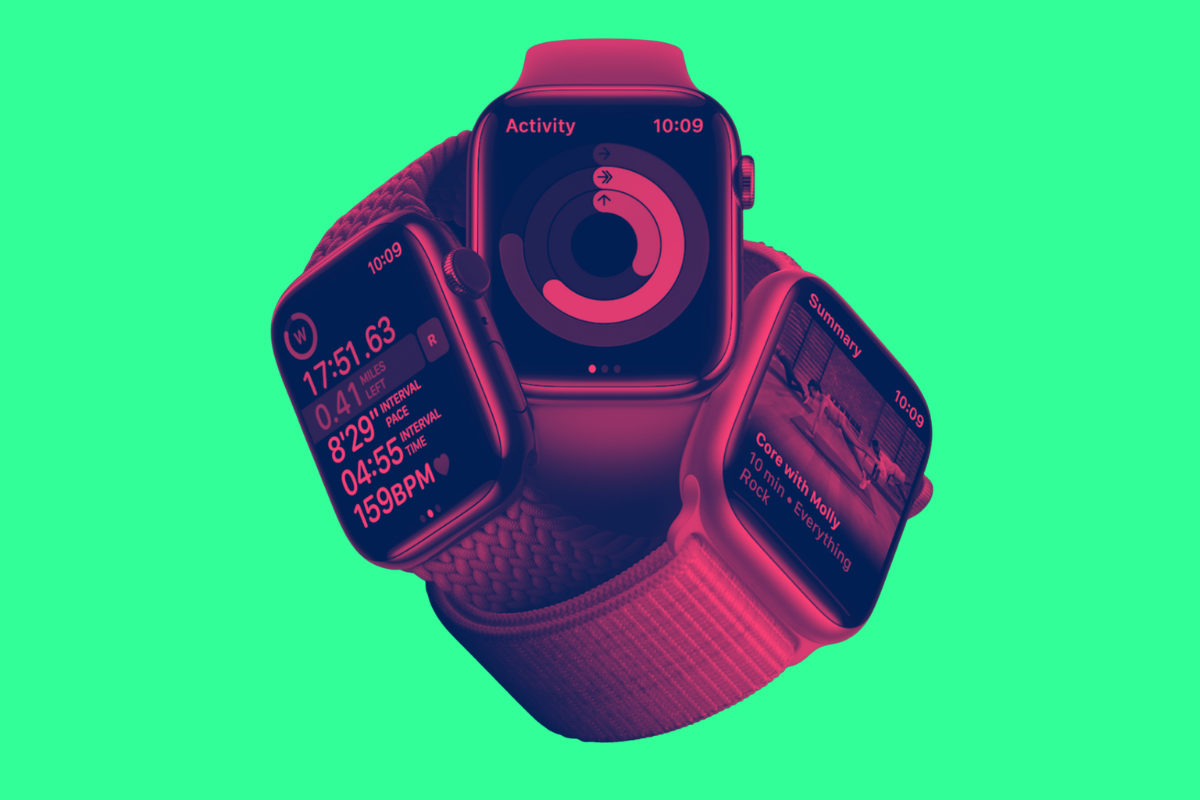 Casing: Available in aluminum or stainless steel, offering versatility in style.
Display: Curved edge display, enhancing the sleek design.
Size and Weight: Comes in 41mm and 45mm sizes, weighing between 31.9 and 51.5 grams.
Durability: Ion-X glass (aluminum models) or sapphire crystal (stainless steel models) for robust protection.
Apple Watch Ultra 2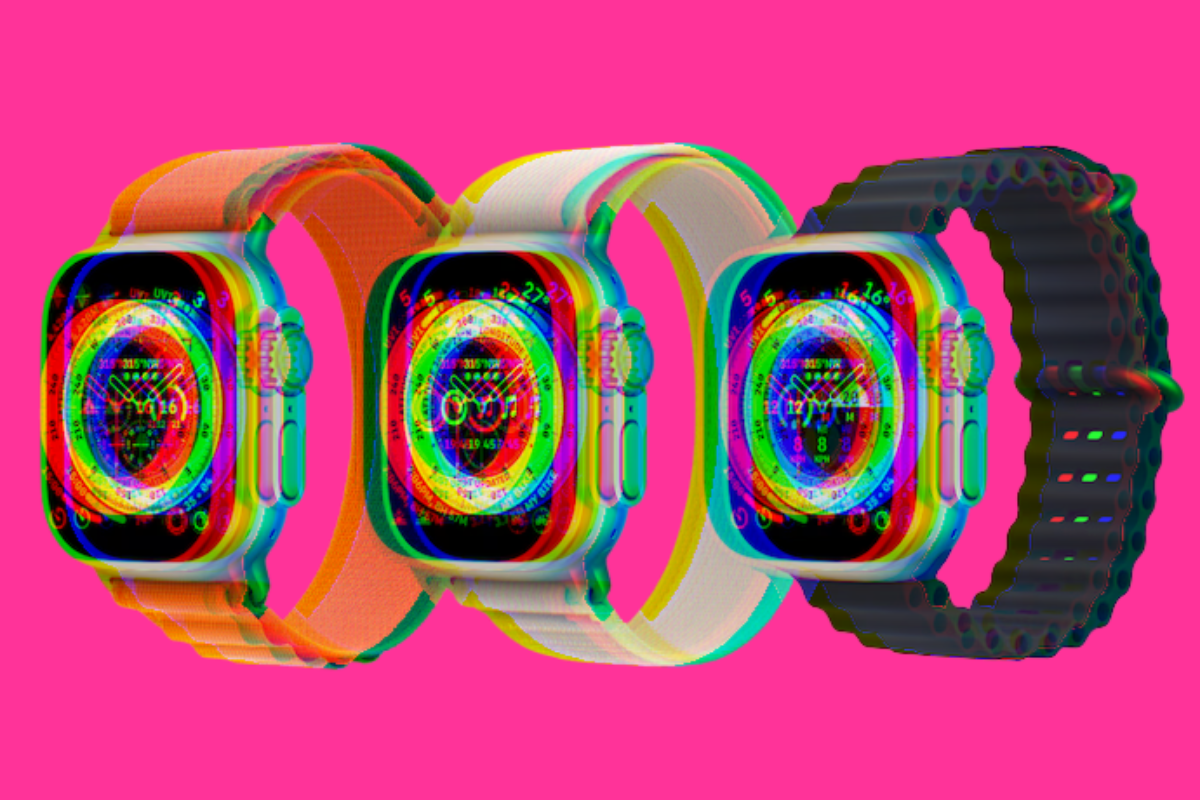 Casing: Aerospace-grade titanium, lighter yet more durable.
Display: Flat sapphire crystal display, designed to withstand challenging environments.
Size and Weight: A singular 49mm size, with a weight of 61.4 grams, indicating its sturdy build.
Durability: Engineered for extreme conditions, meeting MIL-STD 810H and EN13319 certifications.
Display and Brightness: A Visual Comparison
Apple Watch Series 9: Offers up to 2000 nits brightness, providing clear visibility in various lighting conditions.
Apple Watch Ultra 2: With up to 3000 nits, it ensures superior visibility even in the brightest outdoor environments.
Functionality and Features: Beyond Time-Keeping
Everyday Features
Both models feature the S9 chip, Ultra Wideband capabilities, and an Always-On Retina display.
Water resistance up to 50m in Series 9, suitable for most daily activities.
Specialized Features for Apple Watch Ultra 2
Enhanced water resistance up to 100m, plus dive capabilities to 40m.
Advanced GPS technology for precise location tracking.
A louder siren and a triple-microphone array for improved communication in harsh conditions.
Exclusive Wayfinder and Modular Ultra faces, tailored for outdoor adventures.
Night Mode for low-visibility environments.
Battery Life: Ensuring Continuous Performance
Apple Watch Series 9: Up to 18 hours of battery life, extending to 36 hours in Low Power Mode.
Apple Watch Ultra 2: Doubles the battery life of Series 9, offering up to 36 hours and up to 72 hours in Low Power Mode.
Pricing and Value Consideration
Price Range: The Apple Watch Series 9 starts at $399 for aluminum and $699 for stainless steel models, while the Apple Watch Ultra 2 is priced at $799.
Value for Money: The Ultra 2, while more expensive, offers specialized features for specific needs.
Conclusion: Tailoring to Your Lifestyle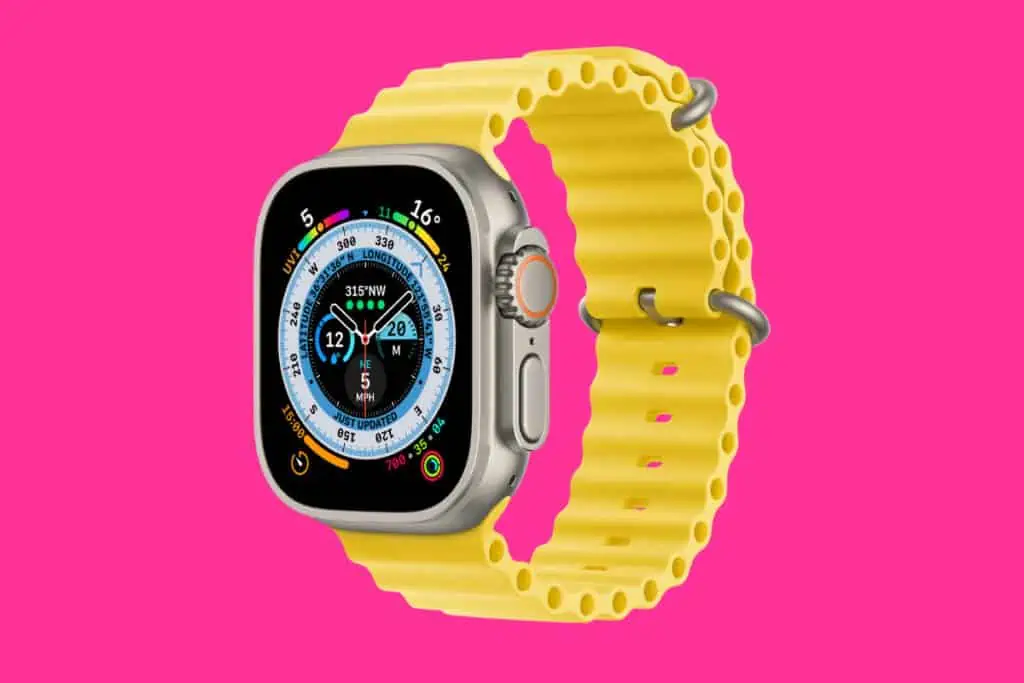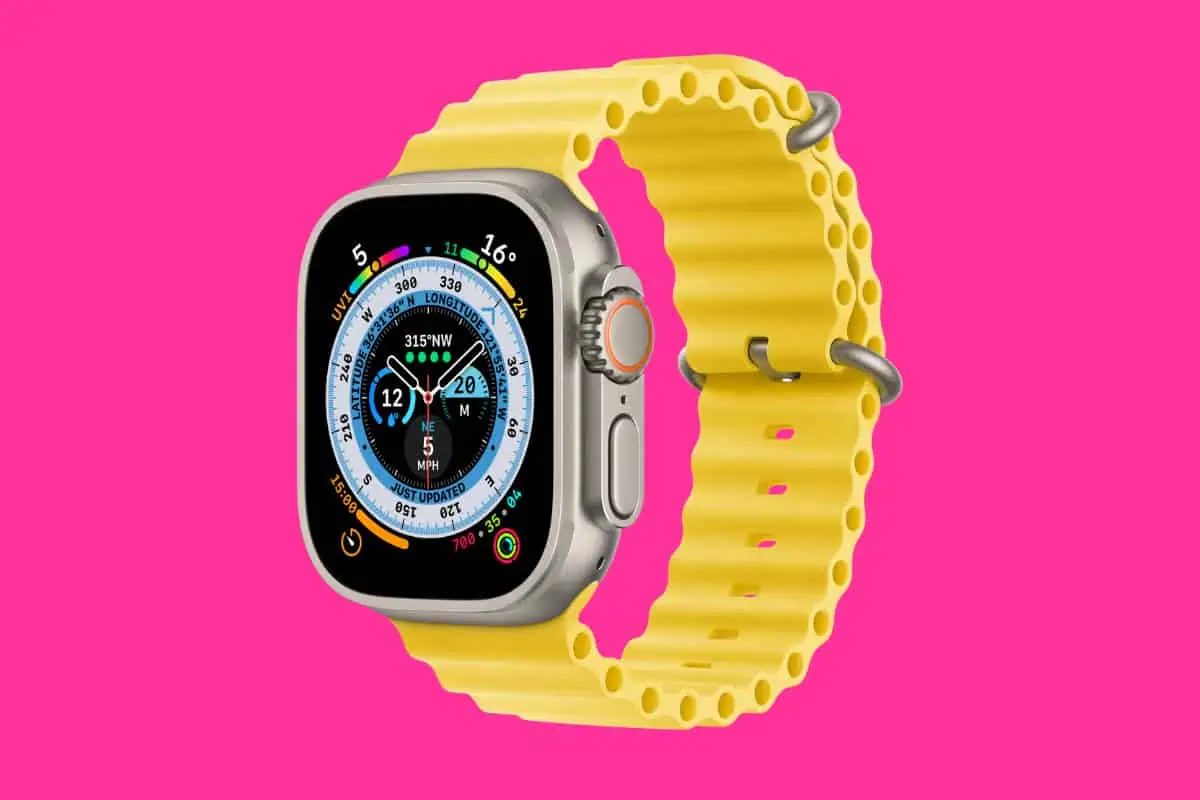 For the Fashion-Forward: The Series 9, with its sleek design and variety of finishes, caters to those who prioritize style and traditional watch aesthetics.
For the Adventurers and Professionals: The Ultra 2, with its robust build and specialized features, is ideal for those who require a watch that can endure extreme conditions.
Both the Apple Watch Series 9 and the Apple Watch Ultra 2 stand out in their respective domains, offering a blend of technology, style, and durability. Your choice ultimately hinges on your daily activities, environment, and personal style preferences. Whether it's the sophisticated charm of the Series 9 or the rugged resilience of the Ultra 2, Apple ensures that there's a perfect watch for every wrist.
Most people – like 99.9% of users – will be more than fine with the Apple Watch Series 9. It has nearly all of the core features found on the Apple Watch Ultra, just minus its more advanced features (and its more robust chassis).
If you're not running up mountains or through dangerous terrain for days on end, most people – myself included – tend to be more suited to Apple's cheaper models like the SE and the Series 9.
But if you like big, shiny, durable things with more features and capabilities than you can shake a cat at, the Apple Watch UItra 2 is very hard to beat right now.