Microsoft Surface Studio vs iMac 5K: Go BIG or… GO HOME!
---
---
Microsoft Surface Studio vs Apple iMac 5K

Pin
Specs Comparison
Microsoft Surface Studio Specs:
CPU: 2.7GHz Intel Core i7-6820HQ (quad-core, 8MB cache, up to 3.6GHz)
Graphics: Nvidia GeForce GTX 980M (4GB GDDR5 VRAM)
RAM: 32GB DDR4
Screen: 28.125-inch, (4,500 x 3,000) PixelSense Display
Storage: 2TB, 5,400 rpm Rapid Hybrid Drive Storage (128GB SSD)
Ports: 4 x USB 3.0, SD card reader, mini DisplayPort, headset jack
Connectivity: 802.11ac Wi-Fi, Bluetooth 4.0
Operating system: Windows 10 64-bit
Camera: 5MP Windows Hello camera
Weight: 21.07 pounds (9.56kg)
Size (display): 25.09x 17.27 x 0.44 inches (63.7 x 43.9 x 1.14cm W x D x H)
Size (base): 9.84 x 8.66 x 1.26 inches (25 x 22 x 3.22cm W x D x H)
Apple iMac 5K Specs:
CPU: 3.6GHz Intel Core i9-9900K (eight-core, 16MB cache, up to 5.0GHz with Turbo Boost)
Graphics: AMD Radeon Pro Vega 48 (8GB VRAM)
RAM: 16GB DDR4 (2,666MHz)
Screen: 27-inch 5K (5,120 x 2,880) Retina display (P3 wide color)
Storage: 512GB SSD
Ports: 4x USB 3 (Type-A), 2x Thunderbolt 3 (Type-C), SDXC card slot, 3.5mm headphone jack, Gigabit Ethernet, Kensington lock
slot
Connectivity: 802.11ac Wi-Fi, Bluetooth 4.2
Operating system: macOS 10.14.4 Mojave
Camera: FaceTime HD
Weight: 20.8 pounds (9.42kg)
Size: 25.6 x 8 x 20.3 inches (65 x 20.3 x 51.6cm; W x D x H)
Microsoft's Surface Studio vs Apple's iMac: Display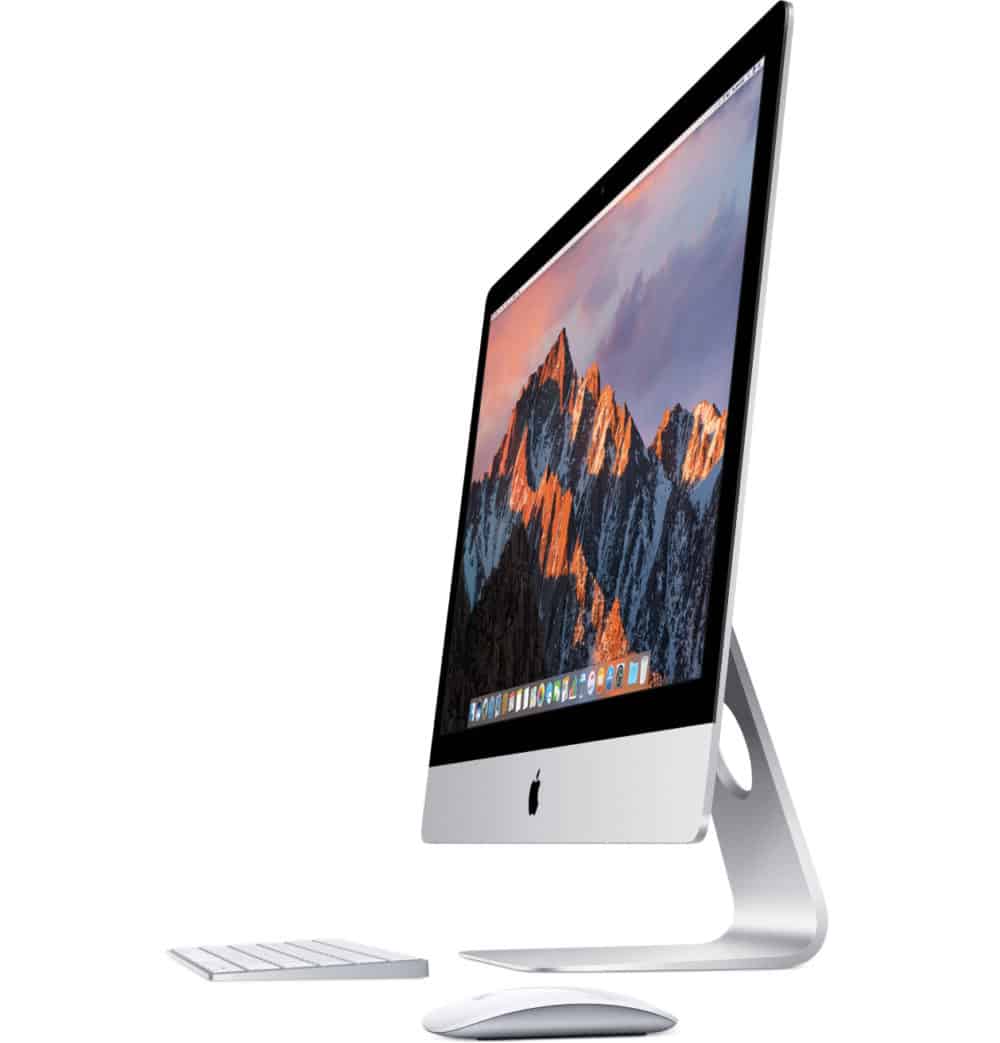 Pin
Pixel-wise, technically the iMac has a better display. Though it's an inch smaller it has a higher resolution of 5120 x 2880, which puts its PPI at 217. The Surface Studio's display is larger at 28in, but it has a lower resolution of 4500 x 3000, which puts its PPI at 192.
That being said, the Surface Studio display is a touch screen and can pick up 10 points of contact at the same time. The iMac's display is just your standard non-touch enabled IPS display.
Design and Build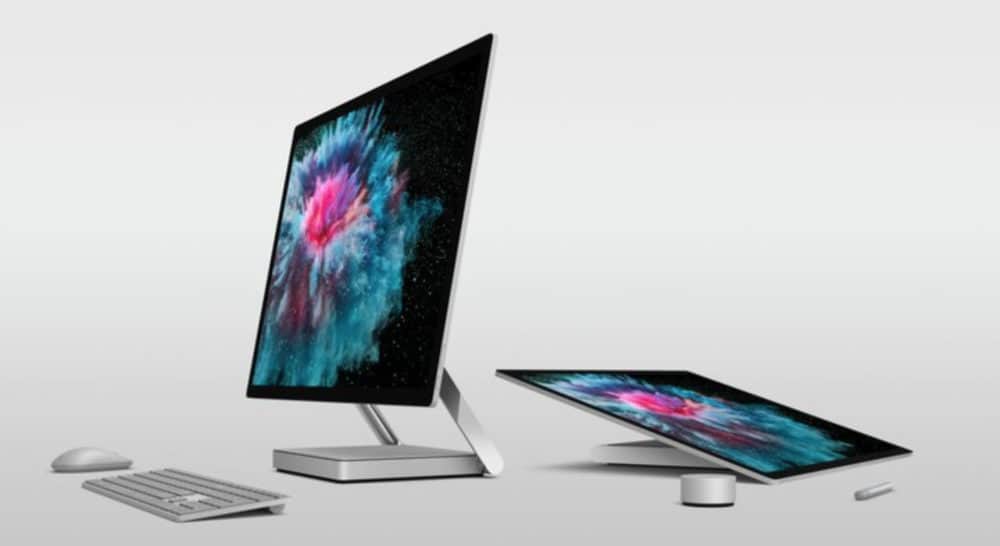 Pin
Both computers are All-in-one PC's, which means averting is built into the display or base and there is no separate tower. While the iMac is your standard All-in-one PC, the Surface Studio has a highly adjustable hinge that allows its display to be lowered towards the desktop so you can, for example, you a stylus to write or draw on the screen.
In a straight-up beauty contest, the Surface Studio wins hands down. I mean, just LOOK at it…
Another difference is where Apple and Microsoft decided to put the internals. The internals of the iMac are built into the screen, which means the screen is thicker. The internals of the Surface Studio are built into the base, which means that's thicker, but the screen is thinner.
CPU, Storage, and RAM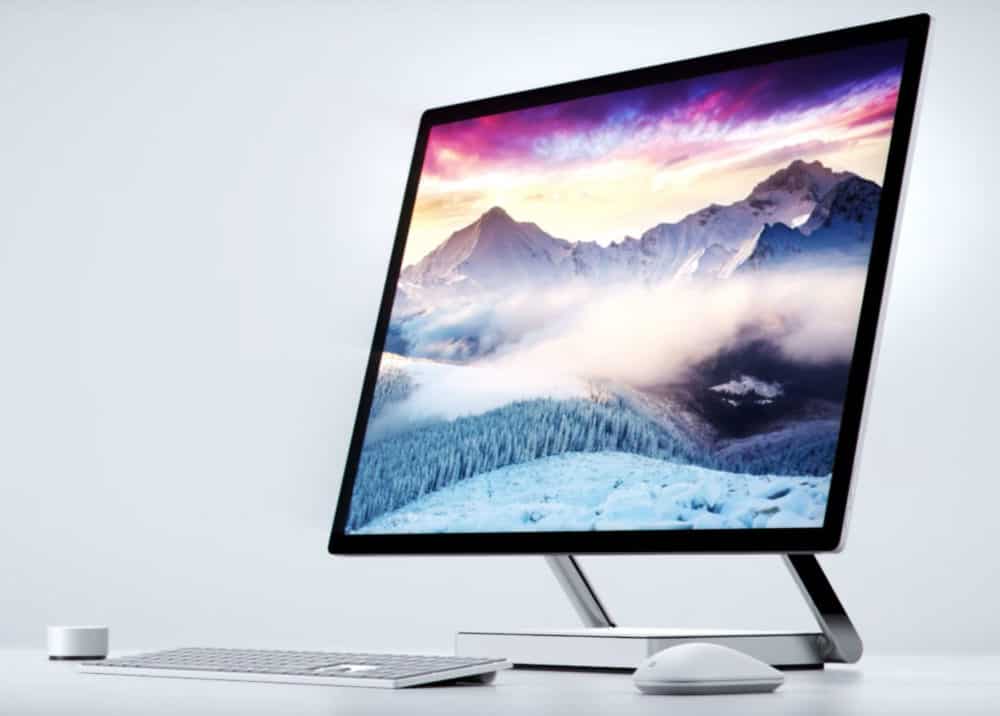 Pin
Both machines max out at a whopping 32GB of RAM. So don't think you'll ever be short of that. Both machines also offer 2TB hard drives, which are part flash, and part traditional HD (Apple calls this a "Fusion" drive, Microsoft calls it a "Hybrid" drive. Things are even fairly close in the CPU department. Both offer Intel Core i7 chips, but the iMac gives you the option of getting a 4Ghz chip installed, while the Surface Studio maxes out at a slightly slower 3.6GHz chip.
Graphics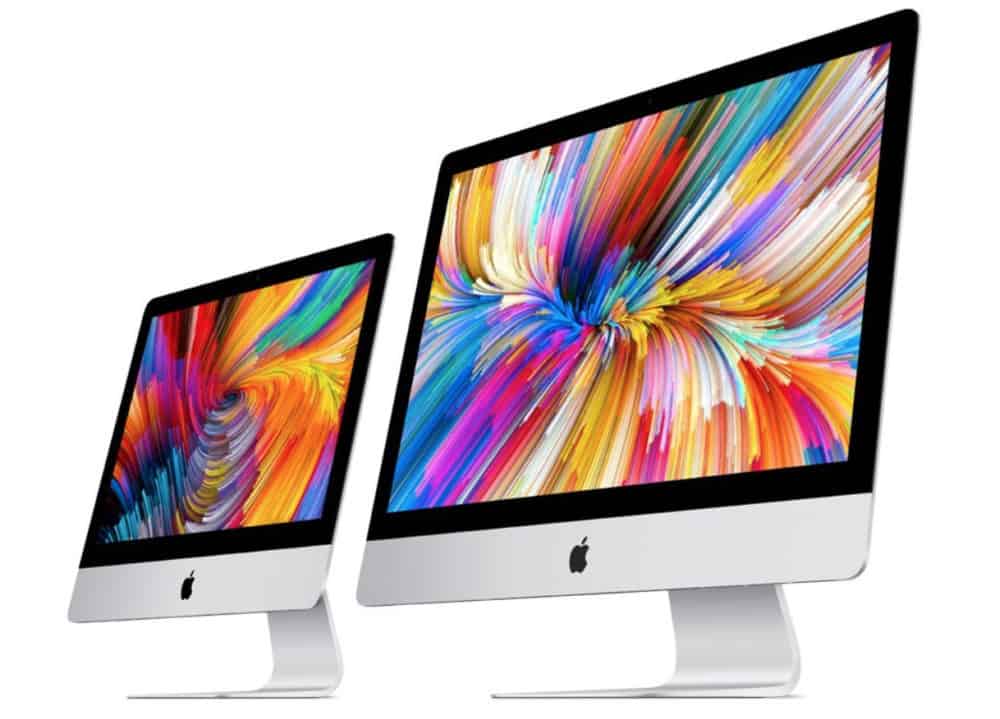 Pin
The Surface Studio offers the NVIDIA GeForce GTX 980M with 4GB GDDR5 memory. The iMac offers the AMD Radeon R9 M395X with 4GB of GDDR5 memory. Both of these graphics cards are insanely similar in specs, which means that they should give very, very similar performance.
Cost and Verdict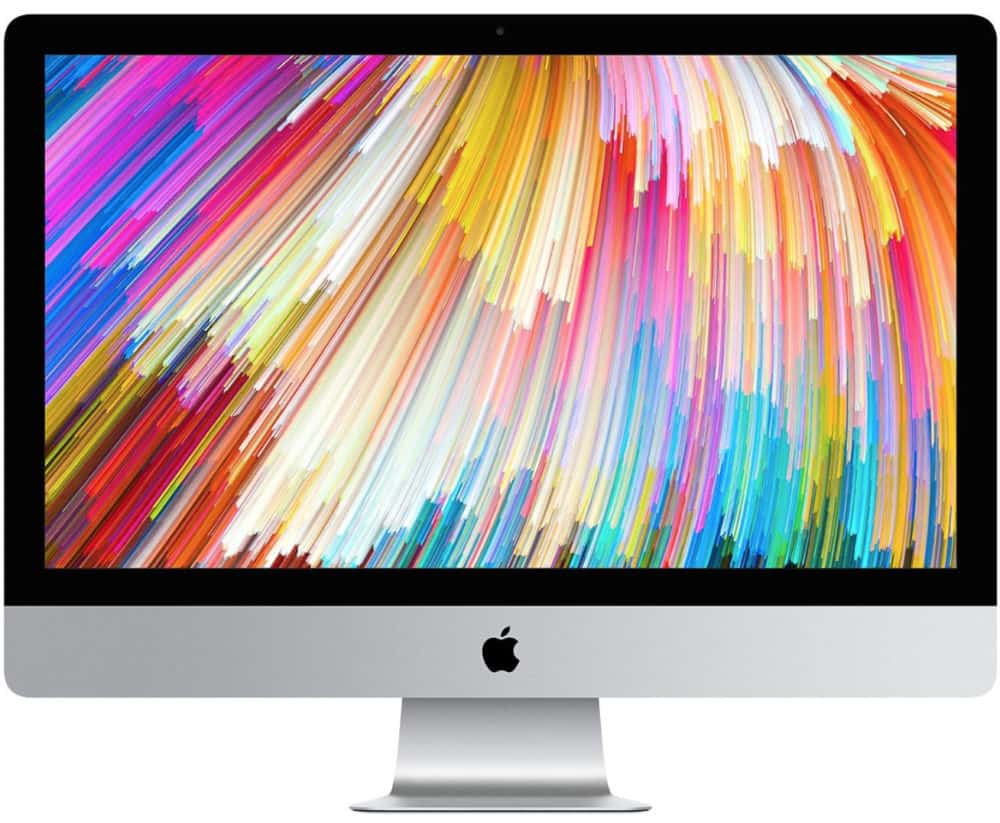 Pin
Keep in mind we've looked at the high-end version of both these machines. Spec-wise, technically the iMac beats the Surface Studio on most accounts. It's got the better display resolution and the slightly better high-end CPU.
However, the display on these PCs makes the choice harder of which one you should buy. The Surface Studio is probably the better option for graphics artists due to its beautiful, bigger touchscreen. With the Surface Studio, you can say goodbye to any drawing tablet accessories and instead draw right on the screen itself. This is a huge boon to graphics artists.
However, the iMac has a higher resolution and a better color display, which means it should appeal more to those that work in video or Photoshop.
But yeah, either way, it's a tough choice. It's an expensive one too. The stock high-end iMac costs $1149 while the high-end Surface Studio costs $2399. Both are very expensive and both are very good. But this is to be expected; the iMac 5K and Surface Studio are both designed for high-end, power users.
If you don't need that much power, and 90% of people do not, then you're 100% better off going for value for money when it comes to iMacs. And for value for money, nothing beats refurbished iMacs. Why? Simple: you can save a FORTUNE and still get a supremely powerful machine.
Check out Gazelle, for instance – it offers a huge range of MacBooks, iPads, and iPhones all at vastly reduced prices, meaning you can pick up a top of the line iMac/MacBook for around 40-50% less when compared to buying new.
Michael Grothaus
Apple expert and novelist, Michael Grothaus has been covering tech on KnowYourMobile for the best part of 10 years. Prior to this, he worked at Apple. And before that, he was a film journalist. Michael is a published author; his book Epiphany Jones was voted as one of the best novels about Hollywood by Entertainment Weekly. Michael is also a writer at other publications including VICE and Fast Company.