iPhone Camera Modes: A Beginner's Guide [2023 Edition]
---
---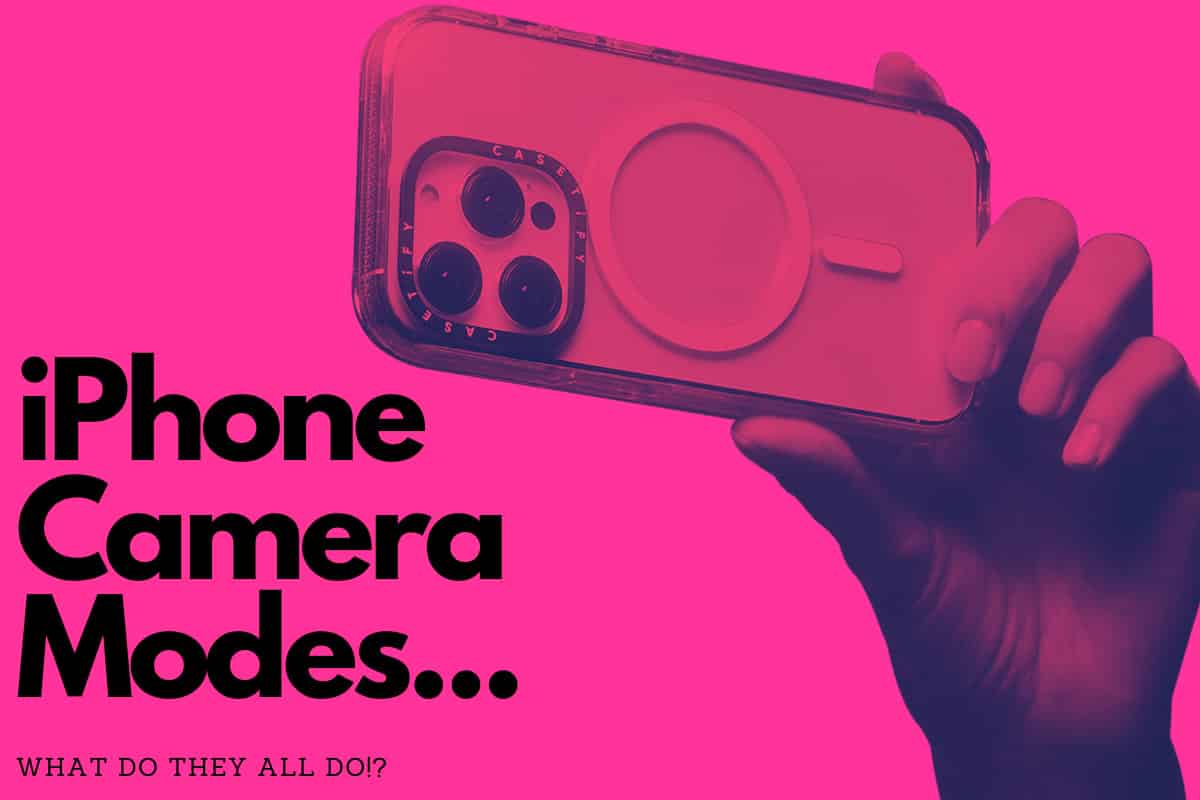 Here's a quick overview of how all the iPhone camera modes work, detailing what they do, what they're for, and when you should use them…
---
The camera on your iPhone is a powerful tool, capable of producing stunning images that can rival those of professional cameras. Apple has massively improved the iPhone's camera quality over the years, topping out with the iPhone 14 Pro and Pro Max and their now-standard 48MP main sensor.
One of the secrets behind its versatility is the array of different camera modes that Apple provides. If you're a beginner, you might be slightly confused by all the different options.
Whether you're shooting a panoramic landscape, a bustling city at night, or a quiet portrait, there's a mode to help you capture the moment with clarity and style. And this guide will provide a brief explanation of what each camera does on your iPhone.
Once you understand all the modes, you can then start delving into more complex and nuanced iPhone camera tricks and tips.
iPhone Camera Modes
Here's a breakdown of the various iPhone camera modes and how you can make the most of them.
Photo Mode
The standard Photo mode is your go-to for everyday photography. It balances a range of factors – like exposure, white balance, and focus – to deliver high-quality shots without you needing to tweak numerous settings.
Portrait Mode
Portrait mode brings professional depth-of-field effects to your iPhone, allowing you to capture shots with a sharp subject and a beautifully blurred background. Don't just restrict it to portraits of people, though. It's equally effective for pets, objects, and other subjects.
Pano Mode
Capture sweeping vistas with the Pano (Panorama) mode. Just tap the shutter, slowly move your camera as directed, and let your iPhone stitch together a wide-angle shot that takes in everything.
Square Mode
Square mode is perfect for those photos destined for social media. It lets you frame your photos in the 1:1 aspect ratio right from the start, saving you from cropping them later.
Video Mode
From home videos to cinematic masterpieces, Video mode lets you capture moving pictures in a range of resolutions and frame rates. You can even shoot in slow motion or fast forward mode for creative video effects.
Night Mode
This is a game-changer for low-light photography. Night mode uses intelligent software algorithms to take clear, vibrant photos even in the darkest settings. When the light drops, your iPhone will automatically suggest activating Night mode. You can also manually adjust the exposure time for even better results.
Time-Lapse Mode
Time-lapse mode allows you to capture extended moments and speed them up into short, engaging videos. This mode is perfect for watching sunsets, cityscapes, or stars move across the sky.
Burst Mode
Perfect for capturing action shots, Burst mode takes multiple photos in quick succession when you hold down the shutter button. You can then pick the best ones and discard the rest.
Live Photo Mode
Live Photos add motion and sound to your standard still photos, capturing 1.5 seconds before and after the shot. You can also apply effects like Loop, Bounce, or Long Exposure to your Live Photos for creative results.
ProRAW Mode
If you're really serious about your photography, ProRAW mode (available on iPhone 12 Pro and later) gives you the ultimate control over your images. This mode captures more data than standard photos, allowing for more detailed edits later.
By understanding and effectively using these iPhone camera modes, you can greatly enhance your photography and ensure you're ready to capture any situation in the best possible way. Or, if you'd like a broader overview of getting started with iPhone photography, check out our dedicated iPhone Camera Features and Settings Tutorial – it covers all the basics in lots of detail.
Richard Goodwin
Richard Goodwin has been working as a tech journalist for over 10 years. He has written for Den of Geek, Fortean Times, IT PRO, PC Pro, ALPHR, and many other technology sites. He is the editor and owner of KnowYourMobile.