FaceApp: How To Use It & How It Works – But Is It SAFE!?
---
---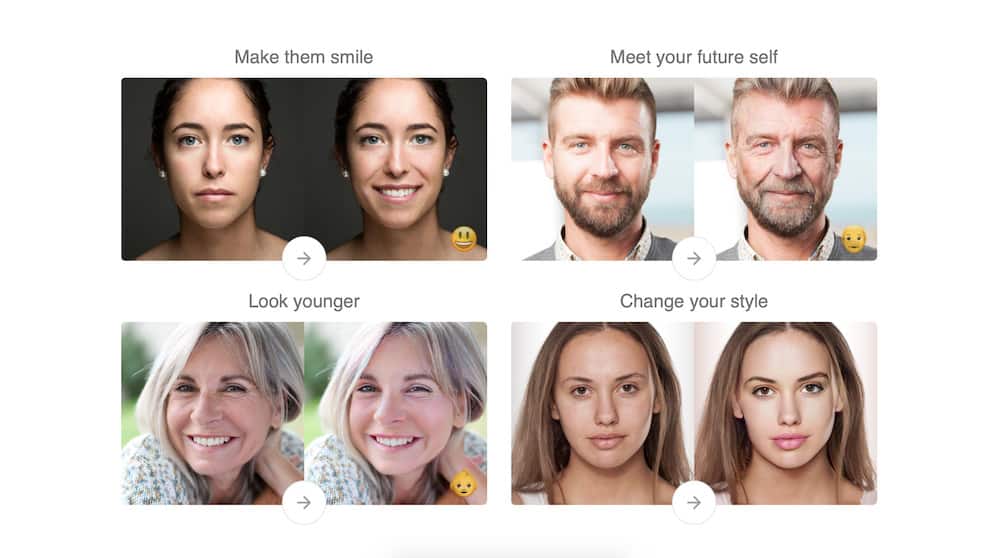 The latest viral craze is people posting photos of themselves of what they will look like in old age. No, everyone hasn't become masters at Photoshop. Instead, they're using an app called FaceApp that ages them instantaneously. Here's everything you need to know.
FaceApp – What Is It?
FaceApp is the latest photomorphing app that changes your picture into something else. FaceApp has actually been around since 2017, but it's one in recent weeks that the app has skyrocketed in the app charts.
FaceApp was created and run by a Russian startup specializing in artificial intelligence.
Let me introduce you to… young @tim_cook! 😂 pic.twitter.com/3J6qrrZKAY

— Kevin Clark (@vernalkick) July 15, 2019
FaceApp – What Can It Do?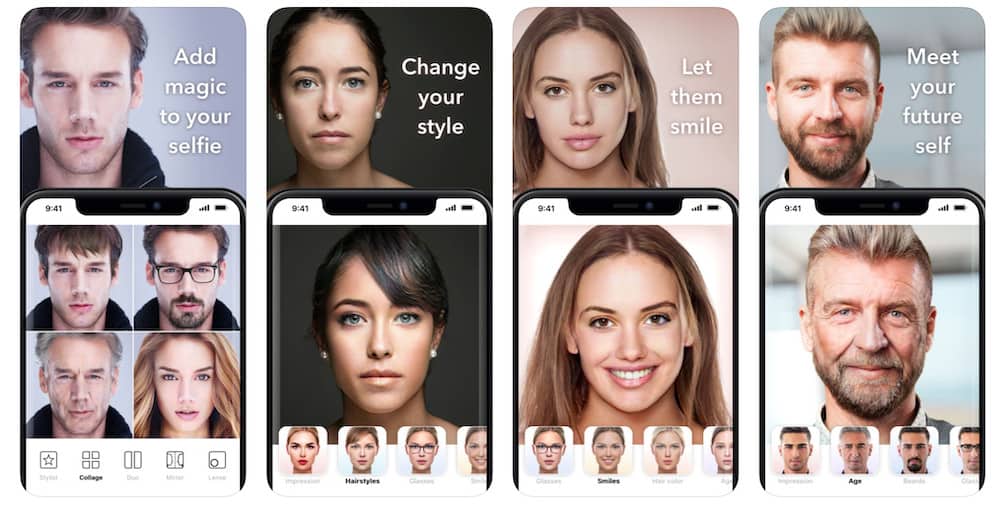 Pin
The app had gotten known because it allows people to turn their present-day selfies into selfies of what they will look like in old age. However, that's not the only photomorphing the app can do.
FaceApp lets you add a smile to your face in a photo (great for dating site pics), has a filter that makes you look younger, has a filter that makes you look old, and has a filter that'll give your face male or female characteristics.
FaceApp – How Does It Work?
The app uses artificial intelligence and machine learning to apply the filter you choose to the photo you select. In other words, it uses a bunch of fancy algorithms so your photos don't need to be manually altered to change the look.
FaceApp – What About Privacy? Is FaceApp Safe?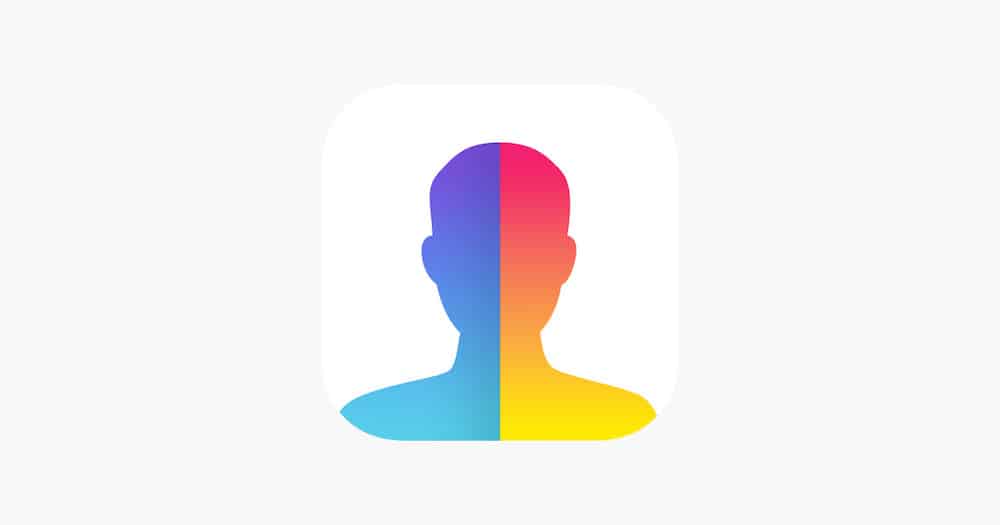 Pin
This is where things get a little shady. FaceApp's privacy policy and terms of service are incredibly vague. When you select an image to use in the app, such as a selfie of you, that image is actually uploaded from your phone and sent to FaceApp's servers in Russia.
It is on these servers that FaceApp's AI gets to work on morphing your image. The morphed image is then sent back to your phone via the FaceApp app.
The thing is, it's unknown if FaceApp keeps your original image indefinitely or what they do with it if they do. However, their terms and conditions read this:
You grant FaceApp a perpetual, irrevocable, nonexclusive, royalty-free, worldwide, fully-paid, transferable sub-licensable license to use, reproduce, modify, adapt, publish, translate, create derivative works from, distribute, publicly perform and display your User Content and any name, username or likeness provided in connection with your User Content in all media formats and channels now known or later developed, without compensation to you. When you post or otherwise share User Content on or through our Services, you understand that your User Content and any associated information (such as your [username], location or profile photo) will be visible to the public.

You grant FaceApp consent to use the User Content, regardless of whether it includes an individual's name, likeness, voice or persona, sufficient to indicate the individual's identity. By using the Services, you agree that the User Content may be used for commercial purposes. You further acknowledge that FaceApp's use of the User Content for commercial purposes will not result in any injury to you or to any person you authorized to act on its behalf. You acknowledge that some of the Services are supported by advertising revenue and may display advertisements and promotions, and you hereby agree that FaceApp may place such advertising and promotions on the Services or on, about, or in conjunction with your User Content. The manner, mode and extent of such advertising and promotions are subject to change without specific notice to you. You acknowledge that we may not always identify paid services, sponsored content, or commercial communications as such.
So basically by uploading a photo via the FaceApp app, you give the company permission to do whatever they want with your image and likeness.
However, if you take a look at Twitter's T&C's, you'll see that they are much the same. By posting on Twitter, you give Twitter the right to do all kinds of stuff with your images. The difference here, however, is that the creators of FaceApp are a Russian company, so make of that what you will.
But just because the company is Russian, does not mean it is dodgy (this is basically what's being hinted at by nearly all major news outlets). In fact, ALL of FaceApp's processing is done on US soil inside Amazon and Google servers. Outside the US, servers in Ireland and Singapore are also used.
In an official response to the mounting hysteria surrounding FaceApp, the app's creators said: "We only upload a photo selected by a user for editing. We never transfer any other images from the phone to the cloud," said FaceApp founder Yaroslav Goncahrov.
He added: "We might store an uploaded photo in the cloud. The main reason for that is performance and traffic: we want to make sure that the user doesn't upload the photo repeatedly for every edit operation. Most images are deleted from our servers within 48 hours from the upload date."
Moral of the story? It's most likely a storm in a teacup, like most things. Personally, I'd be more worried about all the data Facebook has on me – but that's just me. In the future, just make sure you read all the T&Cs because not all apps are legit and some will almost certainly use your data for nefarious purposes.
FaceApp – How To Use It
Launch FaceApp.
In the app, your smartphone's front camera will activate. You'll see an oval in the center of the app. Line up your face so it fits inside the oval.
When you have positioned your face correctly, tap the shutter button. The photo will be uploaded to FaceApp's servers for processing.
The processing will be completed when you see all the filters applied to your photo. Swipe through them and tap one to choose it.
Finally, tap the save button (down arrow) to save it to your camera roll.
FaceApp – Where To Download
You can download FaceApp for iOS here. And download FaceApp for Android here.
Michael Grothaus
Apple expert and novelist,
Michael Grothaus
has been covering tech on KnowYourMobile for the best part of 10 years. Prior to this, he worked at Apple. And before that, he was a film journalist. Michael is a published author; his book Epiphany Jones was voted as one of the best novels about Hollywood by
Entertainment Weekly
. Michael is also a writer at other publications including 
VICE
and 
Fast Company.