Android 10 Update Schedule: Will Your Phone Even Get It!?
---
---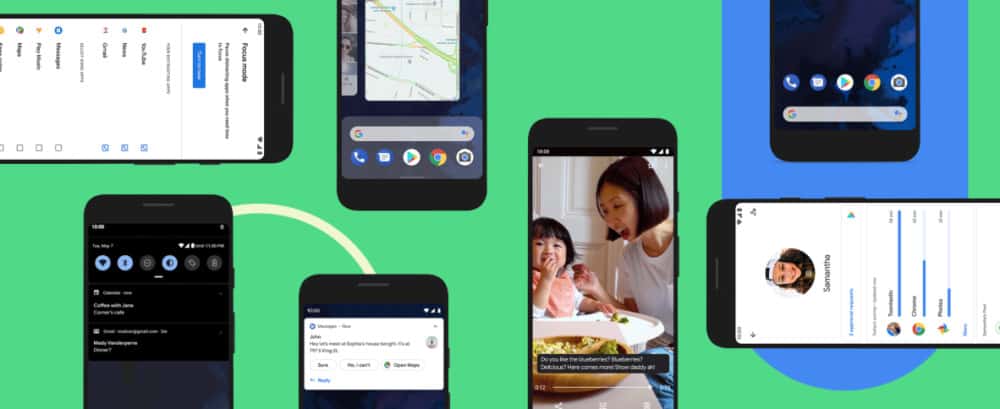 [ss_click_to_tweet tweet="Will your Android phone get Android 10? Find out below with our handy Android 10 update schedule for ALL major phone makers" content="Will your Android phone get Android 10? Find out below with our handy Android 10 update schedule for ALL major phone makers" style="default"]
When Will My Phone Get Android 10? 
Pin
Google Pixel Phones (Status: Now Rolling Out)
All Google Pixel phones are now getting the Android 10 update. That means if you're running one of the following:
Pixel
Pixel XL
Pixel 2
Pixel 2 XL
Pixel 3
Pixel 3 XL
Pixel 3a
Pixel 3a XL
You can now download Android 10 by doing the following: Settings > System > System Update.
OnePlus (Status: Rolling Out To Some Phones)
OnePlus has an excellent track record when it comes to Android updates. With Android 10, OnePlus has started rolling it out to OnePlus 7 and OnePlus 7 Pro handsets. The OnePlus 7T will launch with Android 10.
As for the OnePlus 6 and OnePlus 6T, expect an update between now and December. We'll update as soon as we know more…
Samsung (Status: Don't Expect It Until 2020)
Samsung has a pretty rubbish track-record with Android updates. And with Android 10, things aren't changing for the better. Word on the street suggests we won't see Android 10 on a Samsung phone until the launch of the Samsung Galaxy S11 inside Q1 2020.
Once the Galaxy S11 is released, it's possible we'll see Android 10 rolled out the Samsung Galaxy S10 and Samsung Galaxy Note 10. If you're running an older (or cheaper) Samsung phone, you probably won't be getting Android 10…
LG (Status: Android 10 Beta Live)
LG's G8 is now on its second Android 10 beta. That means a full-fat release could happen any time soon. The company isn't usually great with Android updates, but the fact the G8 is running Android 10 in beta is positive. Expect a full release before the close of 2019.
As for other LG handsets, the likelihood of an Android update isn't great – so far we've heard nothing about older/cheaper LG phones getting Android 10.
HTC (Status: Not Looking Good…)
HTC is more or less out of the phone market these days, and the phones it does have on the market will most likely not get Android 10. This is a sorry state of affairs, but even when HTC was on form it still lagged way behind its peers with respect to getting Android updates out to its phones.
Huawei (Status: Weird…)
Huawei's problems with the US government are well reported. The company has essentially been blocked from using Google services on its devices. They'll still use Android, just the open-source version that does not come with ANY Google services – including Google Play.
The Huawei Mate 20 Pro, however, is confirmed to get Android 10; it was already in the Android 10 beta program before the US action happened. This means we could see an Android 10 update for the Huawei Mate 20 Pro relatively soon.
The following Huawei phones have all been submitted for Android 10:
Huawei P30 Pro
Huawei P30
Huawei P30 lite
Huawei Mate 20
Porsche Design Mate 20 RS
Porsche Design Mate 10
Huawei Mate 20 X
Huawei Mate 20 X (5G)
Huawei P20 Pro
Huawei P20
Huawei Mate 10 Pro
Huawei Mate 10
Huawei P smart 2019
Huawei P smart+ 2019
Huawei P smart Z
Whether they will be approved, however, is anyone's guess. My advice? Don't hold your breath.
Honor (Status: Better Than Huawei)
Honor – a Huawei-owned brand – has confirmed that the following handsets will be getting Android 10:
Honor 20 Lite
Honor 20
Honor 20 Pro
Honor has not outlined a release date for Android 10, however, indicating that it could be a while before any Honor phones get the update.
Nokia (Status: Coming Inside Q4 & Q1 2020)
Nokia has a great track record when it comes to Android updates. The company was also quick to confirm its update schedule for Android 10, which you can see in full below:
Nokia 9 PureView (Q4 2019)
Nokia 8.1 (Q4 2019)
Nokia 7.1 (Q4 2019)
Nokia 7 Plus (Q4 2019 – Q1 2020)
Nokia 6.1 (Q4 2019 – Q1 2020)
Nokia 6.1 Plus (Q4 2019 – Q1 2020)
Nokia 4.2 (early Q1 2020)
Nokia 3.2 (early Q1 2020)
Nokia 3.1 Plus (early Q1 2020)
Nokia 2.2 (early Q1 2020)
Nokia 8 Sirocco (late Q1 2020)
Nokia 5.1 Plus (late Q1 2020)
Nokia 1 Plus (late Q1 2020)
Nokia 1 (mid Q2 2020)
Nokia 5.1 (mid Q2 2020)
Nokia 3.1 (mid Q2 2020)
Nokia 2.1 (mid Q2 2020)
Why Are Android Updates Still So Slow?
If you're using an Android phone and you want Android 10, the above listings may have just depressed the hell out of you. How can the Android update process still be this bad? Why can't Samsung, arguably the biggest player in the space, get Android 10 out as fast as OnePlus or Nokia?
These are all very good questions. But sadly, there aren't any clear answers – some companies are just better than others in this regard. Google tried to make issuing Android updates easier with Project Treble, but as the old saying goes: you can take a horse to water, but you can't make him drink…
My advice? If you're a keen Android user and you want regular, timely updates, go with a Google Pixel phone or OnePlus phone – they tend to get Android updates quickest. Nokia would be a close third. Samsung has ALWAYS been terrible with updates. And the reason for this is simple: it wants you to buy a new phone, rather than continue using a perfectly good, year-old handset.
Shockingly Bad Android Updates Force Users To iPhone
I think the sluggish nature of Android updates, whereby users that paid $1000 for a Galaxy S10 won't get Android 10, is the #1 reason why most Android users defect to iPhone. Think about it: with iPhone, you get software updates as soon as they're available for years and years and years. And the best Android phones? Well, they sometimes don't even get the latest build of Android…
The iPhone 6s is still getting iOS updates. And this will continue until well into the mid-2020s. And make no mistake: the software your phone runs is very important; it's not just about new features, security patches, and privacy updates are the #1 reason why you want to be running the latest version of Android and iOS.
MORE: The Best iPhone Models (For Value For Money)
Threats and exploits happen all the time. Google and Apple engineers spend thousands of hours a month ensuring their software is robust and protected from them. However, if you're not running the latest software, you don't have the best protection. This is why I always use Pixel phones. They're not perfect, but at least they get Android updates as soon as they're ready.
Firms like Samsung should be held accountable for what they're doing. It is truly shameful that a phone bought less than 12 months ago might not get Android 10. And on what planet would something like that EVER be considered cool?
Richard Goodwin
Richard Goodwin has been working as a tech journalist for over 10 years. He has written for Den of Geek, Fortean Times, IT PRO, PC Pro, ALPHR, and many other technology sites. He is the editor and owner of KnowYourMobile.