Sky Glass Reviews: Is It Better Than Sky Q?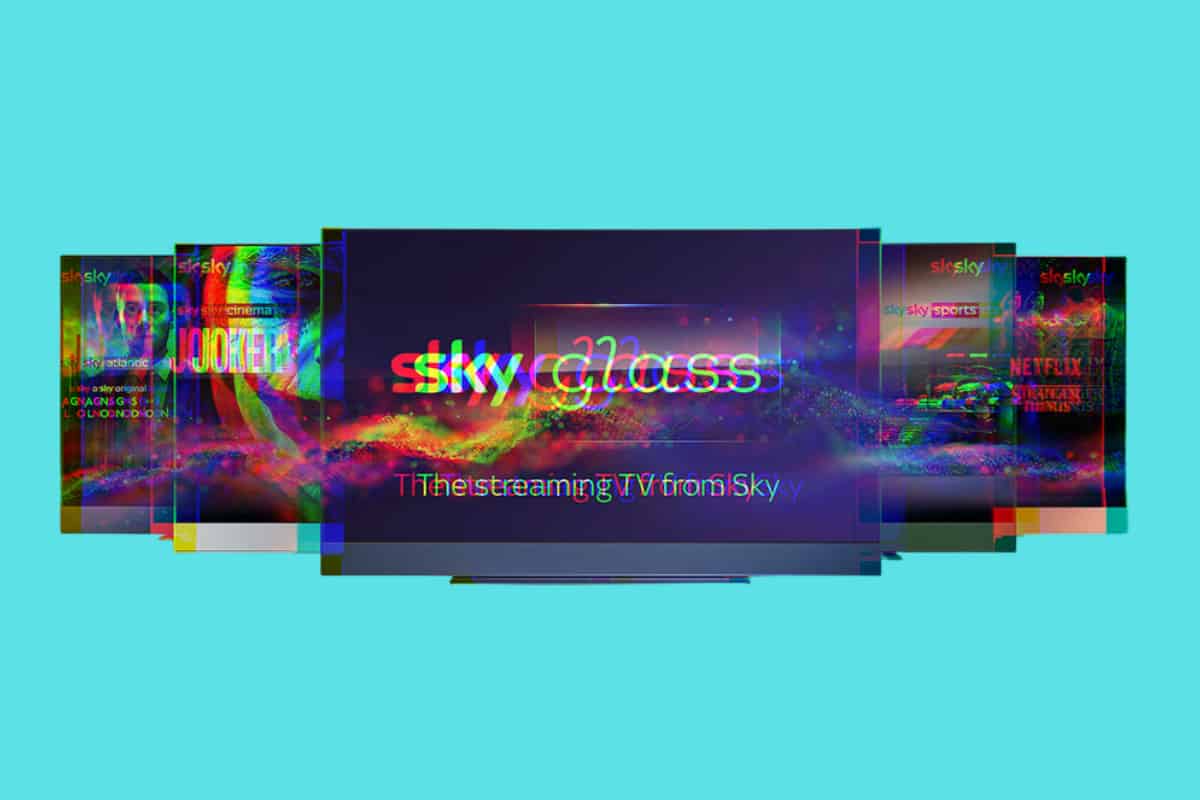 Sky Glass represents the biggest shake up to how Sky TV works in the company's history. But is Sky Glass worth getting or are you better off with Sky Q? Let's find out…
---
---
Plays Second Fiddle To Sky Q...
Sky Glass
Sky Glass is meant to be the future of Sky TV, and in some ways it is. You no longer need a dish. But the TV itself isn't brilliant, lacking core features found on cheaper 4K TV models, and the package itself is a little too expensive. My advice? Go with Sky Q...
Cons:
Doesn't Do Proper Recording

Not Great For Gaming

Expensive vs. Other 4K TV Options

Lacks Functionality of Sky Q
VIEW LATEST PACKAGES
Sky TV has changed a lot in recent years. In a bid to counteract the popularity of streaming platforms like Netflix and Amazon Prime and ensure it remains relevant, Sky has reoriented its platform – in the form of Sky Q – with streaming apps front and center.
This had to happen, Sky had to become a medium otherwise it would have just become less and less relevant.
Sky Q is a brilliant product, of course, but it appears Sky Q was just the beginning of the company's move away from its traditional business model.
The launch of Sky Glass shows that Sky, while clearly still unsure about how to properly deal with rising content platforms like Netflix and Amazon, is focused on reinventing itself as the ultimate content arbiter.
And Sky Q and Sky Glass were its first major steps to achieving this.
The difference between Sky Q and Sky Glass is pretty significant, though: Sky Q comes in a box, like the Sky of old, while Sky Glass is a 4K TV with everything you need bundled inside it.
You also DO NOT need a dish with Sky Glass. But you will need to buy a new TV which, if you're running a relatively new TV, is always going to be a bit of a tough sell.
Having said that, millions of people are now running fairly old TVs, most of which are not 4K, so there is plenty of potential for the adoption of Sky Glass in the UK.
The only real question is whether you're better off with Sky Glass or getting yourself a new 4K and running Sky Q on it.
To answer this question, let's first start by taking a look at all the different Sky Glass models currently available.
Sky Glass Sizes & Prices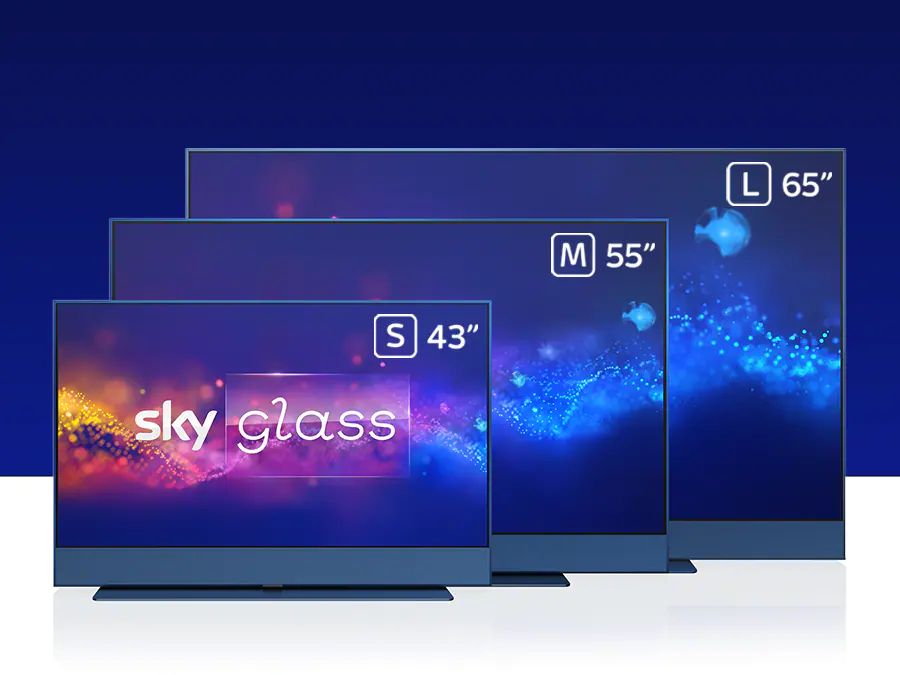 Sky Glass Specs
Display Type: UHD Quantum Dot
Resolution: 3840 x 2160
Colour: Over 1 billion colors
HDR: Dolby Vision, HDR 10, HLG
Speakers: Dolby 3.1.2 output
Speaker Configuration: 3x outwards-firing, 1x central subwoofer, 2x upwards-firing
Audio format: Dolby Atmos
Sound output: Up to 215 W
Connectivity: 3x HDMI, Bluetooth, USB C
How Sky Glass Works: How To Buy One + How Much It Costs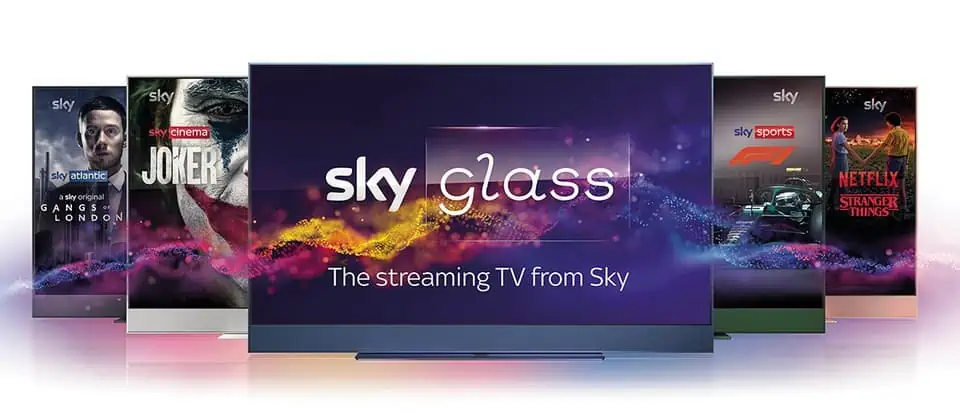 All of Sky's Glass TVs run the same internal spec. The only difference between the three current Sky Glass models available is the size of the display.
The smallest – and cheapest – option has a 43in display, the mid-range option has a 55in screen, and the largest and most expensive runs a 65in display. All models run the same 3840 x 2160 resolution, however, and they all feature Dolby Vision and HDR 10.
This means that whatever model you go for, you're getting the exact same specifications and user experience.
Once you know what size Sky Glass TV you want, you then need to decide on a package. Sky offers both 24-month and 48-month contract plans for Sky Glass – prices start from around £13 per month.
The 43in Sky Glass TV costs £649 to buy, while the large 65in model retails for £1049. Again, most users will be buying the TVs as part of a Sky Glass package.
But these "packages" are just to pay for the TV itself. In order to actually use Sky Glass, you will also need to subscribe to a Sky package as well – the cheapest is currently Sky Ultimate which costs £26 per month.
So, if you went with the cheapest Sky Glass TV, you'd end up paying £39 per month for Sky Glass, not £13. The Sky Ultimate package does not include Movies or Sports, either. If you want those you'll have to pay extra for the packages.
Of course, if you already have subscriptions to Netflix, Amazon, Disney, or Apple TV+, all of these apps will be supported and available inside Sky Glass.
All you have to do is sign in and you can start streaming from an of these apps inside Sky Glass.
You can even use Sky Glass' voice search to open and search for content inside these apps. And I'd argue this is all the content most users will ever need.
I have Sky Q and run the most basic of packages plus a subscription to Sky F1, and I now use Sky Q to access all my streaming apps for all my film and TV show needs.
That's my hot-take on how Sky Glass works, how much it costs, and the selection of TVs you have to choose from.
Why Sky Glass Might Not Be the Right Choice for You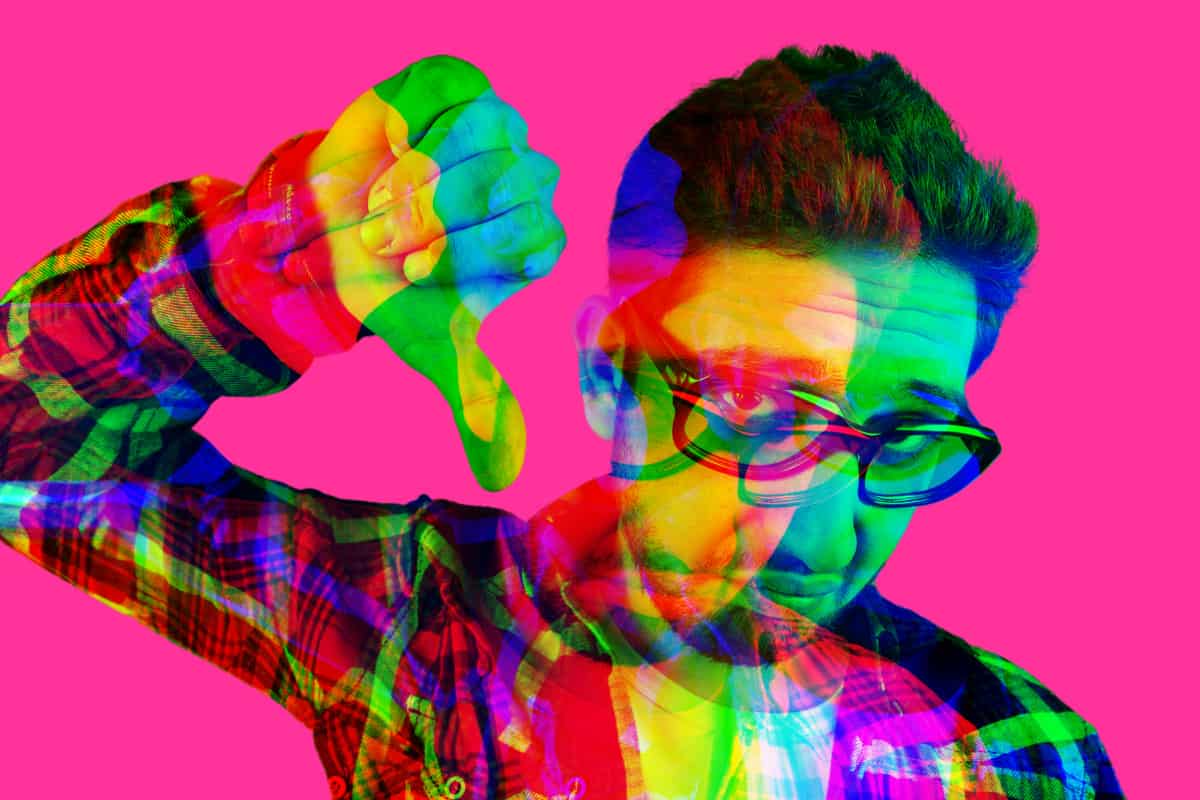 Sky Glass has been making waves in the home entertainment industry as a sleek, all-in-one solution that promises to revolutionize how we consume content. While it offers a host of features and a streamlined design, it's not a one-size-fits-all solution.
Here are some reasons why Sky Glass might not be the right choice for you:
Limited Recording Capabilities
One of the most glaring limitations of Sky Glass is its lack of true recording capabilities. Unlike Sky Q which comes with a built-in hard drive, Sky Glass relies on a "Playlist" feature.
While this allows you to bookmark content, it's not the same as having a physical copy stored on your device.
If you're someone who likes to record shows to watch later, this could be a significant drawback.
Not Ideal for Gamers
Sky Glass falls short in the gaming department. It lacks high-end gaming features like Variable Refresh Rate (VRR), Auto Low Latency Mode (ALLM), and HDR Gaming Interest Group (HGiG) support.
These features are crucial for a smooth, lag-free, and visually stunning gaming experience.
f you're an avid gamer, you might find Sky Glass lacking in terms of performance and compatibility with next-gen consoles.
Complex Pricing Structure
Sky Glass comes with a pricing model that can be confusing. The cost varies depending on several factors, including the size of the TV, the length of your contract, and any additional services you might want.
This complexity can make it difficult to figure out exactly how much you'll be paying each month, especially when compared to more straightforward pricing models like that of Sky Q.
Quality Concerns
While Sky Glass offers HD, 4K, and HDR capabilities, users have reported issues with weak motion-handling and washed-out bright images.
These factors can affect your viewing experience, especially during fast-paced sports events or brightly lit scenes.
If you're particular about picture quality, you might find Sky Glass less impressive than other models in the market.
Hefty and Requires Professional Installation
Sky Glass is a hefty unit that requires professional installation. If you're someone who prefers a DIY approach or has limited space, this could be a deterrent.
The need for professional installation also adds an extra layer of complexity and cost to the setup process.
Commitment to Sky's Ecosystem
Opting for Sky Glass means you're committing not just to Sky's services but also to their line of 4K TVs. While these aren't bad by any stretch, they may not be as good as what you could get from other brands like Samsung or LG for a similar price.
If you have your eye on a particular TV model from another brand, Sky Glass might not be the best fit.
Limited External Sound System Support
Although Sky Glass offers built-in Dolby Atmos sound, it may not be the best choice for audiophiles who prefer a more robust external sound system.
While it does have eARC support, the options for external sound systems are more limited compared to other setups.
Rights Issues with Playlist Feature
The "Playlist" feature, which serves as a workaround for the lack of a physical hard drive, comes with its own set of limitations due to rights issues.
This could mean that some of the content you'd like to save for later might not be available, adding another layer of inconvenience.
Broadband Dependency for Sky Stream
Sky Glass features the Sky Stream puck, which transfers the interface to another screen. While this is a neat feature, it's worth noting that Sky Stream's performance is dependent on your broadband speed.
If you don't have a reliable internet connection, your experience could be less than seamless.
Lack of Customization
Sky Glass aims to offer an all-in-one solution, which means you're pretty much locked into the ecosystem and hardware that Sky provides.
For those who prefer to mix and match their tech, this could be a significant limitation.
Given ALL of the above, the next logical question, however, is whether or not Sky Glass is worth it?
In order to better answer this question, let's now take a look at a selection of Sky Glass reviews to form a better picture of whether or not Sky Glass is something you should be looking at…
Sky Glass Reviews
Is Sky Glass Worth It?
As you can see from the Sky Glass reviews above, there's a lot to like about Sky Glass but also quite a few downsides.
The main one is that Sky Q is still a better overall platform, having more features and better recording abilities.
The Sky Glass TV itself, while decent enough, pales in comparison – from a performance perspective – to some of the best 4K TVs available on the market right now from Samsung, LG, and Sony.
With this in mind, one could argue that, if picture quality and general performance, specifically with respect to gaming, are important to you, you'll likely be far better off picking yourself up a 4K TV from Samsung or LG and running a Sky Q box instead of Sky Glass.
For everybody else, meaning the vast majority of people, Sky Glass – both as a service and as a TV – will be more than adequate for your home. It is 4K, the picture quality is decent, and Sky Glass itself is very intuitive to use.
Is it perfect? No, but then again nothing really is, especially when you're talking about TV tech – stuff changes and evolves so quickly. But as a platform, Sky Glass is very impressive.
If you do not want or need the BEST TV ON THE MARKET, Sky Glass is an obvious choice. It solves the headache of shopping around for a TV, gets you access to all of Sky's core features and more, and the Glass TV units themselves are available in the three most popular TV sizes in the UK: 43in, 55in, and 65in.
Check out all the latest deals and packages here.
The Best Way To Experience Sky Right Now
Sky Q
Sky Q offers the most features, the best recording abilities, and the best overall Sky experience right now. It supports 4K, comes with myriad packages, and is simple to use and setup.
Pros:
Amazing Multi-Screen Experience

Native Netflix, Amazon Prime, Disney+ & Apple TV+

Beautiful Phone & Tablet Integration

Loads of 4K content

Relatively Affordable
VIEW LATEST DEALS
Plays Second Fiddle To Sky Q...
Sky Glass
Sky Glass is meant to be the future of Sky TV, and in some ways it is. You no longer need a dish. But the TV itself isn't brilliant, lacking core features found on cheaper 4K TV models, and the package itself is a little too expensive. My advice? Go with Sky Q...
Cons:
Doesn't Do Proper Recording

Not Great For Gaming

Expensive vs. Other 4K TV Options

Lacks Functionality of Sky Q
VIEW LATEST PACKAGES