Black Shark 2 Review – Insane Power For Less Than £500
---
---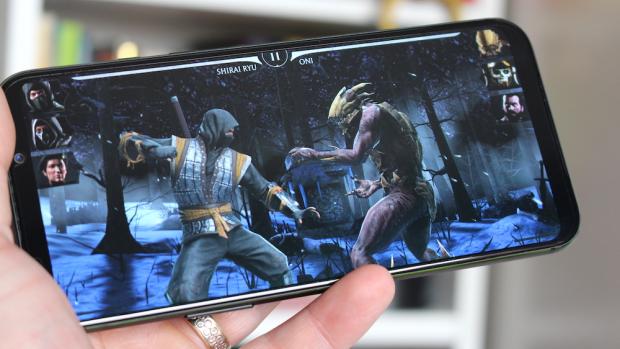 The gaming phone that's for everyone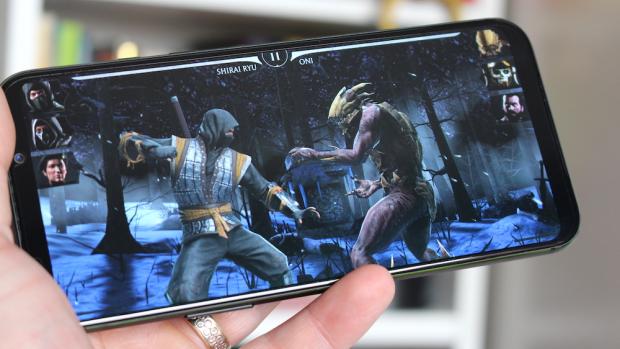 Pin
The concept of a gaming phone isn't anything new; back in the era of dumbphones, we had the Nokia N-Gage, and more recently we've seen the Sony Xperia Play, Razer Phone 2 and the Asus ROG Phone all try to turn our handsets into portable games consoles.
Now, Chinese firm Xiaomi – via its Black Shark subsidiary, which was founded in 2017 – is making serious inroads into this arena. The original Black Shark handset was pitched as a powerful gaming device, but it perhaps didn't get the column inches it deserved; this successor aims to change that with some insanely adept tech and other unique features – all for the typically low price we expect from Xiaomi-made devices.
Black Shark 2 Review: Design & Display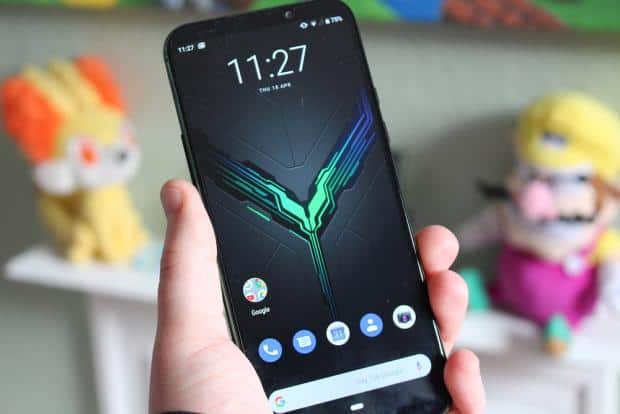 Pin
Like the Razer Phone 2 and ROG Phone, the Black Shark 2 wears its gaming pretentions firmly on its sleeve; taking a leaf out of Razer's book, it has a pulsating 'S' logo on its rear and boasts a design that looks like it's stepped right out of the labs of Microsoft, or some other gaming-focused firm. The mix of glass and plastic on the back of the handset gives it a futuristic vibe, while the shiny green accents that run along the edges compliment that aforementioned glowing logo. On the sides, there are also are two LED strips which light up when the phone is charging – a cool touch.
The rear of the phone is also home to the dual camera setup, with both snappers offering 12 megapixels. An LED flash sits below these lenses, which are arranged in a vertical pattern. On the bottom edge of the Black Shark 2 there's USB-C for charging, as well as the SIM card tray (which only takes a SIM – there's no option to expand the storage here, sadly). On the right-hand edge you'll find the power button and 'Shark Space' switch, the latter of which we'll come to shortly. On the opposite edge there's the volume rocker, while the top edge is completely blank.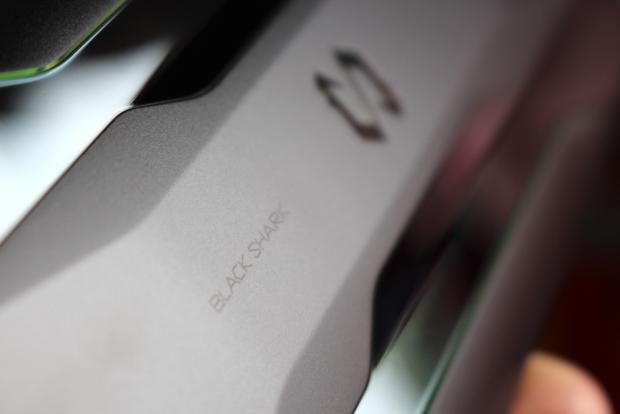 The Black Shark 2 lacks water and dust resistance, with the company behind it claiming that it's hard to make such a device water-resistant and that it might get damaged if left in water for too long. You might want to be wary of using the Black Shark 2 around large bodies of water (or in the bathroom).
The handset's dual speakers also deserve a mention here; situated at either end of the screen, they deliver powerful audio with deep bass. There's no 3.5mm headphone socket though, which is a bit of a shame – it means you'll have to use wireless ones, and these are subject to latency. That's hardly ideal when you're using the phone to game, as audio will be slightly delayed with some headphones.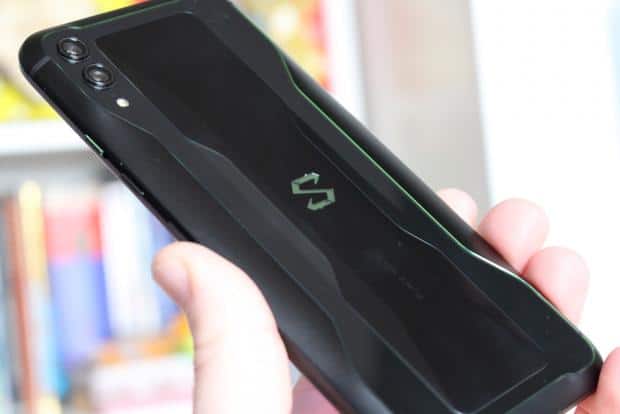 Pin
Turn the handset over, and you're faced with a massive 6.39-inch AMOLED screen with a 1080 x 2340 resolution. This isn't an edge-to-edge screen – there are two small bezels at the top and bottom – but it's a striking screen nonetheless, and has a secret weapon in the form of a fast and accurate in-screen optical fingerprint scanner. The display also senses the pressure of your finger, like 3D Touch on the iPhone. Dubbed 'Master Touch', this feature comes in very handy when gaming, as you can assign different input commands using this system.
When it comes to gaming, the refresh rate of your display makes a massive difference, so it's rather disappointing that the Black Shark 2's AMOLED panel has a 60Hz refresh rate, whereas the Razer Phone 2 – one of its biggest rivals – has a 120Mz refresh rate. This could well be to do with the fact that the Razer handset uses an LCD panel while the Black Shark 2 has an AMOLED screen; it's not as much of a deal breaker as you'd expect anyway, as most games aren't going to reach 60FPS, let alone anything above that.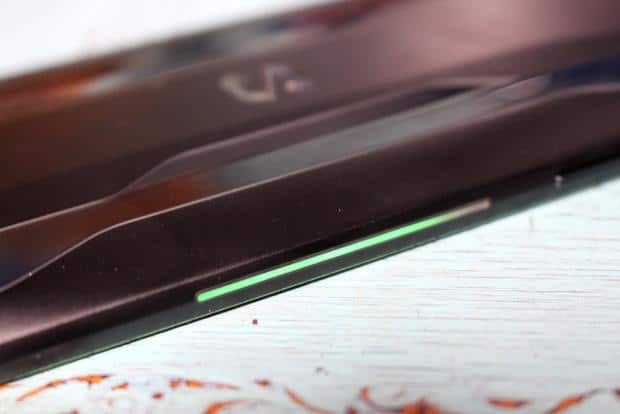 While it might not have the best refresh rate, the Black Shark 2's screen can boast another big advantage – with a latency of 43.5ms, it is being billed as the most responsive touchscreen yet seen on a smartphone. This is arguably more important than having a 120Mz panel, as it means your touches are acknowledged and translated into the game faster than normal. This is more than just marketing hype, too; we noticed that the phone felt more responsive than other devices we use on a regular basis.
It's worth noting that the Black Shark 2 has an optional gaming controller that snaps onto the handset and gives more responsive physical inputs. This costs around £60 extra, and while we didn't get a chance to test it, we'd argue that it's a pretty essential purchase if you're serious about mobile gaming.
Black Shark 2 Review: Software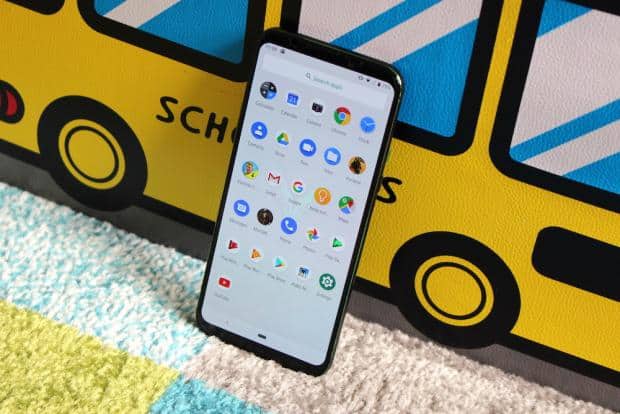 Pin
The Black Shark 2 may look like the kind of phone that ships with an overbearing custom UI skin, but we're pleased to report that it's rocking stock Android 9. It's clean and fast, and if you're a fan of Google's Pixel phones then you'll be right at home here.
There are a few unique features to mention, the most obvious of which are the Shark Space and Game Dock. Using the switch on the right-hand side of the phone, you can enable Shark Space at any time, which mutes all notifications and clears the system memory so you can focus solely on gaming. This gives a performance boost that ensures that even intense 3D titles run smoothly.
Game Dock is the in-game menu system which can be summoned during play. Simply slide inward from the top corner of the screen and a row of options appears. From here, you can adjust various settings to find your perfect configuration.
Outside of having to switch from Chinese to English when we powered on the unit, from a UI perspective the Black Shark 2 is a breeze to use, thanks mainly to the fact that it's running stock Android. There are a few niggles, though; when we were setting up the in-screen fingerprint scanner, the on-screen instruction told us it was located on the back of the device – a possible legacy issue with Black Shark using an untouched version of Google's OS, perhaps?
Black Shark 2 Review: Performance

The Black Shark 2 backs up its gaming credentials with some astonishingly powerful silicon; it's packing the Qualcomm Snapdragon 855 chipset and 8GB of RAM, bringing it firmly in line with 2019's flagship phones, like the Galaxy S10.
This translates into positively blistering performance levels, no matter what activity you happen to be involved in. Switching between apps is super-quick, and everything loads at a breakneck pace. Games run so smooth you'd swear you were playing on a dedicated games console; PlayerUnknown's Battlegrounds, for example, defaults to high graphical settings and still runs perfectly, as does Fortnite, its big rival in the 'Battle Royale' space. Switch on Shark Space and things become even more buttery smooth – in short, this is the ideal phone if you like playing games on the go.
However, Black Shark isn't content with just giving you peerless performance – it aims even higher than that. The device comes with an optional 'Ludicrous' mode, where even more processing power is put at the phone's disposal. This hike in power naturally draws more juice from the battery, so the phone's stamina suffers as a result, but one thing that doesn't go up is the operating temperature. This is because the Black Shark 2 has a cutting-edge multilayer liquid-cooling system which ensures that the innards never get too hot. We can vouch for this, too; we put the phone through some pretty demanding gaming tests and it never got uncomfortably hot.
Another aspect of mobile gaming that Black Shark has given serious thought to is cellular connectivity. The Black Shark 2 comes with the company's X-type Smart Antenna, which works alongside two more antennas to maintain a solid connection no matter where you are or how you happen to be holding your device. We can only rely on anecdotal evidence we've seen with our own eyes, but the Black Shark 2 managed to hold a solid connection all over the house, even in places where we normally struggle to get a mobile signal.
Black Shark 2 Review: Camera & Battery Life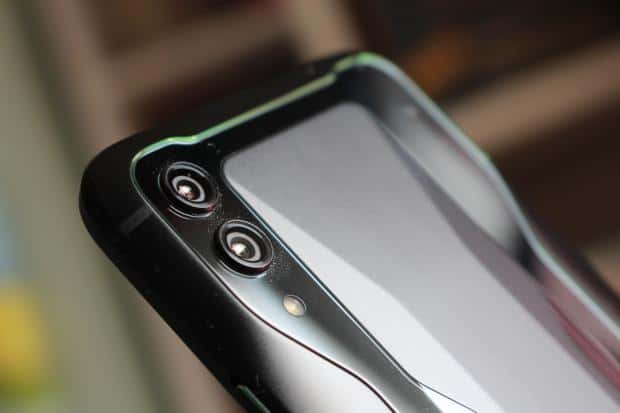 Pin
Given the insane specs elsewhere – and the focus on gaming – we were almost certain that the Black Shark 2 would suffer when it came to photography. Gamers are more concerned with frame rates and raw power than they are with selfies and bokeh effects, so we could have forgiven Black Shark for fitting this new phone with a so-so camera setup. While it's true that the Black Shark 2 isn't interested in playing 'sensor wars' with its rivals and only has two cameras, the actual setup is pretty decent.
The two 12 megapixel snappers work in tandem to create focus depth effects, and the phone is capable of shooting 4K video at 30fps, too. A 20-megapixel selfie cam helps round out the package.
Photo quality is surprisingly good, especially in conditions where there's plenty of light. Colours look vibrant, exposure is handled well and contrast is deep and convincing. Things do fall apart slightly when you're shooting in low-light environments, and the Black Shark 2 sadly lacks a 'Night' mode. The optical zoom afforded by the second lens makes up for this a little, though.
Check out the samples we took below. As you can see, performance drops off in dark locations.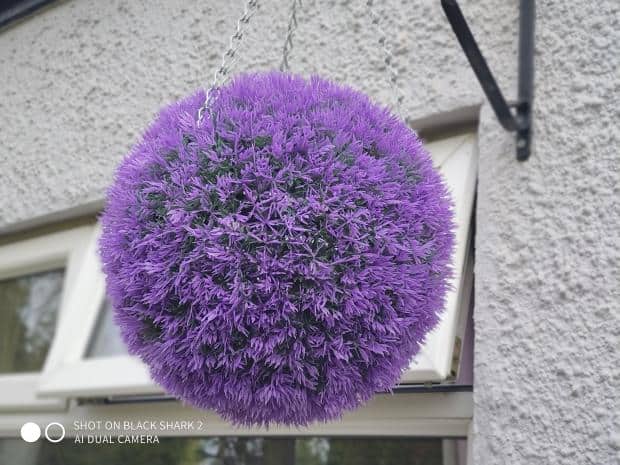 Pin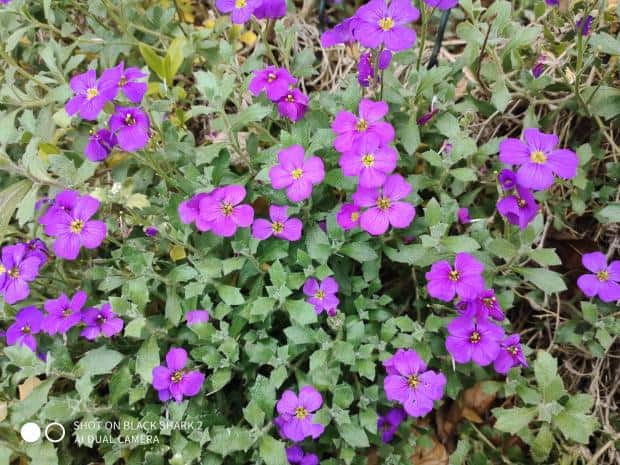 Pin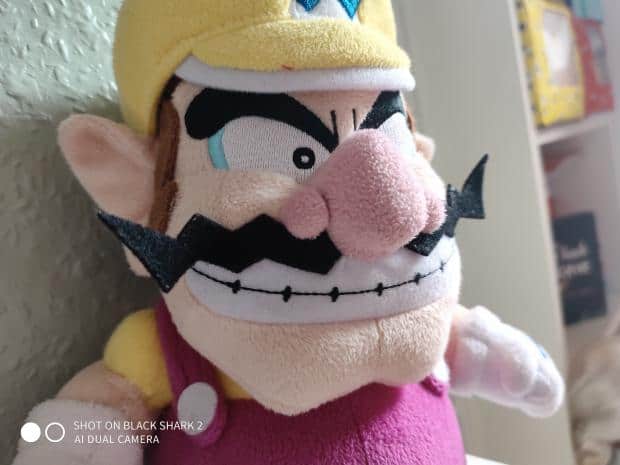 Pin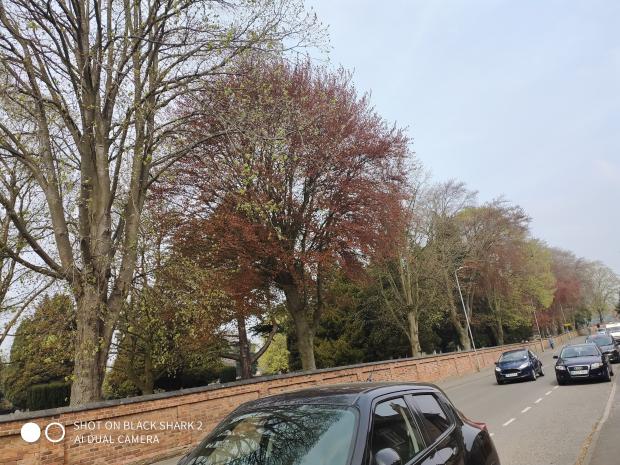 Pin
With a 4000mAh battery on-board, the Black Shark 2 has the stamina to last through an entire day of mixed usage. During our review, we used the device for web surfing, calls, messaging, music playback, Netflix and – of course – 3D gaming. Even when we adopted an aggressive usage pattern, the phone still had plenty of juice left in the tank at the close of the day – something we see less and less these days.
Add to this 27W fast charging – which is capable of giving you a full day of charge in around 30 minutes – and the Black Shark 2's staying power becomes even more impressive. Sadly, there's no wireless charging.
Black Shark 2 Review: Verdict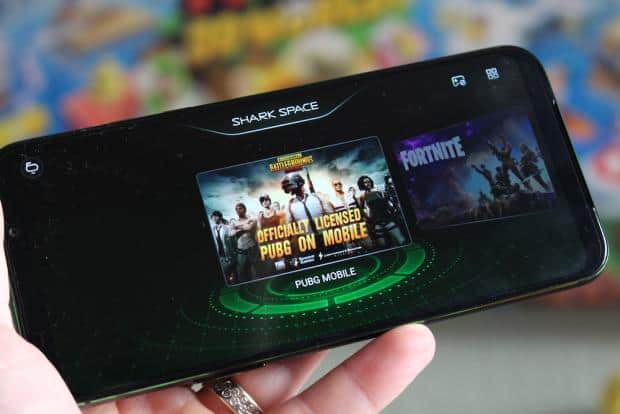 Pin
The Black Shark 2 has pretty much come out of nowhere and won our hearts. It's an insanely powerful Android device which, even if you're not a gamer, will enrich your mobile life. Stock Android, amazing reception, robust stamina, a fast touchscreen and an eye-catching design all combine to make this a real gem of a phone; if you happen to be into mobile games as well, then it really is the perfect device. When you consider that you can get all of this for less than £500, then it becomes almost impossible to give this anything but the highest recommendation. Wireless charging, a 120Hz screen, water resistance and a 3.5mm headphone socket would have been nice, but for around half the price of a Galaxy S10, it's hard to grumble too much.
Damien McFerran
Damien McFerran has been covering phones and mobile technology for well over a decade. An Android specialist, as well as an expert reviewer of phones, Damien is one of the best technology journalists working today. He is also editorial director over at the excellent Nintendo Life.