How To Use Notion AI: Beginner's Guide + Tips & Tricks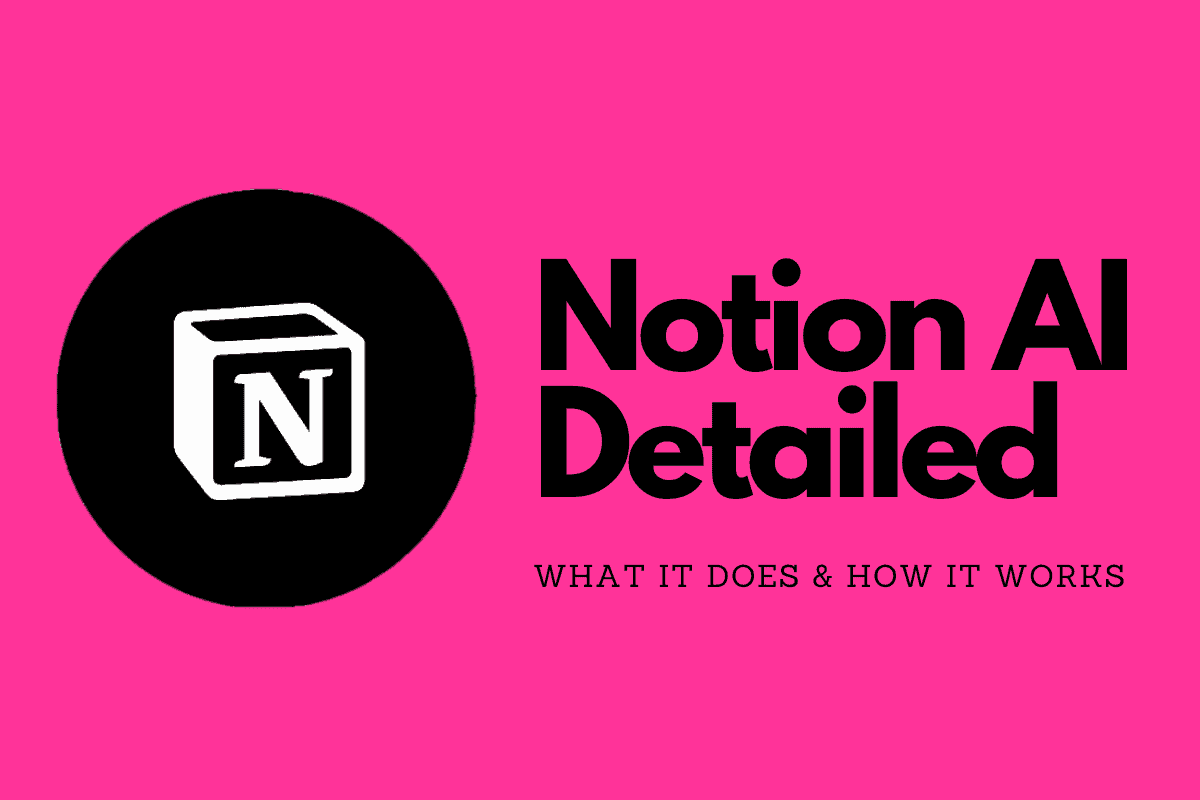 Notion now has its own AI and in this guide we'll show you how to get started with it, what it can do and, most importantly, how to use Notion AI…
---
---
Notion AI is a new feature – it costs $10 per month – for Notion. Like ChatGPT, Notion AI is a generative AI tool which means it can generate text and other things (charts, tables, and it can read and view stuff) inside Notion. 
Notion was already incredibly useful before, but the addition of Notion AI makes it a true-gamechanger when it comes to boosting productivity. I've been using Notion AI since it came out and, like ChatGPT, it has quickly become an indispensable tool in my daily workflow.
Notion AI
But the thing about Notion AI is that it is integrated into YOUR Notion, so it learns and adapts based on how YOU interact with it. Overtime, it understands your data, your databases, how you work and this, along with its myriad features and capabilities, make it a true ChatGPT alternative in every sense of the word.
Before we delve into Notion AI's features and capabilities, let's first go over how you get setup with Notion AI.
How To Get Notion AI
To access Notion AI, you first need to have a Notion account. If you don't already have one, you can get one by following the steps below:
Visit the Notion website
Click on the 'Sign Up' button on the top right corner of the page
You can sign up with your Google account, Apple ID, or with an email
Choose the option that works best for you
After signing up, you'll receive a confirmation email
Verify your email address to activate your account.
As noted above, Notion AI is a paid feature and it does not come bundled into any of Notion's plans, including its free ones. You can sign up for Notion AI via Notion's official site – it'll cost you $10 a month but it is well worth the investment.
What Can Notion AI Do?
How does Notion AI compare to ChatGPT? What can you do with when it is up and running on your Notion account? I've been using it for a few months now and it has quickly become a huge part of my workflow.
I was already massively impressive with Notion's capabilities before Notion AI launched. It has saved me hundreds of hours of work, helped me organize projects, my thoughts and ideas, and better communicate with my team of content creators, editors and developers.
Here are some helpful, super-actionable Notion tips and tricks for beginners.
But with Notion AI, things are the same – just a lot faster. I now no longer have spend any time thinking about updates or tweaks for long templates or adding in new sections to the Wiki or pulling in useful information from third-party sources. Notion AI does it all for me with just a few simple commands.
I've tried to include all the things I find most useful about Notion AI below. I'll add in more stuff as I discover it. With AI, the sky's really the limit with what you can do with it. But the points and features listed below will give you a good idea about what to expect from Notion AI's capabilities.
I've only just scratched the surface of what's possible with Notion AI, but I'm already really liking what I'm seeing and how it's improving not only my experience of using Notion, but also my productivity levels.
Notion AI Features
Here's a brief overview of just some of the cool things you can do with Notion AI…
Text Generation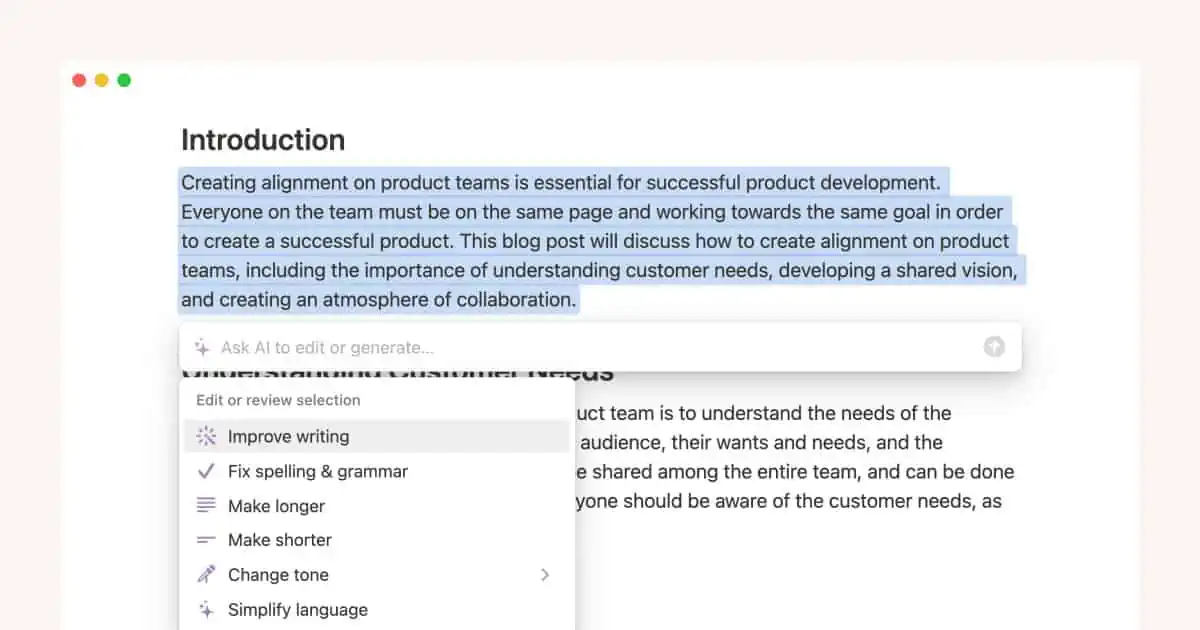 Notion AI's main feature is text generation. To use this, you simply provide a custom prompt, and the AI will generate text in various formats including paragraphs, bullet points, numbered lists, and tables. It's as easy as clicking on the 'Start Writing with AI' option when you open a new page in Notion. Whether you need help writing a report, creating a presentation, or just jotting down notes, Notion AI has got you covered.
Interactive Refinement
Once your text is generated, you can interact with the AI to refine the output to suit your needs better. Ask the AI to present the information in a different format, or give more specific instructions to get an output that matches what you were hoping for. Remember, you're in the driver's seat!
Improvement Over Time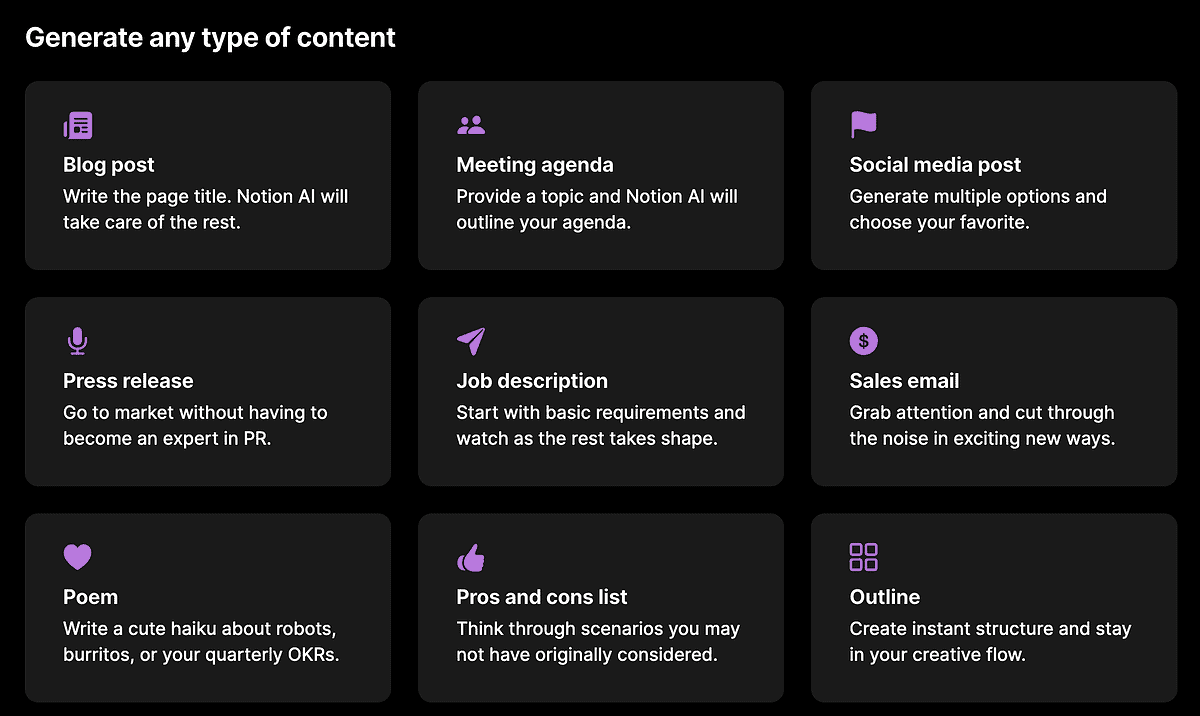 Like other machine learning models, Notion AI is designed to improve over time. The more you use it, the more accurate and relevant its outputs will become. So, if you're not entirely satisfied with the AI's initial responses, don't worry – it will get better!
Adapting Existing Text
Notion AI is great for improving existing text in your Notion workspace. It can take messy notes and refine them, suggest synonyms, translate words, and more. Highlight the section you want to refine, click 'Ask AI' in the formatting menu, and watch as your text is transformed.
Reformatting Text
Have a list of bullet points that you'd like to turn into a cohesive paragraph? Notion AI can help. By asking the AI to reformat your text, you can turn disjointed points into a coherent description that flows seamlessly.
Text Editing
Notion AI isn't just for creating new text – it's also a powerful editing tool. You can change the tone of content, approve writing changes, and translate text into different languages. Select a text and choose your desired action from the AI options.
Synonym Generation
When you're stuck for words or want to avoid repetition, Notion AI can help. Highlight a word or phrase, and the AI can provide you with synonyms or suggest a different way to express the same idea.
Spelling and Grammar Check
Maintain a polished and professional image with Notion AI's spelling and grammar check feature. Once you've finished any document in Notion, use this feature to ensure everything is correctly spelled and grammatically sound.
Brainstorming Ideas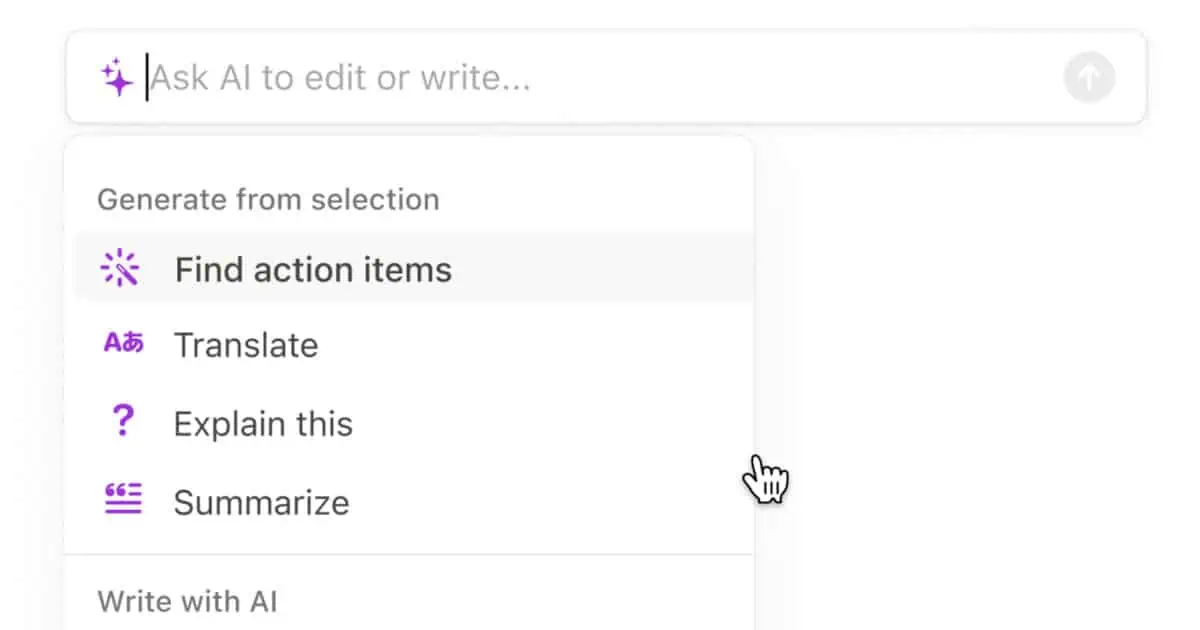 If you're struggling to come up with new ideas or topics to cover, Notion AI can help. By selecting the 'Brainstorm Ideas' prompt, the AI can provide you with additional points or topics, acting as your personal brainstorming buddy.
Text Condensing
If you need to shorten a lengthy piece of text without losing its key ideas, Notion AI has you covered. The 'Make Shorter' prompt will condense your writing, saving you time and effort.
AI Blocks
AI blocks are a special feature in Notion that extract useful insights from the page you're working on. They can be included within buttons and database templates, helping you to integrate AI capabilities into your workflow seamlessly.
What Are the Basics of Using Notion According to the 2023 Edition Beginner's Guide?
The 2023 Edition Beginner's Guide is a comprehensive resource for getting started with notion. It covers the basics of using Notion, including creating pages, adding and organizing content, and collaborating with others. With this guide, beginners can gain a solid understanding of Notion's features and functionalities, allowing them to navigate and utilize the platform effectively. Start exploring Notion with the definitive beginner's guide.
Quick Access
With the keyboard shortcut command J, you can access Notion AI in a flash. Whether you need to generate a new piece of text or edit an existing one, Notion AI is just a shortcut away.
Is Notion AI Worth It?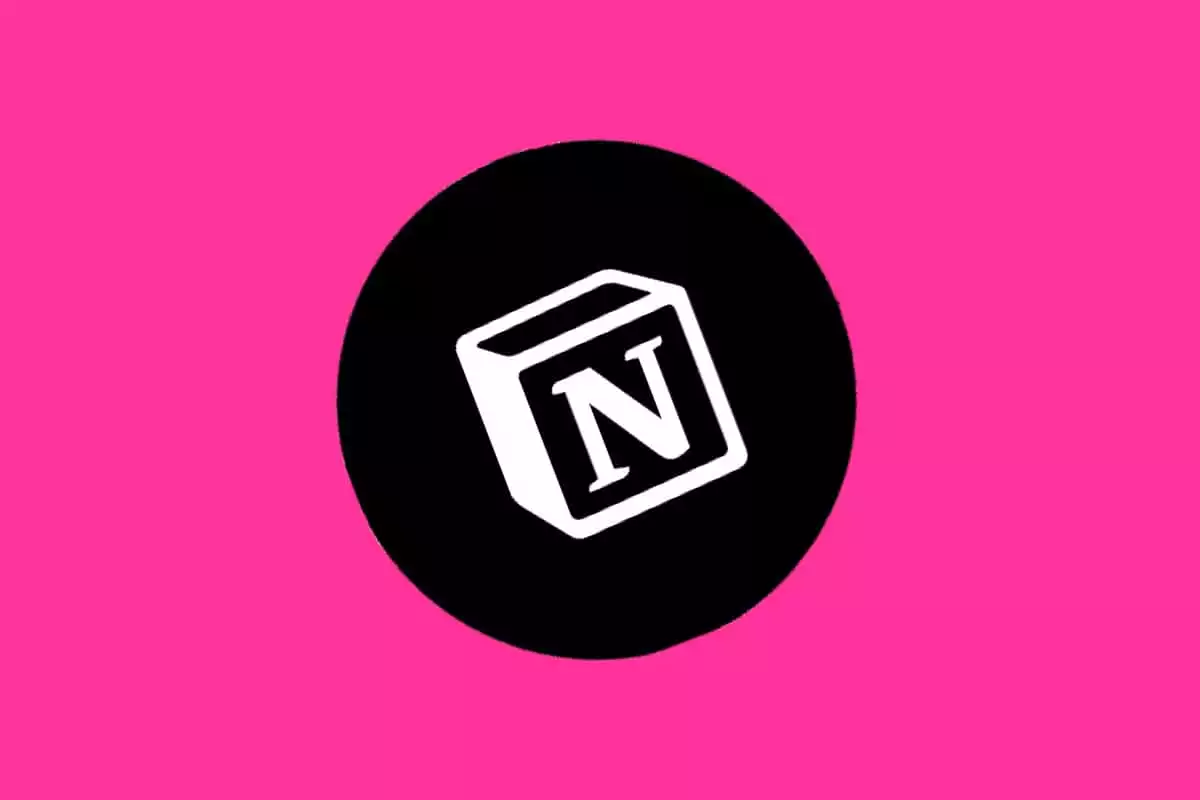 Notion AI is brilliant. I use it literally everyday. It has quickly become a main component of how I get things done and how I use Notion as a platform. Is it better than ChatGPT? When it comes to text generation, probably not – ChatGPT 4 is still the king in this regard.
But that's not the point of Notion AI, really. Notion AI is designed more as an assistant, a tool that can help you get stuff done inside Notion.
But for me the best part of Notion AI is that it can A) quickly crawl EVERYTHING you have inside Notion, including large databases and data sets, and B) that it actively learns how you and your team work the more you use it, opening up loads of potential, new possibilities.
It is amazing for drafting emails, content, planning out new projects, and for sending quick updates to your team. Notion AI helped me completely rewrite our style guide, something I have been putting off for months, in less than 20 minutes. The last time I did it it took me over 90 minutes.
Beyond this, Notion AI just makes using and finding things inside Notion all the easier. You can quickly build out tables and content based on existing data within your profile or, if you'd prefer, have the AI go out and source new, additional information for you. As a productivity tool, it is brilliant.
For this reason, if you are using Notion I would 100% recommend you also use Notion AI. For $10 a month, it is incredible value for money. And it is also significantly cheaper than ChatGPT Plus too which, at $20 a month, is currently double the price.