The EASY Way To Cancel Subscriptions on iPhone (2023 Guide)
---
---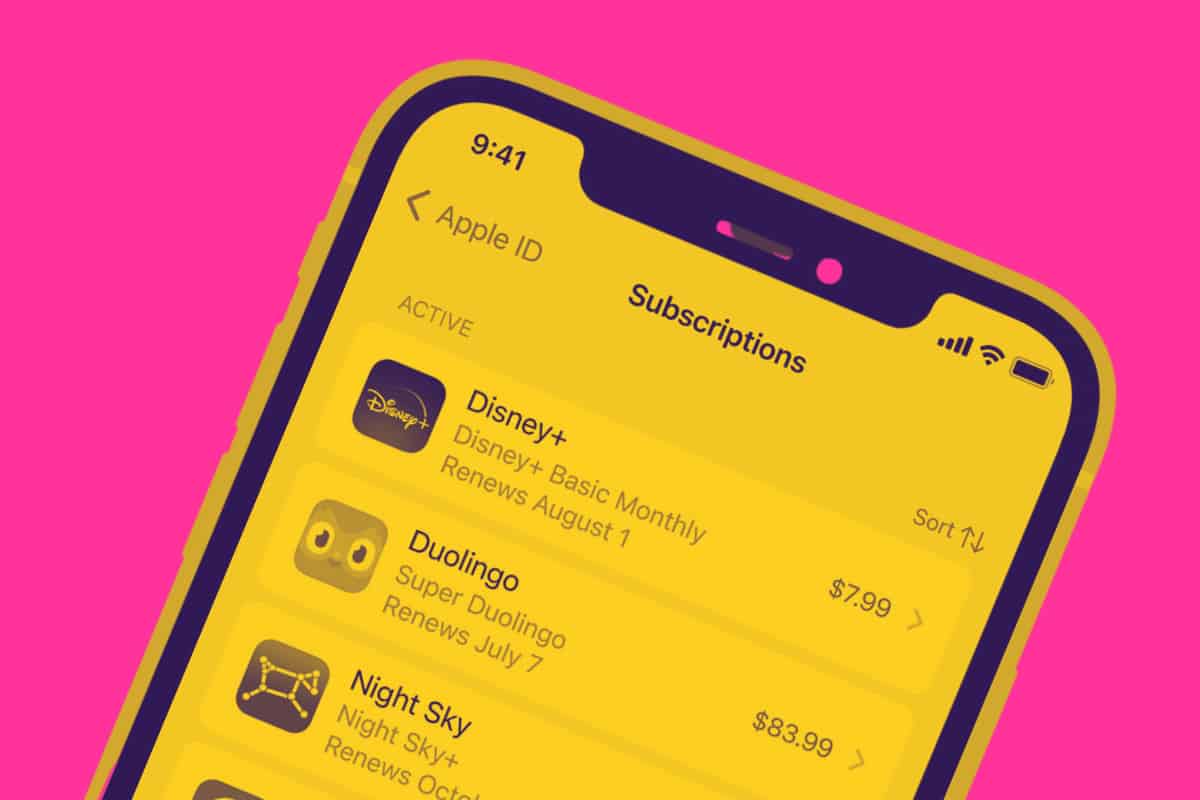 In this simple guide, we'll show you exactly how to cancel subscriptions on iPhone, iPad, and iPod Touch. It's super simple, just follow the steps below and you're done…
---
Apple lets you manage all your subscriptions in one place, so you can always see what you're subscribed to at any time, see how much it costs you, and see when the subscription will automatically renew or expire.
And in an age where most applications and services require monthly subscriptions, having the ability to view your active subscriptions is of the utmost importance.
Using this feature will let you stay on top of how much subscriptions are costing you per month and how long you've been using them.
On top of this, and most importantly, it gives you a simple method for canceling subscriptions.
How To Cancel Subscriptions On iPhone
Here's how to view and cancel your subscriptions on your iPhone:
Open the Settings app.
At the top of the Settings app tap your Apple ID profile (this will be your name and picture).
On the Apple ID screen, tap Subscriptions.
On the Subscription screen, you'll see all your active and expired subscriptions. If you have an active subscription and want to cancel it, tap that subscription in the Active list.
On the Subscription screen tap Cancel Subscription.
A popup will appear asking you if you want to really cancel the subscription. Click Confirm.
And that's it! Now that subscription will not renew. If you still have some time left on the current subscription, you'll still be able to use it until the original date it would have expired on.
One IMPORTANT note: some subscription services you use on your iPhone, for example, Netflix, might not appear on your Subscriptions screen in the steps above. If a subscription you know you have doesn't appear there it means you did not sign up for that subscription through the App Store or an in-app purchase.
In that case, you'll need to go to the subscription service's website to find out how to cancel it.
For instance, if you want to cancel Netflix, for instance, go to the Netflix site, log into your account, go to settings, and cancel your membership. Alternatively, you can just click here to cancel your Netflix account.
One more thing: if you're using an older version of iOS on your iPhone you may not find your subscriptions in the steps listed above. If that's the case you'll need to cancel them this alternate way:
How To Cancel Subscriptions on Older Versions of iOS (Below iOS 13)
If you have an older version of iOS, here is how you can cancel subscriptions on iPhone:
Open the Settings app on your iPhone.
Tap the section where it has your Apple ID name and info.
Tap iTunes & App Store.
Tap on your Apple ID name at the top.
In the pop-up window, choose View Apple ID.
Tap Subscriptions.
Tap on the subscription you want to cancel.
On the next screen tap on Cancel Subscription.
How To Cancel Subscriptions on iTunes
If you don't want (or cannot) cancel subscriptions on your iPhone (or iPad) for whatever reason, another simple way of doing it is via iTunes.
Here's how you cancel subscriptions in iTunes:
Open iTunes on your PC/Mac, click Account > View My Account
Sign in with your Apple ID, then click View My Account
Go down to Settings > Click Manage (next to Subscriptions)
Select the Subscription you want to delete, and click Edit
From here, you'll be able to Cancel Subscription or Cancel Free Trial
Pick which one you want, then click Confirm
It Wasn't Always Easy To Cancel Subscriptions on iPhone
Back in the day, it was a MAJOR pain to cancel subscriptions. When people subscribed to physical magazines, you literally needed to call the company and argue with them to not let your subscription auto-renew. In the digital age, canceling a subscription has gotten a bit easier – though some digital subscriptions make you jump through hoops still to cancel it. That's unless you sign up for the digital subscription through an iPhone app.
Apple has done a tremendous job of making it dead simple for people to cancel subscriptions to apps, publications, and services they subscribed to on their iPhone.
It doesn't matter if that subscription is to Apple's own services, like Apple Music, third-party apps like Tinder, or digital subscriptions like magazines. The short of it is, if you used an Apple service (in-app purchases included) to sign up for a subscription, you can cancel that subscription just as easily on your iPhone.
On modern iPhones, so any iPhone running iOS 13 and above, you can do all of this from inside a single app (as shown in method #1 at the top of this post). This allows you to easily stay on top of all your subscriptions and only keep the ones you use most active. It's super handy and a great tool to have at your disposal.
And check out Why Does Apple Keep Charging Me?
Michael Grothaus
Apple expert and novelist, Michael Grothaus has been covering tech on KnowYourMobile for the best part of 10 years. Prior to this, he worked at Apple. And before that, he was a film journalist. Michael is a published author; his book Epiphany Jones was voted as one of the best novels about Hollywood by Entertainment Weekly. Michael is also a writer at other publications including VICE and Fast Company.