The Sonic Live-Action Movie Is The Stuff Of Nightmares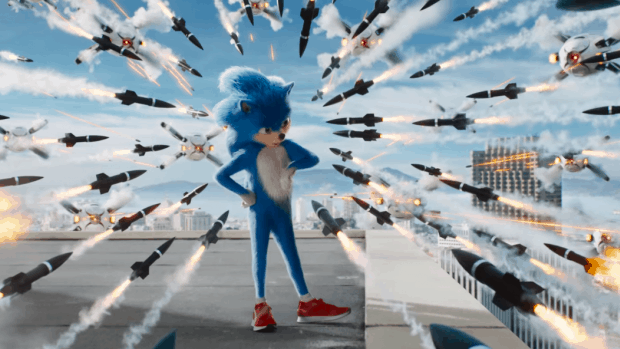 "Er, meow?"
Video games don't have the best track record when it comes to movies. We've had cinematic disasters like The Super Mario Bros. Movie, Double Dragon, Street Fighter, Dead or Alive and Alone in the Dark; all massive duds which wipe away the good work done by (minor) successes like Mortal Kombat, Tomb Raider and Resident Evil.
This year, we're getting two pretty major movies based on games. The first is Detective Pikachu, which – as you'll probably guess – is based on Nintendo's insanely popular Pokemon franchise. The buzz around Detective Pikachu has been incredibly positive, thanks to some decent trailers and the fact that because of Pokemon GO, people can't seem to get enough of those loveable Pocket Monsters.
Then we have Sonic the Hedgehog. This movie has been in development for a while and has been subject to quite a lot of negative press; the first teaser posters alarmed many fans, and the fact that Jim Carrey is playing Sonic's foe Dr. Robotnik seemed to worry many long-time lovers of the blue blur.
Now, we have the first trailer for the film, and it has done little to calm the fears of the Sonic faithful. Voiced by Ben Schwartz, Sonic looks like a man in a suit – which is weird cos he's clearly CGI. Instead of being the cute animal we remember from the games, Sonic has adult-sized proportions. In short, he looks really, really weird, and fans haven't taken it well.
James Marsden plays Sonic's human companion, and looks as confused as the rest of us. However, it seems that Carrey himself is going to get a lot of screen time, if the trailer is anything to go by. Interestingly, he's not CGI – although a section at the very end of the trailer hints that he'll eventually look a lot closer to his video game self (presumably to set up some kind of sequel).
Paramount will launch the Sonic film in November, so there's still plenty of time to get angry and worked up about how the studio has ruined your childhood. In the meantime, we suggest you go and watch Detective Pikachu and try and forget about that trailer.