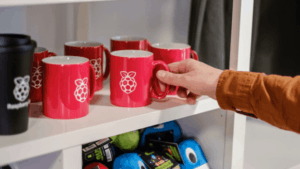 The Raspberry Pi mini-computer has been in the headlines for years now thanks to the fact that it offers consumers and bedroom coders a cheap yet powerful means of creating a small computer that can do all kinds of amazing stuff – like serving as a programming tool, media box, music player or even gaming device.
While Raspberry Pi has enjoyed a certain degree of fame with geeks and gamers, it hasn't quite burst into the mainstream consciousness quite yet – but that may be about to change as the company behind the system has just opened its first bricks-and-mortar retail store in Cambridge (where its HQ is based, incidentally).
This isn't some boxy little unit on some forgotten side-street, either; the Raspberry Pi store has taken pride of place in some prime retail real estate, and is situated in Cambridge's lush Grand Arcade.
Inside the store, you can demo a Raspberry Pi unit to see what it's capable of, purchase a starter pack which contains all you need to begin your coding adventure, chat with knowledgeable staff about the potential of the system or simply show your love for Raspberry Pi by purchasing one of the many items of merchandise.
Given the niche appeal of the platform, opening an expensive retail store might seem like a foolish venture, but Raspberry Pi has been a real success story and having a retail presence on the high street can only help the brand; also, given that the store is situated in Cambridge where the company is based, it could even serve as a useful way of attracting potential new staff.
It's not known if more Raspberry Pi stores are planned for elsewhere in the world, but we have to admit, we like the look of this first outlet – and things like this can only help to make these unique gadgets more appealing and 'normal', which is excellent news for those of us who want to dabble in low-level coding or have aspirations of creating something bigger. Just as the ZX Spectrum and Commodore 64 inspired legions of bedroom coders in the '80s, the Raspberry Pi is doing its bit to create a new generation of content makers – hopefully this first retail store is the start of something even bigger for the firm.