Oops! Samsung LEAKS its Entire 2019 Wearables Range
---
---
Pin
Someone is going to get fired…
The release of the upcoming Samsung Galaxy S10 has been plagued by leaks, so much so that we're not entirely sure the Korean company will have all that much to show that's not already known when it officially announces the handset later this month, on February 20th.
However, the latest leak to hit Samsung is totally self-inflicted and relates to the company's range of wearables, all of which are part of the wider Galaxy range.
Four new products have been added to Samsung's existing wearables app for Android, now known as Galaxy Wearable (you might remember it as Samsung Gear, but the company has phased out the 'Gear' branding in favour of Galaxy now). First up is the Galaxy Watch Active, which leaked a while back and is Samsung's flagship smartwatch. The app states that it has a 40mm case and comes in two colours.
Then we have the Galaxy Fit and Galaxy Fit e, two new wearables focused on fitness. These will no doubt be significantly cheaper than the Watch Active and boast rubber wrist straps. This is the first time either of these two products have been seen, but there's no indication at this stage what differentiates them, apart from the name.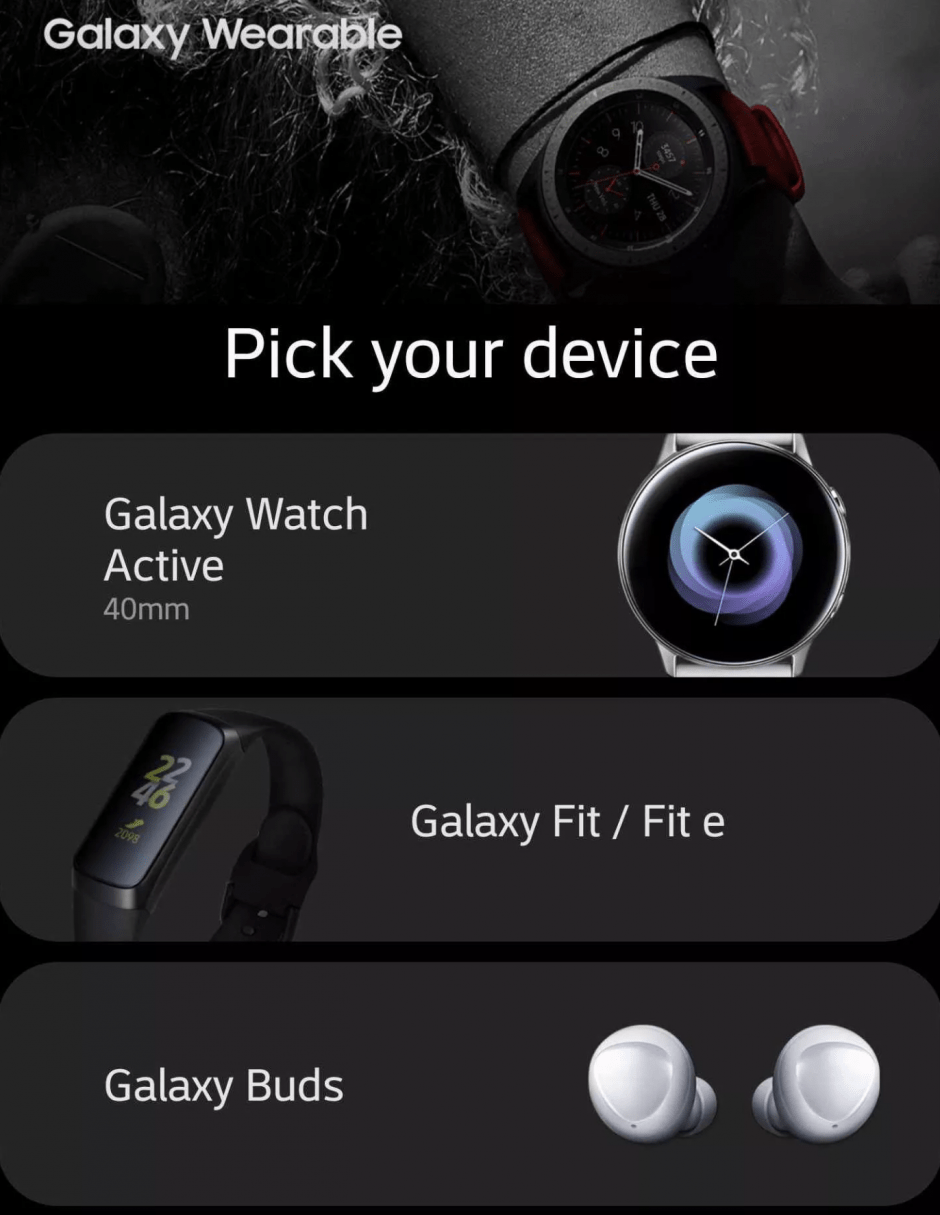 Pin
Finally, we have the Galaxy Buds, Samsung's latest attempt to dethrone Apple's AirPods. Like the Watch Active, these were leaked a short time ago and, if rumours are true, can be wirelessly charged using the Galaxy S10 itself.
Whoever is responsible for all of this information going live prior to the official announcement on February 20th must be very worried for their job right now, if they're even still employed at Samsung. While these wearables clearly aren't the biggest thing the company is working on right now – that would be the S10 itself, or the much-hyped folding phone which is expected to be revealed at the same time – it is nonetheless embarrassing to have four of your key 2019 products leaked via your own app ahead of time.
Still, at least it gives us the chance to snoop around Samsung's lineup this year – do any of these products get your pulse racing?
Source: The Verge
Damien McFerran
Damien McFerran has been covering phones and mobile technology for well over a decade. An Android specialist, as well as an expert reviewer of phones, Damien is one of the best technology journalists working today. He is also editorial director over at the excellent Nintendo Life.