Motorola One Vision Has A 21:9 Hole-Punch Screen
---
---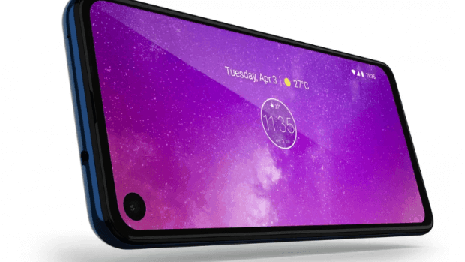 Motorola was one of the mobile industry's biggest movers and shakers many years ago, but now it has been overtaken by the likes of Samsung, Huawei and Apple. That doesn't mean it can't pull out some neat tricks when it wants to, though – as the One Vision smartphone proves.
The phone's 6.3-inch LCD screen has a 21:9 aspect ratio, and Motorola is branding it 'CinemaVision' because it's ideal for watching movies on. Sony has pulled the same trick recently, but the One Vision looks less tall and awkward to our eyes. The resolution is 1080 x 2520 – nothing special – but the hole-punch screen means the device looks more like the Honor View 20 and less like an iPhone XS.
Motorola One Vision Specs & Features – It's Kinda More About The Software… 
Despite that eye-catching screen, the One Vision is perhaps less impressive when it comes to pure processing grunt. It's rocking a mid-range Samsung Exynos 9609 processor and 'only' has 4GB of RAM. There's 128GB of storage – which can be expanded – and a workmanlike 3,500mAh battery. Because it's part of Google's Android One programme, the One Vision will get a near-stock UI experience and is guaranteed to get updates for at least the next three years. So from a software standpoint, it's an interesting device, too.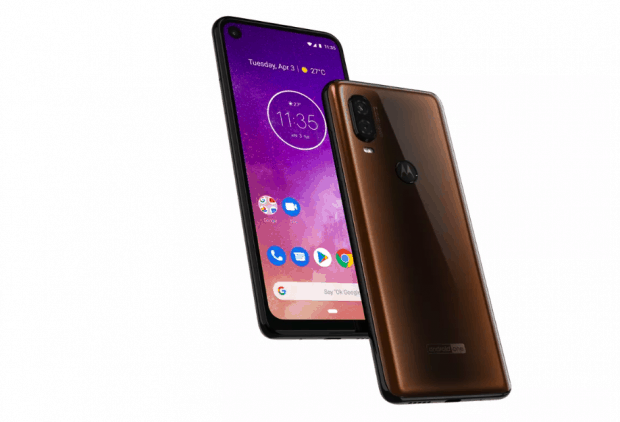 Pin
Things are a little more interesting when it comes to the camera setup. There's a 48-megapixel camera on the back (although, like other phones, it actually combines these pixels to create good-quality 12-megapixel images). Motorola is saying that this process offers "four times the light sensitivity". There's a second camera on the rear, but it's used to capture depth data instead of take images. The selfie-cam is 25-megapixel, but in low light the phone reduces this to get the best image.
Sounds pretty interesting, right? Could the One Vision be a newcomer in the mid-range battle? Not quite. It launched in Brazil this week for €299 RRP and will hit Mexico next week. Other countries in Latin America will also be getting the phone and we've been told that a European release is coming, but there are no plans for a US launch, which suggests this is very much an 'emerging markets' deal rather than an effort by Motorola to chase after those potential Pixel 3a customers – which is a shame, because we could see this device being a big success, perhaps even to the level of the game-changing Moto G.
Source: The Verge
Damien McFerran
Damien McFerran has been covering phones and mobile technology for well over a decade. An Android specialist, as well as an expert reviewer of phones, Damien is one of the best technology journalists working today. He is also editorial director over at the excellent Nintendo Life.