iPhone 14 Pro Camera Updates: Is It A DSLR-Killer?
---
---
Apple's iPhone 14 Pro models have some KILLER updates. Here's everything you need to know about the iPhone 14 Pro's camera…
---
2022 will be the year Apple really adds a gulf between its Pro model iPhone 14 and its standard models. The base model iPhone 14 – the iPhone 14 and iPhone 14 Plus – will ship with last year's CPU and miss out on some pretty massive camera updates.
As expected, all the major updates to the camera module are exclusive to Apple's iPhone 14 Pro models. The iPhone 14 and iPhone 14 Plus run pretty much the same camera module as the iPhone 13, just with a slightly larger aperture for better low-light performance which is slightly disappointing for fans of Apple's non-Pro iPhone models.
Following increased competition, Apple has now caved and adopted higher megapixel sensors on its iPhone 14 Pro models, switching out the old 12MP sensor for a new 48MP sensor, bringing the iPhone 14 Pro and Pro Max very much back in line with the market leaders like Samsung and Google.
iPhone 14 Pro Camera Specs
Main Sensor: 48 MP, f/1.8, 24mm (wide), 1.22µm, dual pixel PDAF, sensor-shift OIS
Telephoto: 12 MP, f/2.8, 77mm (telephoto), PDAF, OIS, 3x optical zoom
Ultrawide: 12 MP, f/2.2, 13mm, 120˚ (ultrawide), 1.4µm, dual pixel PDAF
Additional Sensors: TOF 3D LiDAR scanner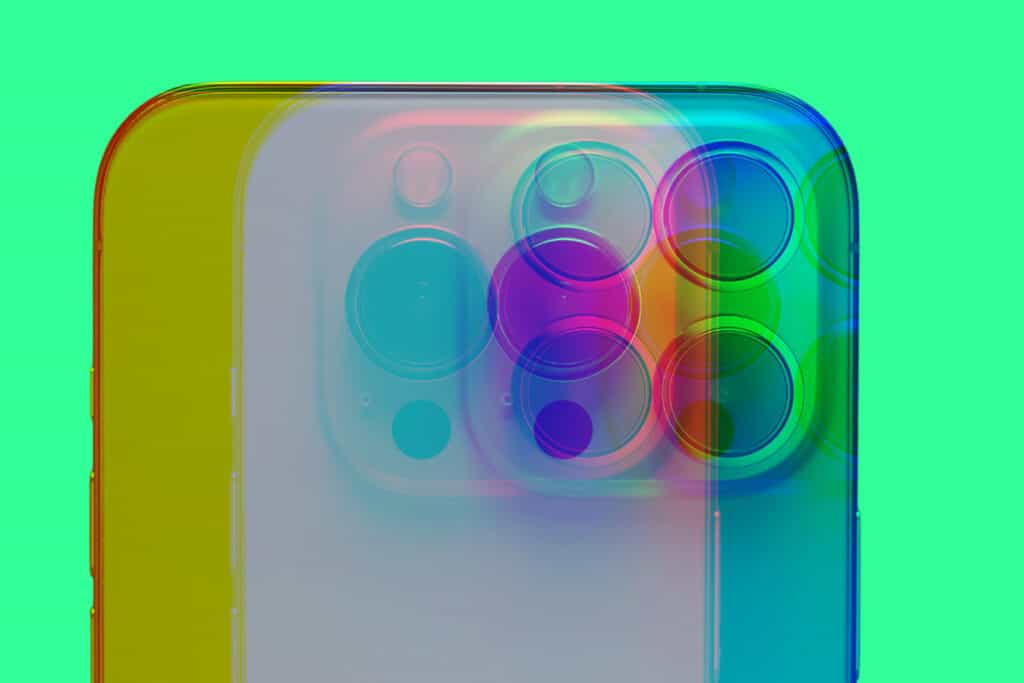 iPhone 14 Pro's New 48MP Sensor
Obviously, the main event here is the new 48MP wide sensor. From what we can tell from the launch event, the camera, by default, will bin pixels together in groups of 4 – 12MP, although users will be able to shoot images in the sensor's full 48MP by using the 14 Pro's ProRAW setting.
By leaving the iPhone 14 Pro's camera in default mode, the phone's software will intelligently switch between pixel-binning and high-res photos. Once ProRAW is enabled, however, these settings will be completely bypassed and the camera will default to its full 48MP capacity, complete with post-processing to deliver the best possible shot.
New Telephoto Zoom Step
Apple has also tweaked the zoom capabilities of the iPhone 14 Pro's camera module, adding in a 2x step between 1x and 3x zoom options. Apple calls this "optical-zoom quality" and it will be made from a crop taken from the 48MP sensor. This new zoom option will be available in both normal shooting modes and Portrait mode, allowing for more creative freedom when setting up a scene.
A New & Updated Ultrawide For iPhone 14 Pro
The iPhone 14 Pro runs a 12MP ultrawide just like the iPhone 13 Pro, only this time around the sensor is bigger (it has an F2.2 aperture) and will allow for more light, improving low light picture quality by as much as three times over the iPhone 13 Pro through a combination of the new sensor and Apple's new Photonic Engine which is an updated version of Apple's machine learning-driven Deep Fusion.
Apple claims the updates it has made to both the ultrawide and telephoto sensors, combined with its new Photonic Engine, will result in "2x better low light photos" – although it did not elaborate how this figure was measured or what phone it was compared to. Presumably, Apple is referring to the iPhone 13 Pro.
Deep Fusion Becomes Photonic Engine
The best way to think about Photonic Engine is as an extension of Deep Fusion. It is a machine learning-based algorithm that processes images on a pixel-by-pixel basis, improving their overall quality and detail. It can reduce noise, apply things like HDR, and make images captured in low light look significantly better.
It's basically a great addition to iPhone and something that you'll notice immediately when taking photos, especially when shooting in low light and/or using the iPhone 14's Night Mode. Here's how Apple described it at the iPhone 14's launch event:
Through a deep integration of hardware and software, Photonic Engine improves mid- to low-light performance for photos across all cameras: up to 2x on the Ultra Wide camera, 2x on the TrueDepth camera, and an impressive 2.5x on the new Main camera. Photonic Engine enables this dramatic increase in quality by applying the computational benefits of Deep Fusion earlier in the imaging process to deliver extraordinary detail, and preserve subtle textures, provide better color, and maintain more information in a photo.

Apple
And the best part? Apple's Photonic Engine is available in all iPhone 14 models, not just the iPhone 14 Pro and iPhone 14 Pro Max.
Improved Selfie Cameras
With the iPhone 14's front-facing cameras, again, on all models, you now have a wider aperture (F1.9) that will let significantly more light in and auto-focus as standard. By comparison, Apple's iPhone 13 range used fixed-focus front-facing cameras with an aperture of F/2.2. This isn't a big update by any stretch of the imagination but it will make selfies look better and improve the quality and lighting of FaceTime calls.
You can now order the iPhone 14 – click here for all the latest deals.
Richard Goodwin
Richard Goodwin has been working as a tech journalist for over 10 years. He is the editor and owner of KnowYourMobile.