Google Birthday Surprise Spinner: Let's Get Kids To Code!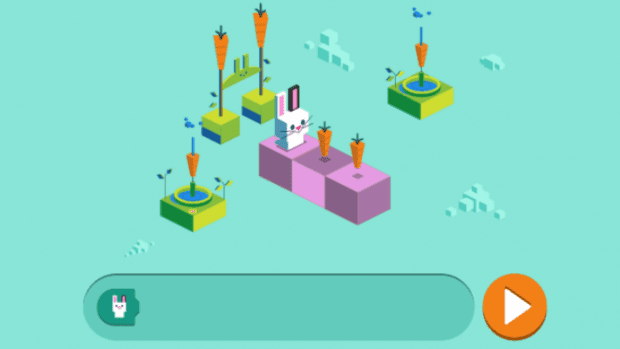 Google's celebrating the 50 year anniversary of the launch of the coding language Logo – the coding language aimed specifically at helping children learn to code.
To commemorate the occasion in typical Google style, the firm has released an interactive Doodle game called Coding For Carrots.
The game tasks players with using basic MIT Scratch programming on-screen by locking coding blocks together as part of six puzzle levels, doing so will help a fluffy bunny collect, you guessed it, carrots.
Coding For Carrots is the result of a collaborative effort between the Google Doodle team, Google Blockly team, and researchers from MIT Scratch, it was developed for Computer Science Education Week.
It adds to the growing catalog of interactive Google Doodle games, and as part of Google's 19th birthday celebration, the firm compiled its best games into a Birthday Surprise Spinner which will randomly select games for you to play.
The Birthday Surprise Spinner includes classic titles such as Pac-man, Solitaire, and Pony Express re-jigged in the Google Doodle style, plus there's also a version of Snake in there.
You can keep spinning the Spinner to find the games you like, and once you've opened them you can save them as bookmarks to bypass the spinner in the future.
Alternatively, we've got the links for you below!
How Do You Learn To Code?
For whatever reason, there is still some resistance in the UK about kids and coding.
The UK Government seems more interested in tests and things like Shakespeare, whereas a solid grounding in coding is WAY more useful than an encyclopedic grape of the Bard's works.
Still, there are plenty of options online for kids that want to learn to code. YouTube is the most obvious.
However, if you're looking for a more focussed approach to coding, you'll definitely want to check out UDEMY.
If you're interested in learning more about coding – the language that makes web apps, games, and software possible – you're in luck.
It has never been easier to learn a new skill.
UDEMY has hundreds of courses on coding, which you can download and start using today.
Prices start at less than £20/$20, and for this price, you're basically getting what most college courses charge thousands for.
I use UDEMY all the time to add new skills to my skillset, have done for years, as it is one of the best resources on the web for learning.
A new skill, developed over the course of 12-18 months, can help you move careers, start a new business, and make more money.
The way of learning is changing. College degrees aren't the last word when it comes to skills anymore.
If you've got the drive and want to learn, UDEMY is a great place to learn and pick up more skills.