Amazon 2019 Launch – Echo Buds, Speakers, Ovens, Frames & Samual L. Jackson
---
---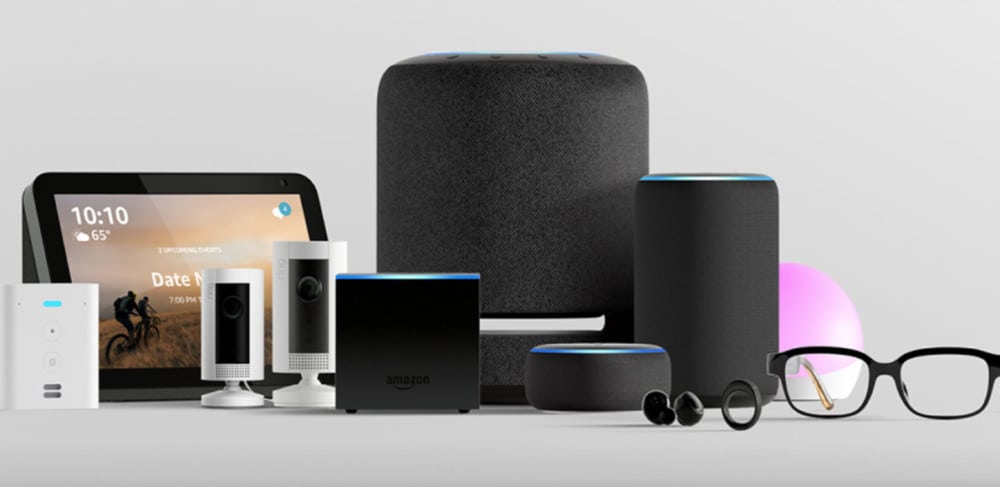 [ss_click_to_tweet tweet="The Amazon 2018 launch event was, umm… totally nuts! It announced 14 products in 90 minutes. 14!" content="The Amazon 2018 launch event was, umm… totally nuts! It announced 14 products in 90 minutes. 14!" style="default"]
And in case you missed it, here's what was announced at the Amazon 2019 launch event:
Amazon 2019 Launch Event – Everything That Was Announced…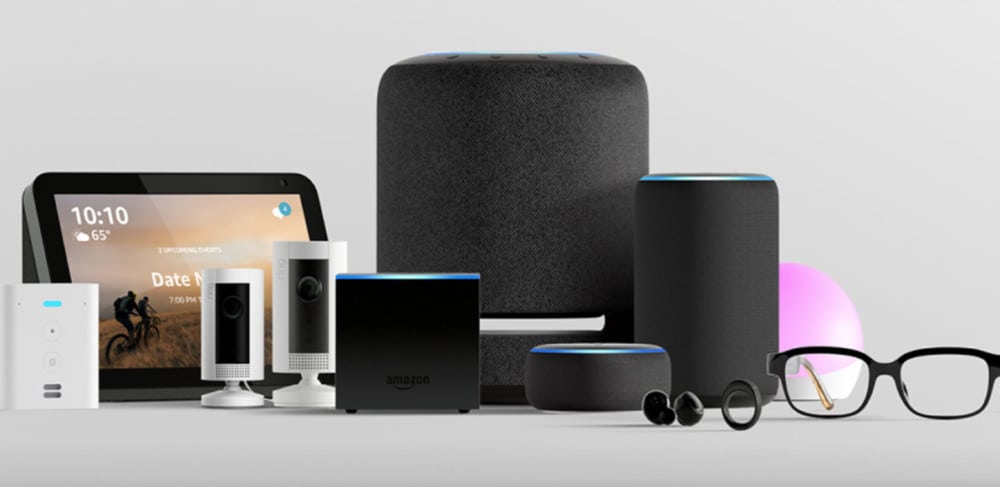 Pin
Amazon Echo Dot with Clock ($59.99)
Samuel L. Jackson voice for Alexa ($0.99)
All-new Amazon Echo ($99.99)
Amazon Echo Studio ($199.99)
Amazon Echo Show 8 ($129.99)
Amazon Eero (from $99/£99)
Amazon Echo Flex ($24.99)
Retrofit alarm kit (from $199)
All-new stick-up cam ($99.99)
Ring Indoor Cam ($59.99
Ring Stick-up Cam ($99.99)
Amazon Smart Oven ($249.99)
Amazon Echo Buds ($129.99)
Amazon Echo Frames ($179.99, invite-only)
Amazon Echo Loop ($129.99, invite-only)
Crazy, right? I mean, Amazon just went on stage and launched a product in pretty much every major consumer technology category going. The only thing missing was a car and a drone!
As events go, this one was pretty memorable. Especially if you're used to sitting through a 3-hour Apple event where the only new thing announced is a camera and processor. Going into the event, I had no idea Amazon had this much stuff planned for 2019/20.
Let's take an individual look at exactly what was announced, one by one and have a guess about which will be HOT and which could potentially FLOP.
Amazon 2019 Launch Products Detailed
Amazon Echo Dot with Clock – Amazon Alexa processed over 2 billion requests for the time. That's almost the entire population of China. For this reason, the company decided to build an Amazon Echo Dot with a Clock built into called the Amazon Echo Dot with Clock.
Samuel L. Jackson's voice for Alexa – Like Samual L. Jackson? Well, you can now use his voice for Alexa on all Alexa-powered devices. Just don't go expecting any swearing…
All-new Amazon Echo – Amazon took the wraps off a completely revamped Amazon Echo that features updated neodymium drivers and a 3in woofer for better bass response. A new color was added too: twilight blue. Prices remain the same at $99.99.
Amazon Echo Studio – The Amazon Echo Studio is the latest flagship offering inside Amazon's range of smart speakers. The Echo Studio is designed to compete with Apple's HomePod. Amazon says it has the best-sounding audio of any smart speaker currently on the market. It runs Alexa too, obviously.
Amazon Echo Show 8 – The Amazon Echo Show 8 is the latest smart display device in Amazon's popular Show range. The Amazon Echo Show 8 features an 8in display, the current largest in the range. Users will get access to the Food Network TV channel as well. On top of this, Alexa can save any recipes you watch that you like the look of. Pretty cool stuff.
Amazon Eero – The Amazon Eero is a mesh network Wi-Fi router system. What's a WiFi mesh network? Put simply, it works like this: rather than having one router in your home, you have a network of routers. This means you get better coverage around your house. A single Amazon Eero will cost $99 and a pack of three $249.
Amazon Echo Flex – The Amazon Echo Flex is basically a plug-style device that connects to your mains and runs Alexa. The big thing here is the price; the Echo Flex is cheap – just $24 – so you could, technically, buy one for every room in your house and live out your darkest 2001: A Space Odyssey fantasizes for less than $150.
Amazon Smart Oven – Fancy letting Alexa cook your meals? Well, that's what the Amazon Smart Oven does. It's a pricey convection cooker that runs Alexa. So all you have to do is plop some food in it and tell Alexa what to do with it. Fancy? Yes. Essential? Not really…
Amazon Echo Buds – Amazon fancies dethroning Apple's AirPods as the world's favorite true wireless earbuds. The newly launched Amazon Echo Buds feature Bose's marketing-leading noise-canceling technology, support both Siri, Google Assistant, and Amazon Alexa, and claim excellent, AirPods-beating battery life. And the price? $129.99. So a whole lot cheaper than Apple's AirPods. And you get more functionality and better sound. Consider me sold!
Amazon Echo Frames – Remember Google Glass? Well, Amazon fancies another stab at the smart glasses niche. And its Echo Frames, which run Alexa, is its first attempt. They aren't available to buy just yet, but when they are you'll be able to get prescription frames in them. How do they work? Simple, they pair with your phone to send notifications to your ears using directional speakers that only you can hear. No word on a release date just yet, but the Amazon Echo Frames do sound pretty darn cool.
Amazon Echo Loop – The Amazon Echo Loop is a smart ring and, as far as I'm aware, it is the first of its kind. You wear it on your finger and it runs Amazon's Alexa. To activate it, you press a small button with your thumb, and then Alexa will take your commands. It can even talk. In order to get it functional, you have to pair it with your phone via Bluetooth.
What's The Take-Away From Amazon's 2019 Launch Event?
Pretty simple, really: Amazon wants Alexa in EVERYTHING inside your home – from your cooker to your plug sockets. This product range, for want of a better word, is insane. I cannot ever recall covering such an expansive and diverse range of products in one sitting…
But this is Amazon's ace in the hole; it's the world's biggest retailer. It has tens of millions of monthly customers, so why not get into the hardware business properly. And while you're at it, quickly make Alexa the most-used voice assistant on the planet.
Amazon has tried and failed with phones and tablets. Apple and Google's hardware partners control that market. But Amazon could easily control the voice-assistant device market. It has the products, it has the audience, and with these two things in place, who can stop it?
For me, the coolest things announced at the Amazon 2019 launch event were the Echo Buds and the Echo Studio. I'm a bit of a music lover, so these two products immediately struck a chord with me. The Echo Buds, for instance, are cheaper than Apple's AirPods, feature Bose's noise-canceling technology, and will deliver excellent sound quality. I'm sold already and I haven't even tried them!
I also think the Echo Studio will go on to wipe the floor with Apple's HomePod. Alexa is more open to third-party applications by its very nature and this, combined with the serious audio equipment and specs used inside the Echo Studio, should make it one of the best selling smart speakers this Christmas.
I would like to improve on a particular skills or task,
I believe I can always get better, and would like an opportunity to gain new experiences that will help me become better at anything I undertake.
Does your company offer any extended training courses that I can take advantage of?
Richard Goodwin
Richard Goodwin has been working as a tech journalist for over 10 years. He has written for Den of Geek, Fortean Times, IT PRO, PC Pro, ALPHR, and many other technology sites. He is the editor and owner of KnowYourMobile.