OptinMonster Pricing & Reviews – Is It 100% Worth The Price?
---
---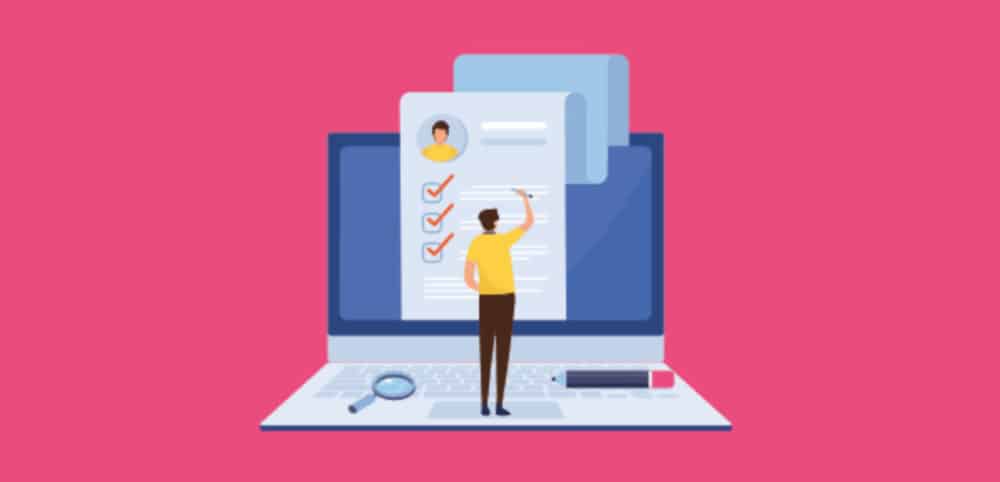 OptinMonster is one of the most well-known email capture applications on the planet, promising to increase conversions by 600% – but is it worth the asking price?
---
If you're looking at increasing your email opt-in capture by as much as 600%, OptinMonster is a name you've probably heard before. OptinMonster is one of the most long-standing and well-respected email-lead capture applications on the planet and is used by hundreds of thousands of online brands, big and small. It is an essential conversation rate optimization application that delivers exceptional results.
But does it live up to the hype? First, let's take a macro-look at OptinMonster reviews from around the web.
OptinMonster Reviews – Verdicts From Around The Web…
[ninja_tables id="90057″]
As you can see, OptinMonster is highly rated by a host of internet marketing gurus. I am also a big fan of the software too, and the reason is simple: it works really well and it is super-easy to use. You do not need any HTML or coding experience to build forms in OptinMonster and installing the software on your site is a cinch, especially if you're on WordPress, as it's all handled by a plugin.
And if you're using WordPress, you HAVE to make sure you have the best possible hosting – check out our #1 picks for the top WordPress hosting right now.
Who is OptinMonster Designed For?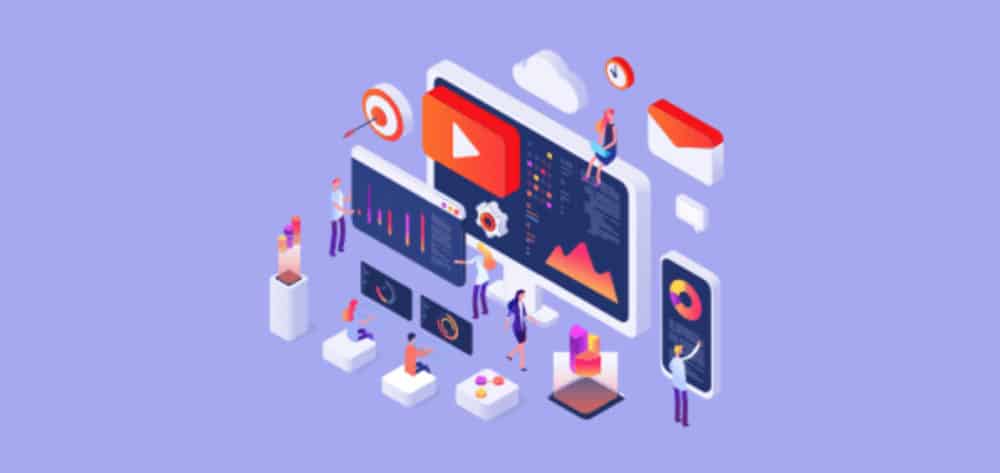 Pin
Anyone. Literally, anyone that runs an online website. It can be a retail/e-commerce store, a news/reviews website like KnowYourMobile, or a blog about your dog's toilet habits – it can be used to collect email leads on all kinds of sites.
And it doesn't matter if you are brand new to blogging or you have been working online for years, having a solid, reliable formula for collecting new email leads is essential. Don't believe me? Just look at the stats: people are more likely to buy via email than they are simply by reading something inside one of your posts.
This is why "marketing types" can often be heard saying, the money's in the list.. It's in the list because, contrary to popular beliefs, email is still the #1 channel for conversions for retailers, bloggers, and e-commerce websites. This is why Fortune 500 companies spend billions on it every single year.
OptinMonster Features – Basic Overview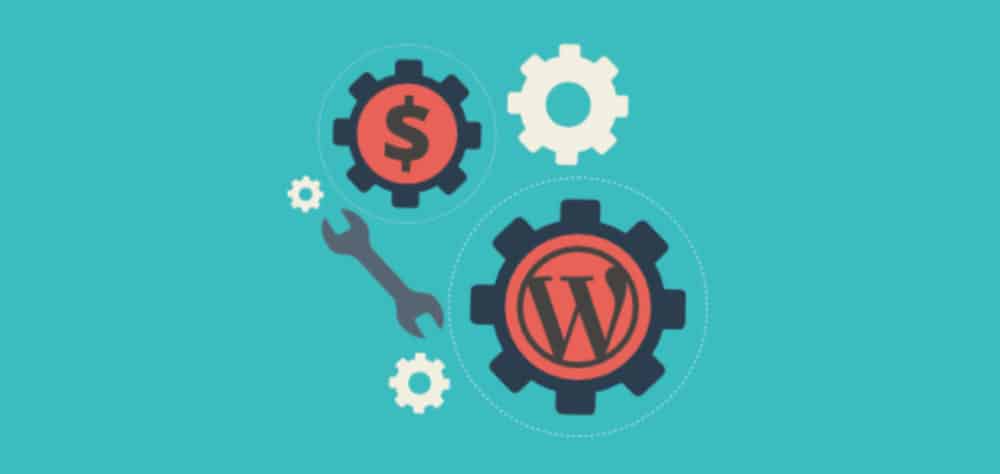 Pin
Sliders – Create opt-in forms that slide into view; these are less intrusive and great for promoting offers and deals.
Pop-Up/Exit Intent Forms – OptinMonster knows when someone is about to click away from your site. You can assign a trigger for this event to fire a pop-up email capture form. These ones convert massively!
Hello Bars/Floating Bars – You can have a floating bar at the top or bottom of your site's page (desktop and mobile). This is great for promoting offers, capturing leads, and pushing new content.
A/B Testing – With OptinMonster, you can CRO the crap outta your email campaigns by testing different designs (A/B testing) in order to find out which was the most popular. Once you know which performed the best, you switch over to using that one.
Get Specific With Triggers – OptinMonster lets you target all kinds of things from exit intent to specific pages and user locations. You do this in Display Rules and it ensures your campaigns are ONLY seen by people that are interested in that EXACT subject matter.
MonsterLinks – Create hyperlinks that, when clicked, open up one of your email capture campaigns. These can be placed anywhere on your site and are great for using specific phrases to capture specific types of leads.
Loads of Premium Templates – Not a designer? No worries! OptinMonster comes with TONS of free templates for you to work with. These templates are easy to customize and make your own as well. Perfect for newbie marketers or those without a dedicated designer on the books
Email Marketing Tool Integration – OptinMonster integrates with all the biggest email platforms out there, from ConvertKit to MailChimp and Aweber – all the big boys are present and accounted for.
Analytics – OptinMonster's dashboard features handy analytics, so you can see how your campaigns are doing, how many impressions they have had, and how many leads have been captured.
These are OptinMonster's basic features. But they're really just the tip of the iceberg. You can do A LOT of cool stuff with OptinMonster, and new features are being added in all the time. For instance, when I first started using it, location-based triggers cost extra. Nowadays it comes as standard.
OptinMonster has also massively improved the editor since I first started using it. It's now perhaps one of the best email opt-in/landing page builders on the planet. All you have to do is drag and drop elements, add your copy and images, and you're good to go live.
How To Make Your First OptinMonster Campaign
As noted above, creating and implementing an OptinMonster campaign on your WordPress site is a cinch. OptinMonster's editor is super straight-forward to use. But rather than subjecting you to a wall of text, I'll show you visually how it's done.
Step 1: Create a Campaign 

Pin
In order to get going, you need to select Create Campaign. Click this and you'll be directed to the next step in building out your first OptinMonster campaign.
Step 2: Choose Type Form You Want

Pin
Now you have to choose the type of form you want to show on your site. As I said, OptinMonster has lots of form types and they all work great, although some work better than others for certain things. Example: Pop-Up and Fullscreen are great for capturing leads quickly, as they dominate the viewer's display.
Floating Bar and Inline are more subtle. Ideally, you want a variety of offers and opt-in forms running. Test them, see which converts the best and why, and apply your findings to future forms.
Step 3: Pick A Template For Your Form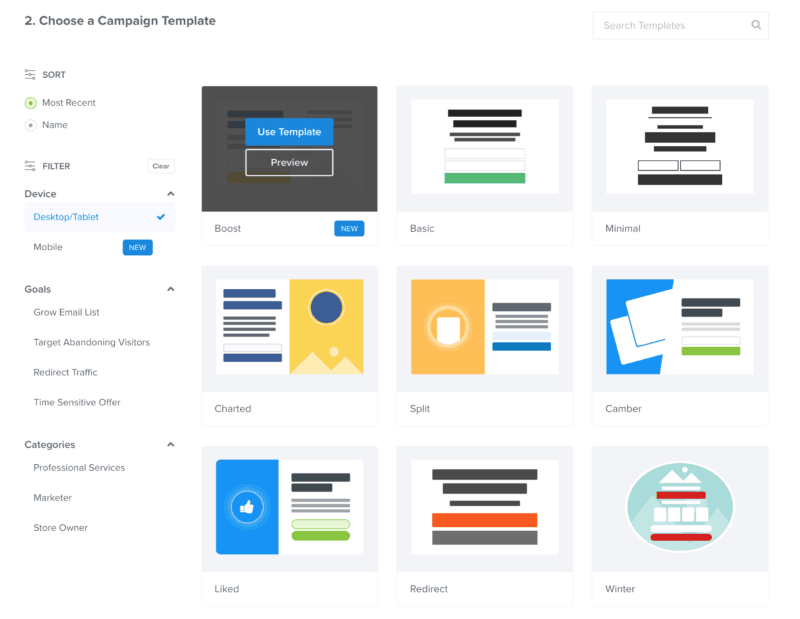 Pin
There are A LOT of templates. Most of them are brilliant too, so all you have to do is switch around the images and change the copy and you're away. Have a look at each one, using Preview Template, and see which fits best to your brand. If you know HTML and coding, you also have the option to build your own from scratch.
Step 4: Give Your Form A Name & Assign It To A Site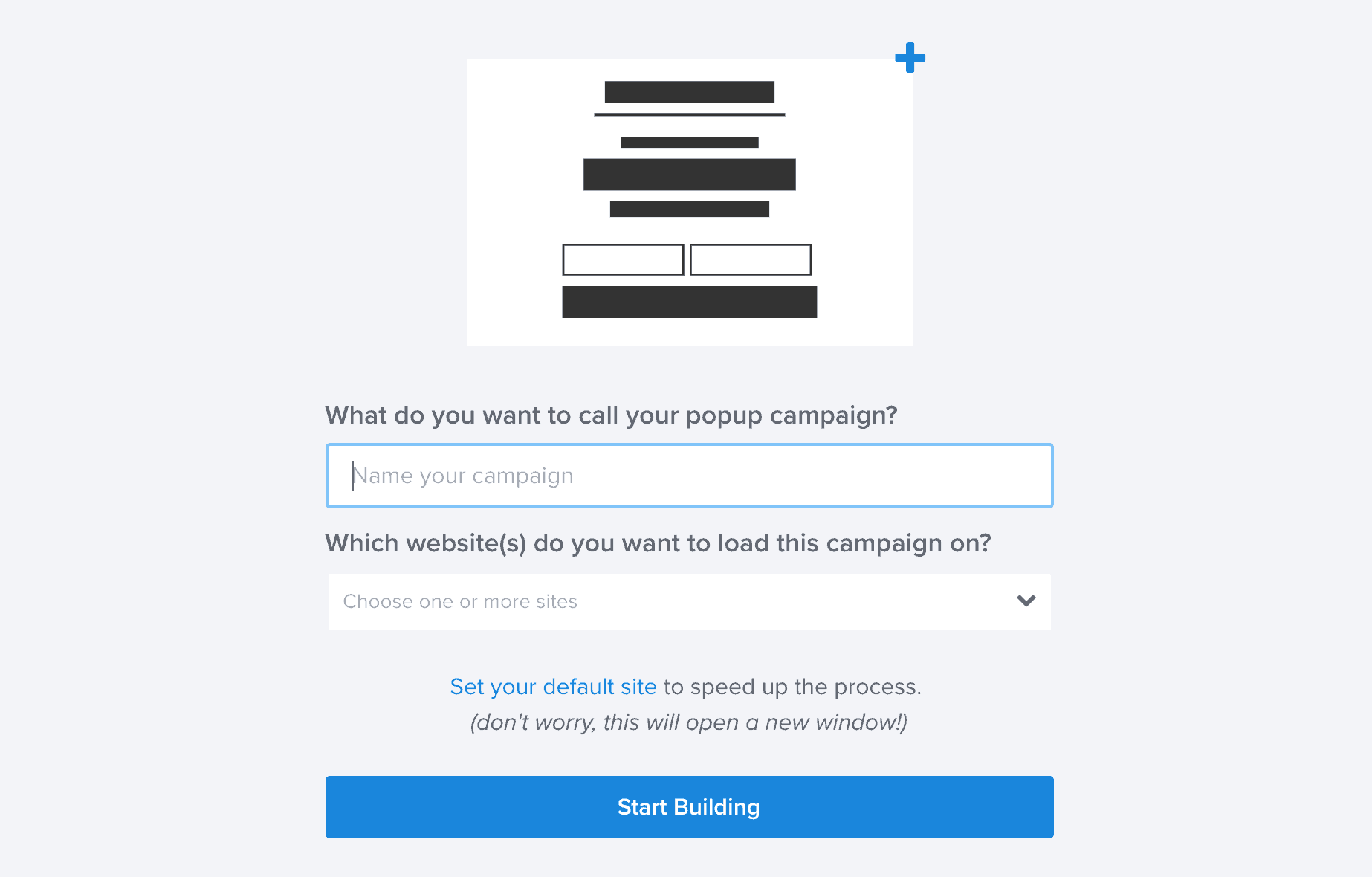 Pin
You'll want to give each campaign a name, something specific that tells you EXACTLY what the goal of this particular form is. For instance, one could be for Fans of Photography and another could be for Marketing Tips & Software Reviews. These are ONLY for your reference, so don't worry about anyone else seeing them.
Step 5: Use The Editor To Customize The Form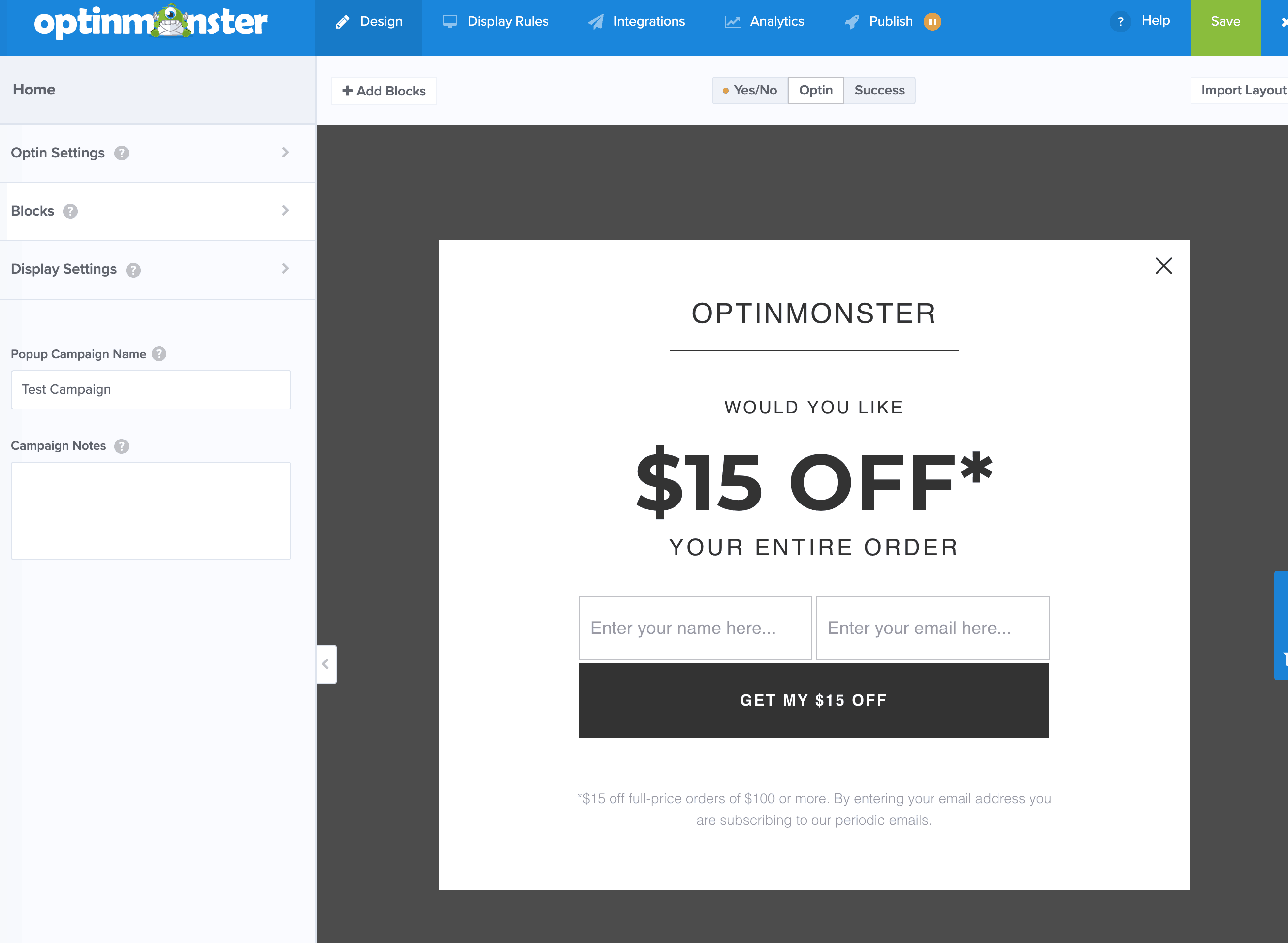 Pin
This is the editor, where you can alter pretty much everything about your campaign's form. You can add images, change fonts, add text, additional boxes, more CTAs – whatever! The sky's the limit inside this thing and everything works via drag n' drop and is super-simple to work with. The best thing to do is just have a play around and see what you can come up with.
Step 6: Set-Up Display Rules (AKA When It Will Show)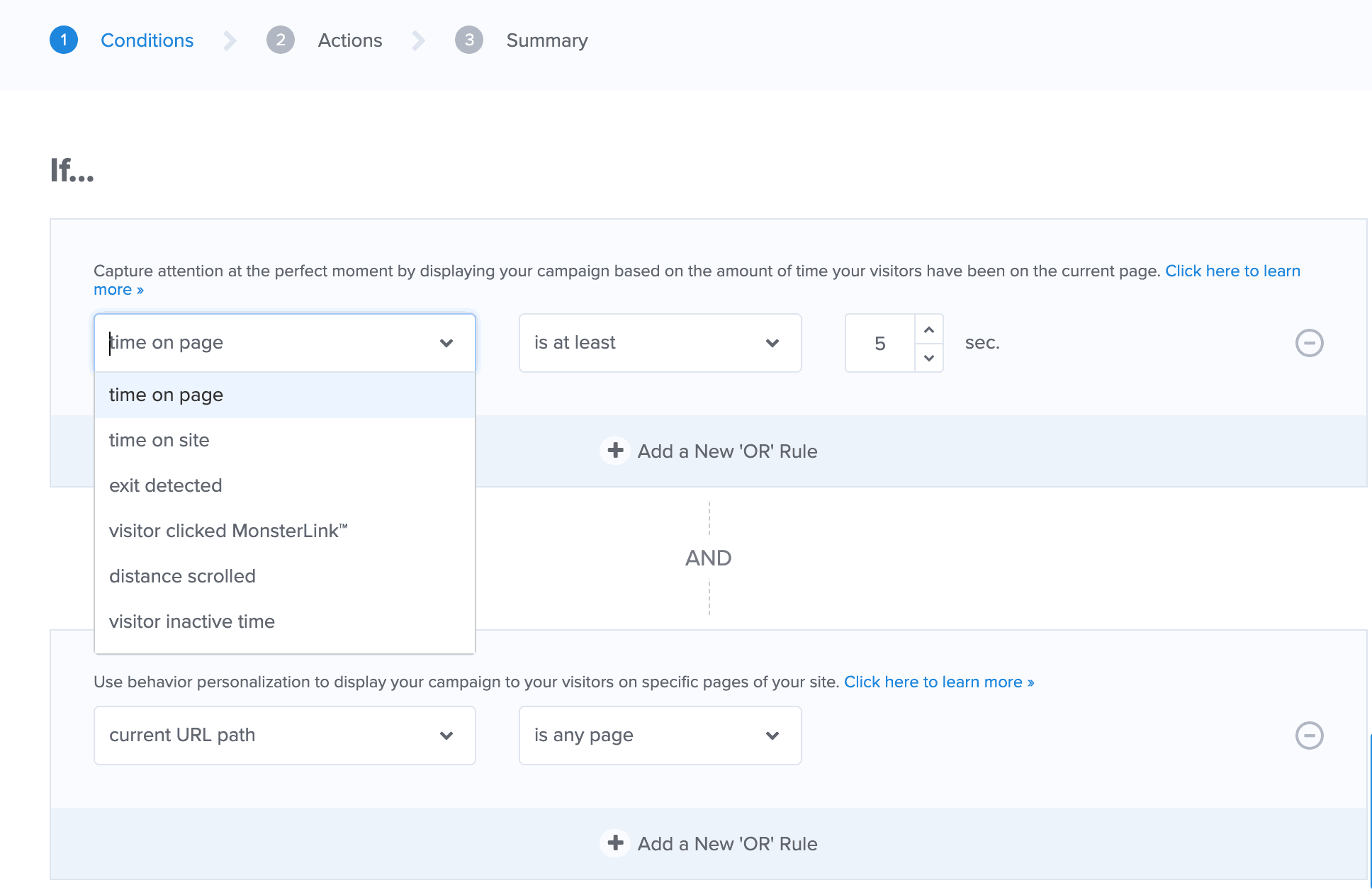 Pin
Setting up display rules is simple, but vital. You don't normally want your form showing to ALL of your users – not unless it is super generic. In order to maximize conversions, it is advisable to target email opt-in campaigns to certain pages of your site.
Example: for a photography-based email list, you'd assign a rule to ONLY show the campaign on posts with photography, camera, photo in the URL. This way, the campaign, whether a pop-up, slider, or full-screen job, will be specifically tailored to that reader's interests.
Step 7: Connect Form To Email Marketing Tool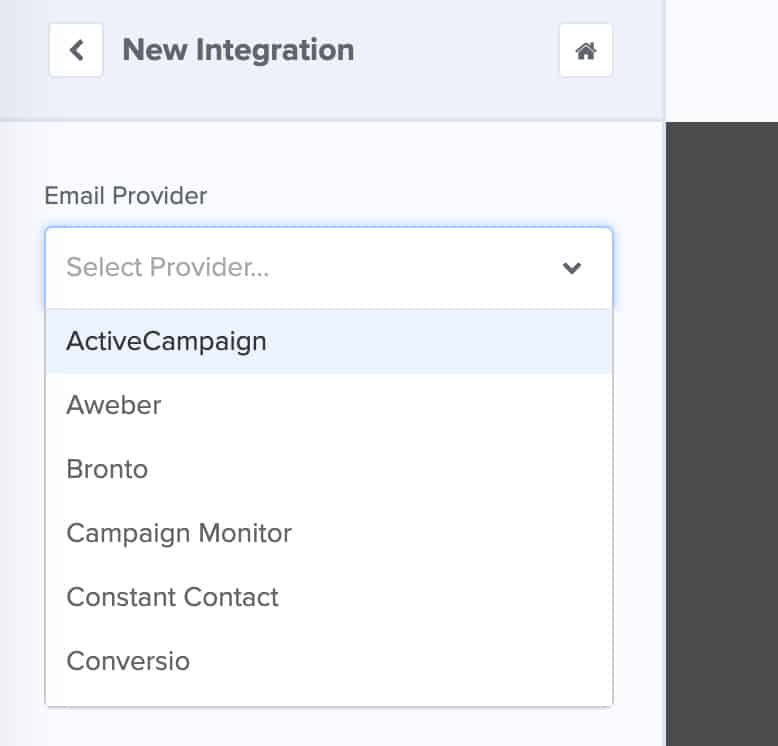 Pin
Once your campaign is ready, you'll need to connect it to an auto-responder or email marketing software. OptinMonster supports basically every major email marketing company on the planet, so unless you're using something completely new or unknown, you shouldn't have any issues connecting OptinMonster up to your email tool.
Personally, I use ConvertKit. For me, it is the #1 email marketing platform on the planet. Ideal for bloggers and e-commerce alike, ConvertKit is ALL about the subscriber. And it is a monumentally powerful tool for developing and building relationships with your most dedicated customers and readers. Check out how ConvertKit wipes the floor with Aweber, for instance.
Step 8: Connect From To Google Analytics To Track Performance (Optional) 
Pin
If you want to track your campaign's performance in Google Analytics, you can do. Setup is simple: just enter you login details and OptinMonster does the rest. You don't have to do this; it's totally optional. But if you're big on CRO, it's definitely worth doing.
Step 9: Put The Form Live on Your Site
Pin
Once you've done ALL that, it's time to put your campaign live. All you have to do is click the PAUSED button, switching it to LIVE. Next, go to your WordPress site, find the OptinMonster plugin, click refresh campaigns, and click to put your campaign live.
OptinMonster Best Features – What I Like Most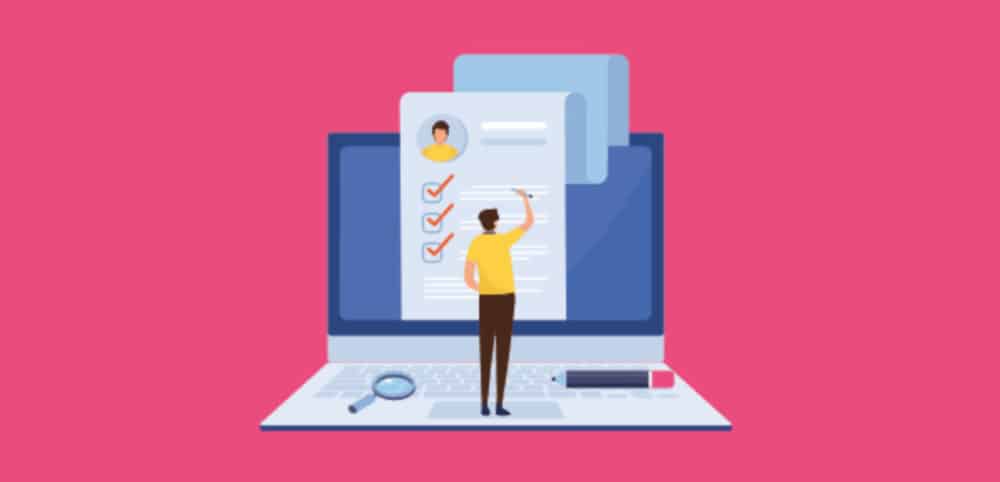 Pin
MonsterLinks
MonsterLinks is a great way to get more clicks onto landing pages. By using popular content on your site, you can up your click-rate by orders of magnitude.
For instance, say the top post on your site is Best Oranges. If you add a line of text, ideally somewhere near the top, saying something like, "Click Here To Join Our Orange Fan Club," and add a MonsterLink, every time some clicks on it your Oranges Landing Page and/or Pop-up Form will display.
You can add these ALL over your site and get really specific with who your targeting. If you're looking to build your email list fast and you don't want to use pop-ups, then MonsterLinks is 100% your best tool for ramping up your signups.
OptinMonster is Mobile Ready
Mobile displays are smaller, so this means you need different opt-in forms for your mobile users. OptinMonster has you fully covered in this regard though, so it's no bother. When you're setting up your form, simply select MOBILE when you're choosing your template.
Once you've done this, all the templates will be designed for use on mobile. This is a great tool, as it allows you to run desktop and mobile campaigns separately. And because upwards of 60% of ALL search is now mobile, you will definitely want to make sure your opt-in forms are fully mobile responsive.
You Can Run OptinMonster on Multiple Sites
This is one of my absolute favorite things about OptinMonster. You can have it running on multiple sites at the same time. All you have to do is assign the campaign to a site before you start building it.
If you have multiple sites, this feature is a godsend because, with it, you can manage ALL your sites' email lead capture from one place. And best of all there's no charge for this; it's all included in the OptinMonster subscription.
Bottom line? If you're looking to increase the size of your email lists in 2019, and you totally should be, no matter how big they already are, OptinMonster is competitively priced and is 100% one of the best tools on the market right now.
Richard Goodwin
Richard Goodwin has been working as a tech journalist for over 10 years. He has written for Den of Geek, Fortean Times, IT PRO, PC Pro, ALPHR, and many other technology sites. He is the editor and owner of KnowYourMobile.