Apple TV+ – Everything You Need To Know (Price, Content, Streaming Options)
---
---
Apple's new video streaming service isn't quite a Netflix competitor – not yet, anyway. Here's everything you need to know about Apple TV+
---
Apple finally unveiled its long-awaited video subscription service, called Apple TV+. The service had been widely rumored, with over a dozen shows already known to be in some level of production before Apple ever acknowledged its plans publicly.
However, Apple's video streaming service isn't quite what many people assumed it would be. By that I mean, it's not exactly a Netflix or Hulu competitor. Matter of fact, its content strategy is pretty different from either of those services. Confused? Let's take a deeper dive to clarify things.
Apple TV+: What Is Apple's New Video Streaming Service?
The unique thing about Apple TV+ compared to other streaming services like Netflix and Hulu is that it appears subscribers to the service will only be able to access Apple's regional content. As far as we know (Apple was pretty mum about specifics) subscribers to Apple TV+ won't get access to back catalogs of third-party content, such as network television shows and Hollywood films.
Weird, right? Perhaps Apple feels that it doesn't need to compete in the third-party back-catalog streaming business since every other streaming service offers the same generic content. It appears Apple wants its service to focus solely on its original content. Whether or not this strategy pays off will probably come down to price and the quality of Apple's original content.
But do keep in mind, it's possible Apple could add third-party content to the service before it launches this autumn. We just don't know yet.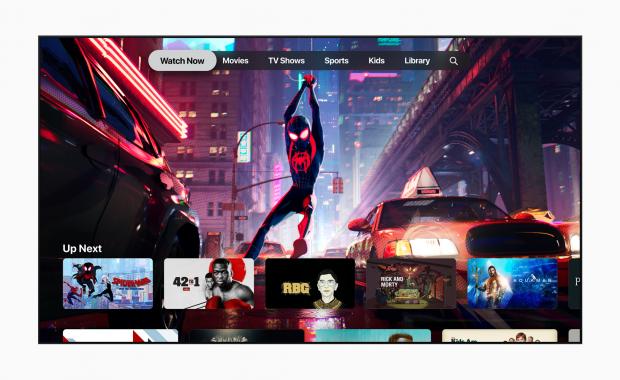 Apple TV+: What Original Content Will It Have?
A ton, apparently. Apple hasn't named all the new shows, but they will include episodic television, movies, and documentaries. Among the A-listers involved in the content are Oprah Winfrey, Steven Spielberg, Jennifer Aniston, Reese Witherspoon, Octavia Spencer, J.J. Abrams, Jason Momoa, M. Night Shyamalan, Jon M. Chu and more.
Apple TV+: What's This I Hear About The Content Include Channels Like HBO?
So this is where things get interesting. At the Apple TV+ launch event, Apple announced that in addition to launching its own original content service this autumn, starting in May Apple TV users will be able to subscribe to premium television channels from inside the Apple TV app.
These channels include HBO, Starz, SHOWTIME, CBS All Access, Smithsonian Channel, EPIX, Tastemade, Noggin and new services like MTV Hits, with more to be added over time around the world.
If you subscribe to one of these channels, all that channel's content and catalog will be available to you ad-free, online and offline. There's no word yet on how much each channel will cost, but probably around $10 a month.
Apple TV+: How Much Will It Cost?
We have no idea how much the Apple TV+ service will cost yet. Apple hasn't announced prices. A good guess is about 10 bucks a month. However, if the company is only offering original content and not a back catalog of third-party content, it's possible that Apple could aim for around $5 a month to attract subscribers.
Apple TV+: When Will It Be Available?
Apple is only saying "pricing and availability for the Apple TV+ video subscription service will be announced later this autumn." So expect it to launch sometime in September or October.
Michael Grothaus
Apple expert and novelist,
Michael Grothaus
has been covering tech on KnowYourMobile for the best part of 10 years. Prior to this, he worked at Apple. And before that, he was a film journalist. Michael is a published author; his book Epiphany Jones was voted as one of the best novels about Hollywood by
Entertainment Weekly
. Michael is also a writer at other publications including 
VICE
and 
Fast Company.