BRAVE Together – It's Like ZOOM & House Party, But It's Encrypted
---
---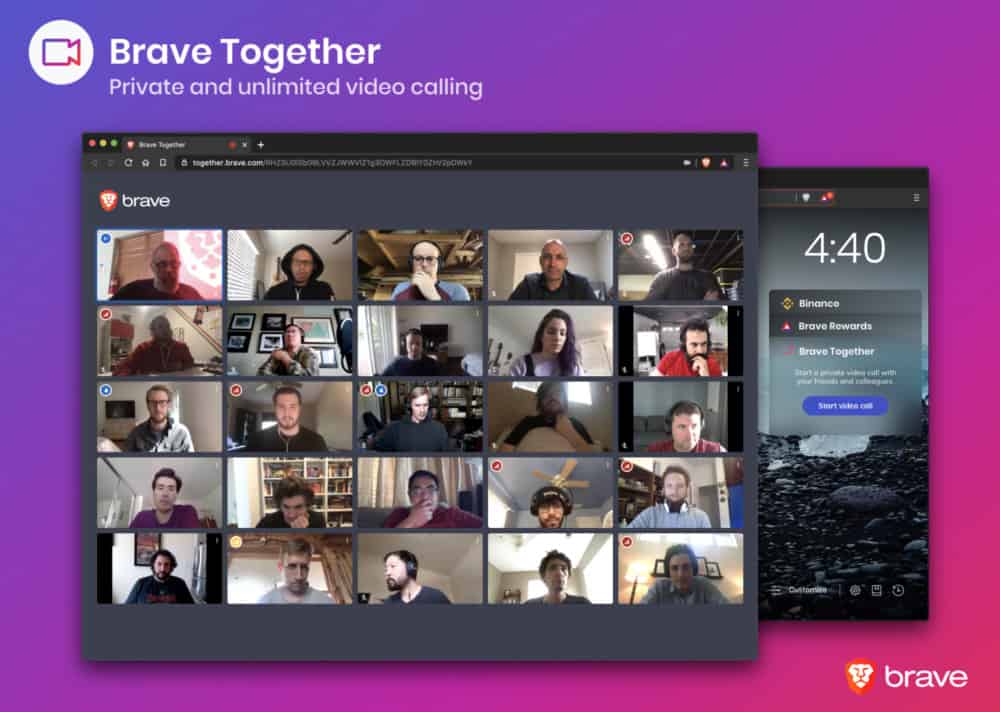 BRAVE browser is fast and secure, and it will soon have end-to-end encryption for video calling too (and that includes group chats as well) with Brave Together… 
---
During the current global pandemic, video calling tools like ZOOM and House Party have grown massively, securing millions of new customers all over the globe. But there is one massive problem with these group video calling applications: none of them feature end-to-end encryption.
Well, this is where BRAVE comes in with its BRAVE Together service, a video calling platform that features end-to-end encryption for video calls and group video calls. BRAVE Together is currently being tested inside the Nightly version of the browser in North America.
Not heard of Brave browser? It's great; the browser itself blocks ads, doesn't track you, and is 6x faster than Chrome and Safari. This is why it is currently listed as the #1 best Chrome alternative in our guide to the best Android and iPhone web browsers. Even if you cannot access Brave Together, the browser all by itself is totally worth downloading (it's free; you can get it right now here) – I'm a massive advocate of the way Brave does things.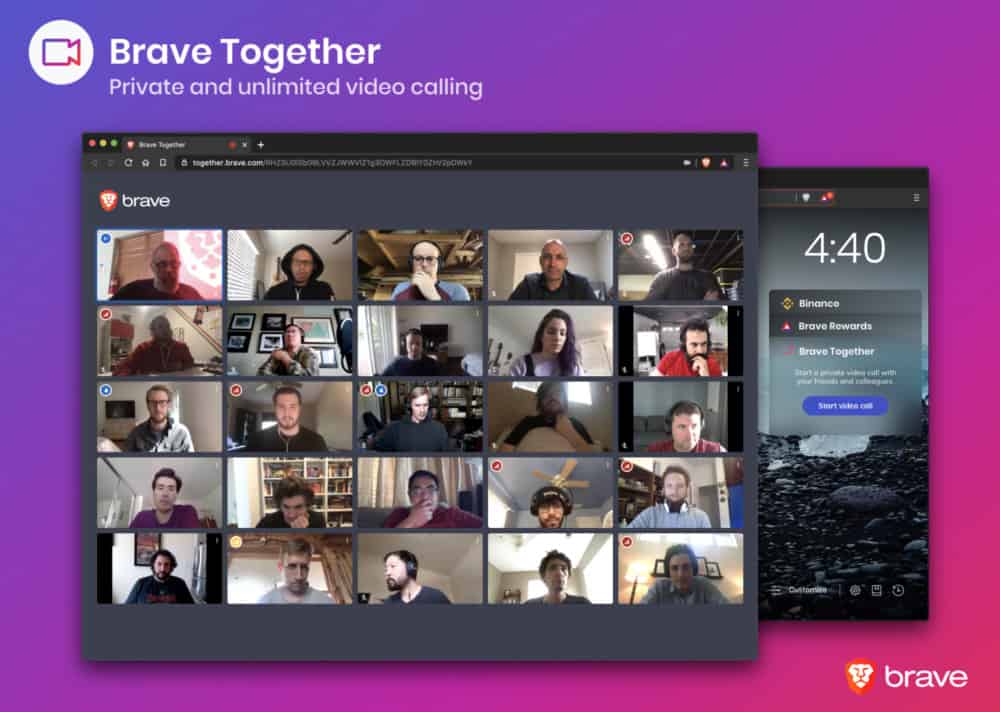 Pin
If you're in North America, you can download and test out Brave Together right now (here's the link). If you're elsewhere in the world, you'll have to wait a little longer. BRAVE also plans to bring this video calling feature to its iOS and Android apps in the not too distant future, most likely before the end of lockdown in the UK and the USA.
Brave Together Features
So what do you get with BRAVE Together? As you'd expect from such a progressive company, the video-calling software isn't just your run of the mill conferencing app – you get support for screen sharing, video quality controls, text chat, and advanced security stuff like having the ability to send an alert by raising your hand.
Brave Together is based on the open-source video-conferencing platform Jitsi; BRAVE has just rejigged the UX and made some changes to the source code in order to make it jazz nicely within the larger BRAVE browser experience. Although it does lack some of the fancier features you get on Microsoft Teams, Slack, and ZOOM, things like background blurring and games for instance.
The idea here, it seems, is more consumer-facing than similar offerings from Microsoft and Google. It's all about providing a simple, encrypted means for people to get together online and video conference, either with one or two people or multiple friends and family members. Either way, it's nice to finally have a potentially fully-encrypted video calling service made a company most associate with quality and openness.
How much does Brave Together cost? Right now, there is no word on pricing, though BRAVE's latest tweet on Brave Together references unlimited video calling, so perhaps the entire service will be free. Given the nature and competition in the video-calling arena, making Brave Together free and totally unlimited would definitely be a wise move.
Interested in checking it out? You can do so by clicking this link – make sure you get plenty of your friends too as well. That way you can be up and running on an encrypted group video calling session in no time whatsoever.
Richard Goodwin
Richard Goodwin has been working as a tech journalist for over 10 years. He has written for Den of Geek, Fortean Times, IT PRO, PC Pro, ALPHR, and many other technology sites. He is the editor and owner of KnowYourMobile.