The #1 BEST Bluetooth Conference Speakers Money Can Buy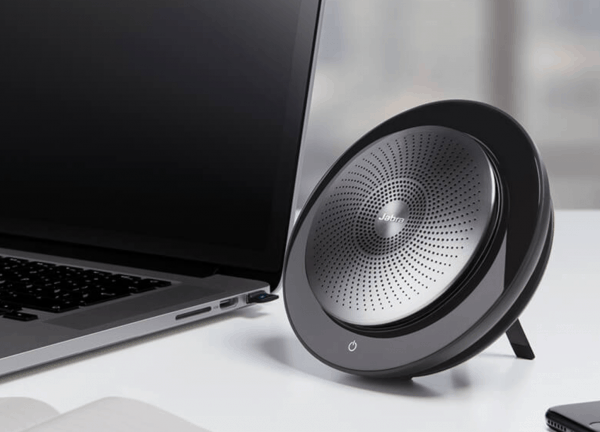 The #1 Top Bluetooth Conference Speakers
[ninja_tables id="93461″]

Jabra Speak 710 UC Wireless Bluetooth Speaker & Speakerphone for Softphone and Mobile Phone – Android & Apple Compatible – UC Optimized

For me, the Jabra Speak 710 UC Wireless Bluetooth Speaker is the one to go for. Kitted out with supported for all major communication platforms, including WebEx, Skype, Google Hangouts, and Join Me, it's the most accomplished bluetooth conference call speaker on this list.

The design is simple and premium-looking, which means you can pretty much place it anywhere and it will blend right in. Call quality on the speaker is excellent on both ends, so you can enjoy crystal clear calls without ever having to pick up your phone.

All of the Jabra Speak 710's buttons are built into the device, sitting flush. This means there are no physical keys to degrade and pick up fluff. Accessing them is simple and intuitive, which makes taking and canceling calls stupidly simple.

For me, though, the star of the show is its HD call quality. You can have up to 12 people sat around this thing, jabbering away, and the quality will remain absolutely pristine. Another boon? You can stand up to 15ft away from it and still comfortably talk on it.

eMeet M2 Gray Conference Speaker

Like the Jabra Speak 710, the eMeet M2 Conference Speaker is built for performance. You have support for all major communication platforms, HD call quality, the ability to run wirelessly, via USB, or AUX. The styling is very much on point too; it looks a bit like Amazon's Dot.

The eMeet M2 ships with an internal 2500mAh battery, so you've got hours of up-time when using it wirelessly. This makes it great for travel or board meetings with lots of people, as you can plop it in the middle of the table and get on with business.

The controls are all touch-activated and sit in a dial-orientation on the front of the device. You have options like volume control, call pick-up/call end, and an option to meet the line. Most of all though the eMeet M2 is super-simple to use and it works great in all kinds of environments from board rooms to kitchens to your garden shed.

Jabra Speak 510 Wireless Bluetooth Speaker

Ah Jabra, you really do know how to make a solid Bluetooth conference speaker! The Jabra Speak 510 is basically the little brother of the Jabra 710. It has many of the same features, such as support for all major communication platforms, but it does lack some of its more-expensive sibling's bells and whistles.

The 710, for instance, can handle up to 8 people on a single call, whereas the Jabra 510 can only do four. Both speakers have similar battery life, however – around 15 hours. The Jabra 710 is also more premium-looking and it features HD Quality call functionality.

If you're on a budget, though, and you want a solid, reliable Bluetooth conference speaker, the Jabra Speak 510 is definitely worth a look – it retails for less than both the 510 and eMeet M2 speaker. And that, my friends, is good news if you're after something of a bargain.
#4) Kaysuda Bluetooth Conference Speakerphone 
Kaysuda USB Speaker Phone 360° Omnidirectional Microphone

The Kaysuda Bluetooth Conference Speakerphone is a 360° omni-directional conference speakerphone with a 4 AI smart microphone array. The Kaysuda can use a USB or Bluetooth connection to talk to any of your devices, be it a PC, Mac, iPhone, or Android device. It's also compatible with an array of operating systems including Windows, macOS, Linux, iOS, Android, and even ChromeOS.

Given that the Kaysuda is designed as a professional conference speaker, it's no wonder its been optimized to work with a wide array of communications software platforms including Zoom, Skype, WebEx, GoToMeeting, Google Hangout, Cisco, Avaya, FaceTime, and Microsoft Teams.

One of the best features of the device is it has a wide 360° pickup range of 33 feet (10 meters).

You can pick up the Kaysuda Bluetooth Conference Speakerphone here.
Why I Use Bluetooth Conference Speakers
Every smartphone has a hands free voice mode built in, but let's be honest, speakerphones in smartphones leave something to be desired. Sure, they're handy when you're alone driving in a car or by yourself in a quiet office, but if you're in a place with more than one person, or if you have several people talking to you at once on the other end, your smartphone's speakerphone isn't going to cut it.
Also: I actually prefer talking hands-free. I don't like the way the side of my head heats up when I talk on my mobile for prolonged periods of time – it kind of creeps me out.
For this reason, I decided to get myself a conference call speaker system. I tested a bunch, and the best are listed above. Before I started, all I knew was that I needed something that ran on Bluetooth. You know, that INSANELY useful wireless technology that's used in everything from mobile phones to vaping devices like the JUUL.
I tested a bunch of them, maybe seven of eight, and eventually settled on my preferred options – the ones listed above!
Having the ability to take calls on a dedicated Bluetooth speaker is great, as it frees up your hands for taking notes, holding a drink, or whatever else you want to do.
It also means you no longer need to have a dedicated phone line, or even a phone number, for a conference call. You can simply choose to conference call in using the speaker and any app that supports multiple line calls – something like Skype or Google Hangouts.
And check out What Is Bluetooth LE Audio?
>>>Click Here To Skip Back Up To My #1 Picks For Bluetooth Conference Speakers