The Best Apple Lightning Charger is NOT Made by Apple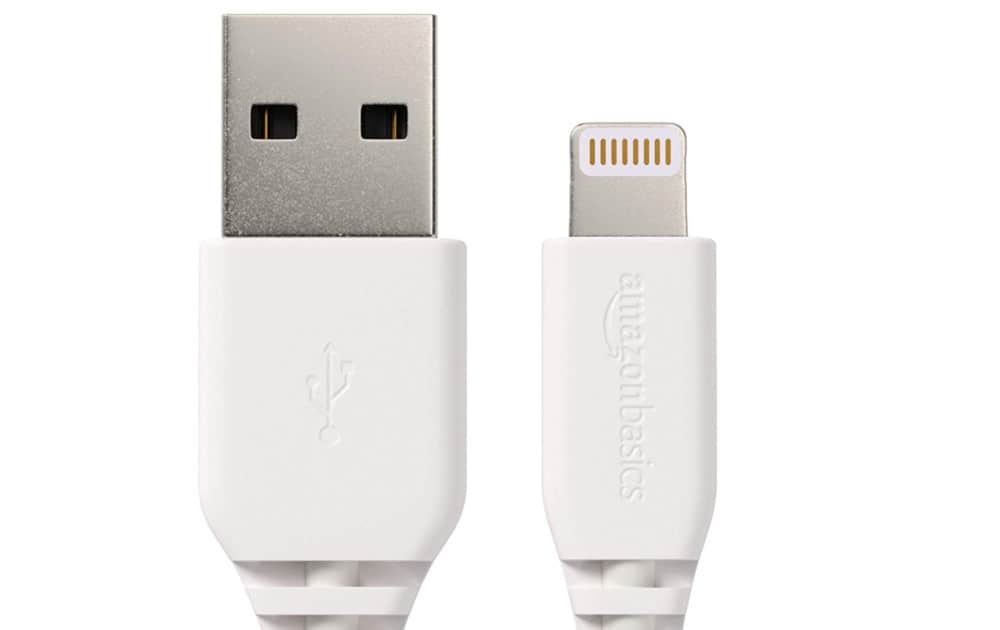 [ss_click_to_tweet tweet="Replacing a lost or broken iPhone lightning charger is costly. But what if you could save 50% on a cheaper iPhone lightning charger that's just as good? " content="What's The Best Non-Apple Lightning Cable? If you've ever lost or broken a Lightning Cable, chances are this is exactly what you asked yourself. Most assume going the official route, via Apple, is the best way to proceed when you've misplaced or broken a Lightning Cable.  " style="default"]
Here's the thing: authentic Lightning cables from Apple are WELL EXPENSIVE and this, depending on your budget, can be rather annoying. If you run multiple iOS devices, keeping them all charged – if you lose or break the lightning cable they came with – can quickly become an expensive affair. No one can survive with just one Lightning cable. So what do you do?
Well, first things first: you DO NOT give any more money to Apple – it charges way too much for spare Lightning cables. Instead, you go with a cheaper but equally functional alternative.
And, like most things in the 21st century, it can be had via Amazon.
Meet AmazonBasic's Apple Certified Lightning Cable – The Best, Cheap Apple Lighting Charger!
AmazonBasics Lightning to USB A Cable, MFi Certified iPhone Charger, White, 3 Foot, 3 Foot, 2 Pack

AmazonBasic's Apple Certified Lightning Cable retails for just $15.98, so more than 50% cheaper than Apple's, and it works in exactly the same fashion. But because it is Amazon selling it, and not Apple, you pay less.

Available in either black and white, the AmazonBasic's Apple Certified Lightning Cable is fully kitted out for use with iPhone and iPad, as you can see below:
Apple MFi certified charging and syncing cable for your Apple devices
Apple MFi certification ensures complete charge and sync compatibility with all iPhone, iPad and iPod models that use Lightning ports
Connects to your iPhone, iPad, or iPod with Lightning connector and charges/syncs by connecting the USB connector into your wall charger or computer
Compact Lightning Connector head works with nearly all cases
An additional layer of protection has been added to the Lightning and USB ends to improve durability and reduce fraying; Cables have been tested to bend 95-degrees 4,000 times
Backed by an AmazonBasics 1-year limited warranty
So, yeah, the moral of the story here is pretty simple: if you go to Amazon and buy its Lightning Cable, you can basically buy two for the price of Apple's official Lightning Cable. Or just one. Either way, the smart move is to avoid Apple's like the plague.
You can also buy AmazonBasic's Apple Certified Lightning Cable in a variety of lengths, so if you need something longer – say, 10 feet – Amazon's got you covered.
AmazonBasic's Apple Certified Lightning Cable vs Apple's Lightning Cable
You already gave Apple a large sum of money for your iPhone/iPad, so don't let them fleece any more out of you by selling you an overpriced cable, which you can pick up via Amazon for over 50% less.
Apple's official Lightning Cable costs almost $30. This is a fixed price, there's no wriggle room, so if you go via Apple you can expect to pay the best part of $30 for a cable.
I know, I know – this sucks. But you don't get to be the most profitable company on the planet by NOT charging a fair whack for your products.
Apple likes to do things its own way. It got rid of the headphone jack on the iPhone 7, and that ain't coming back, and it also flat-out refuses to adopt the standard charging port (Type C USB) used by most, modern smartphones.
Instead, Apple wants you to use its Lightning Charger. This reversible charging technology is proprietary to Apple and does not feature on any non-Apple products. Apple's approach is tidy, small, and – if you go the official route – annoyingly expensive.
Apple ships one Lightning cable per Apple product, so if you buy an iPhone you get a supplementary Lightning cable for charging it up. Ditto iPad and the company's MacBook range.
Apple's Lightning cable landed before Type C USB and was one of the first instances of a fully reversible charging port on a smartphone. Why no one else thought of this before, however, is kind of beyond me – it makes a lot of sense.
With a Lightning cable, you can charge and send data. The Lightning Cable is designed to handle high power too, as it is also used for iPad, which requires more power to charge as it is bigger than the iPhone.
But you probably already knew this.
Don't Buy Cheap Lightning Cables Though (They Can Be Dangerous)
Whenever you want a "cheap" version of something, you're often presented with a raft of options. However, when it comes to charging cables, you don't want to just go with any old company.
Lightning cables – and charging cables in general – are responsible for sending power from the mains to your phone. If something goes wrong, things can get hairy quickly – shocks and fires being the most obvious.
For this reason, it is worth going with a reputable, third-party when purchasing Lightning cables or any type of cable for that matter. The AmazonBasic's Apple Certified Lightning Cable, as the name suggests, is certified for use with iPhones and iPads – that means it has been tested and it meets certain standards.
"The biggest reason not to use unofficial Lightning cables is to do with your health and safety," notes Mac World. "UK-based Chartered Trading Standards Institute did some research into unofficial Lightning cables and the findings were shocking (no pun intended!)."
It added: "The team tested 400 Lightning cables and of those, only 1 percent (three cables, to be precise) passed basic assessments for safety. One percent."
That way, you know you're in safe hands and that nothing is going to explode.
Bottom line? If you're looking for a cheap Lightning cable for your iPhone or iPad, make sure you use AmazonBasic's Apple Certified Lightning Cable – it's cheap, it's 100% safe, and it is designed to work with iPhone and iPad.