The Best USB-C Earphones For Your Android Phone
---
---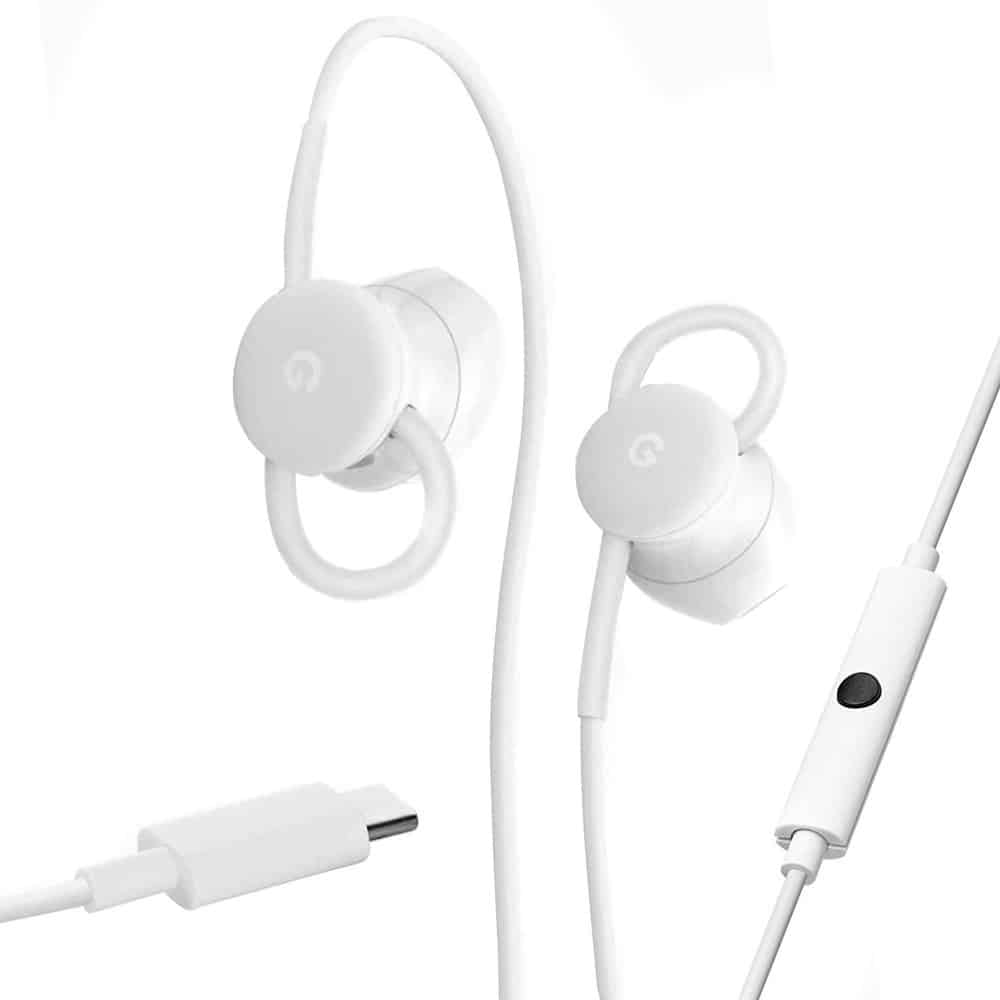 Following Apple's removal of the 3.5mm headphone jack on the iPhone 7 several years ago, Android makers started removing the jack from their devices too. For Android, the 3.5mm jack was done away with with the intention that people who still wanted to use wired headphones would use the USB-C port to connect them.
And there are advantages to the headphone jack's removal. That's because users now need to opt for either Bluetooth earphones or USB-C earphones they'll at least be getting an all-digital connection. That means the transmission either works right or not at all. That's unlike the analog headphone jack, which oftentimes could deliver sub-optimal audio quality.
The #1 Best USB Type-C Headphones For Android
If you're in the market for USB-C earphone and headphone alternatives, you should definitely check out the models below, as they're currently our #1 picks for the best USB Type-C headphones for Android phones right now.
#1) Libratone Q Adapt USB-C In-Ear Noise Cancelling Headphones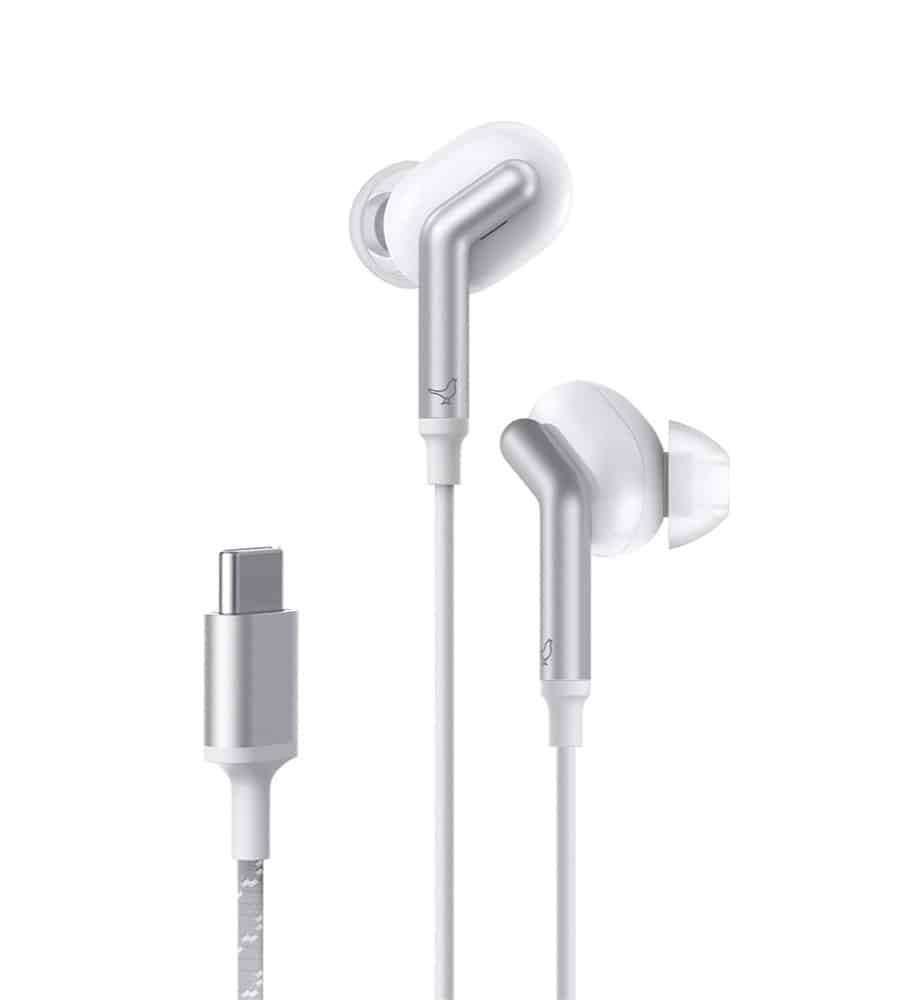 Pin
[maxbutton id="27″ url="https://amzn.to/2Yv3Yad" ]
Some of the most beautiful USB-C earphones I've found are the Libratone Q Adapt Lightning In-Ear Noise Cancelling Headphones. Now keep in mind these aren't the cheapest USB-C earphones on the market, but they are among the best. That's because of their adjustable noise-canceling functions as well as their snug design. Plus, they draw their power from the smartphone itself, so there's no need for them to be charged.
#2) SoundMAGIC E11D Headphones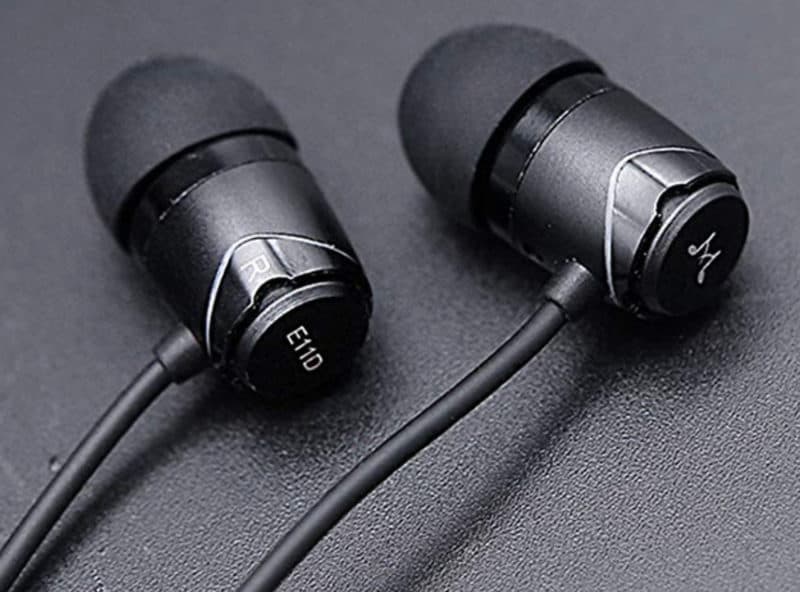 Pin
[maxbutton id="27″ url="https://amzn.to/2OLnVpN" ]
Just as with the Libratone's above, the SoundMAGIC E11D Headphones aren't the cheapest, but they sound pretty amazing. That's thanks to their multi-scenario noise-canceling tech. The 3 E11D's USB Type-C connector with dedicated DAC ensures crystal clear sound, as well as very good noise-canceling performance, making these headphones ideal for travel – especially on planes.
#3) Google USB Type C Wired Digital Earbud Headset with Google Assistant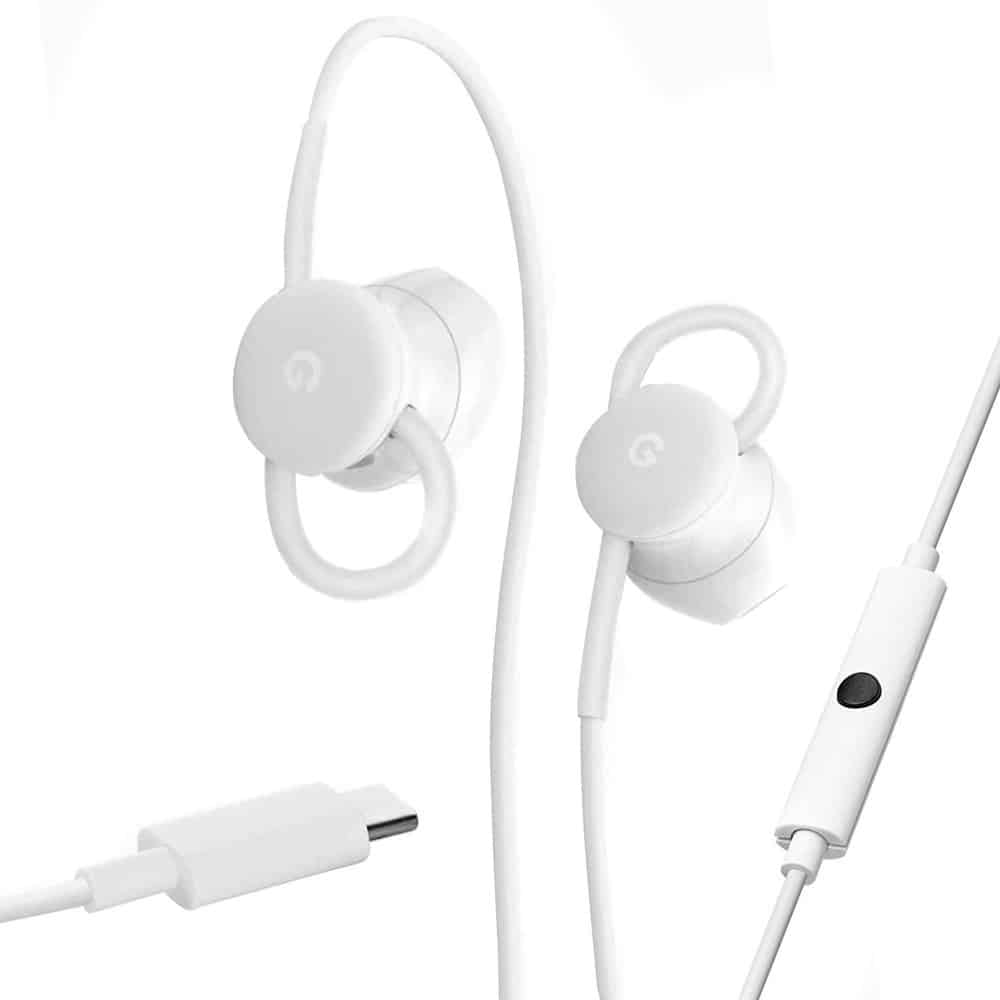 Pin
[maxbutton id="27″ url="https://amzn.to/2yoEa0N" ]
If you're a Google Pixel user, or just like staying in Google's ecosystem of product, a great choice for relatively low-cast USB-C earphones is these bad boys. They sport pure 24-bit digital audio and feature Google Assistant support as well. But the coolest feature is that you can use these to communicate in over 40 languages with in-ear help from Google Translate. Just press and hold the black button and say "Hey Google, help me speak French."
#4) Dinobe USB Type C Earphones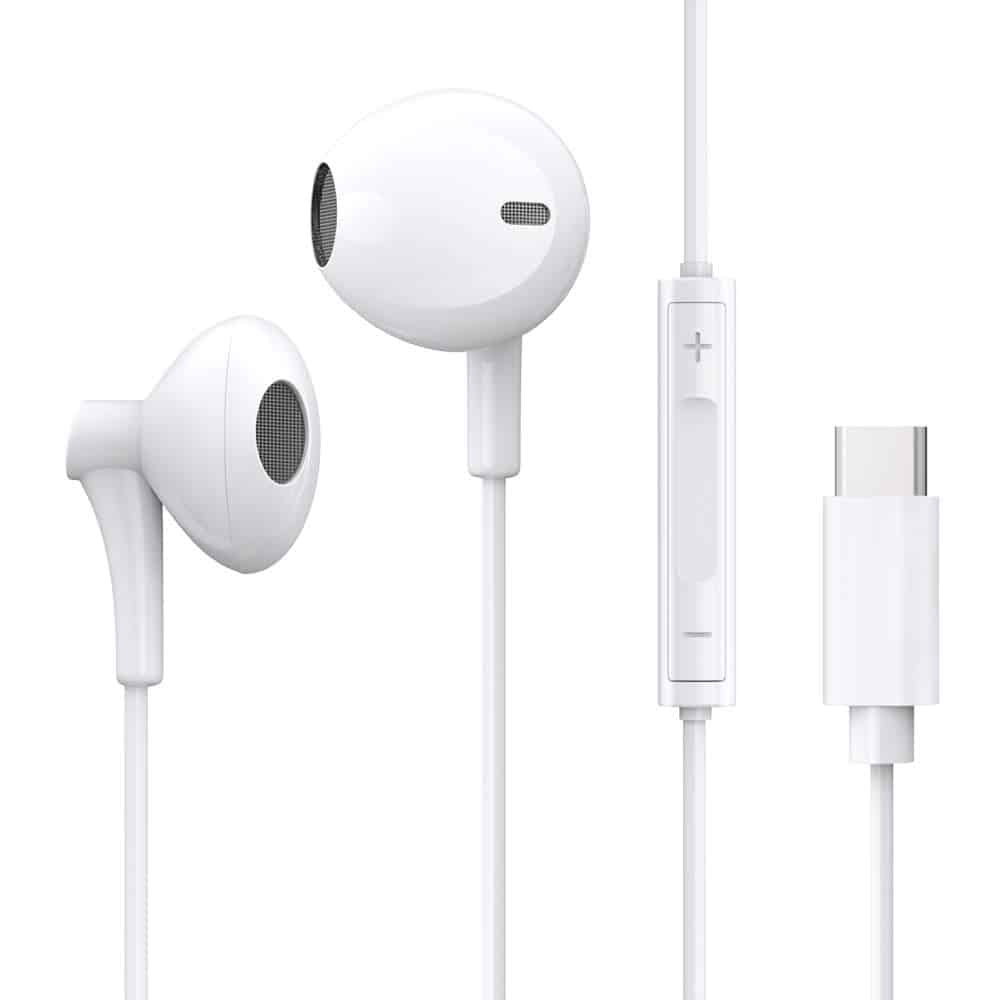 Pin
[maxbutton id="27″ url="https://amzn.to/2SRtph0″ ]
If you like Apple's earbuds style but need USB-C ones to work with your Android phone, grab these Dinobe earphones. They look like they were designed by Jony Ive himself, but are compatible with the Google Pixel 2/2XL/3/3XL, Huawei P30/Mate 20 Pro/Mate 10, Motorola Moto Z series, EssentialPH-1, HTC U11 & U12, Xiaomi 5/5S, Samsung Galaxy, and more. They also feature an in-line microphone and remote control. Even better, they're one of the cheapest earphones on this list.
#5) Acessorz USB Type C Earphones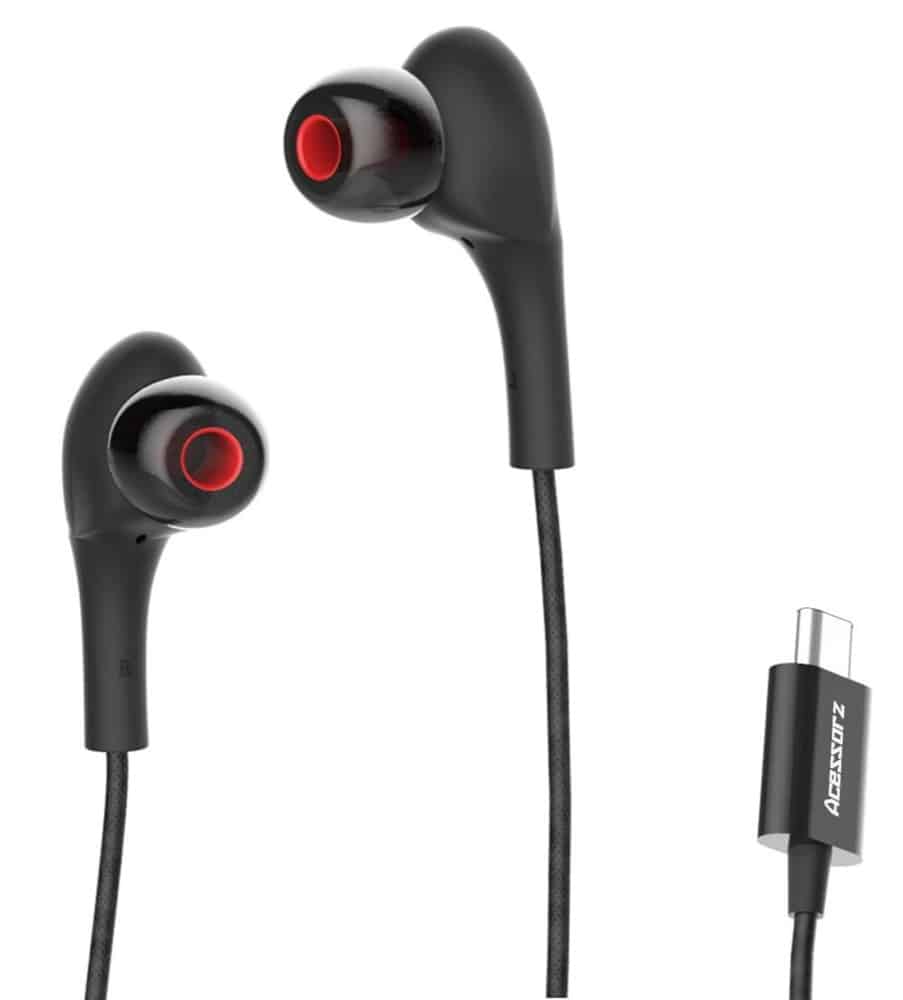 Pin
[maxbutton id="27″ url="https://amzn.to/2OLo8cz" ]
If you're looking for USB-C headphones with a bit of stylistic flair, grab these Acessorz's. We love the design and they have all the normal features you'd expect of lower-cost earbuds. And one feature most don't have: the Acessorz bud feature magnets but into the back of each earbud that snaps them together when they are in your pocket, meaning they're much less likely to get tangled when not in use.
What Are USB Type-C Headphones?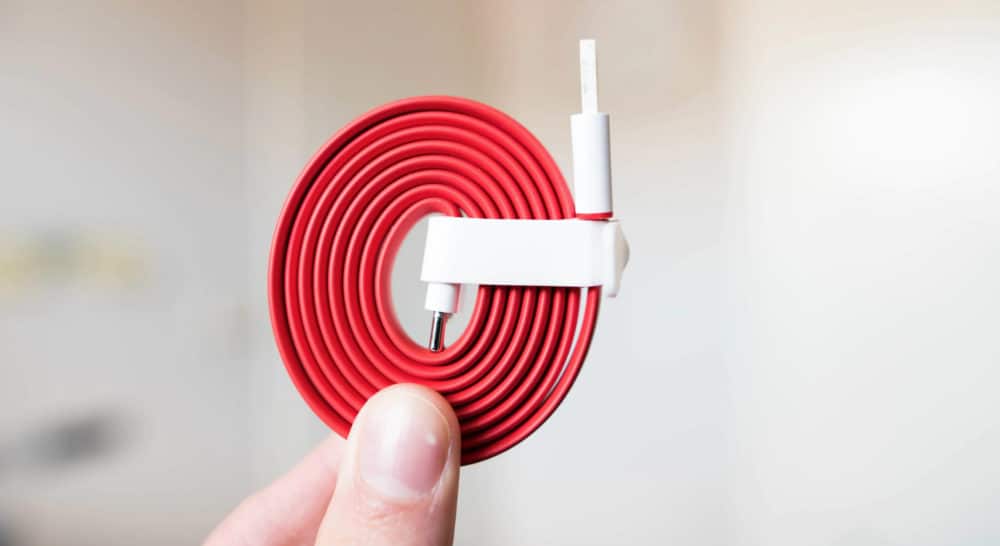 Pin
As noted in the opening paragraph, USB Type-C Headphones rose to prominence following Apple's removal of the headphone jack on its iPhone range. Android phone makers' followed suit, opening up USB Type-C as an alternative means of connecting headphones to a smartphone and/or tablet.
USB Type-C Headphones are different to 3.5mm headphone jack headphones in that USB Type-C Headphones contain their own DAC and AMP, which allows for the bypassing of the smartphone's internal audio components. And this, in turn, results in less interference.
In addition to this, USB Type-C Headphones extend the amount of time an audio signal remains digital compared to a standard 3.5mm headphone jack. USB Type-C Headphones also come in two variations: active and passive – and this can cause some compatibility issues.
This is why most people prefer to use true, wireless earbuds – check out our guide to the best wireless earbuds for more details.
How Are USB Type-C Headphones Different From Headphone Jack Earphones?
USB Type-C Headphones are much more complicated than standard 3.5mm headphones. For starters, USB Type-C Headphones contain their own DAC and Amp, so they can pass digital information directly from the phone straight to the earphone speakers, whereas 3.5mm headphone jack connections rely on the phone and/or device's internal audio components.
With USB Type-C Headphones, things like noise-canceling are easier to implement and you can also add in advanced features like voice commands and even things like equalizers on higher-end headphones. And because USB Type-C Headphones bypass the phone's internal audio components they should, theoretically, run with fewer issues. Sound quality is also better too, thanks to their built-in DAC and Amp (so you no longer have to rely on your phone having decent audio components).
Do USB Type-C Headphones Produce Better Sound?
In theory, yes, USB Type-C Headphones produce better sound quality than their 3.5mm wired counterparts. Why? Simple: the signal is digital, so there's less interference and OEMs can add in features like noise-canceling and other sound-augmenting technologies to improve the overall sound quality of the headphones.
What Are The Best USB Type-C Headphones On This List?
For my money, I'd go with either of the following:
Libratone Q Adapt – For overall sound quality and noise-canceling abilities, the Libratone Q Adapt are very hard to beat. They're also super-comfortable to wear, which makes them an ideal travel companion on long flights or just when you want to shut out the outside world. Only downside? They're a little pricey…
SoundMAGIC E11D – If you want epic sound quality and noise-canceling, just for less money than the Libratone Q Adapt, these SoundMAGIC E11D are perhaps the next best thing. For one, they're cheaper, though you wouldn't know it when you listen to music on them. Performance is stellar; I really like these headphones.
Also, check out Does The Apple Watch Have USB-C? And Do Apple iPads Have USB-C?
Michael Grothaus
Apple expert and novelist,
Michael Grothaus
has been covering tech on KnowYourMobile for the best part of 10 years. Prior to this, he worked at Apple. And before that, he was a film journalist. Michael is a published author; his book Epiphany Jones was voted as one of the best novels about Hollywood by
Entertainment Weekly
. Michael is also a writer at other publications including 
VICE
and 
Fast Company.