Best HDMI Cables You Can Buy: Our #1 Picks For Quality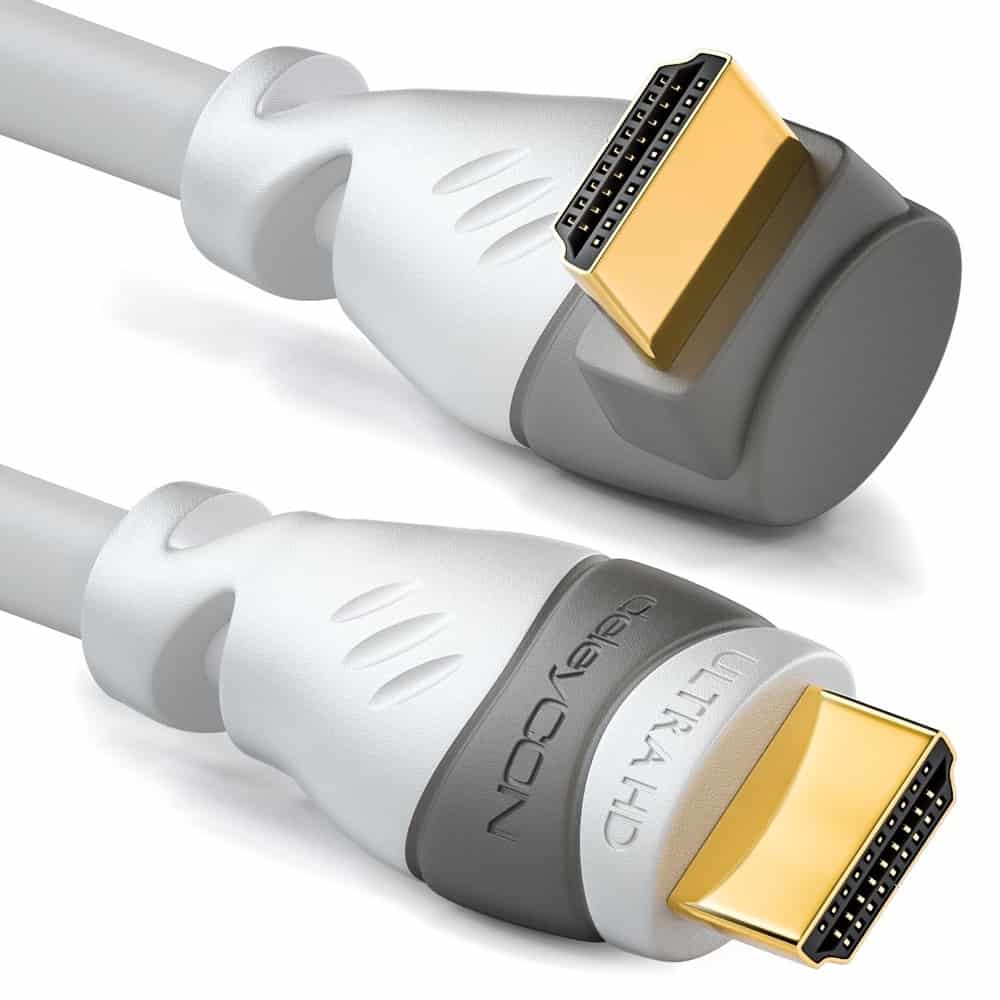 HDMI cables are the arteries of your AV devices. They carry a pristine digital signal from your telly to devices like Apple TVs, laptops, gaming consoles, and more. But as with most types of cables, there's a glut of different HDMI choices to choose from. That's why we've put together this guide to the best if you want top digital quality at reasonable prices.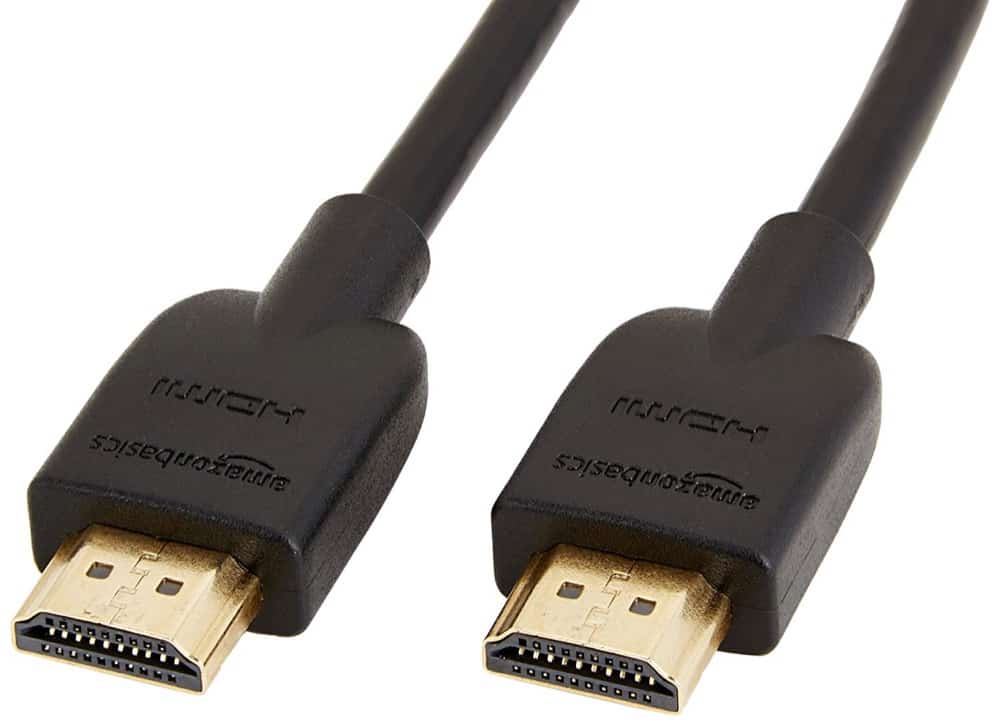 Pin
[maxbutton id="27″ url="https://amzn.to/2yryCT3″ ]
These are a great choice if you want a trusted brand and don't want to spend a lot of money. They're part of Amazon's Basics brand, which means you can be sure these aren't just cheap cables from China that will break after a week.
Their 24K gold plated contacts offer better corrosion resistance and enhanced signal transfer and they're backward compatible with all previous HDMI standards. Best of all they come in lengths ranging from 0.9 meters all the way up to 15.3 meters.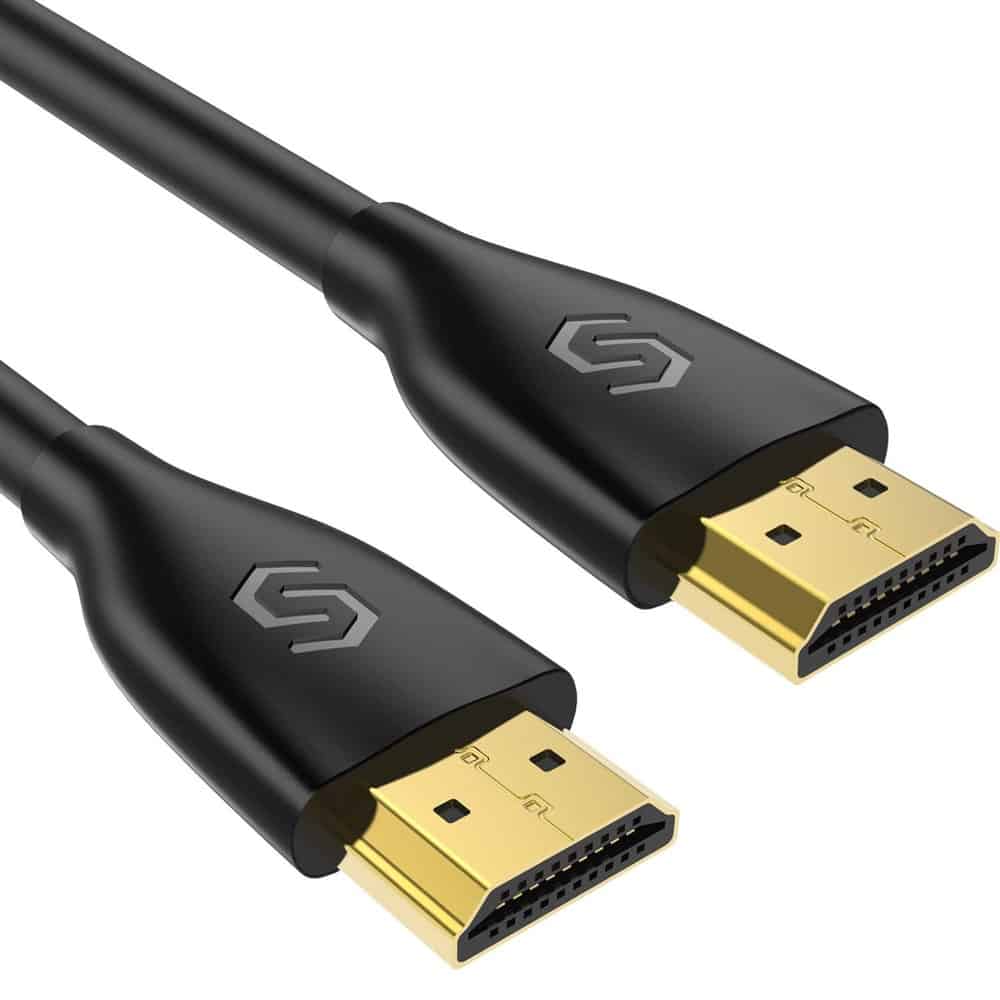 Pin
[maxbutton id="27″ url="https://amzn.to/314tFfc" ]
Truthfully, as far as technical specs go, there's hardly any difference between the Syncwire HDMI cables and the aforementioned AmazonBasics' cables. However, some people think " "basics" always means cheap quality. If you're one of those people, grab the brand-name Syncwire instead.
It features the same connectivity and gold plated contacts as the AmazonBasics. However, the Syncwire does boast of one improvement: the company says its cables have been tested to withstand at least 3,000 cycles of 90-degree bends. Available in 1.5 meters, 2 meters, and 3-meter sizes.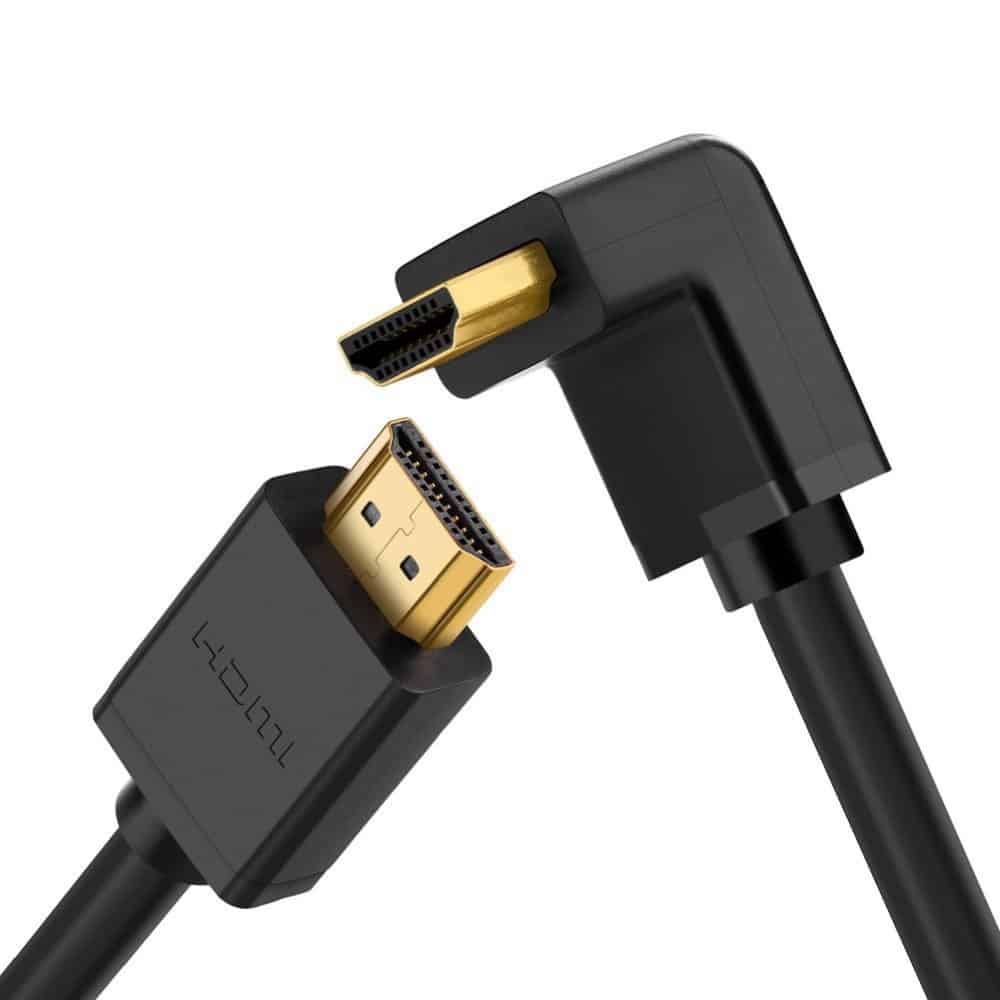 Pin
[maxbutton id="27″ url="https://amzn.to/2yir2dE" ]
This HDMI cable makes the list because of its clever design. The head of the HDMI cable is bent at a 90º right angle, which makes it extremely practical for narrow space configurations such as wall-mounted TV.
The 90º design is something many users will appreciate. And of course, the UGREEN cable offers all the standard features of any HDMI cable, including 4K support. It's available in 1m, 2m, 3m, and 5m sizes.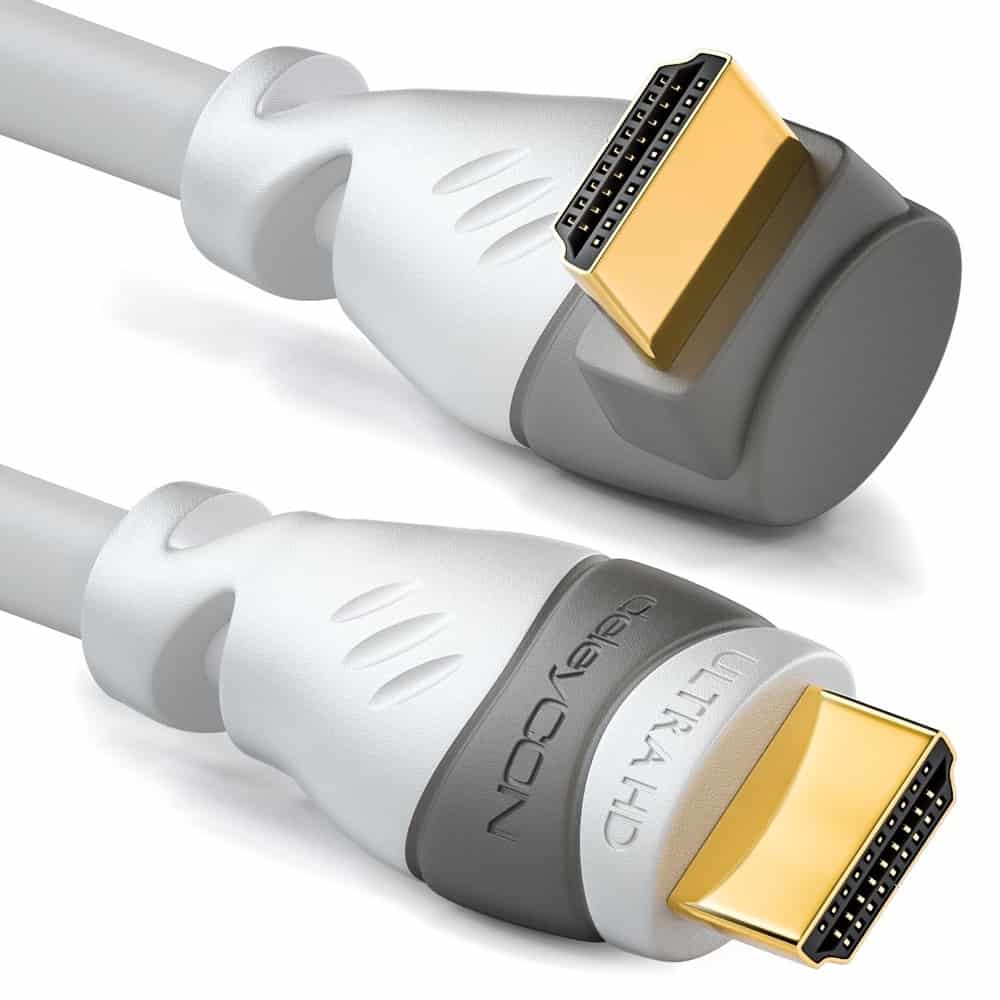 Pin
[maxbutton id="27″ url="https://amzn.to/2SSfU0r" ]
Another awesome right-angle cable makes the list. As with the UGREEN, the deleyCON cable features a 90º angle, which makes it a perfect fit for rear connections. The cables are in accordance with the latest HDMI standards (1.4/1.4a/2.0/2.0a/2.0b) 
and can be used on all HDMI-enabled devices.
Sizes range from half a meter all the way up to 10 meters. And while the standard option is a black cable with blue heads, the deleyCON also comes in a white variant with grey heads.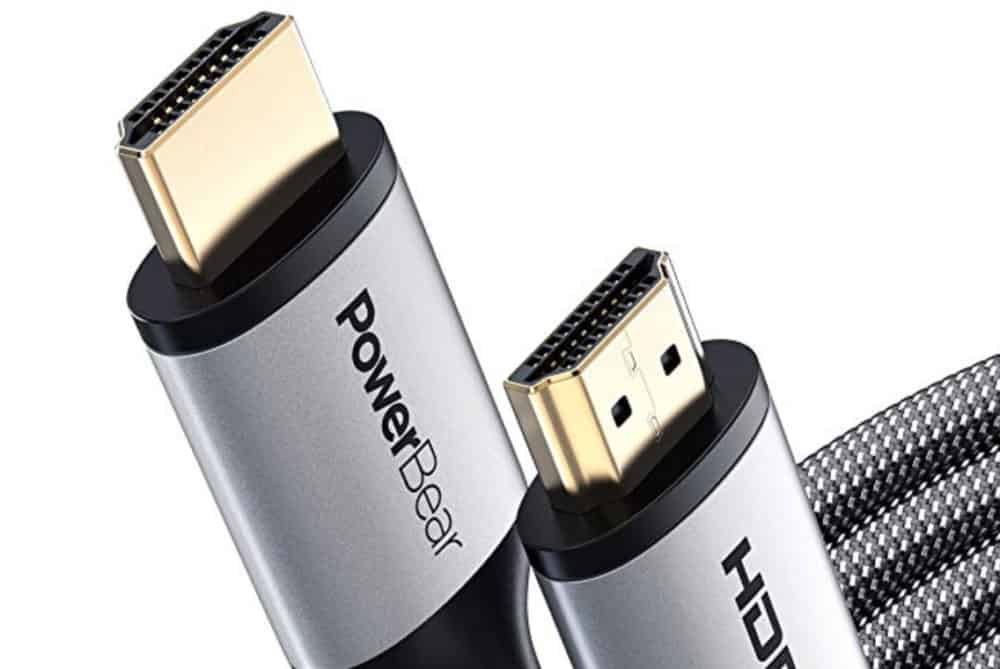 Pin
[maxbutton id="27″ url="https://amzn.to/2SNcWdA" ]
The final entry on this list also makes it due to a unique design. The PowerBear 4K HDMI Cables feature flat cabling. The flat design makes these cables perfect for squeeze through tight spaces–like the ones found in the back of entertainment center furnishings.
The cables also support everything from 480p all the way up to 4k Ultra HD and 3D. These cables also come in a TON of length options, which start out at 1 meter and go all the way up to 15 meters.
Cheap HDMI vs Expensive HDMI – Does It Matter?
When it comes to HDMI cables you have A LOT of options – from super-cheap ones to really expensive ones. But here's the thing: expensive HDMI cables are no better than cheaper ones, providing you know what to look for…
For this reason, you REALLY do not want to be paying excessive amounts of money for your HDMI cables. That's why all the HDMI cables listed above retail for much the same price. Just make sure your HDMI cable is rocking the HDMI 2.0 standard and you're good to go for everything from 4K to HDR.
The HDMI 2.0 standard allows for 18Gbps and 4K content at 60fps. These HDMI cables are often marketed as "High Speed" HDMI cables and, like the ones listed above, they are the types of HDMI you want to be using. Just don't let someone mug you off with a stupidly expensive price tag for one!
Bottomline? Make sure your HDMI cable is "high speed" – if it does high speed, you're all set for everything from 4K content to HDR gaming, as well as everything else in between! And right now, our #1 pick for the best HDMI cable is Amazon's High-Speed 4K Ultra HD HDMI 2.0 Cable – it's cheap, it works great, and it packs in tons of performance.