Beats Powerbeats Pro Review – So Long, AirPods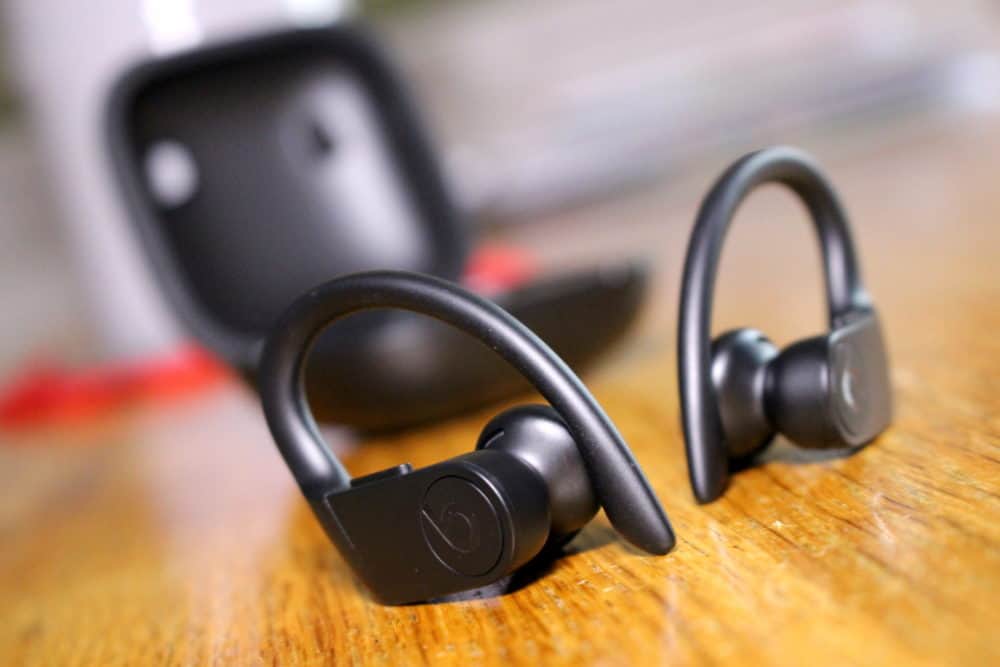 When you think Apple and wireless headphones, the iconic AirPods spring instantly to mind – but it's important to remember that the company also owns Beats, the headphone firm established by the rapper Dr. Dre and purchased by Apple for $3 billion in 2014.
Up until now, Beats has been content to do its own thing, despite new ownership; its range of stylish 'DJ' style cans continues to sell by the truckload. However, its latest product – the Powerbeats Pro wireless headphones – changes all of that.
Designed in tight conjunction with Apple, these headphones pack impressive tech and amazing battery life into an elegant design that's perfect for sporty types. But are they worth the considerable asking price?
Beats Powerbeats Pro Review: Design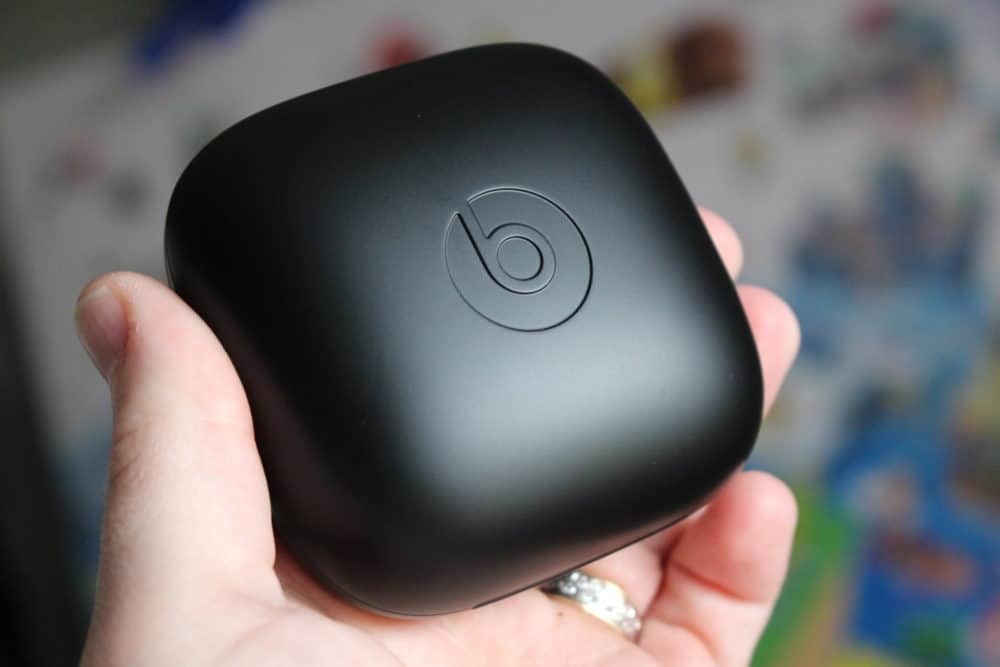 Pin
Compared to the Apple AirPods, the Powerbeats Pro look large, but there's a good reason for that; those soft, rubber-like arms are designed to grip your ears securely without making the things too comfortable to wear.
And believe us, despite looking a lot less elegant than the AirPods, these headphones are insanely comfortable; sure, it takes a while to get used to fitting them (and you may want to experiment with the different rubber earpieces included in the box to make sure you get a snug in-ear fit), but once in place you forget you're even wearing them – and the fit is so secure that no amount of running, jumping or larking about can shift them. This is clearly a design that has been blessed with a considerable amount of design effort.
Another thing we really like about the Powerbeats Pro is the fact that both of the earphones have their own set of physical controls – so you've got the main command button as well as a volume rocker on both. That means you don't have to memorise what control does what on the left and right headphone – the commands are mirrored across the pair. Another big plus here is that the latency between button press and action is practically non-existent – and that's not something you can say about all wireless headphones.
The Powerbeats Pro come in a rather bulky carry case which also acts as a charging dock – a Lightning cable is included in the box, but it matches the colour of your Powerbeats Pro, rather than being the traditional "Apple White".
While the bulkiness of the case is off-putting – especially when compared to the pocket-sized AirPod case – it's hard to see how Beats could have made it any smaller, because the Powerbeats Pro are larger than AirPods, so it stands to reason that they require a larger case for storage. On the plus side, the case has a beefy battery which tops up the headphones quickly.
While the Powerbeats Pro aren't totally waterproof, they are splash and sweat resistant, which will be good news for those who plan to use these as their go-to exercise audio. The design of the headphones actually avoids sweat dripping down onto the unit, which is another sign that a tremendous amount of thought has gone into the creation of this product.
Beats Powerbeats Pro Review: Performance
Pin
Connecting the Powerbeats Pro to an iPhone or iPad is a breeze; the moment you first pop open the case they go into pairing mode and a window will appear on any nearby iOS device, asking if you want to link them. Once you've done this, the headphones will automatically connect when you next remove them from the case – they'll also be paired with all of your other iOS devices, provided they're signed into your iCloud account.
Despite being Apple-owned, Beats has made these headphones compatible with Android devices too – although Android users obviously don't benefit from the auto-pairing with iCloud devices. Even so, the lack of input latency carries over, which is really impressive – we're sick of Bluetooth headphones having terrible button delay when we're using an Android phone.
Beats is famed for its audio quality, and the Powerbeats Pro only serve to strengthen this reputation. Bass notes are fantastic and full of body – something that quite impressive, given that these are relatively small sports headphones – while low and mid-range notes are also full of impact.
We played a wide range of musical genres, including Jamiroquai's Automaton, Orbital's Beelzedub, Ash's Kung-Fu, the entire Smiths catalogue and much more besides, and there wasn't a single time where we felt that the song wasn't being properly and effectively produced by the hardware.
Thanks to a snug fit, background noise is kept to a minimum too, which means none of the audio experience gets drowned out by sounds in your environment. In this regard, the Powerbeats Pro are certainly a lot better than the AirPods, which have a tendency to let a lot of noise creep in from the outside world.
Thanks to the inclusion of Apple's H1 Chip, the Powerbeats Pro have "Hey Siri" support so you can issue voice commands without removing your phone from your pocket. The chip also enables a strong and stable wireless connection.
Beats Powerbeats Pro Review: Battery Life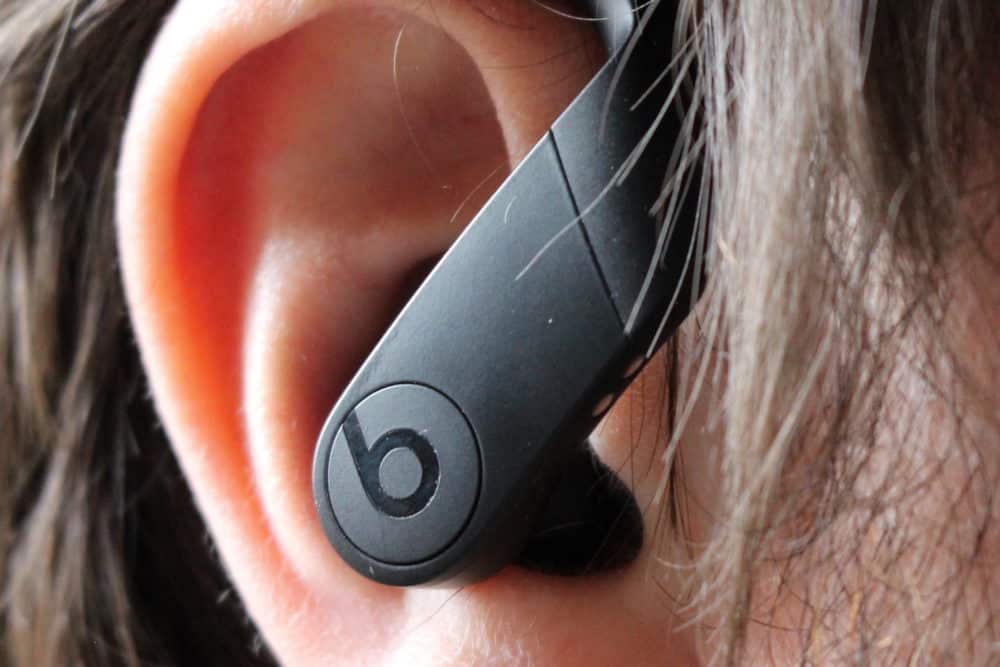 Pin
Beats claims that the Powerbeats Pro can deliver up to 9 hours of battery life, which is a pretty insane amount for a pair of relatively small wireless earphones – but it's true. Add in the battery contained within the charging case and you're looking at around 24 hours of playback in-between charges; even if you're travelling for the entire day, you're always going to have tunes at hand.
One of the ways Apple and Beats have worked together to achieve this incredible stamina is the H1 chip, which is really power-efficient. Also, the headphones are smart enough to know when they're not being used; when you remove them from your ear, a sensor detects this and places the headphone into standby mode so less power is consumed.
It's a shame that the carry case only charges via a cable and not wirelessly – especially when you consider how expensive these headphones are – but that would probably have led to an even bulkier case, so it's probably for the best. Besides, because it charges using Apple's ubiquitous Lightning Cable, you're unlikely to be caught short even when you're away from home.
Beats Powerbeats Pro Review: Verdict
Pin
The Beats range has truly come of age with these headphones; designed from the ground-up between both Apple and Beats, they feel like a next-generation product in the same way that the AirPods revolutionised wireless audio.
They're comfortable, sound great and have amazing battery life – yet they offer all of the convenience that the AirPods do, thanks to the inclusion of that H1 chip, which means pairing is effortless and you can issue voice commands to Siri with ease.
They're more expensive than Apple's headphones but still cheaper than the 'top end' competition, so while $249 is going to be within everyone's budget, these are highly recommended if you want the best audio experience with your smartphone.
BEST DEAL | Amazon – View Latest OFFERS